As Jewelry Shopping Guide editors, we write about things that we love and we think you'll like too. We often have affiliate partnerships, and may generate some revenue from these links at no cost to you.
One of the largest costume jewelry producers of its time, Coro manufactured some of the most collectible vintage pieces today. It might be a great brand to start your vintage collection, but what should you know about Coro's jewelry pieces?
What Is Coro Jewelry?
Coro was popular in the 1930s, standing out with its unique collection of brooches, necklaces, and bracelets. Established as a small accessory boutique, the brand was founded by Emanuel Cohn and Carl Rosenberger in New York City. In 1943, it was named Coro, as a contraction of the co-founder's last names – COhn and ROsenberger. Eventually, it became known under the names Coro, Coro Craft, and Vendome, which was the company's most expensive jewelry line.
While Coro manufactured costume jewelry mostly for the movie industry, Vendome featured high-end pieces and pearl jewelry for brides. The Coro Duettes, the double-clip brooch that can be worn as a set or individually, was the most sought-after piece of the brand.
The established itself as the main manufacturer of romantic jewelry styles inspired by Victorian motifs. Some of these were flower designs like tulips, poppies, daisies, roses, and sunflowers, as well as other whimsical figures. Coro made a few patriotic jewelry pieces during the years of World War II, which are rare and sought by collectors.
Eventually, the company became America's largest costume jewelry manufacturer. During World War II, the brand designed a few pieces of patriotic jewelry, particularly the Emblem of America's brooch. By the 1950s, Coro sold countless parure, which is a set of various items of matching jewelry, from earrings to necklaces, brooches, and bracelets.
By 1957, the assets of the company were bought by Richton International Corporation of New York, and they continued manufacturing jewelry. Unfortunately, it lost its dominance to jewelry trends of the 1970s—bead fashion and tailored jewelry—and to other competition. By 1979, Coro left the jewelry industry after 78 years in the business.
Features of Coro Jewelry
1. Coro's collections were designed by various jewelry designers.
Cohn and Rosenberger were not jewelry designers, so they selected several designs from different professionals and artists, with the help of Adolph Katz, the company's design director. He was responsible for much of Coro's success in the competitive jewelry industry. Some of their designers were Francois, Gene Verrecchio, Massa Raimond, Oscar Placco, and Robert Geissman, many of whom eventually established their own jewelry lines.
2. The company patented many of its designs.
Katz filed most of the Coro patents, including the mechanism of the Coro Duette, as well as some of its designs including several figures of jelly bellies, animals, insects, sea creatures, objects, people, and more. Coro even designed a brooch with a leak-proof perfume bottle, so the wearer could carry her favorite scent. There were also wrist charmers or jeweled disc bracelets worn by America's best-dressed women.
3. Quality of craftsmanship and designs.
The company created designs using various materials in its collections including pressed glass, Lucite, enamel, faux pearls, rhinestones, colored metal, sterling silver, and gold. They also created several unique designs including the famous Duettes, Tremblant floral pins (which trembled or moved with the wearer), jelly belly pins, and other elaborate costume jewelry designs.
Coro Jewelry Styles
Building a jewelry collection of pieces from the past is quite intimidating, but you can never go wrong with Coro jewelry. Here, we've rounded up our favorite pieces:
1. The Coro Duette Brooch
Some of the most popular Coro Duette designs feature whimsical birds, including this pair of enamel bird brooches. Marked "Coro Duette" with patent numbers on the frame and measures about 3.54″ long. The piece is a brooch when together, but both sides can unclip to be used as dress clips.
2. Sea Creature Enamel Pin
This is a gorgeous and unusual brooch signed by Coro. This starfish brooch is set in silver-tone metal and measures just under 3″ in diameter. It features the intricacy, detail, and stunning hues and textures that Coro is known for.
3. Jelly Belly Pins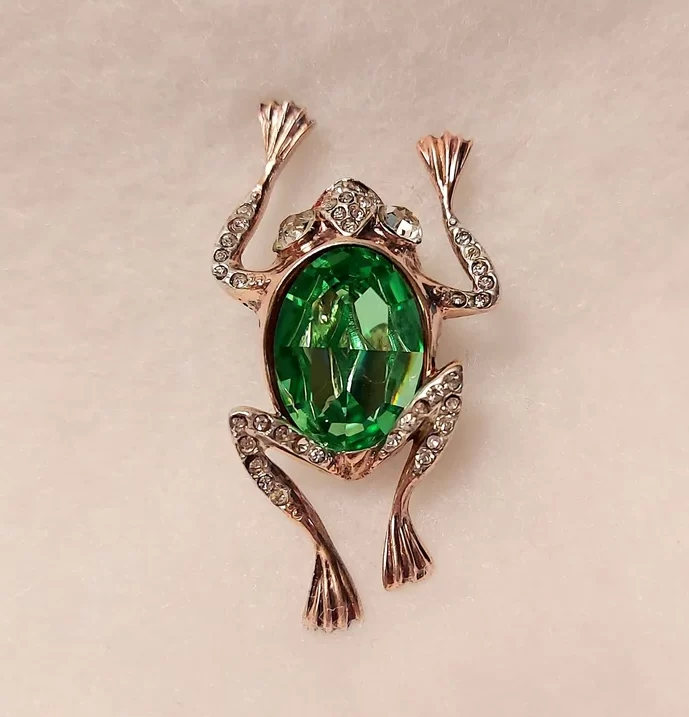 If you're looking for something exotic, this Frog Jelly Belly clip is perfect for you. A piece with sterling silver, made by Coro dating to the 1940s. Like many other jewelry brands of the time, including Trifari and Monet, jelly belly pins were highly popular and in style. This one is a perfect example of the exquisite beauty of many of these jelly belly pins.
4. Leaves and Branches Pin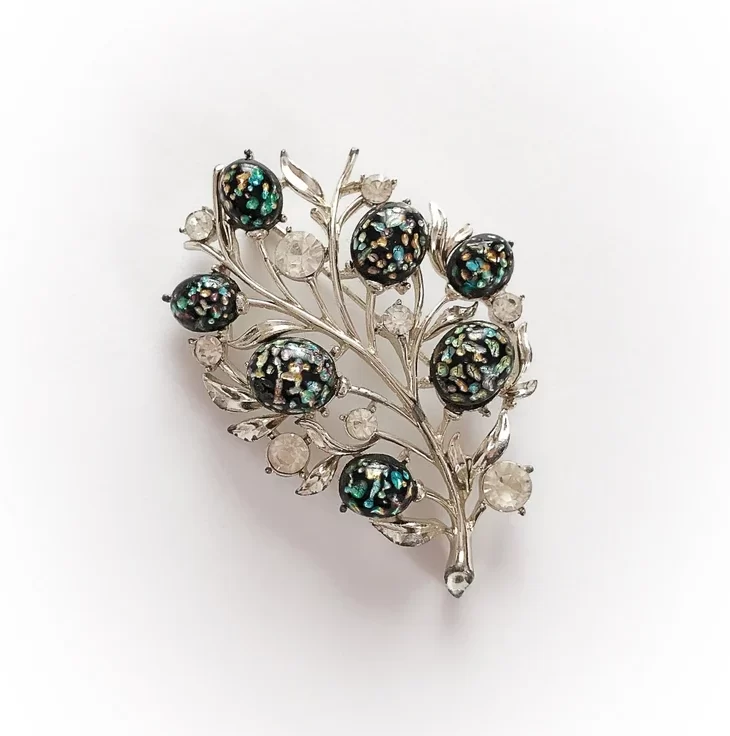 This pin embodies Coro's leaves and branches motifs and natural touches. Add a vintage touch to your feminine style with this carved Lucite confetti brooch, giving a nod to the Victorian era. It's one of the special pieces from Coro that is sure to become a family heirloom.
5. Coro Necklace
This necklace features the statement styles Coro jewelry often showcased. A choker chain link necklace set in gold tone. This necklace is signed by Coro Craft and in the 1960s-1970s collection, it truly makes for a showstopping statement piece.
6. Coro Ring
This is a 1940s glass moonstone and rhinestones swirl/flower pin and earrings set. The pieces are made of a sterling base and gold plated that shows the luster of glass moonstones. These are amazing and very hard-to-find pieces that rarely come to market since it is highly coveted by advanced collectors.
Coro Jewelry Quality
Over the course of its existence, Coro established three jewelry lines, all of which had outstanding workmanship and unique designs.
Coro popularized the Coro Duettes, which were built on high-quality metal frames, enamels, glass stones, and faceted beads. Early brooch designs were monochromatic but eventually featured pavé-set rhinestones. Nowadays, the Quivering Camellia design is highly valued by vintage collectors.
Coro Jewelry's Versailles collection featured earrings, necklaces, and brooches decorated with make-believe topaz, aquamarine, emerald, and amethyst. Other designs were turtle-shaped earrings and pins adorned with blue enamel and rhinestones. Some pieces were nearly rubies or sapphires surrounded by rhinestones in golden settings.
Coro Craft was more elevated than Coro in terms of quality and value. It introduced the collection of chatelaines, Jelly Belly brooches made of Lucite bellies, as well as sterling silver bracelets plated in gold. The jewelry line also used rhinestones, which were called Diadem Jewels, giving its collection a luxurious appeal.
The top of the Coro line, Vendome, also used Lucite, but its jewelry designers formed the material in organic shapes. Instead of the traditional Lucite stones, this line featured Lucite leaves and petals in floral brooches. There were also silver-plated bangles, gold-plated brooches, cabochon bracelets, and rhinestone-studded chokers.
In general, the company utilized glass beads, faux pearls, faux moonstones, multi-colored glass cabochons, as well as pressed glass and plastics in its collections. Instead of colored metal and enamel, higher-end jewelry lines used gold vermeil, sterling silver, European crystals, and rhinestones. Some designs were even crafted in heavy gold-plated metal with a textured Florentine finish.
Does Coro Jewelry Tarnish?
Higher-end Coro pieces are made from sterling silver, which, unfortunately, is prone to tarnishing. If not maintained, most pieces will have an age-related patina, though it can be removed with a silver polish and a jewelry cloth. Depending on the design and material used in crafting the silver piece, cleaning might require the help of a professional.
Some Coro jewelry pieces were designed using silvertone or goldtone metal, which means they don't have real silver or gold in them. They're made by dipping a metal piece like brass in a silver or gold-looking substance. Coro pieces crafted from this material likely have some age-related metal wear, and they shouldn't be overcleaned.
Most pieces decorated with intricate enamel work are of high quality, so they're less likely to chip and you don't have to worry about the colors fading. While you can still find Coro pieces in excellent condition, others might have a few wear marks. Also, the enameled surface can easily be damaged or scratched with aggressive cleaning.
How to Tell Real Coro Jewelry?
Unfortunately, many pieces of Coro and Coro Craft are being reproduced from new molds taken from their original styles. Lots of research and familiarizing yourself with the brand's marks would help. Here are some of the ways to identify an authentic Coro piece from fakes and reproductions:
1. Know the brand's hallmarks.
Coro used a variety of marks in its collections, which can be seen on the back of the piece. For instance, early Coro jewelry was marked CR, but pieces manufactured in 1919 featured a Coro mark in a script. In 1937, Coro Craft was used, but it became CoroCraft Sterling in 1942.
After World War II, the brand used Corocraft and Coro Sterling marks. Eventually, it also used a figure of a flying horse, the Pegasus, with the name Coro in script and Craft in print. There were also marks with Corocraft in the script. When it comes to Vendome, the letter V was used as a mark.
Apart from forged marks, there are also designs marked with various Coro and Coro Craft signatures although many of these have never been credited to the brand. Since discerning authentic pieces is quite challenging, you might also want to check The History and Marks of Coro Jewelry as a reference.
2. Refer to a reference book to check the accurate measurements of the design.
It's common that fake pieces are larger than the original size the piece because they're made in larger molds. The book Coro Jewelry: A Collector's Guide: Identification and Values gives a detailed guide to vintage jewelry collectors.
3. Authentic pieces are made of high-quality materials.
Some of the reproductions are fake copies made in the 30s, 40s, and 50s, so they're noticeably cheaper compared to the authentic pieces they try to imitate. Also, others are generally cruder, have poor quality settings and stones, as well as flashier, bright plating.
4. When buying online, always ask for a guarantee of authenticity.
There are several Coro pieces that can be found on reputable sites, as well as on Etsy, but don't forget to look for the product's guarantee of authenticity. Also, always check the seller's profile, feedback, and reviews, as well as his shipping and return policies.
Is Coro Jewelry Worth Anything?
Vintage costume jewelry doesn't have to be made of solid gold and diamonds just to be valuable. Depending on the material, design, and workmanship of the Coro jewelry pieces, they can be surprisingly valuable, especially for collectors and the secondhand market. Since it's challenging to know its value for the untrained eye, it's recommended to ask for help from a reputable jewelry expert.
Many Coro pieces are sought-after by collectors, including the brand's parure set marked with the Pegasus. Many searches for these Coro pieces manufactured around 1945 to 1955, especially if they're in excellent good condition without damage, wear, and scratches. They might not be as valuable as diamonds, but they could be worth much more than you expect.
A Summary – Why Is Coro So Popular?
Coro became popular for its interesting jewelry design, quality workmanship, and versatility. In 1935, it created its first Duette brooch, which became one of the favorite pieces of the time. The jewelry piece was worn to decorate the neckline, belts, purses, and hats.
The company also made fashion accessible with its jewelry lines, which appeal to a wide range of customers. Higher-end Coro Craft pieces were often featured in catalogs and sold in department stores. Coro also innovated a lot, improving on other designs or adding their own twist. For example, even though the Trifari jewelry brand introduced the Jelly Belly brooches with Lucite stones, Coro soon introduced its own collections and even patented some of its designs.
Even though it eventually closed its doors, the company left a legacy with its jewelry, now sought-after by collectors. Because so much Coro jewelry was produced, it's a great brand to start building your vintage collection.
Learn more about other popular vintage brands: