As Jewelry Shopping Guide editors, we write about things that we love and we think you'll like too. We often have affiliate partnerships, and may generate some revenue from these links at no cost to you.
Monet Jewelry is a vintage fashion brand known for its high-end jewelry that once dominated the market. Even today, Monet jewelry is sought after by collectors and fashion aficionados.
Let's take a look at what Monet jewely was all about.
History of Monet Jewelry
Monet Jewelry refers to a popular brand of vintage costume jewelry. The company specialised in creating high-end accessories and quickly became one of the top brands in the country.
The company was established by brothers Michael and Jay Chernow and was initially known as the Monocraft Products Company, which manufactured gold- and silver- plated monogram plaques for use in women's handbags. Monocraft bags were highly sought-after and well-known for their quality.
However, it was only in the late 1930s that Monocraft began to focus on jewelry. Because of the economic crisis of the late 1920s, many women couldn't afford fine jewelry and costume jewelry became an excellent alternative. The company saw this as an opportunity to capitalize on.
In 1937, the company's name was changed to Monet and began producing high-quality costume jewelry. Led by Edmond Granville, a former Cartier fine jewelry designer, the company transformed into a leading fashion brand.
Since then, Monet Jewelry has changed hands many times, and was purchased in 2000 by Liz Claiborne. Today the brand remains a favorite for vintage costume jewelry collectors and is still sought-after by those who love vintage designs.
What Defines Monet Jewelry?
Monet Jewelry was created to look like fine jewelry and the craftsmanship, finish and quality of the piece was meant to achieve a sophisticated, classic and high-end look without the steep price.
As a result, Monet Jewelry frequently used faux gemstones like glass, gold- and silver-plated metals that looked like the real thing. In other words, they wanted the average person to be able to wear 'diamonds', 'gold' and 'pearls' without paying the price of these materials.
Buying and wearing Monet jewelry was stylish and fashion forward and the brand had a large, loyal fanbase.
How Monet Jewelry Changed Over the Decades
Monet jewelry designs changed to reflect the times, which was one way that the brand kept ahead of the times. here's how the company progressed over the decades
1930s – Inspired by European fashion designers, Monet's early collections featured large rhinestones to resemble precious gemstones. They featured animal and floral motifs as well as abstract, Art Deco designs.
1940s – The war imposed restrictions on metal like platinum and brass for jewelry, so the company turned to sterling silver. Monet's designs of this decade featured military motifs, with brooches and fur clips being the most popular types of jewelry at this time. Monet charms were produced for the first time and became highly popular.
1950s – Monet designs of this time were large, heavy and elaborate to suit the times. Statement bracelets, necklaces and earrings were sought after. Rose- and yellow- gold plated jewelry was in vogue, with large link designs.
1960s – Monet's charm bracelets were highly popular, with flora, fauna and everyday objects sought after to hang on bracelets and necklaces. As more women began to work, Monet created jewelry that was formal, stylish and contemporary which was perfect for the workplace.
1970s – Monet introduced their pierced earring line in addition to their clip-on earrings. They also began the Ciani line which focused on fine jewelry made of gold, sterling silver and semi-precious gemstones.
1980s – Monet's designs reflected the loud, colorful style of the 80s. Many Monet designs of this period focused on metalwork styles.
1990s – Monet continued to bring out jewelry designs to suit the style of the times. They also received the license to offer jewelry from high profile brands like Yves Saint Laurent and Christian Lacroix.
Monet Jewelry Today
Today Monet pieces are valued as vintage jewelry and are still worn and collected. While most of the designs are perfect for formal or special occasion, some of the more understated, minimalist designs can be worn regularly.
Here are some examples of Monet jewelry available on the market today: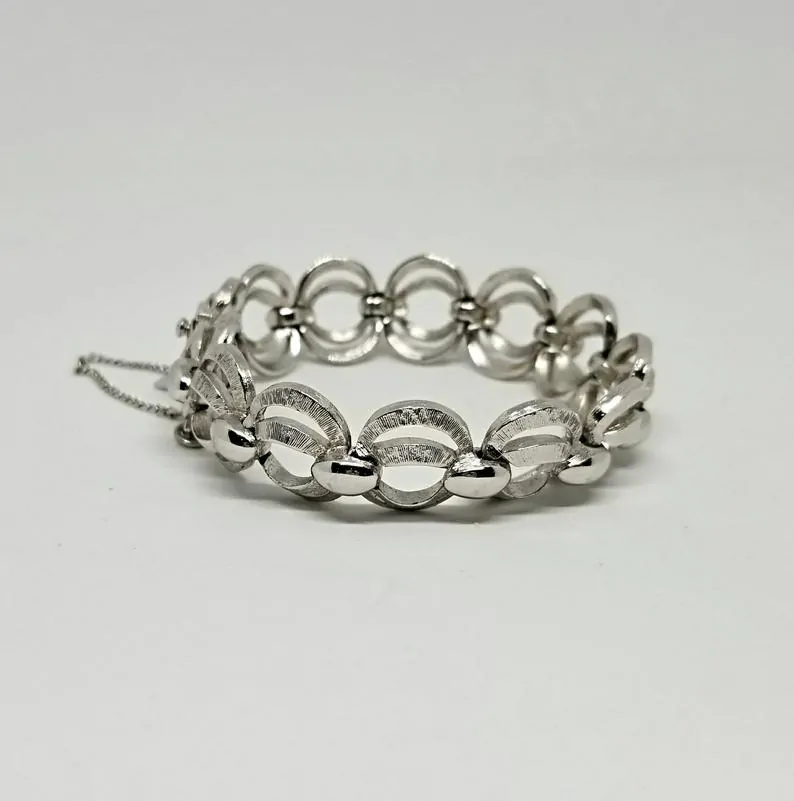 This bracelet showcases Monet's expertise in working metal. Although the piece mimics silver, it's made of silver-plated base metals which is much more affordable.
Here's another excellent example of Monet using faux pearls, rhinestones and gold tone metal to create a stunning design. Notice the quality of the finish and the excellent proportion. Because Monet used triple plating techniques, there is little wear even though this is a vintage piece.
Monet's brooches were famous and this one from the 1960s gives an indication as to why. The metalwork in this brooch is delicate, intricate and beautifully detailed. It reflects the bold styles of the 1960s.
We love the versatility of this piece! The pendant can be removed and worn separately as a brooch. This necklace features the stunning finishes and expensive look that Monet jewelry was made to have. This piece is from the 70s, but notice how the plating remains shining and unworn even after 45 years.
If you'd like to see more Monet pieces,click here to access a stunning collection.
How to Identify Monet Jewelry
Monet has been credited as being the first costume jewelry brand to stamp each piece of jewelry they manufactured with their hallmark. This made it easy to identify the piece and set Monet jewelry apart from other brands.
Look for the name Monet written in either script or bold letters, typically on the clasp of the piece or in an invisible section of the design.
Monet silver jewelry is stamped with either Monet 925 or Monet Sterling as seen in this piece.
Where to Buy Monet Jewelry
You can find Monet jewelry on estate and vintage specialist stores. Depending on the materials used, the quality of the piece and the demand, prices can vary.
In general, a pair of Monet earrings can cost under $30 while a high-quality necklace can reach hundreds of dollars.
We suggest checking out Etsy's collection to get an idea of Monet jewelry in general and what's available on the market.