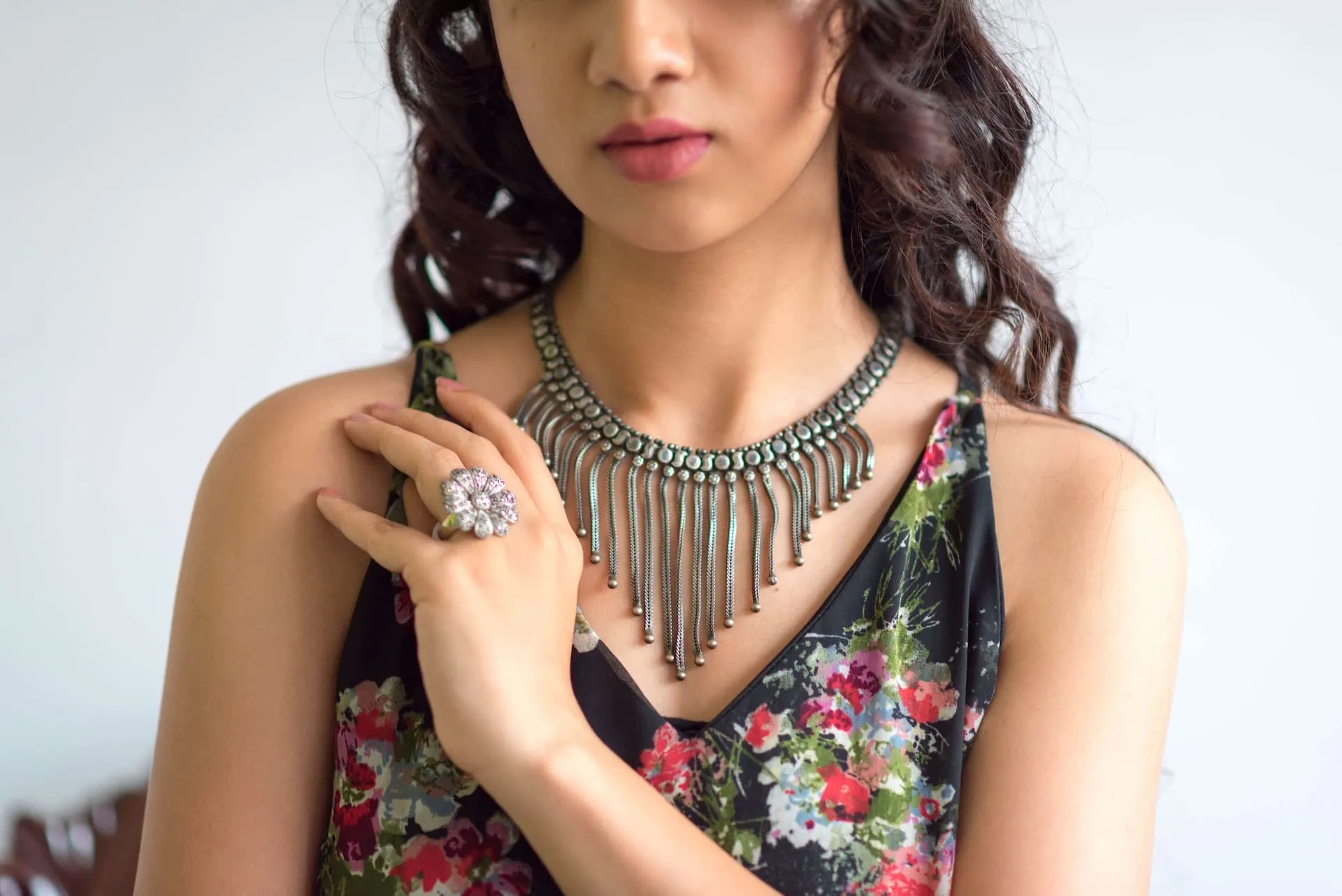 One of the most popular and sought-after vintage jewelry brands, Trifari was known for its high quality and fashion forward costume jewelry designs. Highly respected, Trifari had a loyal client base, from celebrities to the everyday woman.
Here's a look at an evergreen brand that made fashion waves in its day.
History of Trifari Jewelry
Trifari was established by Italian Gustavo Trifari, Leo Krussman and Carl Fishel in 1925. The company began by creating jewelry for actors in Hollywood, which raised the profile of the brand. It also capitalized on the increase in interest in costume jewelry, which came about during the Great Depression, when women couldn't afford expensive fine jewelry.
When renowned French jewelry designer Alfred Philippe (formerly at Van Cleef and Arpels) brought his expertise to the table, Trifari was transformed. Philippe remained at Trifari until his retirement in 1968 and it's largely due to his ideas and vision that Trifari became a household name with pieces that are still collectible today.
Philippe brought techniques that he had developed for his previous company, such as the use of invisible settings for gemstones. These new techniques made Trifari jewelry distinguished and unique. Today, many collectors look for authentic early Trifari designs signed by Philippe himself. These still have high value and collectability.
The Evolution of Trifari
During the war, like all other jewelry brands, Trifari was forced to switch to different metals due to restrictions of materials. They began to use sterling silver at this time, which made Trifari's jewelry prices rise dramatically. However, after the war when restrictions on metals were removed, Trifari switched back to using inexpensive, base metals.
However, because customers like the look of silver, Trifari began to use a base metal that could be polished to achieve a silver-like luster, which they called Trifarium.
Trifari continued to grow as a brand but was acquired by Hallmark in 1975 and later was purchased by Liz Clairborne, along with another top vintage brand Monet Jewelry. You'll still find Trifari jewelry in department stores today, but it's the vintage designs that draw fashion lovers to the brand. Trifari as a stand-alone brand no longer exists, making vintage Trifari all the more valuable.
What Defined Trifari Jewelry?
Trifari specialised in imitation and costume jewelry that was designed with high quality finishes and in creative, fashion-forward styles to mimic fine jewelry. Here are the main characteristics of Trifari:
Complex and elaborate designs
Specialists in paste jewelry (hand-cut glass)
Extremely high in quality
Aimed to achieve a genuine look
Among the finest costume jewelry produced
Alfred Philippe's creative vision
Materials Used in Trifari Jewelry
Trifari jewelry was crafted out of inexpensive materials designed to look like luxurious jewelry. Here are some:
Faux pearls
Imitation semi-precious gemstones made from lucite
Rhinestones
Enamel
'Trifarium' which was a base metal alloy that mimicked the look of silver
Sterling silver
Trifari Jewelry Collectible Styles
While Trifari has lasted almost a century and has jewelry designs that are still relevant, there are a few specific pieces that are especially sought after by collectors.
Trifari Crown Brooches – These brooches were designed by Philippe during the 1930s to the 1950s and became integral to the Trifari brand. So much so, that the company then added a crown into their logo and hallmarks. Here's a vintage piece from the Crown collection dating back to the 50s. These crown brooches were typically very colorful and enticing. 
Coronation Gems – This collection was produced in 1953 to mark the coronation of Queen Elizabeth II. The coronation brooches featured colorful faux gemstones that were designed to dazzle.
Jelly Belly Brooches – Trifari used lucite and other synthetic materials to imitate gemstones. These were known as jelly bellies and came in a variety of designs – from tortoises, fish, birds, frogs, bees and pigs – these brooches were elaborate and translucent, making them highly appealing. Why were they called jelly belly? Because the bellies of the featured animals were made of colorful lucite, like this one.
Trifari Floral Brooches – The floral brooches designed by Trifari featured intricate and delicate metalwork in gold and silver tones, as well as colorful bakelite, lucite and other synthetic materials.
Pearl Jewelry – Trifari had a stunning collection of faux pearl jewelry that featured elaborate metalwork coupled with faux pearls. The result was costume jewelry that looked like the real thing. Their pearl collection was so popular that First Lady Mamie Eisenhower wore a specially designed pearl choker set to her husband's inauguration ball in 1953. This marked the first time that costume jewelry was worn at a presidential inauguration. Here's a collection of Trifari's pearl designs.
Trifari Clip Mates – Clip-Mate was Trifari's spin on the double-clip brooch style that was all the rage at the time. Basically, a Clip-Mate was a brooch that could be separated and worn as two separate dress clips.
Can I Wear Trifari Jewelry Today?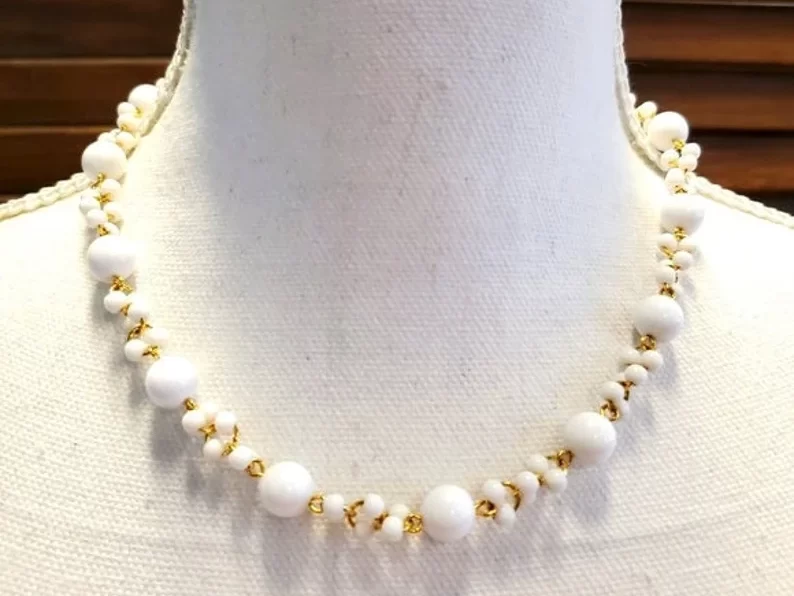 Today Trifari jewelry has two main functions – one as a collectible for vintage costume jewelry collectors, and the other as accessories for vintage costume jewelry lovers.
Unlike some other brands of the time, including Napier Jewelry, Trifari's jewelry is more understated and subtle. You can find pieces that would be right at home in the 21st century. The metalwork and intricate designs still catch the eye.
With Trifari, you can find jewelry to suit any style and taste. Whether you're looking for loud, colorful pieces or subtle, sophisticated styles, Trifari has something to offer.
How to Know Identify Trifari Jewelry
'If it isn't signed, it isn't Trifari' is how the company reminded its customers about their commitment to quality. Every piece of Trifari jewelry carried the company's stamp to guarantee the authenticity of the piece. The stamp changed slightly over time, with a crown added and then removed from the basic logo.
The stamped changed somewhat over time. Authentic Trifari jewelry will have one of the following hallmarks: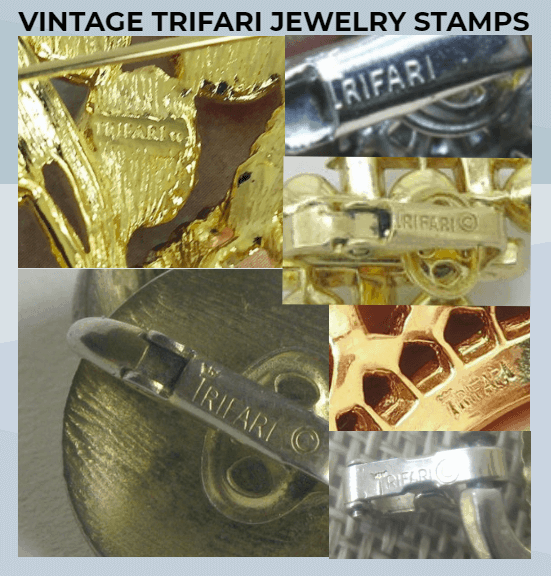 Mid 1920s to mid-1930s – KTF (for Krussman, Trifari and Fishel)
1930s – 1955 – TRIFARI PAT PEND / TRIFARI PAT NUMBER
1955 – 1969 – TRIFARI CROWN / TRIFARI (with crown symbol and copyright mark)
1970-1980s – TRIFARI (no copyright symbol or crown but sometimes encased in an oval)
1980s – 1999 – TRIFARI TM (sometimes with date)
Always look for a Trifari hallmark if you're looking to purchase authentic vintage jewelry. There may be slight variations on the stamps listed above, but if the piece is genuine, it should contain a stamp. Having said that, stamps can be faked so make sure you're purchasing from a reputable seller.
Where to Buy Trifari Jewelry
You can find Trifari jewelry on estate and vintage specialist stores. Depending on the materials used, the quality of the piece and the demand, prices can vary.
In general, a pair of Trifari earrings can cost under $30 while a high-quality necklace can reach hundreds of dollars.
We suggest checking out Etsy's collection to get an idea of Trifari jewelry in general and what's available on the market.
Wrapping Up
Trifari jewelry remains one of the greatest costume jewelry brands even today, and is a vintage jewelry collector's paradise. While the pieces that have come in recent decades are not as well-known, vintage Trifari jewelry from before the 2000s remain some of the most sought-after and high-quality items.