As Jewelry Shopping Guide editors, we write about things that we love and we think you'll like too. We often have affiliate partnerships, and may generate some revenue from these links at no cost to you. 
Although lucite jewelry became a sensation way back in the 1950s, this versatile and colorful material is still used to create jewelry today. Lucite jewelry might not be as popular as it once was, but it's the perfect way to sport a vintage style and to express your personality.
From clear earrings to odd shaped rings, Lucite jewelry recalls our obsession with glass, though it is lighter and shatterproof. If you're feeling nostalgic and want to add a touch of vintage to your style, keep on reading for our ultimate guide to Lucite jewelry.
What is Lucite Jewelry?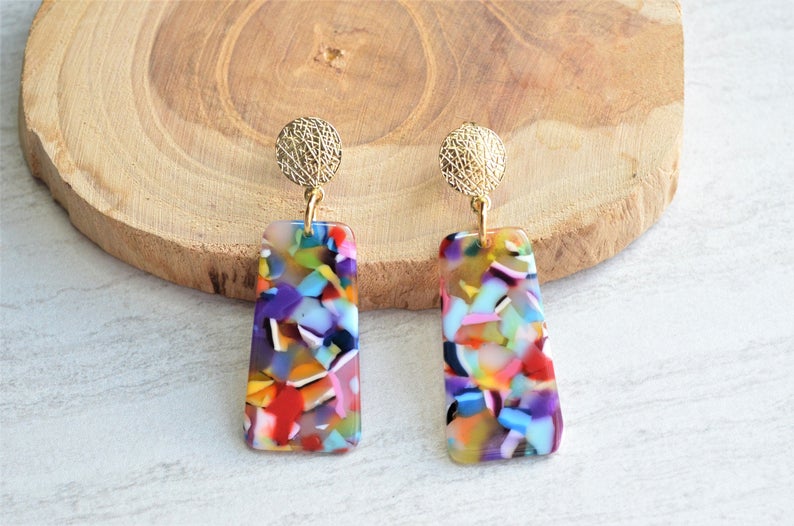 Lucite earrings by Dana LeBlanc Designs. Check price here.
Lucite jewelry is a costume jewelry made from acrylic. It can be as clear as glass or tinted in many different shades. Lucite was a glass-like acrylic resin created by DuPont in 1937, but the company then licensed the trademark for jewelry making. Today, Lucite has become a general term for all forms of plastic jewelry, although technically it's the brand name for the thermoplastic.
Monet Lucite brooch by TNJS Vintage Treasures. Check price here.
Jewelry made of Lucite can be clear, translucent or opaque. It's typically affordable and not of high value, although the material is highly versatile and can be used in a number of ways. Some jewelers would facet Lucite to imitate the look of gemstones and diamonds. Some vintage Lucite pieces can be found set in silver and gold tones, mimicking the look of more valuable designs. Famous costume jewelry brands like Trifari and Monet used Lucite in their designs, with Trifari's famous jelly belly animal brooch collection featuring Lucite 'belly's' for their animals.
Lucite jewelry is still being made today, although the vintage pieces are what most collectors want.
A Brief History of Lucite Jewelry
Originally, Lucite was developed to be used in World War II for military aircrafts, plane windshields, and submarine periscopes. After the war, the stocks of Lucite were no longer needed, so the material was utilized to create fashion accessories from handbags with clear handles to costume jewelry. The popularity of costume jewelry in the form of Lucite flourished throughout the 20th century.
Before then, women primarily wore jewelry made of precious metals and stones as a status symbol of the upper classes. The creation of Lucite jewelry was a direct consequence of the Great Depression, launching a golden age of acrylic jewelry where designers became creative with the material as a less expensive alternative to precious materials. Famous fashion house Trifari was among the earliest to experiment with Lucite, with their Jelly Belly brooches still among collector's favorites.  
Trifari jelly belly Lucite bird by Jaarbutik. Check price here.
Vintage Trifari bird brooch by RAK Creations. Check price here.
In the 1940s, Lucite with moonstone-like glow became popular in vintage brooches and imitation pearl necklaces.
Lucite was also used to make the popular "moonglow jewelry" which had a pearly shine, making Lucite an alternative for chalcedony and moonstone. In the 1950s, Lucite jewelry pieces were seen in bright colors and translucent coloring called "apple juice".
In the early 60s, Space Age fashion was all the rage and Lucite jewelry in architectural and optical art styles became popular.
Unfortunately, Lucite jewelry went out of fashion by 1970s because it was made of inexpensive materials and not designed to be heirlooms or keepsakes. Also, Lucite was used in disco platform shoes and mahjong tiles, which lessened the appeal of acrylic jewelry.
In the 1980s, neon-colored bangles became popular—and nowadays, clear hoops and see-though earrings are making waves again.
In our modern times, lovers of vintage and everything handmade still collect Lucite jewelry. After all, handmade jewelry pieces are unique and vintage pieces hold a nostalgic charm of yesteryear.
How to Wear Lucite Jewelry
If you want to wear Lucite jewelry in today's modern fashion scene, here's how to go about it.
Dress up your casual outfits with Lucite jewelry pieces.
Lucite flower earrings by Oogle. Check price here.
Nothing says "laidback chic" quite like vintage hoops and acrylic bangles. Given its sculptural and elaborate design, costume jewelry works best with simple outfits. Lucite jewelry can dress up your basic outfits from tee and jeans to casual knit dresses. Just mix and match your accessories to discover what works. After all, the possibilities of wearing your acrylic jewelry are endless.
Add a nostalgic feel to your modern ensembles with vintage acrylics.
Fun and funky Lucite bangle by Rose Day Vintage. Check price here.
If you choose a vintage piece, you can choose the kind of vibe you'll like to create when wearing Lucite jewelry. A chunky chain necklace in animal prints makes your vintage look classy and at the same time edgy. If you want to instantly upgrade your accessory game, swap your studs with Lucite earrings, and double up on acrylic bangles.
Lucite moonglow necklace by Leetie. Check price here.
There's something avant-garde and unexpected about wearing Lucite jewelry. The acrylic pieces are sleek and sophisticated, so you can embrace the glamorous look with bigger yet lighter designs. To add sparkle to your outfits without looking over-the-top, stick to jewel toned Lucite instead of neon colors and pastels.
Add colors and prints to your style with Lucite jewelry.
Colorful Lucite necklace by Aorta. Check price here.
Forget sticking to gold and silver, as bold pops of colors and prints are fresh and fun. Lucite hoop earrings, beaded necklaces, and chunky bracelets are a stylish way to add some color into your looks and jewelry collection. If you love floral and bright pieces, think of confetti Lucite with tiny flowers and glitters embedded on the jewelry.
Make a fashion-forward statement with a standout jewelry piece.
Clear Lucite earrings by Masanetti. Check price here.
If you're a minimalist who loves basic, monochromatic outfits, go for a Lucite jewelry piece that's statement making on its own. Clear and translucent jewelry will give you the right amount of statement—just opt for interesting shapes and unique designs. Size and shape are key elements of the season, with jewelry styles skewing towards big and architectural.
The 1950s jewelry trends were known for their retro futurism, so you can still find vintage accessories that will suit your modern wardrobe. Oversized and sculptural Lucite elevates even the most basic outfit, while sci-fi designs add a futuristic vibe to your looks. Don't be afraid to go bold on your accessories since chunky chains just taken the place of dainty jewelry this season.
Modern vs. Vintage Lucite Jewelry
Nowadays, costume jewelry comes in all shapes, designs, and materials—and it takes a good eye to know which is vintage and which is modern when it comes to Lucite jewelry.
It must reflect the vintage styles of the time.
When looking for vintage Lucite jewelry, shop at antique shops, not fast-fashion stores. If the jewelry piece was bought in a store selling contemporary items, it's likely a modern piece of Lucite, not vintage. In the 1930s, the Lucite jewelry was handmade, and the material was molded or carved just to create a single piece.
Beads and cabochons were created out of Lucite, and set into silver, gold, or other metals. Therefore, a vintage piece has no seams, since it has to be carved out in shape. Also, the jewelry must reflect the distinctive vintage styles whether it's a beaded necklace, button-shaped earrings, or bangles with carved designs.
Vintage pieces have clear, translucent, or opaque finish.
Lucite chunky bangle by Illusion Blings. Check price here.
The color of jewelry is a telltale sign of its age, as almost all contemporary Lucite comes in solid colors and architectural styles, while vintage ones have clear, translucent and opaque finishes. It's hard to say just by looking at the piece, though, so if you're after a genuine vintage Lucite design, buy from a trusted seller.
It is clearer and heavier than a traditional plastic.
Lucite is a type of plastic, but its composition is similar to both glass and plastic, which is why the material is called "acrylic glass." It is commonly used for making more resistant types of glass, which means it is clearer and heavier compared to traditional plastic. When shopping for vintage Lucite jewelry, check its weight and clarity. The piece should not bend at all and should not have cracks in it.
Vintage Lucite doesn't have a scent when dipped into hot water.
When testing vintage acrylic jewelry, skip using boiling water or flame which will only damage the piece. Instead, you can test it by dipping the jewelry into a hot water for 30 seconds. Vintage Lucite won't have any scent while other vintage plastics will smell acidic like vinegar.
Looking for Lucite jewelry? We suggest starting your search on Etsy, a platform with an endless array of modern and vintage Lucite jewelry. Click here to start browsing.