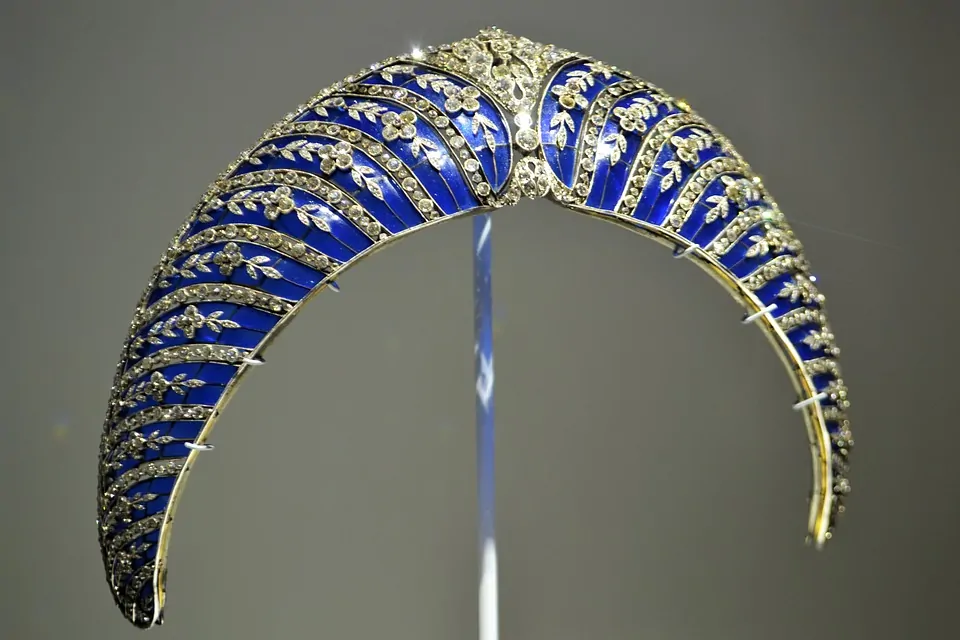 As Jewelry Shopping Guide editors, we write about things that we love and we think you'll like too. We often have affiliate partnerships, and may generate some revenue from these links at no cost to you.
There's no denying the beauty of enamel jewelry. With vibrant colors, unique luster, and opacity, well-crafted enamel jewelry is a work of art and is increasing in popularity.
Whether you're after an enamel lapel pin or a statement Meenakari necklace, there's a piece of enamel jewelry out there for you.
Let's take a look at enamel jewelry in this complete buying guide.
What is Enamel Jewelry?
Enamel has been used to create jewelry for centuries and is known by several names, including porcelain enamel, painted glass, and vitreous enamel. It's one of the oldest techniques for decorating the surface of the jewelry.
Enamel jewelry is much like art, as the skill of the enameller can add an artistic quality to the piece. Because of the extent of skill and expertise required to make high-quality enamel jewelry, well-crafted enamel jewelry is highly sought after and valued.
While enamel jewelry is typically affordable, antique pieces can command high prices. Big brand names, like Cartier who frequently use enamel in their products, can also add tremendous value to a piece of enamel jewelry.
Why Buy Enamel Jewelry?
Enamel jewelry is becoming one of the most popular types of jewelry on the market. Here are some reasons that make it a great choice:
It's fashionable and modern
Adds color to neutral attire
Affordable and available
Wide range of designs, colors and styles
Used with both costume jewelry and fine jewelry
Vintage pieces are a collectible
Has a long history
The History of Enamel Jewelry
Enamel jewelry has been around for a long time, with a history that dates back to the ancient Persian empire. The Persians developed a technique known as Meenakari, which allowed them to craft vibrant, colorful enamel jewelry. Today, Meenakari jewelry is a prominent Indian jewelry type and is still highly sought after.
Apart from the Persians, evidence of enameling can be found in almost all the major ancient civilizations, including China, Egypt, Rome, and Greek. Each of these regions modified and created its own style of enameling, which made each distinct (we'll talk about some of these below).
In the 19th century, enamel jewelry underwent a surge in popularity, as famous French designers like created beautiful pieces in new styles. Techniques like plique a jour became highly popular.
Enamel jewelry continued to be popular and had a variety of decorative uses. What made enameling popular in jewelry was not just its smooth look and ability to lend itself to various designs, but also the fact that enameling allowed jewelry designers to add color to their jewelry without the use of gemstones.
What Is Enamel Jewelry Made Of?
Enamel is made of metal and a powder coating. The process involves fusing the powder coating to the base metal at extremely high temperatures. Enamel is quite temperamental and requires great skill in getting it just right.
The color of the enamel powder at the start is not always what the finished product will look like, as the heating process can alter the colors and transparency.
The higher the temperature, the more likely the enamel is to be translucent with vibrant colors, whereas lower temperatures may result in opaque enamel with lower color vibrancy and a greater likelihood of getting damaged.
The final look of the enamel depends largely on the intensity of the temperature as well as on the oxide content of the base metal.
Some Enamel Jewelry Techniques
As mentioned above, many cultures have contributed to the technique of enameling, providing their own styles. Here are some of the most common ways that enamel jewelry is made.
1. Plique a Jour Enamel
Popular during the Art Nouveau era, plique a jour, which is French for to let in daylight, used a different technique that allowed light to enter the piece from the back. This resulted in jewelry that seemed to glow from within.
The plique a jour technique was done by adding the enamel powder into little sections in the metal and then removing the foil used to hold it together. The enamel fuses to the metal and is suspended between these wire strands. The end result looks somewhat like stained glass with a delicate, translucent quality with the colors brought out in a stunning way.
2. Champlevé
In another French technique, here the jeweler creates hollows in the metal surface which is then filled with colored enamel and heated. Champlevé enamel features texture and vibrant colors.
3. Meenakari
Meenakari is similar to cloisonné enamel but is more colorful in appearance. Persian Meenakari is typically blue and used in ornamental objects, but Indian Meenakari is known for its colorful appearance and is associated with Indian jewelry.
For Meenakari, silver or copper are the base metals used. The design is first etched onto the metal and then the etchings are carefully filled with enamel colors. After heating at temperatures exceeding 850 degrees Celsius, the piece is then polished and cleaned with organic acids like lime and tamarind, which brings out the vibrancy and luster of the colors.
4. Cloisonné
Cloisonné is where the enamel is filled into a design outlined by wires of gold or silver. Once heated, the end result features the enamel pattern clearly outlined by the wires.
Cloisonné is excellent for bringing detailed and vivid patterns to life. It's one of the more distinct types of enamel jewelry.
Types of Enamel Jewelry
Enamel jewelry is perfect to add color and art to your look without the need for gemstones or other colorful items used in jewelry. It comes in a variety of styles, so whether you like bold, statement jewelry, or something more subtle, there's an enamel piece out there for you.
Here are some of our favorite enamel jewelry types:
1. Enamel Stud Earrings
Cute and creative, enamel studs come in a variety of colors, shapes, and designs. Choose from fun and funky or a more formal style. This is perfect for everyday wear.
2. Enamel Lapel Pins
Not exactly a type of jewelry but still a favorite and popular accessory, enamel lapel pins allow you to make a statement. All you have to do is think about what you want your pin to say, pick your pin and attach it to your lapel.
3. Enamel Bangle Bracelets
Whether you opt for an ethnic Meenakari bangle or something more modern, there's an enamel bangle bracelet for you. These can add a touch of sophistication and style and compliment any outfit and occasion.
4. Enamel Dangle Earrings
Enamel dangles can be very stylish, contemporary, and excellent for just about any occasion. Popular styles include geometric shapes, abstract designs, everyday objects, flowers, and animals.
5. Enamel Pendant
With all the different enamel techniques available, enamel pendants range from stunning plique a jour styles to more exotic Meenakari designs. Enamel pendants are excellent to add color to neutral outfits and complement any outfit, whether workwear, casual or formal.
How to Clean and Care for Enamel Jewelry
Enamel is fairly easy to clean and maintain. It's quite durable and isn't easily prone to damage.
To keep enamel jewelry clean, just follow the same process that you would for other types of jewelry. Simply use warm water and mild liquid soap to soak the enamel jewelry and then use a soft cloth or brush to remove any dirt on the piece. Rinse the piece thoroughly, taking care not to leave any soapy residue on the jewelry. Dry with a lint-free cloth and store it with care.
If you need to have your enamel jewelry repaired, find a jeweler specializing in working with enamel jewelry. If you're trying to repair a valuable antique piece, look for a skilled jeweler as the process can affect your enamel piece and damage it further.
What to Look for When Buying Enamel Jewelry
When looking for enamel jewelry, check whether the piece is the enamel that's been heated, or simply an enamel finish that's been added on (painted, brushed, attached) to the piece.
Look For: Enamel jewelry that's been heated at high temperatures as this produces the best quality enamel, with excellent color and luster. Choose a reputable seller with a proven track record, check customer reviews, and always look for the after-sales policy.
Avoid: Low-quality enamel finish as it may not last long, and the colors are likely to fade or change. Prices that are just too low to be true and a seller that doesn't answer your questions.
Where to Shop
Taking your search online will let you easily compare different enamel jewelry options.
While there are specialist shops that provide enamel jewelry, we recommend starting your search on Amazon and Etsy for some excellent enamel jewelry collections, including valuable vintage pieces.
Click here to start browsing for enamel jewelry.