As Jewelry Shopping Guide editors, we write about things that we love and we think you'll like too. We often have affiliate partnerships, and may generate some revenue from these links at no cost to you.
Have you ever heard of the chatelaine chain? Well, this piece of accessory was once immensely popular and held great use and beauty, especially to women. At varying times and in different regions, chatelaine chains were used by mistresses of households, housekeepers, or the wealthy to hold various items. They could denote the status of a woman, display wealth and prestige, and be worn purely as an accessory or with a utilitarian aim.
If you're intrigued, you might be wondering:
What exactly a chatelaine chain is? What is its history? How have these chains evolved today?
We'll find answers to all these questions here in this article.
History of Chatelaine Chain
A chatelaine chain is basically a decorative belt hook that is worn at the waist with a series of chain suspended from it. What's more, each chain carries useful household accessories like keys, watches, scissors, knives, and so on.
According to various sources, chatelaine jewelry was introduced in the 17th century and was exceptionally popular in the 18th and 19th centuries. These chains were generally made of cut steel and included a button hook, a disk-shaped pin cushion, a folding corkscrew, and a steel thimble holder.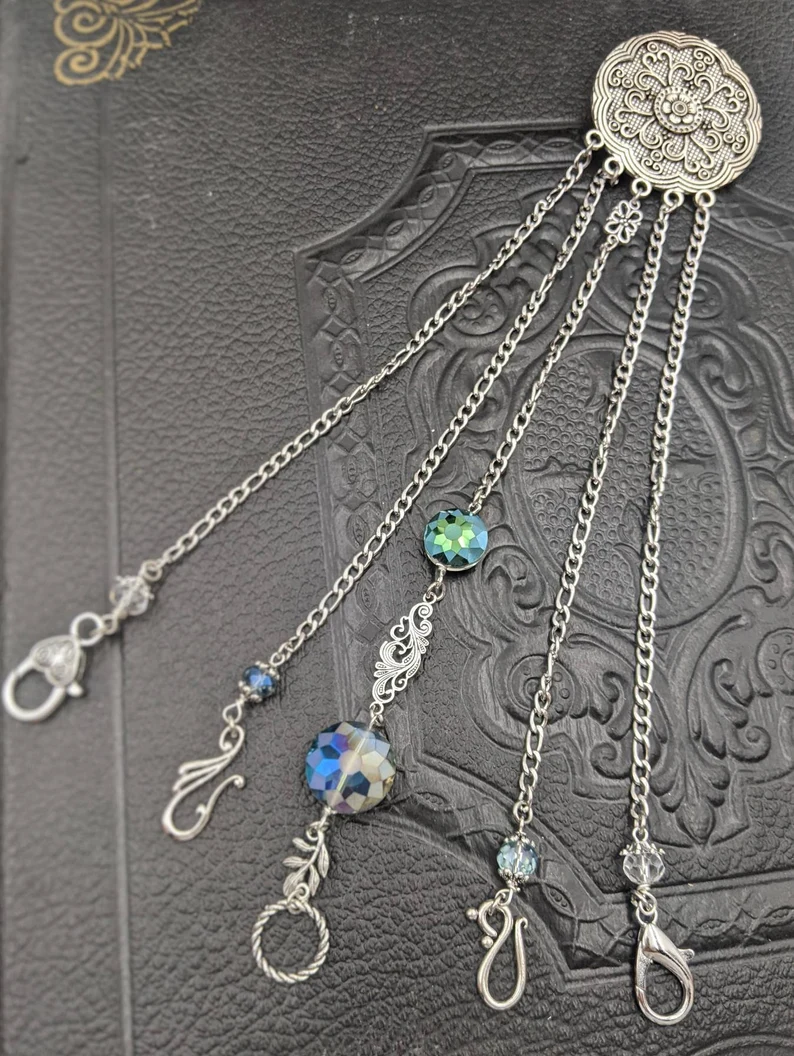 As a matter of fact, the chatelaine chain was not just an added accessory, in various cultures, this piece of jewelry was also used to indicate the status of women in the household. A lot of women in the 19th century wore a chatelaine chain as a keychain. The women of the household used to carry all the important keys like those of drawers, pantries, storage containers, locked cabinets, and the like attached to their chatelaine chains.
Chatelaine Chains and Women's Status
The woman of the household used to be a powerful figure who would direct and command the servants, housemaids, cooks, and others, thus deciding who has access to what.
More often than not, this woman of the household was the senior woman of the house. After getting married and moving to her husband's house, her mother-in-law would usually take care of the keys. But in the event that the mother became a widow, the keys and their associated responsibilities were passed on to the wife of the eldest son.
This is how important a role the chatelaine chain played in society back then. The accessory was not only worn to look trendy, but it also reflected the status of the woman in the house.
However, at the end of the 19th century, the importance of chatelaine jewelry started declining. There were various reasons responsible for this. One of the major causes why chatelaine jewelry came into existence was the convenience it posed to women. Back then, women's clothing didn't have proper pockets for storing items and accessories and so the chatelaine chain provided an excellent alternative, with a piece of jewelry that was as stylish as it was useful. Later on, as pockets took over the need for chatelaine jewelry, its use diminished.
Why Did Chatelaines Go Out of Style?
Chatelaine chains looked beautiful and you could argue that they even represented feminism. However, they soon went out of style due to one reason or another.
One such reason could be the prevalence of wristwatches. Women no longer needed to carry pocket watches with them as these were replaced by wristwatches. Secondly, chatelaines were no longer needed as handier handbags came into the scene. Women could keep their belongings in these without having to wear them in chatelaines.
But fashions come and go, and there are still a lot of women who wear chatelaines today. Undoubtedly, chatelaines look classy and could complement ethnic wear flawlessly.
Meaning of Chatelaine Necklace
There is an interesting story behind the term chatelaine. The word got its origin from the French term chatelaine and was originally used critically. According to the Merriam-Webster dictionary, chatelaine means either 1) the mistress of a household or of a large establishment, 2) a clasp or hook for a watch, purse, or bunch of keys.
Clearly, the accessory was named chatelaine as it was designed for the woman of the household to equip her with all the accessories which would help her sort out all the problems that she might encounter during the day on the go.
Although used unapprovingly, the term soon lost this initial meaning and was later associated with 'power', and 'jewelry', as the item was fairly practical and beautiful as well.
Types of Chatelaine
Interestingly, there used to be various kinds of chatelaine jewelry. These were created to hold different items. The ones which caught our attention included the chatelaine chains that were made for special uses, like dolls, painting, nursing or sports like archery.
The pieces which used to look most beautiful were the ones made from precious metals like gold and silver and were meant to hold ladylike items such as purses, fans, watches, and perfume.
Chatelaine Chains Today
The world didn't turn blind to the beauty of chatelaine chains, and this is the reason perhaps why this amazing piece of jewelry still has a place of its own in this dynamically changing fashion world. While harder to come by in retail stores, you'll sometimes come across beautifully designed chatelaine jewelry. Chatelaine chains are the most commonly found, designed to be worn attached to the waist. But you can also find symbolic pieces.
Here are a few of the great picks:
1. Chatelaine Pendant Necklace
Since the original purpose of wearing a chatelaine chain has been replaced by handbags and other accessories, the chatelaine chains available today are merely symbolic representations. A chatelaine pendant with symbolic scissors and other tools not only looks classy but trendy too.
2. Chatelaine Chain with an Item of Interest
If you do not want to stick with symbolic representation, but need a rather more realistic chatelaine chain, you can find a range of them for this purpose too.
There are many chatelaine chains that come with a useful item that could be useful for you. For example, if you like embroidery or sewing, a pair of embroidery scissors could be a useful accessory.
3. Chatelaine Chain with A Vintage Brooch
If you want a more vintage look, consider a chatelaine brooch which can be flaunted on your attire. Further, since such classy jewelry is rarely worn commonly by women, you are bound to stand out.
4. Chatelaine Chain with a Pocket Watch
Probably, one of the important uses of chatelaine chains was its pocket watch which was used to tell time. Chatelaine chains used to have a pocket watch attached to them through which women of the household could keep an eye over time.
This is especially a great choice for a nurse or someone who needs to carry a watch easily but may find it difficult to wear watches due to work. If you too want to experience those golden old times, chatelaine chains with pocket watches are still available easily. They are sure to provide you with a vintage look, while also serving your purpose, and helping you stand out.
Where to Buy Chatelaine Chains
Undoubtedly chatelaine chains still continue to catch the eye. They have a charm of their own and are perfect for someone who loves all things vintage. But finding original chatelaine chains is not only challenging but could also prove to be difficult keeping the price considerations in mind.
Thankfully, there are a lot of reproduction and imitation pieces available on the market which could fit your purpose well. If you're looking to own your very own piece of chatelaine jewelry, we recommend searching on the following platforms:
Etsy
Etsy has a range of chatelaine jewelry, from genuine antiques to modern replicas. Of course, since every vendor on Etsy has its own policies and rules you might need to do a bit more digging and research, but that's ultimately worth it in the end when you manage to find the perfect chatelaine chain.
Amazon
As it is one of the biggest online retailers worldwide, it's not surprising that you can find many types of chatelaine jewelry here. Representatives from many different jewelry vendors offer their products on Amazon and you can use the site's extensive rating and review sections to gauge the quality of each product.