As Jewelry Shopping Guide editors, we write about things that we love and we think you'll like too. We often have affiliate partnerships, and may generate some revenue from these links at no cost to you.
The 1960s were a time of great experimentation and advancement but it was also a time of war, conflict, and social change. There was an anti-establishment sentiment in the air as people tried to move away from how things had always been done. The 1960s gave us the hippie movement, Armstrong walked the moon and the Beatles revolutionized music.
All these changes had a strong influence on the fashion trends of the time. Jewelry became a way of expressing yourself and your individuality, while designers tried to experiment and do things differently.
The jewelry trends from the 1960s have been resurfacing, as designers incorporate these into modern designs, bringing these trends into the 21st century.
Let's take a look at the big jewelry trends of the 1960s and how you can wear these like a pro.
Transitioning from the 50s To The 60s
The 50s were big on traditional jewelry styles like pearls and gold, with conventional designs and conformity to the norm.
However, as the years progressed into the 60s, famous designers like Andrew Grima, John Donald, and Kenneth Jay Lane changed the fashion scene with the usage of new materials, designs, and styles.
The likes of Audrey Hepburn, Elizabeth Taylor, and Twiggy influenced fashion and stood out as icons of the time.
1960s Jewelry Trends
Experimentation and innovation led the jewelry and fashion scene, creating a lasting influence. Here are some of the top trends that made the rounds in the 60s:
1. Geometric Shapes
Mod fashion was a huge thing in the 1960s, and this gave rise to the statement, geometric jewelry styles.
Jewelry designs incorporated geometric shapes that were big and bold. Shapes such as hexagons, circles, squares, triangles, and diamonds were popular, harking back to the Art Deco movement of the 1920s.
Most of the designs were large, funky, and unique, using shapes in ways that hadn't been used before for jewelry. Sometimes pieces could be quite over the top and dramatic, making for eye-catching, statement jewelry.
2. New Materials in Use
In the past, standard materials like gold, silver, diamonds, and pearls were the norm in jewelry-making, but with new materials on the market, designers weren't afraid to try their hand at experimentation.
Plastic jewelry was hugely popular in the 60s, with designers using new varieties to create colorful and bold designs.
Other materials like resin, polymer clay, leather, and paper were inexpensive and easily available. These began to appear in jewelry designs, meaning that jewelry was accessible to the masses, and not just to the well-to-do.
3. Monochrome and Bold Color
There were two main trends in relation to color – monochrome and unusually colorful.
The monochrome trend was tied to the mod fashion movement and resulted in jewelry designs featuring neutral colors like black and white. The mod palette consisted mainly of black and white, and much of the monochromatic jewelry of the time was created in affordable materials like plastics and polymer clay.
The other trend was seen in loud, funky, and bold colors. The color palette here was wide-ranging and unusual colors, like teal, peach, and violet were used in the jewelry.
4. The Hippie Trend
The hippie trend was in stark contrast to the mod trend. It focussed on natural materials and a return to the natural world, which was clearly seen in the hippie jewelry of the time.
Natural materials like wood, leather, stones, feathers, and cord were big with the hippie trend. Natural processes were valued, and a lot of the jewelry was simple and hand-made. The colors were natural and authentic.
There was a look to indigenous cultures for jewelry inspiration, and we see many influences from native American jewelry.
The rise of the Flower Power movement was also due to this trend and was later seen in jewelry in the form of floral designs. Flower Power stood for the idea of opposing war and encouraging peace, which hippies championed.
The anti-war movement saw the rise of popular motifs like the peace symbol, which became internationally recognized and commonly featured in jewelry.
These were all important aspects of the hippie movement, a trend that was tied to authenticity.
5. The Influence of Space Exploration
On top of all of this, there were also exciting advancements in space exploration, culminating in the first moon landing. Naturally, this influenced fashion and jewelry, resulting in large, statement, space-age-looking jewelry designs.
These jewelry designs featured metallic colors, rhinestones, and geometric and unusual space-age shapes. The flaming star was a popular motif at the time, with other motifs including celestial bodies such as the sun and moon.
How to Wear 60s Jewelry to Suit Your Style
If you want to dress retro and invoke the 60s jewelry style, you'll have endless options to choose from.
As we've seen, the 60s was a time of conflicting ideas like a yearning for a return to nature and paradise while at the same time shooting off into space, or the popularity of monochromatic palettes while at the same time unusual and bold colors were a rising trend.
All this goes to show that regardless of your personal style, you'll be able to find and fit the 60s jewelry trends that resonate with you. You don't have to wear it all at once, but instead, opt for a few well-chosen pieces that will make a 60s statement, in alignment with the 21st century while complementing your look and not overwhelming you.
On the other hand, if you want to go all out like Twiggy in the picture below, and wear all the trends at once, go for it! If you can pull it off, then why not?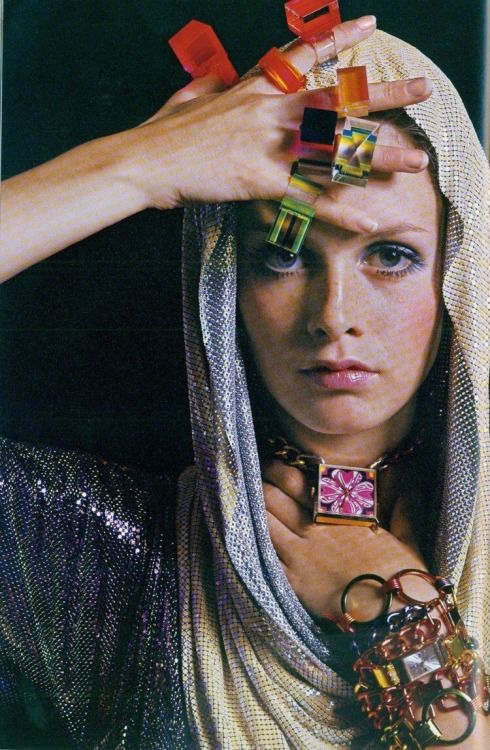 Here are some ways to wear 60s jewelry to suit your style:
If you have a natural style, opt for jewelry made from natural materials that feature motifs inspired by nature. These can include symbols, floral, celestial or animal motifs, using gemstones, wood, and other such materials.
If you prefer a more classic, business-like look, stick to a mod style and choose geometric designs, black and white colors, and unique materials.
If you're into statement jewelry, then the 60s has a lot to offer you! From large dangling earrings, stacks of thick bangles, and plastic designs, you can make a retro statement.
On the flip side, if you prefer daintier, more subtle jewelry, opt for pieces like small plastic flower studs, thin colorful stone bracelets, wire bangles, and black-and-white dangle earrings.
Where to Buy 60s Jewelry
You can find 60s jewelry in stores that specialize in vintage designs. You can also browse through the collections of your local vintage shop for the possibility of finding some good pieces.
However, if you take your search online, you'll have a lot more options, a wide range of styles, and competitive prices.
We recommend searching on Etsy and Amazon, two excellent platforms that feature a range of 60s jewelry designs. You're sure to find the right piece here as the options are endless.