Luxury jewelry is a statement of class, taste, and style. It's not just about the sparkle, but the quality and craftsmanship behind every piece. But with so many luxury jewelry brands out there, it can be overwhelming to know where to start your search.
That's where we come in. We've scoured the market to find the best of the best, taking into consideration both quality and fair pricing. Whether you're in the market for a one-of-a-kind piece or a simple everyday luxury, these brands have got you covered.
1. Brilliant Earth 
Brilliant Earth has emerged as one of the leading luxury jewelry brands that places sustainability at the forefront of their practices. With the use of ethically sourced and recycled gold and silver, they offer a guilt-free shopping experience for customers. The brand also offers high-quality natural diamonds and gemstones, carefully selected for their brilliance and uniqueness. Their engagement rings and wedding bands feature stunning designs that are truly one-of-a-kind. Brilliant Earth's commitment to social and environmental responsibility makes it a popular choice for those seeking a luxurious yet ethical jewelry option.
2. Tiffany & Co. 
Tiffany & Co. is a name synonymous with luxury and elegance, and it's not hard to see why. Established almost 200 years ago, the brand has continued to be a top choice for those seeking high-quality luxury jewelry. Tiffany & Co. has a range of jewelry types that are perfect for any occasion, whether it's a classic engagement ring or a statement necklace.
One of the things that set Tiffany & Co. apart is their focus on craftsmanship and quality materials, which is why their designs are consistently sought after. So if you're looking for a timeless piece that will last a lifetime, Tiffany & Co. is definitely a brand to consider.
3. James Allen 
If you're searching for an engagement ring but prefer to shop from the comfort of your own home, James Allen is the perfect online luxury jewelry store for you. They offer high-quality materials and excellent craftsmanship, making them a top choice for many couples looking to tie the knot.
Their vast collection of engagement rings offers limitless options to choose from, and their prices are quite competitive compared to other high-end vendors. James Allen also offers one of the best 3D 360-degree imagery features, allowing you to effortlessly shop for your perfect engagement ring online.
4. David Yurman 
David Yurman is a top choice for those seeking luxury men's jewelry and especially high-end bracelets. Their unique designs are crafted with the finest materials and are available in an extensive online collection. David Yurman's signature cable-twist cuff bracelet is a popular and iconic piece, but their collection also includes other notable items, such as elegant rings, necklaces, and watches, that are sure to catch your eye. With its stunning designs and impeccable craftsmanship, David Yurman is an excellent choice for anyone looking to add a touch of luxury to their jewelry collection.
5. Blue Nile 
Blue Nile is a renowned online jewelry retailer that has been offering high-quality jewelry at reasonable prices since 1999. They pride themselves on their vast collection of fine jewelry, which includes everything from diamond engagement rings and wedding bands to gemstone earrings and necklaces.
With a focus on ethical sourcing and customer satisfaction, Blue Nile's jewelry pieces are crafted with precision and care. Their user-friendly website makes shopping for luxury jewelry easy and convenient, with plenty of customization options available.
From classic and timeless designs to contemporary and trendy pieces, Blue Nile has something to suit everyone's taste and budget.
6. Vrai & Oro 
For those looking for luxury jewelry made with lab-grown diamonds and gemstones, Vrai & Oro is a brand that should be on their radar. They offer a variety of stunning and simple designs that incorporate high-quality, lab-grown gemstones, which are both affordable and eco-friendly.
Their pieces are available in 14k and 18k gold and include engagement rings, wedding bands, earrings, necklaces, and bracelets. Vrai & Oro is committed to ethical sourcing and sustainable practices, using recycled gold and minimizing waste in their production process. Their jewelry is made to last and comes with a lifetime warranty.
7. Chopard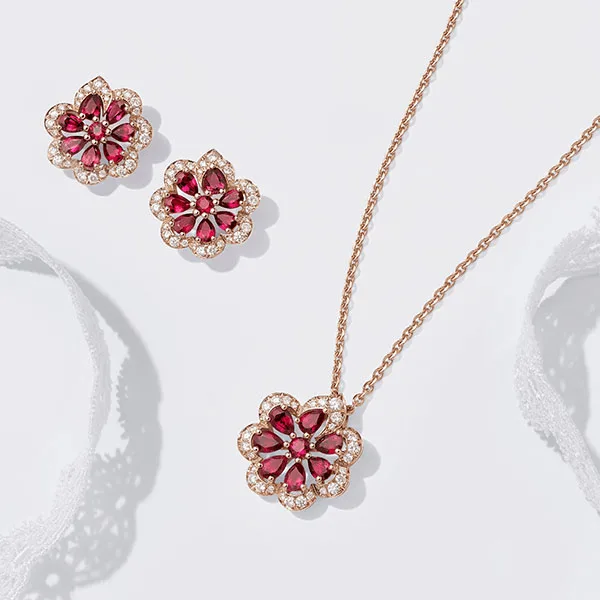 Chopard is a premier brand known for its exquisite women's diamond gold jewelry. With a wide range of jewelry types, including watches, rings, bracelets, necklaces, pendants, and earrings, Chopard caters to all of your luxury jewelry needs.
Their jewelry pieces come in perfect antique styles with delicate features and a perfect combination of minimalism and luxury. Chopard is a brand that values sustainability and fair mining practices. They also actively support various philanthropic causes such as the Cannes Film Festival, Happy Hearts Foundation, and the Elton John AIDS Foundation.
8. Swarovski
Swarovski has established itself as a renowned brand for luxury crystal jewelry since its founding in 1895. With a rich history in the industry, the brand has remained consistent in offering jewelry pieces that are both luxurious and unique.
Swarovski has collaborated with famous designers such as Jean-Paul Gaultier and Yoko Ono to create jewelry collections that reflect their individual styles. The brand also has a variety of sub-collections, such as their "Swarovski Remix Collection" which allows wearers to mix and match different pieces to create a unique look.
In addition, Swarovski offers a range of customization options for their jewelry, allowing customers to create personalized pieces that cater to their individual tastes.
9. Sarah Chloe
For those in search of a luxury jewelry brand that offers a diverse range of pieces at varying price points, Sarah Chloe is an excellent option. Their collection features a wide array of jewelry types, from diamond rings to necklaces, bracelets, cufflinks, and bangles. Whether you're looking for a special piece for a special occasion or simply want to treat yourself to some high-end sparkle, Sarah Chloe has something for everyone.
And while the brand offers plenty of luxurious options, they also have a range of pieces that are more budget-friendly, making it easy for anyone to add a touch of sophistication to their jewelry collection. With such a well-balanced collection, Sarah Chloe truly has something for every taste and budget.
10. Mateo
When it comes to high jewelry, Mateo is a name that demands attention. With a focus on quality craftsmanship, Mateo's pieces are created with the utmost care and attention to detail. From stunning diamond earrings to breathtaking necklaces and bracelets, each piece is a true work of art.
But it's not just about the beauty of the designs, it's also about the materials used. Mateo sources only the finest materials for their jewelry, including top-quality diamonds and precious metals. So if you're looking to add some high-end sparkle to your collection, look no further than Mateo's exquisite designs.
11. Bulgari
Bulgari is a renowned luxury jewelry store that has been in operation since the 19th century. Known for their high-quality materials, timeless designs, and exquisite craftsmanship, Bulgari has become a household name for those seeking luxurious and glamorous jewelry.
From rings and necklaces to bracelets, watches, and more, the store has an extensive collection of jewelry items that are perfect for special occasions or everyday wear. Additionally, Bulgari's commitment to sustainability and ethical sourcing of materials has made it a favorite among socially conscious consumers.
12. Cartier
This French luxury brand has been synonymous with elegance, sophistication, and luxury, offering a wide range of high-end jewelry pieces that have become iconic over the years. Cartier's collection includes exquisite diamond rings, necklaces, bracelets, earrings, and watches, among others, crafted from the finest materials and designed with impeccable attention to detail.
The brand's jewelry pieces have adorned royalty, celebrities, and other influential figures, cementing its reputation as one of the most prestigious and sought-after luxury jewelry stores in the world.
FAQs about Luxury Jewelry Brands
What is a luxury jewelry brand? 
A luxury jewelry brand is a company that specializes in creating high-end jewelry using precious metals and stones.
What are some famous luxury jewelry brands? 
Some famous luxury jewelry brands include Tiffany & Co., Cartier, Bulgari, Chopard, and Harry Winston.
What is the difference between luxury and non-luxury jewelry?
Luxury jewelry is typically made using higher-quality materials and is more intricately designed. It is also usually more expensive than non-luxury jewelry.
Why are luxury jewelry brands so expensive? 
Luxury jewelry brands use high-quality materials and employ skilled craftsmen to create unique and intricate designs, which can increase the price of the pieces.
Can I find luxury jewelry brands online? 
Yes, many luxury jewelry brands have online stores, which offer a convenient way to browse and purchase their products from the comfort of your own home.
Wrapping up
Luxury jewelry brands offer a vast selection of high-quality, exquisite, and timeless pieces that serve as a testament to the craftsmanship of skilled artisans. Whether you're looking for a stunning engagement ring, a luxurious bracelet, or a statement necklace, luxury jewelry brands provide an unparalleled shopping experience. Investing in a piece of luxury jewelry is not only an expression of personal style but also a wise investment in a timeless and enduring piece of art.