Choosing the perfect engagement ring is a significant step in anyone's love journey. With the rise of online shopping, finding that dream ring has never been more accessible. Gone are the days of hopping from one jewelry store to another; today, a world of glittering choices is just a click away.
Let's explore some of the best online destinations to find the engagement ring that speaks to your heart, offering quality, variety, and value.
1. Blue Nile
Blue Nile is one of the top online destinations for engagement rings and jewelry. When you shop with Blue Nile, you have access to a detailed diamond education guide. They use a user-friendly platform that lets you customize your ring from diamond choice to setting style. Once you finalize your design, they will craft your ring to the highest standards.
Blue Nile is renowned for combining top-notch quality with prices that rival traditional brick-and-mortar stores. They help you to choose the perfect diamond and allow you to design a truly personalized ring. Their commitment to excellence is clear – they have numerous awards and many 5-star reviews online.
It's clear why customers trust Blue Nile. Their seamless shopping experience, transparency, and exceptional customer service have made them a favorite in the online jewelry market.
To book a consultation, check their website here: Blue Nile.
2. James Allen
James Allen is a top online jewelry store known for custom engagement rings. They pride themselves on offering a personalized shopping experience, and their excellent customer reviews show it.
We found it extremely easy to work with James Allen. First, you share your ideal ring idea with their skilled designers. They then show you a 3D digital model of your design. After you give the go-ahead, they start crafting your special ring. For those who value ease, they have online consultations, so you can design your ring from anywhere.
A standout feature of James Allen is their dedication to crafting rings with great care. They make each ring individually, ensuring top quality. Many customers highlight their knowledge, clear communication, and the hassle-free experience of creating a custom ring.
To book a consultation, check their website here: James Allen.
3. Tiffany & Co.
Tiffany & Co. has a vast collection of jewelry and offers a range of styles that caught our eye. While their prices reflect the brand's premium status, the variety ensures that there's something for most budgets.
For a genuine engagement ring, expect to spend in the higher-end price range. They ship across the US and to many international destinations, including Australia, Europe, New Zealand, and Russia, often with free shipping options.
If you're not happy with your purchase, Tiffany & Co. has a straightforward return policy, allowing returns within 30 days. All their jewelry is crafted with precision, and they are known for sourcing ethically produced diamonds. Every purchase comes with a lifetime warranty covering craftsmanship issues and potential shipping damages.
To book a consultation, check their website here: Tiffany & Co.
4. Ritani
Ritani offers a broad selection of engagement rings organized by style, diamond cut, ring type, and metal. Their website is filled with helpful guides, making it easy for both beginners and experts to find the right ring.
What impressed us about this online store was that each customer gets a personalized touch, ensuring you find a ring that suits your taste. On average, a custom ring from Ritani can cost up to $6,000, though prices vary based on design and specifics.
One drawback is that Ritani doesn't always show prices upfront since many of their items are custom-made. To get a quote or order a unique piece, you need to reach out to them. However, scheduling a free consultation, either in-person or online, is easy and hassle-free.
To book a consultation, check their website here: Ritani.
5. Vrai Diamonds
If you're after top-notch and stylish designs, Vrai is the way to go. Their website showcases many pictures and details, making it easier for couples to pick the ideal engagement ring.
However, like a few others, they don't list prices or detailed product info directly online. We liked that they value closer interaction with customers, so you need to reach out (through E-mail, live chat, or phone) to get more details. Once you contact them, they prioritize your needs, responding quickly to any questions and even letting you set up online appointments or reserve items for store pickup.
They ship all their items swiftly using FedEx overnight, and it's free! Ready-made pieces arrive in just two days, while custom orders might need a week. But you can check the status anytime and reach out if you have questions. While they don't offer refunds, they're open to exchanges or replacements within 14 days if needed.
To book a consultation, check their website here: Vrai.
6. Catbird
Catbird is a well-known jewelry brand, famous for its top-quality items. They showcase designs from popular artists and their own special creations. What we liked about them is their use of ethically sourced and lab-made diamonds, making style responsible.
They don't just sell jewelry; they care for their customers as well. They give a lifetime warranty, which means they're confident in the quality of their products. They also offer cleaning services to keep jewelry looking new and have easy payment plans. If you're not happy, they let you return items within 30 days.
If you like stylish jewelry that's also ethical, check out Catbird. They're unique because they focus on both great design and doing the right thing.
To book a consultation, check their website here: Catbird.
7. Zales Online
In 1924, Zales opened its doors, and now it's one of the top online jewelry stores. If you want top-notch service with lots of choices, Zales is your go-to. Their website showcases a vast range of engagement, wedding rings, and other diamond pieces.
A special feature is their 'New Arrivals' section, full of inspiring designs and customer favorites. It's great to see the quality they offer through these highlighted pieces. Since everything is available online, shopping is easy. But if you need guidance, Zales has experts ready to help you pick the perfect piece. Every diamond they sell is certified and conflict-free, ensuring you're getting the best.
To book a consultation, check their website here: Zales.
8. Whiteflash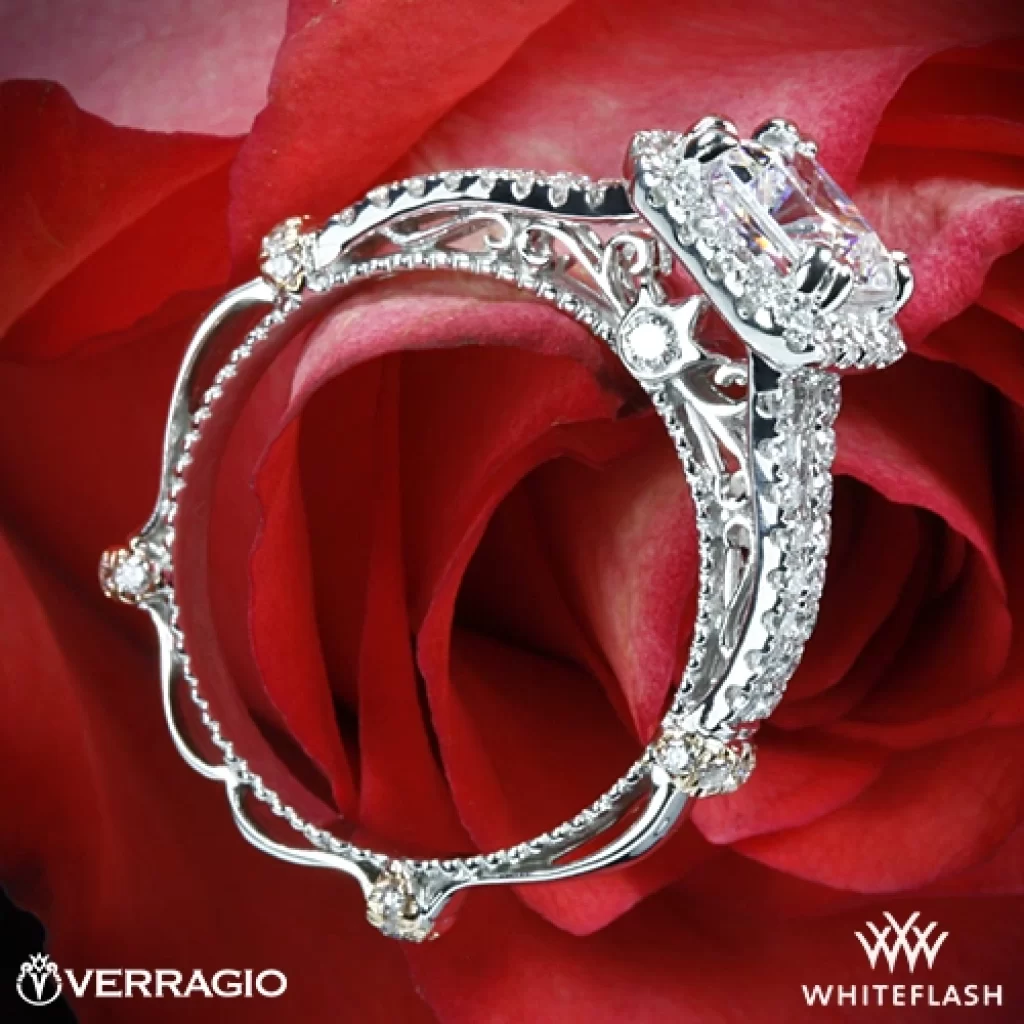 Whiteflash is a top pick for excellent craft and personal touch. Every Whiteflash jewelry piece is carefully made to perfection, and their diamonds are all certified by leading labs, ensuring you get the best quality. If you're more into lab-created diamonds, they've got those too.
What stands out about Whiteflash is their clear and honest way of doing business. This honesty shows in their outstanding customer service. To make things even better, when you buy an engagement ring, they give you an independent appraisal, clean and size your ring for free forever, and provide free shipping. They also guarantee that their diamonds are conflict-free.
Check out their website here: Whiteflash.
9. Brian Gavin Diamonds
Brian Gavin Diamonds aims to give top-quality engagement rings without breaking the bank. By operating as a direct diamond dealer, they cut out the middlemen, ensuring better prices for you.
Whether you're on a tight budget or looking to splurge, Brian Gavin Diamonds has options for everyone. They cater to all price ranges, ensuring each customer gets a ring that's just right. Their user-friendly website lets you explore a wide array of rings, from bridal sets to men's bands and unique custom designs.
If you're interested in seeing their pieces up close, you'll need to set up an appointment. But don't worry, The consultation is free, and there's no pressure to buy. Brian Gavin Diamonds is known for outstanding service, fast responses, and great after-sales support.
To book a consultation, check their website here: Brian Gavin Diamonds.
10. MoissaniteCo.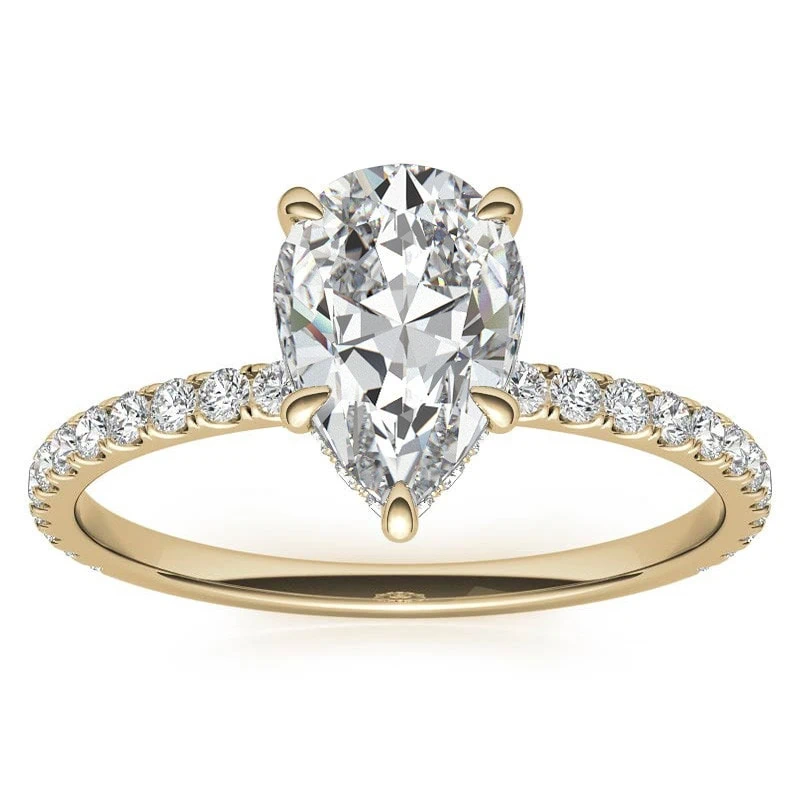 If you're on the hunt for diverse and top-notch designs, MoissaniteCo is a must-visit. They feature designs from numerous creators, ensuring a wide variety of styles. Whether you're into modern and sleek designs or something more playful, they've got you covered.
MoissaniteCo operates much like an online showcase, presenting a broad spectrum of designs all in one place. You can easily explore their offerings online to find the design that resonates with you. And if you're in the mood for some window shopping, why not browse their collection just for inspiration?
The beauty of MoissaniteCo lies in its diverse range. You aren't pigeonholed into a single designer's vision. From custom designs to ready-to-wear pieces, there's something for every taste. The store has long been celebrated for its commitment to ethical jewelry practices, making it a trustworthy choice for conscious shoppers.
Check out their website here: MoissaniteCo.
11. Kay Jewelers Online
A household name in the jewelry business, Kay Jewelers is known far and wide, catering to a diverse clientele. Their engagement ring collection spans from traditional to contemporary, ensuring there's something for everyone.
Prices are quite approachable, starting in the lower range, making it accessible for various budgets. They offer a wide variety of stones, from classic diamonds to vibrant gemstones like sapphires and emeralds.
Their user-friendly website mirrors their extensive collection. Besides rings, you'll find other jewelry and even watches. With their vast selection and reputable name, it's worth diving into Kay Jewelers' offerings when hunting for that perfect ring.
To book a consultation, check their website here: Kay Jewelers.
12. Brilliant Earth
Brilliant Earth is your go-to for top-quality jewelry and unmatched service. Whether you're dreaming of a unique ring or looking for a classic design, Brilliant Earth has got you covered.
All of their jewelry pieces reflect a commitment to fine craftsmanship. Notably, this store is known for its ethically sourced diamonds. For those leaning towards sustainable choices, their selection of lab-created diamonds is also impressive.
What stands out about Brilliant Earth is their dedication to transparency and ethical practices, evident in their customer-centric approach. For us, a perk of buying an engagement ring here is the comprehensive package they offer: every purchase includes an independent appraisal, lifetime cleaning, and resizing, plus free shipping. They also guarantee that all their gems are conflict-free, ensuring you not only get a beautiful piece but also one that aligns with responsible sourcing.
To book a consultation, check their website here: Brilliant Earth.
Wrapping Up
In the digital age, buying engagement rings online has become not only convenient but also an enlightening experience. With vast collections, detailed information, and ethical sourcing options at your fingertips, you can find a ring that perfectly symbolizes your love story.