Lab-created diamonds offer a great alternative to mined diamonds – they're more affordable, more ethically produced, and are just as beautiful as their mined counterparts. Since their introduction into the jewelry market, lab-created diamonds have increased in popularity and are now offered by major online retailers.
Finding the best place to buy lab created diamonds can feel complicated if you're new to diamond jewelry shopping. However, there are several trusted vendors out there and working with them eases the shopping experience. To help you avoid disreputable vendors and find the right store for you, here are our preferred 7 places for lab created diamonds.
7 Best Place to Buy Lab Created Diamonds Online
While there can be differing opinions, we've followed most major retailers for multiple years now and the following 7 stores are head and shoulders ahead of everyone else when it comes to lab-created diamonds. Most are early adopters of lab-grown diamonds, who saw their potential before everyone else. With that said, here's our list of the best online stores for lab-created diamonds.
1. Reve Diamonds
Why: Competitive pricing and excellent customer service
Reve Diamonds are UK-based but they recently opened a showroom in New York as well. Even if you're not from the Big Apple or London, however, Reve's excellent online store ships worldwide, expressly, and free of charge. Additionally, their online store is easy to navigate and offers HD images and videos of most of their products. As a former wholesales-only vendor, they have some of the best prices on the market, especially for their lab-grown diamonds.
Reve Diamonds has a large and growing selection of lab grown diamonds with images and videos on their ecommerce websites to select and order online. These diamonds come certified by the IGI and the GIA and are of premium quality. If you prefer to see the diamonds in person, you can view them in person in either one of their showrooms.
Reve Diamonds also offers bespoke jewelry in addition to their wide selection of lab-created diamonds and diamond jewelry.
With a perfect 5-star customer rating across multiple independent review sites, Reve Diamonds are known for their excellent customer service and for ensuring customer satisfaction.
2. James Allen
Why: Crystal clear diamond imagery, large inventory, and great prices
One of the first major diamond retailers to offer lab-grown diamonds, James Allen has an impressive selection consisting of approximately 17,000 IGI and GIA certified stones. Their online store sets the standard with their Diamond Display Technology, featuring HD 3D rotating images of all stones and jewelry. This allows you to carefully examine each diamond, an experience that many customers say is even better than viewing the stone in person.
The company also has great 24/7 customer service which makes online shopping even easier and more convenient. You can also request a Real-Time Engagement Ring inspection, where you can explore your diamond in detail with the help of one of their qualified gemologists. Their Diamond Experts will answer all your questions and help you choose the right diamond for you.
In addition to this, James Allen's Ring Studio tool allows customers to easily customize your jewelry with the stone you choose. This, together with this vendor's good prices and excellent quality continue to rank it at the top of our list.
3. Blue Nile
Why: Exclusive colored lab-grown diamond jewelry
A mainstay in the online diamond jewelry niche, Blue Nile is one of the most widely revered and trusted jewelry vendors out there. They have one of the biggest collections of diamonds and jewelry, but while they don't offer any loose lab-grown diamonds as of the time of this review, they do offer a stylish selection of lab-grown diamond jewelry via their Lightbox Collection. According to their site:
Blue Nile introduces the brilliance of lab-grown diamond jewelry through an exclusive partnership with Lightbox! Formulated to sparkle, this incredible collection includes colors that are extremely rare in nature.
So, for colored lab-grown diamond jewelry at reasonable prices, this is the place to take your search.
Blue Nile is known for their consistently low prices. Their business model means that they don't stock any inventory, which allows them to keep their costs down. The company continues to facilitate the online shopping experience, streamlining the process as they evolve.
4. Brilliant Earth
Why: Commitment to ethical sourcing
Brilliant Earth is famous for their ethically sourced natural diamonds, but they also have an extensive inventory of over 85,000 lab-grown stones. The company offers a streamlined online shopping process, but if you would like to see your stone in person, they also have several showrooms across the US. Their selection of ready-made lab-grown diamond jewelry and stunning settings provides endless options for even the pickiest shopper.
One excellent tool that Brilliant Earth offers is the virtual try-on app which helps you see how your ring would look in person. This is ideal if it's not possible for you to view the stone or jewelry in one of their physical stores. Brilliant Earth also has the option to set virtual appointments with their experts for a private consultation on what you need and what'd work best for you.
5. Clean Origin
Why: Lab-grown diamond experts offering premium quality at reasonable prices
Unlike most other vendors, Clear Origin works only with lab-created diamonds and has no natural stones in their inventory. Their collection of lab-grown diamonds small but exclusive and of premium quality. Each stone comes with 360-degree video and a certificate from one of several labs, including the IGI and the GCAL.
The lab-grown diamonds offered by Clean Origin come with competitive pricing, often up to 30% lower than equivalent natural stones. In addition to this, they have several long-term payment plans if you're looking for financing. The customer service process is also excellent, and it includes a 45-minute virtual appointment with a Clean Origin expert.
6- Ritani
Why: Transparent pricing and detailed information
Ritani's collection of lab-grown diamonds is extensive, consisting of over 65,000 stones. Their diamonds are listed with a 360-degree video and detailed information that makes it easy to cherry pick the right stone for you.
What we especially love about their pricing is how transparent it is – Ritani offers detailed information on all the costs, including their markup, what goes into the creation of lab diamonds, and their minimal overheads. Their lab-grown diamonds have some of the best prices of the major retailers. They also offer personalized engravings and free resizing, as well as a large range of ring metals, settings, and designs.
7. 12Fifteen
Why: Lab-created engagement ring jewelry
12Fifteen takes a strong stance against mined diamonds, only offering lab-created diamonds on their store. On their site, they state: We love diamonds. We just know too much about the business of diamond mining and diamond jewelry marketing to sell even one mined diamond. Never have, never will. This pretty much sums up how they feel about mined diamonds and their commitment to the more ethical alternative of lab-grown diamonds.
Part of the Forever Companies group, which consists of stores that specialize in lab-grown diamonds, 12Fifteen focuses on engagement jewelry. You'll find stylish engagement rings, wedding bands, and diamond jewelry. They also pride themselves on their bespoke jewelry process, allowing every customer to get the exact piece of jewelry they want.
12Fifteen sell exclusively online which keeps their overheads low, savings which are then passed on to the customer via their competitively priced products. The company also offers a price match guarantee, meaning that if you find a similar diamond at a more price at any of their competitors, 12Fifteen will find you a lab-created diamond of the same specs at a lower price.
What to Look For
Lab grown diamonds may be significantly more affordable than natural diamonds but they are still a major investment. Not to mention that, if you're purchasing such a stone for an engagement ring, the quality becomes crucial regardless of the price.
So, what should you be looking for if this is your first time browsing for lab-created diamond jewelry? Here are a few pointers:
1. Always work with reputable vendors.
High-quality lab-grown diamonds are rare and in fact, according to this Forbes article, demand for quality lab diamonds exceeds supply. To avoid buying a low-quality stone, always ensure that you're purchasing from a trustworthy retailer.
Ensure that store offers HD 3D images and/or videos of the actual diamonds and jewelry, rather than just a stock photo. Most of the retailers on our list offer personalized services, and will take the time to walk you through their inventory remotely.
2. Check the certification.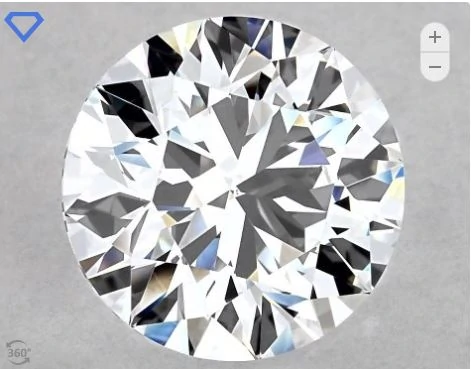 Diamonds (typically those over .30 carats) should come with a certificate of authenticity confirming the stone's quality. These certificates are provided by certain gemological labs, some more respected than others.
In the past, lab-created diamonds didn't use to be certified, but today, almost all labs provide certification for these stones.
We strongly urge you to only consider stones with certificates from the Gemological Institute of America (GIA), the American Gem Society (AGS), or the International Gemological Institute (IGI). With natural diamonds, the certification alone usually isn't enough to gauge the quality of the stone, because it doesn't fully encompass all the different characteristics and aspects of a natural stone's inclusions and flaws. Lab-created diamonds don't have such flaws, however, so a certificate goes even further in guaranteeing such a stone's quality.
3. Make sure you know what you're looking for.
Lab-grown diamonds may be more affordable than natural diamonds, but they're still a big-ticket item. It's best to plan on a budget, as well as the specifics of what you're looking for before you begin to shop. It's also a good idea to consult with an expert about the exact size, shape, and color you want from your diamond.
4. Look for vendors with solid after sales policies.
It's essential to work with a vendor who stands by their products and offers solid after sales policies. Look for reasonable returns policies (most stores offer 14-30 days returns on all products except customized items), as well as excellent customer service (their representatives should be easy to contact via multiple channels) and shipping policies (ideally free shipping and returns).
Wrapping Up
While there are many vendors who offer lab-created diamonds and jewelry these days, finding a retailer who offers high-quality products at reasonable prices can be difficult.
The above seven vendors are known for their commitment to customer satisfaction and product excellence. This has resulted in these stores consistently streamlining the online shopping process and offering products and services that make shopping online with them a no-brainer.