As Jewelry Shopping Guide editors, we write about things that we love and we think you'll like too. We often have affiliate partnerships, and may generate some revenue from these links at no cost to you.
Almost all women love jewelry as a fun way to glitz any style and outfit. If you're thinking of perfect gift ideas for your girlfriend, take your chances with a beautiful, meaningful necklace.
Charming and frivolous, these necklaces will never go out of fashion as they're more than just pretty accessories. They carry a special meaning and values close to your heart that will make your soulmate feel truly loved and cherished.
However, it's easy to get lost in all the fuss of keeping up with modern trends. If you're struggling and don't know where to start, don't worry – we've got you covered.
Here are some cute meaningful necklace ideas that will guarantee you some extra snuggles:
Love Knot Necklace
The two interwoven lines of the love knot symbolize an unbreakable bond and love between two lovers. This gorgeous 18k gold over sterling silver necklace features a dainty 10mm x 6mm knot charm with a minimalist chain. Show your everlasting love with this tiny but powerful symbol, and surprise your girl for her birthday, Valentine's Day, or anniversary.
Infinity with Heart Necklace
The elegantly simple but stylish design of this infinity necklace is another romantic way to show your endless love for her. The infinity symbol has been around for centuries, and together with the heart, it makes a powerful token of love. It represents eternal love and infinity.
This sterling silver necklace features a timeless infinity with a crystal, reminding her of all the love and laughter you've shared. It also promises the limitless possibilities and happiness love brings.
Lovelock Necklace
This beautifully crafted handmade necklace depicts a charming padlock with an engraved heart inside. It's a perfect gift for your sweetheart, showing your unbreakable love and commitment.
The minimalist but gorgeous design, as well as the small size, make this sterling silver necklace ideal for everyday wear and matching with other pieces of jewelry. It's a personal present and a modern twist to an old tradition of hanging couples' padlocks on a bridge and throwing a key into a river.
Double Heart Pendant Necklace
This shimmery necklace has two intertwined hearts, representing love and never-ending togetherness. It certainly shows the deep affection you have for someone and makes for a perfect gift from boyfriend to girlfriend or husband to wife.
The two hearts joined together beautifully reflect the idea of the two people that share a strong bond and are forever in the union.
Studded Compass Necklace
This heartfelt necklace with a compass pendant is inspired by the adventurous life and free spirit of Nellie Bly, known for her 72-day long trip around the world. It's a cute present idea for a special someone in your life, celebrating her curiosity and courage and a symbolic way of telling her you'll always be there for her, emotionally and physically.
The pendant's studded and embossed design on a dainty but strong chain makes for a unique piece of jewelry and a sweet gift for a Valentine's Day, birthday, or other special occasion, such as traveling or moving to a different city or country.
Anchor Necklace
Your anchor is your soulmate, someone you can confide in, someone who stays with you even through the toughest times, and someone with whom you want to share most of your experiences.
This delicate anchor necklace is a perfect way to mark a significant point in your long-term relationship, carrying a strong message of love and gratitude and a promise you're willing to do everything for her as well.
Heartbeat & Faith Love Necklace
Give this gorgeous sterling silver necklace with a cross and heartbeat to your significant other and show her how strong your faith in you as a couple is.
The lovely rose gold heartbeat pattern with a small, incorporated heart is a message in itself and makes the whole necklace soft and feminine. It's a unique and stylish gift for someone who values Christian beliefs, works in a medical field, or simply someone near and dear to you.
Lovers Heart Pendant Necklace
This is a two-piece necklace for him and her with a magnetic heart. The heart-shaped pendant is black and white, symbolizing the idea of two souls in one heart and the magnetic power of love.
When separated, it almost looks as though the heart is broken, and the necklace is designed to look whole only when you two are together. It's a very romantic way of expressing your love for your other half and the deep bond you two share.
Crescent Moon Necklace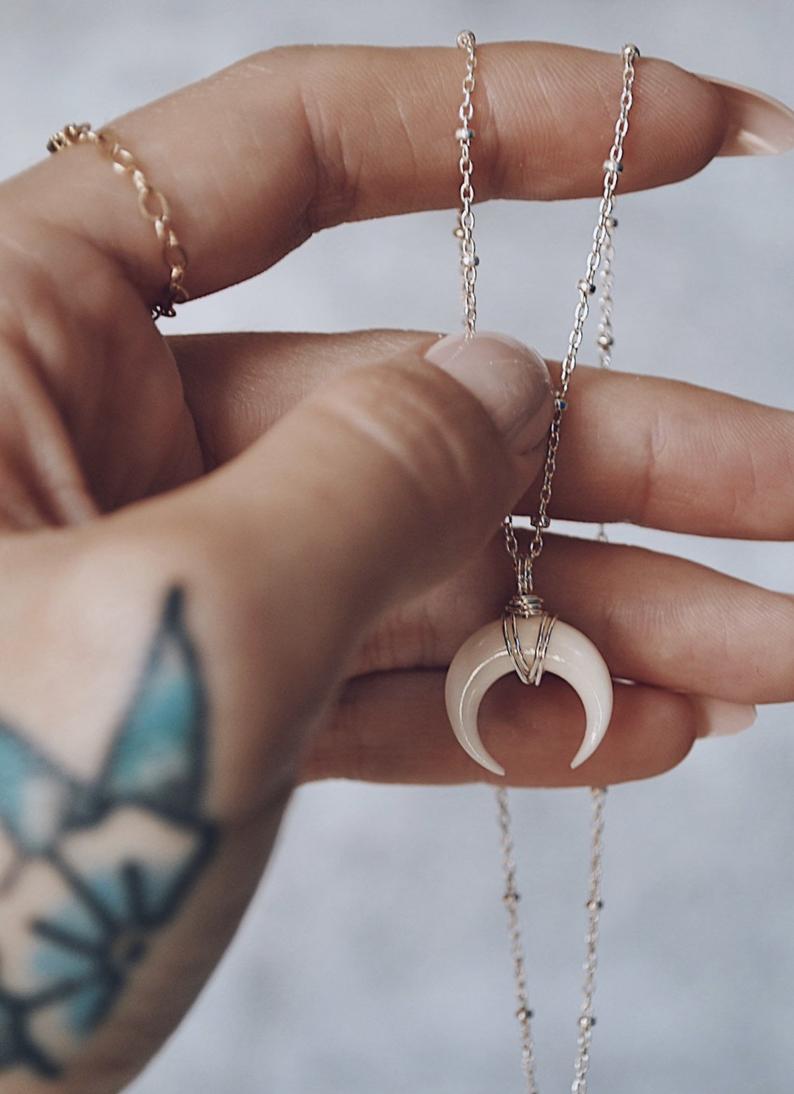 This boho-style necklace features a beautiful crescent moon and is a perfect girlfriend present, celebrating her playfulness and femininity. It's a charming way to honor the inspirational and free-spirited woman in your life.
The moon is carrying your message that you'll always support her following her dreams and intuition. This stylish piece of jewelry can look stunning on its own or when layered with other charm necklaces.
Tree of Life Pendant Necklace
If your significant other enjoy hand-crafted fine jewelry, this unique necklace with the colorful tree of life pendant would be an ideal present for her. It's a perfect combination of beauty and symbolism, with a gorgeous rainbow-colored tree in a round-shaped pendant, representing and celebrating her uniqueness.
The variety of crystals, including amethyst, green aventurine, Redstone, and others, makes for a lovely chakra necklace, promoting good luck, health, and beauty.
Sunflower & Heart Necklace
In many cultures, sunflowers represent loyalty, adoration, and happiness. This cheery necklace featuring a sunny bloom inside a shimmery heart will be her constant reminder of your warm and happy memories together.
Say You Are My Sunshine with this beautiful gift, and surprise your girl on her birthday, anniversary, or simply when you feel the moment is right.
The Key to My Heart Necklace
This simple but gorgeous brass-and-silver necklace has a silver key pendant and a tag charm saying Key to My Heart. Both stylish and romantic, this necklace is an ideal meaningful gift for someone special, carrying a loud and clear message. By giving her the key to your heart for safekeeping, you're showing how much you care, love, and trust her.
Amour Rose Necklace
The combination of silver and white colors makes this necklace a dainty and delicate piece. If your girlfriend likes vintage and boho-style jewelry, this handmade piece will undoubtedly warm up her heart.
It features a stylish round silver-plated Amour charm and a beautiful and gentle white rose, symbolizing eternal loyalty and love. It can also symbolize new beginnings, making it a great gift to mark the promising start of your relationship.
Yesterday Today Tomorrow Necklace
This delicate sterling silver necklace makes for a unique and personalized piece of jewelry for the amazing woman in your life. It features three silver stars and you may opt to add extra stars. This simple triple-star design is perfect for one who likes to look up and shines for the benefit of others.
Star in Infinity Circle Necklace
This stylish sterling silver necklace features a tiny and cute star charm surrounded by an infinity circle. It's a modern and elegant piece of jewelry and a unique present for a girlfriend. It comes with a message card, saying You Are My Star, but you can, of course, make your own personalized message.
Rose Flower Necklace
Roses have been associated with many facets of love for millennia. With this elegant sterling silver necklace comes an adorable pendant featuring a pink rose flower and a musical key symbol.
The pink rose reflects your romantic feelings and infatuation, while the key could make it a more personalized piece for your girl, if she's a singer, a player of an instrument, or is simply into music.
Angel Wing Pendant Necklace
Among other meanings, angels have always been great symbols of love, hope, and happiness. This stunning necklace with a sterling silver and diamond angel wing pendant could be a promise of harmony, affection, and joy in your relationship.
It's a beautiful gift for a wife or girlfriend, carrying a message that you'll always love and cherish her, look out for her, and protect her.
Cupids Arrow Necklace
Cupid, the god of love, and his bow and arrow are among the most popular love symbols. According to the myth, anybody struck with his golden arrow will instantly fall in love. This beautifully designed personalized necklace says precisely that – you are insanely in love and smitten. The Cupid's arrow charm hangs on a delicate chain and looks like it floats in the air. It also has a lovely initial charm, where you can engrave the first letter of your lover's name.
Simple Heart Necklace
The tiny and simple heart symbol can say a thousand words. The heart-shaped pendant on this beautiful and delicate necklace represents your love, passion, caring, and affectionate emotions. It's a modern and elegant piece of jewelry that goes with any style and will surely win her heart over as well.
Long Feather Necklace
This charming boho-style feather necklace shouts freedom, inspiration, and spirituality, the most important motifs in any woman's life. Giving her this piece of jewelry is a subtle way of telling her that you're willing and ready to support her ambitions and be the wind under her wings. It's a creative and meaningful gift for your girlfriend and will look perfect with any style, both casual and elegant.
Opal Butterfly Necklace
Butterflies are symbols of long life, love, and hope. In some countries, the beautiful tradition of releasing a swarm of butterflies at the end of a wedding ceremony will ensure eternal love and happy marriage. This gorgeous choker necklace with an opal butterfly pendant is colorful and playful and promises a lifetime of happiness, harmony, and love. Since opal is an October birthstone, it makes for a lovely gift for her birthday.
Wrapping Up
With this vast collection of meaningful necklaces, it should be easier for you to pick the right one for your girlfriend. Whichever you choose, the symbolism and style of the necklace should resonate with her personality and character.
If you're at the beginning of the relationship and still uncertain about your girl's personal preference and taste, go for simpler pieces that are versatile and easily combined with other jewelry. Otherwise, let your imagination go wild, and choose more bold statement pieces your loved one will appreciate.
Not sure how to buy her jewelry? Check out our bloke's guide to buying jewelry for your girlfriend.