Finding age-appropriate earrings is just as difficult for older ladies as it is for kids and teenagers. Because most of the jewelry on the market is designed for younger demographics, it can be hard to find the right earrings that help you to achieve the look you're after.
But don't worry, we've got you! In this article, we'll go over tips on how to find the right earrings for your style.
What Type of Earrings to Choose for Older Ladies
Some people mistakenly think that finding earrings for older ladies means looking for the most boring, simple pieces available. However, women in their golden years deserve timeless, stunning jewelry that reflect their wisdom in choosing what looks best for them. Here are some key descriptions to look for when picking out a pair of earrings for older ladies:
Classics – The best way to get that authentic classic vibe is to bust out some earrings from the family heirloom treasure box. All the best jewelry pieces get better with age like fine wine. For everyday use, go for pairs that are elegant yet subtle and understated, like classic pearl earrings. For special occasions, pick out pairs with bigger rhinestones and precious metals for that extra oomph.
Staples – Certain types of earrings never go out of style and suit any age group. These include classic diamond and pearl studs, which work for any occasion and go with any style of clothing. There's no age limit to classic pieces.
Elegant – Regardless of where you'd be wearing the earrings and for what purpose, most ladies prefer elegant and sophisticated designs. Experimenting with materials like tassel, cloth, ceramic, or plastic earrings generally suits the young, and while there's no rule against wearing these, sophisticated pieces tend to add a less is more feel that brings out your beauty and style.
Best Types of Earrings for Older Ladies
To narrow down your search for the best kind of earrings older ladies can rock, take note of the following types of earrings and what they are best used for.
Out of all the different types of earrings, stud earrings are the simplest, which makes them good for everyday use. These earrings are usually characterized by small stones or shaped metals mounted on a narrow post pushed in the ear piercing and then held up in place by a small fixture on the other side.
Pearl studs are among the most popular, loved for their opaque look, while diamond studs add that extra sparkle and value. For additional sparkle, consider stud earrings with a halo, like the one featured above.
Also called dangle earrings, drop earrings feature gems, metals, and rhinestones set in longer bases that 'dangle' from your earlobes. While shorter drop earrings that only go about half an inch from the actual earlobe can be worn on a daily basis, most drop earrings are best worn for night events, especially those that are bigger, or go as long as to reach your shoulders.
The beauty about bigger drop earrings is that there is enough space to mix gems and stones, like this absolute beauty that combines multi-color sapphires, aquamarine, and diamonds. A good rule of thumb to follow is to wear these loud accessories with monochromatic outfits that give the earrings and its many colors a chance to stand out.
Huggies earrings are sometimes confused with hoop earrings, but the main difference is that huggies are smaller, and thus fit snugly on one's earlobe, hence the name. These are very casual earrings that can be worn to and with anything.
These huggies are more extravagant than most, thanks to the row of diamonds set in such beautiful 14k gold bands. If you want a regal pair but are not a fan of how heavy drop earrings can be or how understated some stud pairs look, these are perfect alternatives.
What to Avoid
Now that we've covered what to look for when shopping earrings for older ladies, it's time to discuss what looks or earring types to avoid.
'Fancy' Earrings – Generally, you want to steer clear of 'fancy' or faux earrings, or those imitation pieces that are not truly made from precious stones or metals. Aside from looking cheap, these earrings can irritate the skin and cause serious problems with the sensitive skin around your earlobes and neck.
Tacky pieces – Having said that, not all legitimate and expensive pieces look beautiful and age-appropriate for women in their golden years. Avoid pairs that are too snazzy or too experimental that they no longer look regal and elegant.
Worst Types of Earrings for Older Ladies
In terms of earring type, there are three types that are generally not recommended for older ladies. Now, keep in mind that these are not hard-and-fast rules (fashion rules rarely are), so in every case there will always be exceptions.
Large Hoop Earrings
Avoid: Hoop earrings today can go up to ridiculous sizes, making them not just uncomfortable but also unsafe to wear. Large hoop earrings are best suited for the younger demographic as they can look experimental and somewhat tacky if not done right.
The exception: If you really must wear hoop earrings, look for irregular shapes like this oval pair, instead of perfectly rounded thin ones. Thicker hoops are also more suitable. These look much more elegant and timeless.
Climbers and Crawlers
Avoid: As the name suggests, this type of earrings climb up the length of your ear instead of dropping down from the earlobe. It is very difficult to find classic, timeless climbers and crawlers since these earrings are typically just reserved for teens and younger women.
The exception: If you must wear it, though, look for ones with very minimal and classy designs.
Costume Earrings with Random Materials
Avoid: As mentioned earlier, experimenting with various non-precious materials is best left to younger ladies. Ceramics, tassels, plastics, and common glass make for playful earring sets, but they don't often look good on older women. Again, the play here is to chase elegance and timelessness, so it's best to stick with precious metals like gold and silver, as well as rhinestones and precious/semi-precious stones.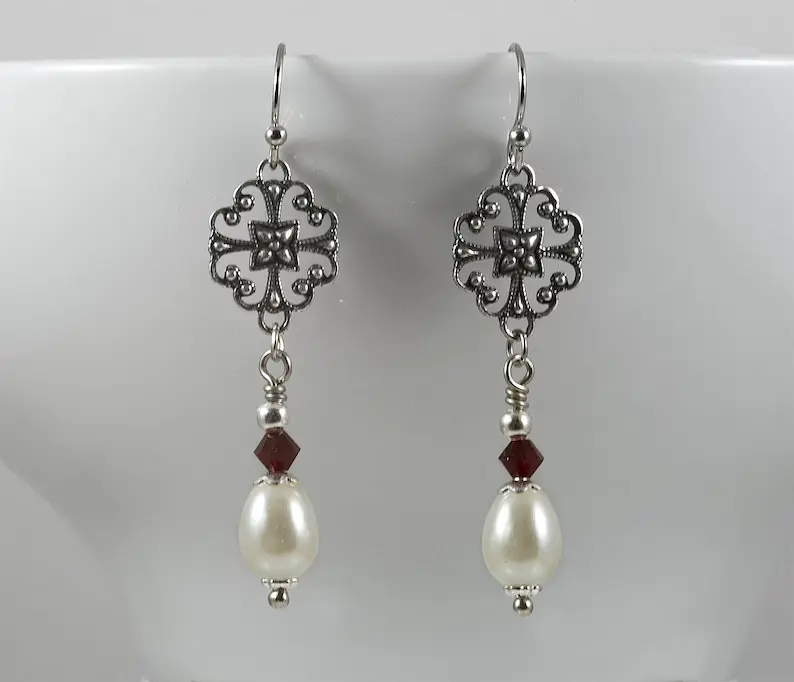 The exception: Look for non-metal earrings that still exude class and quality, and something unique. Often muted colors have a more sophisticated feel to them and are ideal when you want to make a statement.
Final Thoughts
We are not in the business of dictating or limiting what earrings we older ladies should or should not wear. The rules and style guides mentioned in these articles are merely guides. If you chance upon a pair of earrings that looks good and you're pretty sure you or an older lady friend can pull it off, then by all means go for it, regardless of what this article says. This guide is simply to steer you in the right direction — but at the end of the day, there is only one golden rule in fashion: You do you.