A statement necklace is all about making an impact. It's not limited to just large or brightly colored pieces; it's the necklace that becomes the focal point of your outfit, capturing all the attention. This key accessory goes beyond the usual chunky and bold costume jewelry – it pulls your entire look together on its own. Wearing it with elegance and staying on top of trends can be tricky.
Here's what you need to know about choosing and styling a statement necklace, so you can wear it confidently and in tune with the latest fashion.
Statement Necklaces and the Time of Year
The time of year can give you a great indication of the type of statement you can go for. In summer, colorful jeweled pieces and bright vibrant colors can look stunning. Turquoise and apatite stones are always popular for summer statement necklaces and can be layer over pretty summer dresses.
In the wintertime, a statement necklace is more glitz and sparkle, ideal for if you're wearing one to a winter or Christmas party. We tend to wear darker colors in the winter, especially if the daytime is shorter, and a crystal or sparkly necklace can elevate a simple dressmaking your outfit ready for the evening.
Statement Necklaces for Work
A common belief is that statement jewelry is difficult to wear to the office. Bright colors can stand out and make a big impression but they can also look gaudy or over the top, so how do you pick a necklace that will land you neatly in the middle of these?
If you're choosing a statement necklace for work, stick to one color. Whether that's the metal or the color of the embellishment is up to you. The necklace will still be eye-catching and noticeable but will look cleaner if the one color is a contrast to your outfit or a perfect color match.
Pair a bright necklace with a crisp white shirt or a simple black dress to keep all the drama on your necklace. If you fancy wearing something more detailed, then choose a necklace that has no extra embellishment and is all metal. This type of necklace will look smarter and neater with a colorful work dress.
If your workplace has a casual dress code or you prefer to keep your statement jewelry for the weekend, a colorful statement necklace can elevate a simple tee and jeans combo. You can also break the rules and mix your colorful outfit with a more colorful necklace.
Types of Statement Necklaces
An important way to completely change your outfit and jewelry is to change the length of your necklace. You can also use your statement necklace to change the appearance of your silhouette. Remember a statement necklace is only an eye-catching necklace so it can be any length you like. Here are the top necklace lengths:
1. Short Choker Statement Necklace
In the last few years, choker necklaces have taken the jewelry world by storm. They are the perfect update of a statement necklace as they are sure to turn heads and get you noticed.
Choker necklaces are already considered a bit of a statement necklace in their own right so when it comes to choosing one think about how thick you want the necklace to be. Ideally, if you're thinking statement, then thicker would be more dramatic.
Smaller and thinner ones tend to look better when layered with other necklaces and this defeats the point of a statement necklace. If you really want to go all out with a choker statement necklace then go big and glitzy with crystals or lace rather than a thin choker.
2. Bib Statement Necklace
The bib is the most iconic of the statement necklaces. It's the necklace you probably pictured when you read the title of this article and will suit every body shape. It's possible you may already own a necklace like this.
There is no rule for this type of necklace. Costume-style jewelry is more common as the materials are lighter and necklaces can be bigger without the additional cost if they were made from fine/precious materials. A bib necklace usually has a chain fastening with a feature at the front such as crystals, threads and beads. 
You can easily find a bib statement necklace to suit your taste whether you like a certain color or material. They look great with high and lower necklines and are perfect if you want to throw on one show stopping piece of jewelry.
3. Pendant Statement Necklace
The long pendant is also easily worn by people of all sizes and shapes. The trick is knowing which length will suit you. Ideally, the necklace would go over your chest so that the pendant rests above your belly button but under your bust.
If you're taller or have a fuller bust you'll want a slightly longer necklace. The proportions will look right and the pendant will rest at the right height on your body. The same is vice versa if you're a petite person, a shorter length necklace will place the pendant in the relatively same place and the proportions will look spot on.
If you get the necklace length right, you can wear any it with any neckline or pendant and always look elegant and sophisticated. A final tip is to check that the pendant doesn't swing too much as this will draw attention in the wrong way.
4. Collar Statement Necklace
Collar statement necklaces, snug around the neck, stand out as bold fashion pieces. Designed to rest just below the throat, they mirror the collarbone's shape, instantly becoming the focal point of an outfit. These necklaces often use metal for their firm structure but may feature beads, enamel, or gems for added detail and color.
Their sturdy design keeps their shape, pairing well with both high-neck and low-cut tops. Fashion lovers and designers alike favor collar necklaces for their elegant and modern edge. Their distinct shape and style make them essential for anyone aiming to showcase confidence and fashion sense.
5. Layered Necklaces
Layered necklaces bring together strands of chains or beads at different lengths to create a textured and layered effect. They blend elegance and a relaxed style, fitting various outfits from casual to formal. These necklaces can be subtle with fine chains or bold with thicker strands.
Adding personal charms or pendants makes each piece unique. Easy to match with anything from t-shirts to evening gowns, layered necklaces are favorites for their flexibility and ability to enhance any look. They draw attention and add layers of interest to the wearer's style.
6. Fringe/Tassel Necklaces
Fringe or tassel necklaces bring a mix of fun and boldness to your style, featuring strands that move with you and catch the eye. These necklaces display threads or chains that can gently shake or swing dramatically, depending on their length and style.
Made from materials like silk, chain links, beads, or leather, each type adds a different texture and a sense of elegance. Whether they're long and flowing or short and neat, fringe necklaces can be the main focus of your outfit or a surprising touch to a simple look. They offer a flexible accessory choice that fits with many styles, from playful to polished.
7. Multi-Strand Necklaces
Multi-strand necklaces create a luxurious feel with layers of pearls or beads. They pile up different lengths and sizes, forming a rich, decorative collar around the neck. Pearls bring out a timeless, classic look, while beads can give a modern or eclectic twist.
These necklaces turn a plain neckline into an elegant feature, perfect for dressy events or adding flair to a regular outfit. They catch the eye and give outfits a full, textured look, making them popular for adding a touch of sophistication and plenty.
8. Torque Necklaces
Torque necklaces stand out with their open front and lack of a clasp, echoing the jewelry styles of ancient times. Made usually from metal, these necklaces sit snugly on the collarbone, giving a sharp, defined look.
They're formed into a solid ring that can be plain or decorated, sometimes featuring stones or detailed engravings at the ends. Easy to wear, torque necklaces simply rest around the neck, offering a modern, minimalist vibe.
They're a go-to for those who love pieces that blend historical elegance with a bold, contemporary edge, providing a strong yet refined statement piece unlike typical closed necklaces.
How to Match Earrings with a Statement Necklace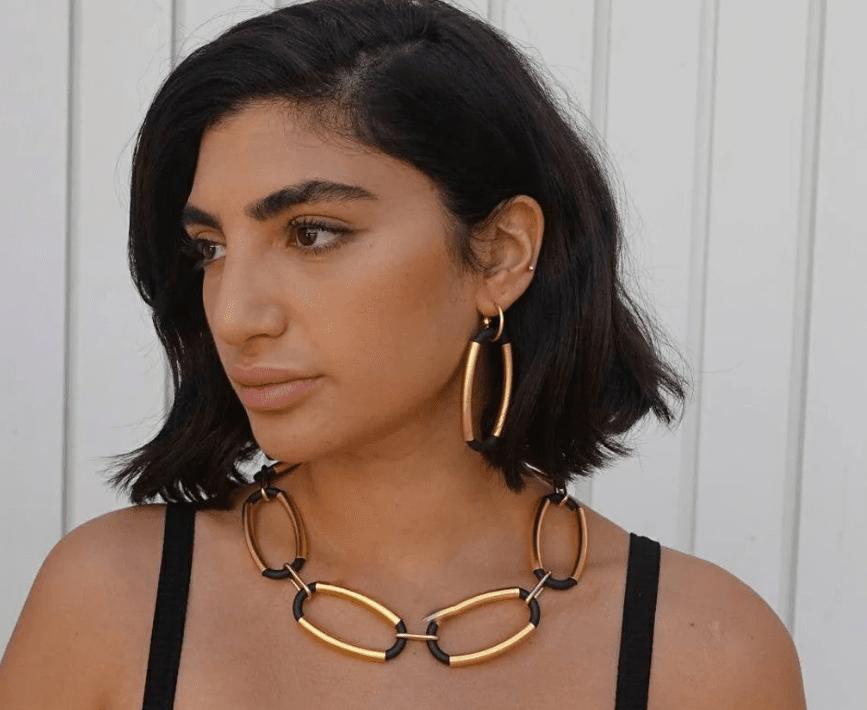 The best way to think about what earrings to wear with a statement necklace is if this is the most attention grabbing piece of jewelry you want to wear, you don't want to overcrowd it with other pieces of jewelry that might divert attention away from it.
Earrings are the most challenging piece to accessorize with your statement necklace as they are so close together when you wear them. If you're wearing a statement necklace it is possible to get away with wearing one statement cocktail ring or perhaps a cuff. Large earrings or long dangling ones can be overkill and should generally be avoided.
Stud earrings, on the other hand, are an ideal choice to pair with a statement necklace. Choosing a neutral pair, such as plain metal, will help highlight the necklace and if you want to wear something a bit jazzier, go for a pair which will match the colors of your statement necklace.
A Statement Necklace with a Black Dress
Changing your jewelry is one of the fastest ways to update a little black dress. You can jump on a new trend simply by changing your necklace rather than buying a new dress.
Think about pairing your black dress with a statement necklace just as you would pair your earrings to a statement necklace. A dress with heavy embellishment or a pattern will detract from your necklace and make your outfit appear very busy. In this case, a necklace that is sculptural and less colorful will suit best. For a plain black dress, however, a colorful statement necklace will be the best choice.
One of the best ways to wear a black dress with a statement necklace is to match other subtle details. For example, art deco style jewelry will look perfectly matched with a flapper dress rather a sixties shift dress.
Are Statement Necklaces Out of Style?
So the big question:
Are statement necklaces fashionable or will I look dated wearing one?
Well, the last few years have seen the decline of more chunky and oversized pieces of jewelry. This is especially the case for statement necklaces as large earrings are more on trend at the moment.
Layering has been such a big trend. When you buy smaller or dainty jewelry you need to buy more individual pieces to achieve the same look as one statement necklace. Some people feel that layering lots of necklaces creates a more unique look as it's unlikely someone will have exactly the same combination of necklaces as you.
However, this is no reason to chuck out your statement necklace! As with all trends, it's the way they change over time. The statement necklace that was "in vogue" a few decades ago will come back round again and be in different guises. If smaller, shorter necklaces have been in fashion then it goes without saying that larger or longer ones will follow next as they are a contrast to what's been worn and appear fresher.
The appeal of the statement necklace is that it's just one necklace and wearing one can give you the same feeling that a pair of high heels can. They are instantly confidence boosting and effortlessly easy to wear. As they are so easy to style they won't be going anywhere from our jewelry boxes any time soon!
Wrapping Up
Statement necklaces are going nowhere. They come in a different guises every decade but remain a constant staple in your jewelry box. Wear a statement necklace to update your outfit easily to the latest trends or enhance your outfit with some extra eye catching adornments.