A symbol of milestones in love and marriage—anniversary rings are a perfect remembrance of the memories spent as a couple. It symbolizes love and devotion that will prevail even after years have gone by. 
While there's no rule in choosing anniversary rings, you may want to consider certain elements, such as gemstones, shapes, and symbols in jewelry. If you're yet to discover the perfect ring for your anniversary, here's a catalog of unique anniversary ring suggestions you may choose from.
1. The Classic Twist: Petite Twist Diamond Eternity Ring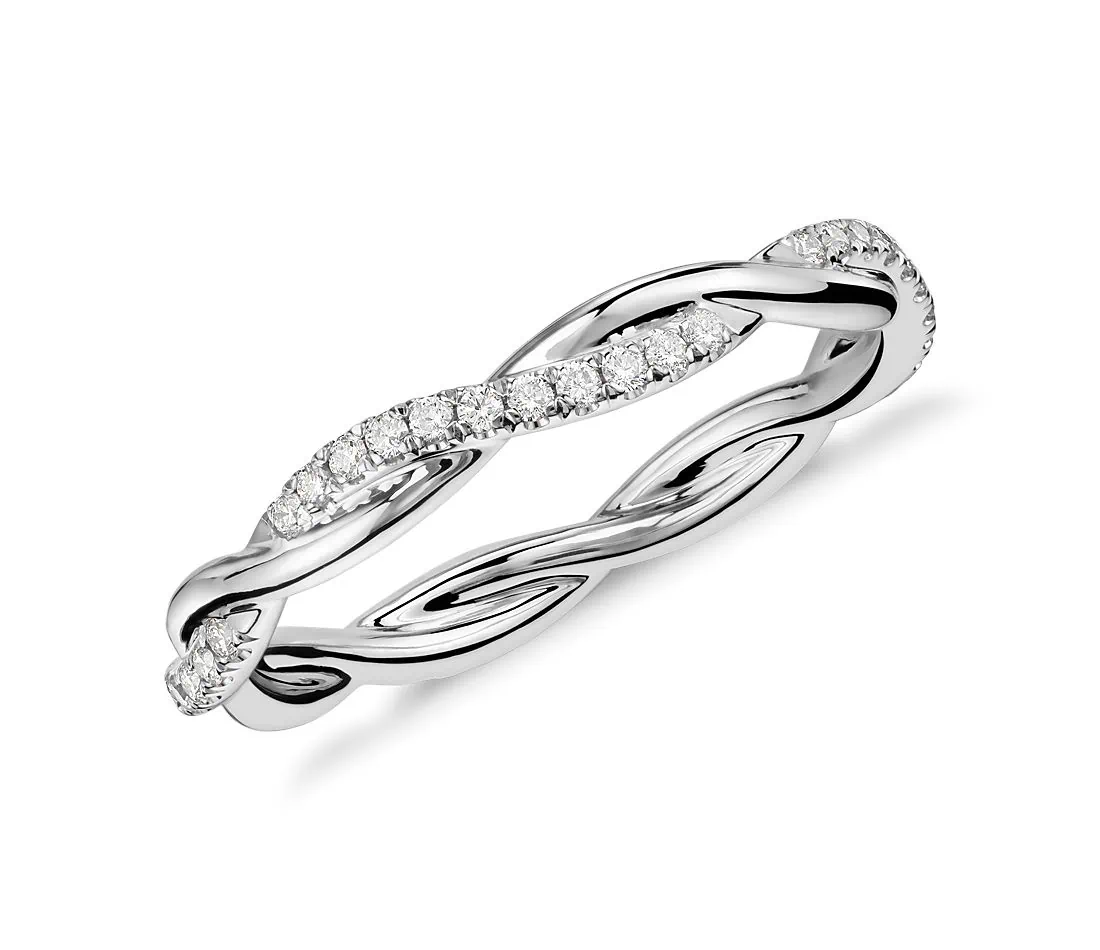 If you want something simple but still with some sparkle, go for this elegant ring with a delicate micropavé set of diamonds. The solid platinum band complements the shiny sparkles of the gemstones as the two bands intertwine. Because of its petite appearance, it won't be overwhelming to wear and would even match your wedding ring.
2. Elegantly Traditional: Tessere Weave Diamond Eternity Ring
This dazzling ring is covered with sparkling diamonds all around the band. The details of tessere weaves on its side profile add a sophisticated vibe and uniqueness. If your wedding ring only has a few or no diamonds at all, this ring would be a perfect match to complement it.
3. Modern Sophistication: Emerald Cut Diamond Eternity Ring
Why not try something different from the usual polished shape of a diamond? You can try this ring with emerald-cut diamonds that work beautifully for an anniversary gift. The sparkling and edgy shapes of the gems make it an elegant and classic addition to your accessories.
4. A Timeless Heirloom: Bezel-Set Diamond Eternity Ring
Who doesn't like a glamorous look once in a while? With a polished round bezel, this diamond ring is perfect as a modern and stylish heirloom to keep. The brilliant shine all around the band uniquely completes the studded and sleek design. 
5. Expensive-looking Set: Garland Diamond Eternity Ring
If you're up for a fancy and exquisite look, the exceptional round diamonds crafted in a garland design are perfect for you. Striking enough to wear alone, this ring can be charming alternative jewelry for your wedding ring if you want some change of style.
6. A Luxurious Style: Mixed Marquise and Round Floral Eternity Ring
The eye-catching studded ring is fashioned with marquise and round-cut diamonds. The floral design sparks a feminine and classy vibe with luxury sparkles all around. This is perfect for a glamorous look with a touch of romantic and high-class features. 
7. Subtle Sparkles: Starlight Diamond Eternity Ring
As magical as the night, the scattered diamonds around the smooth platinum band perfectly resemble the shining stars in the sky. The curved inner edges give a comfortable fit for a stylish shimmer look without being too eye-catching and sparkly.
8. Going for Vintage: Alternating East-West Emerald Cut Diamond and Sapphire Eternity Ring
Sapphires are believed to bring harmony and peace between lovers. So, this elegant vintage ring will be perfect for the remembrance of love during your anniversary. The alternating colors of deep blue sapphire and the tantalizing shine of diamonds add a sophisticated vibe to the vintage-inspired milgrain.
9. Dark and Stylish: Riviera Noir Black Diamond Ring
Who says black can't be sparkling? The set of round black diamonds perfectly encircles the yellow gold band and adds a mysterious vibe to this petite ring. The tough and striking design will give a unique complement to your favorite stacked ring styles.
10. Delicate Shimmers: Blue Nile Studio Triple Row Diamond Eternity Ring
The striking 3-row sparkle of diamonds gives off stunning reflections under a light source. This is perfect for a dazzling look for those who want an exceptional and elegant ring to wear. The delicate details of this diamond ring promise love with sparks forever.
11. Like a Royalty: Triple Row Princess Diamond Eternity Ring
Who says you can't be a princess in your own fairytale? The diamonds on this ring have a never-ending shine that will make you a stunning royalty on your own. Dare to dazzle with this diamond ring and live your dreams.
12. Contemporary Jewels: Mixed-Shaped Diamond Eternity Band
Can't decide what shape of gemstone you're going to have? You can opt for this elegant ring with alternating round, pear, and emerald-cut diamonds. Crafted to perfection and with variety, this ring can be paired with any ensemble for a polished look.
13. For a Traditional Style: Bella Vaughan Basket Weave Diamond Eternity Ring
Made with intricate weaving details, the bands of platinum interlace to form a piece with an old-fashioned vibe. The finely detailed 18k white gold gives a stylish shine to the pattern. This ring adds a touch of nature and culture-inspired beauty to your look.
14. The Lucky One: Bella Vaughan Clover Lace Diamond Eternity Ring
The mesmerizing beauty of this ring in yellow gold will surely light up your look with shimmering diamonds all-around the band. Showcasing the bejeweled four-leaf clover patterns in exquisite details of lace, this diamond ring is perfect not only to capture the eye but also to protect your loved one from bad luck and misfortune.
15. For a Graceful Styling: Blue Nile Studio Open Marquise Diamond Eternity Ring
Studded with round pavé diamonds on a marquise-patterned platinum band, this ring adds a gorgeous glow to any outfit. The shiny hoops and lattice design emits radiant sparkles on and on. It is intricately designed to match a graceful and elegant look.
16. Delicate Dreamy Blue: Octagon Sky Blue Topaz Eternity Band
The semi-translucent appearance of the blue topaz gems adds a subtle pop of color to your look. The light shade of blue gives a simple sophistication to your personal style and offers a non-overwhelming fit without compromising fashion.
17. A Glamorous Jewel: Oval Sapphire Halo Eternity Ring
Celestial blue sapphires are believed to increase one's strength and health and are even used to attract wealth by royalties. The deep-hued stones feature diamond halos surrounding them, making this ring a timeless treasure you may want to add to your collection.
18. Passionate Red: Oval Ruby and Round Diamond Halo Ring
Shining in the color of love and passion, this ring gives a strong impression that will make you stand out. The stunning halo boasts the brilliant shine of diamonds outlining the luxe red ruby. The daring look of this ring will surely put you in the spotlight.
19. A Fashion-Forward Charm: Cushion-Cut Amethyst Diamond Halo Cocktail Ring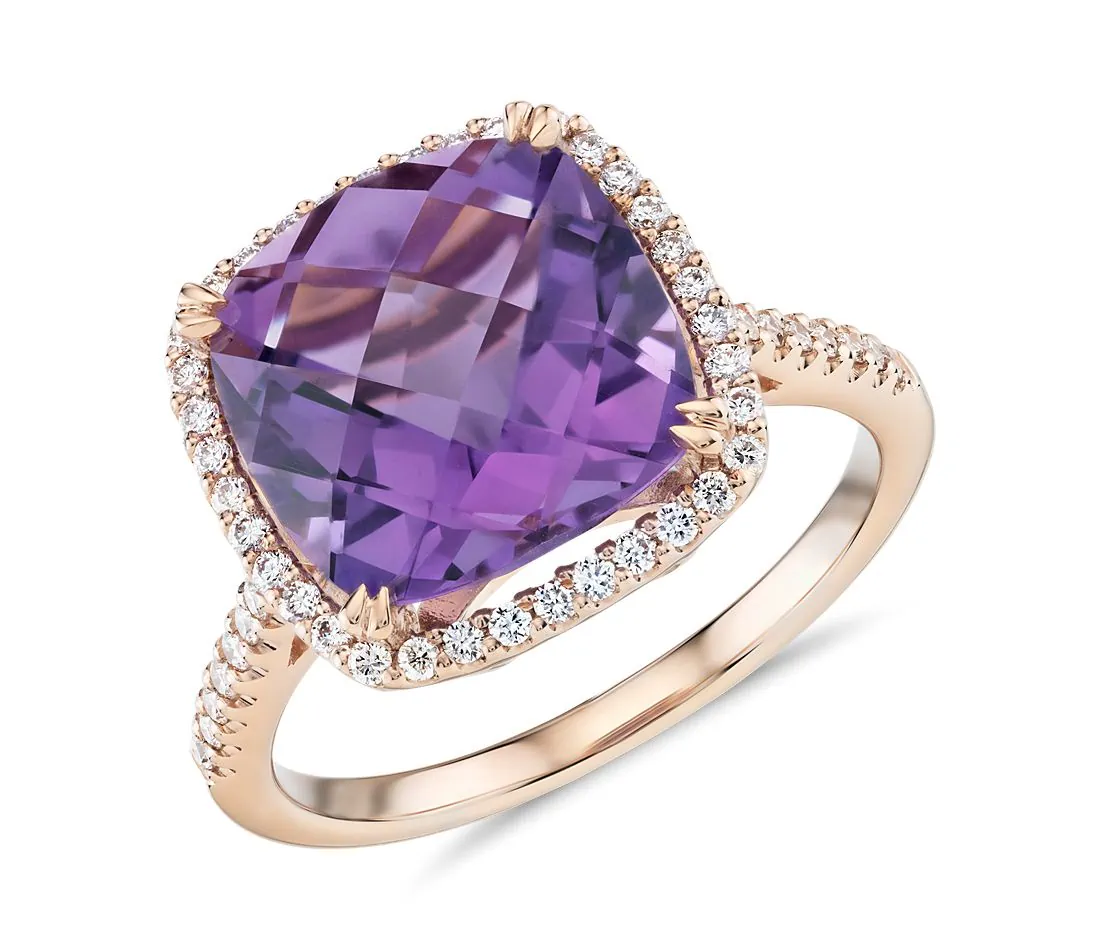 The accent of the diamond-studded rose gold band perfectly highlights the center stone. The striking look of intense royal purple gives this ring a solid sense of style and charm. If you're looking for a bold and unique accessory for your anniversary, this is a perfect choice for you.
20. One-of-a-Kind Gem: Peridot Ring with Peridot and Diamond Halo
Called the "gem of the sun," peridot is a rare gem to be seen in your local jewelry store. The elegant yellowish-green hue of the stone complements the 14k yellow-gold band. Sparkles of small, rounded diamonds fill the spaces perfectly and complete the stylish look of the ring. Who says you can't try on a unique gemstone?
21. Trendsetting Design: Aquamarine and Freshwater Pearl Cluster Ring
From classic bands to twists and twirls, this cluster ring is stepping up the game with its unique structure of colliding bands and two-tone centerpieces. It can be a stylish fashion statement that will always look as good as you. Show off your fabulous fashion and sleek style with this special piece.
Wrapping Up
When it comes to anniversary rings, your choices are endless, from elegant classics to trendy sparkles. At the end of the day, anniversary rings are more about sentimental value and meaning. So, choose something unique and memorable that reflects you and your devotion.
Related Articles
Anniversary Ring Designs for Years 1 to 10 of Marriage
How To Choose and Wear Your Anniversary Band (Tips)
25 Unique Wedding Bands for Her (And Why)
4 Types of Rings for Different Stages in Your Relationship