As Jewelry Shopping Guide editors, we write about things that we love and we think you'll like too. We often have affiliate partnerships, and may generate some revenue from these links at no cost to you.
The pear shape is a classic, traditional cut that has existed for centuries. Although it is not the most popular cut for diamonds, the pear shape gives a unique look to an engagement ring and looks stunning on any finger. However, on the flip side, the pear cut can be quite fragile, due to its one sharp point that can get caught on objects and be prone to chipping off. The best way to show off your pear-shaped diamond while keeping it safe is to choose the right ring setting for it.
Popular settings for the pear cut are prong, halo and bezel settings. Here we outline the pros and cons of these settings for pear shaped diamonds.
Prong Setting for Pear Cut Diamond
Prongs refer to the metal claws that hold a diamond in place on the setting. The benefit of prong settings is that it allows maximum light reflection and displays the diamond beautifully without obstruction. The more prongs you add, the higher the security but the lower the visibility. One disadvantage of prong settings is that over time, the prongs can bend or even break as the metal wears thin or is exposed to knocks. It's important to have a jeweler check the integrity of your prong setting from time to time.
For pear shaped diamonds, the typical number of prongs is 5 or 6. Because of its vulnerable point, often a V-shaped tip is added to protect the pear's point. A V-tip offers the best protection for a pear cut diamond and prevents the point from exposure.
The placement of the prongs, whether 4 or 8, affects the overall aesthetics of the ring. Also, while 4-prong settings show more of the diamond and its edges, a 6 or 8 prong setting can accentuate the curve and symmetry of the stone to maximum effect. Less than 5 prongs are acceptable for smaller pear cut stones but large ones should contain more prongs to avoid the stone accidentally breaking or falling out of the stone.
Have a look at the above ring setting. At first sight, this setting looks as though it only contains 3 prongs. But on closer observation, you'll notice that each prong is actually two prongs set close together for a stronger hold. The diamond is clearly displayed with little interference from metal while keeping it firmly in place.
Prong settings best to feature your pear cut diamond and allow it to take center stage. It can be a minimalistic style or step it up by adding some accent stones and elaborate details to the setting.
Halo Setting for Pear Cut Diamond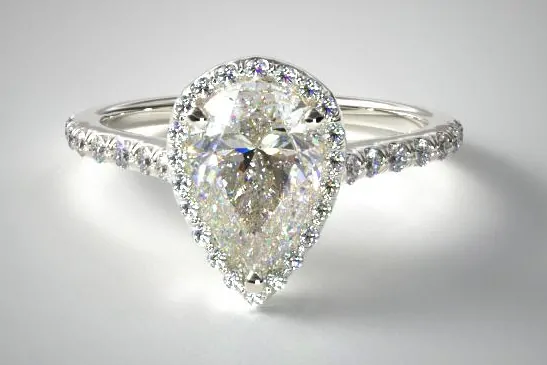 A pear cut diamond set in a halo setting is glamorous and stylish. The tiny diamond halo adds a ring of sparkle around the pear, enhancing the brilliance of the stone. Another major benefit of the halo setting is that it offers very good protection for your center stone, keeping its edges safe from rough wear. What's more, you can cut down on the size of your center diamond as the halo tends to make the diamond appear larger than it is. Our eyes tend to measure the size of the diamond from edge to edge of the halo rather than from the edges of the diamond itself.
However, halo settings can prove tricky to clean and maintain, as dirt and grime can easily squeeze into the tiny grooves and nooks around the little diamonds. There is also the greater likelihood of the little diamonds falling out when knocked or bumped. But these can be replaced often without much expense.
Bezel Setting for Pear Cut Diamond
The bezel setting offers the best possible protection for any diamond cut. Here, the entire diamond is beautifully wrapped in metal and kept in place. Bezel settings look modern and stylish with a minimalist look. They are also easy to maintain and clean, as the mounting does not contain any hidden or hard to reach areas that require cleaning.
However, bezel settings don't show off the diamond as much as prong settings do. What's more, it can make the diamond look smaller than it is by hiding its sides. On the other hand, it tends to show the shape of the diamond to maximum effect, accentuating its curves. And from the top, the diamond is easily visible without obstruction.
Bezel settings are also beautiful for colored pear shape diamonds where brilliance and light play is not as important as it is for colorless diamonds.
Tension Setting for Pear Cut Diamonds
Tension settings may appear fragile but they are quite secure and offer relatively good protection for pear cut diamonds. It is a contemporary, clean style that utilises exacting precision and modern technology in its creation. The ring itself is the setting, with no prongs required, as it holds the diamond securely with the application of pressure alone.
A pear cut diamond set in a tension setting is able to interact with light on all sides and appears to full advantage. There is no metal to detract from its light reflection or take up the diamond's space. Pear shaped diamonds are especially good for tension settings as they tend to appear larger. This means that you can choose a smaller stone and still have a big effect. In addition to this, tension settings are also easy to maintain and clean compared to halo or prong settings.
However, tension settings cannot be resized and not every jeweler can make them as they require a higher level of expertise and precision. Tension settings also use up more metal than traditional ring settings. These factors make tension settings considerably more expensive than most other settings.
While it may seem that the diamond is simply suspended in mid-air between the two arms of metal, on closer observation you'll notice that there is often a groove on the bottom half that holds the diamond in place with added protection.
Before You Buy
When deciding on which setting is best for you, consider your lifestyle and the degree of protection your diamond requires. For example, for an active lifestyle and for busy hands, a bezel setting is probably best. A prong setting is ideal if not exposed to rough wear and damaging impacts.
The two main critical factors that will influence your decision are the beauty and the security of the diamond. Often there is a trade-off between the two – you lose some luster and size in exchange for extra protection for the diamond. Finding that right balance between beauty and safety is key to finding the right setting for your pear cut ring.
Looking for a pear cut diamond ring? Check James Allen for some stunning pear cut diamond rings. They offer excellent images and HD video of the actual stone and allows you to get creative with the Build Your Own Ring tool.