Throughout history, traditional wedding bands were extremely popular and chosen by many women. However, today, more and more brides are leaning towards unique wedding rings in various shapes, colors and styles. Some women opt for a standalone ring with lots of artistic elements, while others favor classic designs with an unexpected twist.
If you're looking for something out of the box, then you've come to the right place. In this article, we've rounded up some of the most unique wedding band options for you to choose from. Let's take a look!
1. Subtly Unique Milgrain Wedding Ring 
If you're looking for a wedding band that's slightly out-of-the-box, a beautiful milgrain ring would be an excellent choice. Most rings traditionally have curved or flat inner and outer surfaces, but this milgrain ring features intricate milgrain detailing on the side instead of on the top and is set with sparkly diamonds. It's a subtly unique twist on the classic yellow gold band which looks elegant and classy at the same time. 
2. Diamond Textured Wedding Band 
Instead of the traditional etched or engraved design, consider a band with a quilted or cushioned look that's subtle yet unique. A great thing is that its highly polished surface will develop a rich patina over time, giving it a timeless look. With half-eternity diamonds, this ring has its own beautiful shine.   
3. Delicate Braided White Gold Band 
Switch up the traditional yellow gold ring for an unexpected white gold option like this one instead. The beautiful braided texture of the ring is enhanced by its soft blush hue, giving it a very feminine and elegant look. It's the perfect choice if you're looking for a gorgeous but minimalist wedding band option.  
4. Irregular Knife-Edge Diamond Wedding Ring 
Sharp, geometric edges make classic designs feel fresh and modern. As the name suggests, knife-edge wedding bands have a V-shaped shank that points outward from the finger. Check out the video on the product description if you aren't sure what this means. It's not razor sharp, but it gives a distinctive, stylish look to the ring. It can also make your wedding band look thinner when viewed from the top. 
5. Magical Mobius Wedding Ring 
Here's another interesting variation of the traditional wedding ring: the Mobius-inspired band. It started as an intriguing mathematical concept, but the mobius design is now very popular in jewelry since it adds symbolic meaning to the piece. This ring features a twisted shank with gemstones set into it and is available in various metals include gold, silver and rose gold. It has a never-ending path along its surface, which symbolizes infinity and unity, making it the perfect choice for a wedding ring. 
6. Dot Dash Diamond Ring 
Instead of settling for the traditional wedding band, playing around with different diamond shapes can give you something that looks classy, elegant and unique. This ring features diamonds in three different cuts: round, princess and baguette, which give it a unique design and incredible luster. They're laid out in a dot-dash pattern which draw the eye.  
7. Dual Pave Diamond Ring 
When it comes to ring design, diamonds offer so much room for creativity. If you'd love to have a wedding ring with a lot of extra sparkle, consider choosing a band with double pave setting.  It incorporates two rows of diamonds, one slightly raised than the other, adding definition to the design. 
8. Fish Scales Diamond Band 
If you're someone who loves fishing or anything to do with the sea, a unique fish scale wedding band would be perfect for you. In jewelry symbolism, fish scales are likened to a suit of armor, associating them with protection so it's believed that wearing a piece of fish scale jewelry will protect you from harm. Having said that, the example above can be worn b anyone, because the fish scale design is quite subtle.
9. Curved Wedding Rings 
If you're having trouble finding a wedding band that can be worn with your solitaire engagement ring, a curved band can offer a solution. Bold and glamorous, this contoured ring features pavé diamonds with sapphires along the side profile for a unique, stunning look. Not only do the sapphires make it look regal, but they're also durable stones for everyday wear! 
10. Two-Tone Twist Wedding Ring 
If you love mixing metals, check out a two-toned wedding band like this one that will complement your style. Available in white and yellow gold, the colors of this band contrast with each other, making it stand out from other traditional wedding rings. With its intricate, interlocking design and pavé diamonds, this band will surely capture the heart of any fashion-forward bride.
11. Pear Diamond Wrap Ring 
This wrap ring features pear-shaped diamonds and its lovely rose gold color captures the romance and warmth of your relationship.  While its design might seem unexpected for a wedding band, its delicate look and pavé setting make it just as elegant as the traditional diamond band. 
12. Victorian-Inspired Wedding Band 
Victorian jewelry was largely inspired by nature, from flowers to petals and leaves. For the bride who loves a little glam, this ring features filigree detailing, giving it a feminine, vintage feel and will take you back to the age of sentiment and sensibility.
13. Modern Baguette Diamond Ring 
While gold often makes for lovely vintage jewelry pieces, it's also an excellent metal for classy and modern styles. This ring is made from yellow gold and features round and baguette-cut diamonds along the shank. You won't have to opt for bold colored gemstones, as the floating appearance of the diamonds in this wedding band already makes a statement. 
14. Nature-Inspired Wedding Ring 
Instead of going for a traditional, straight-edged wedding band, why not try something unique and nature-inspired. This wedding band is a work of art, resembling vines and branches, making it an excellent choice for a nature-loving bride. It's easier to wear with engagement rings that feature large center stones because of the several notches that can accommodate such a stone.
15. Art Nouveau Wedding Band 
Original Art Nouveau wedding rings are rare, but there are many designs on the market inspired by the period. This ring features an ornamental S curve which is inspired by nature and gives the ring a look of sophistication. Apart from grace and power, the whiplash lines are thought to represent the joining of two lives, making this a perfect choice for a wedding ring.
16. Diamond Cluster Wedding Ring 
If you want a wedding band that sparkles and stands out from the crowd, you can always choose a cluster wedding band. This band features round and marquise diamonds clustered together, making it a perfect standalone wedding ring. It's sure to grab everyone's attention and brighten up your wedding day.  
17. Granulated Wedding Band 
This ring is simply stunning and very unique! It features an interesting organic texture that resembles dewdrops. Its golden yellow tones highlight the distinctive design of the ring. If you love whimsical jewelry, this ring will surely complement your style.
18. Fantasy-Inspired Wedding Band 
Inspired by the film Howl's Moving Castle, this wedding ring reminds us of the love story of Howl and Sophie who encountered many adventures and overcame many obstacles in a magical world. It's perfect wedding ring if you're a fan of anime or of the movie, but even if you're not, this ring will make you the heroine of your own story.
19. Lace Diamond Eternity Ring 
If you love all things sweet and feminine, this wedding band is made for you. A bit wider than traditional rings, it features decorative detailing and rows of pavé diamonds, making it a truly unique standout. 
20. Chevron Diamond Ring 
Switch up the traditional circular shape of a wedding band with a chevron diamond ring. Its v-shaped curve makes it easy to wear with engagement rings that feature large center stones since it accommodates the stone well. The pavé setting with marquise diamonds set it apart from other typical stacking rings.  
21. Crown Wedding Ring 
Feel like a queen at your wedding with this crown ring, featuring an unexpected and whimsy design. Perfect for a modern fairytale wedding, this ring incorporates diamonds into a regal design and will make you look and feel like royalty on your special day.  
22. Nautical-Themed Wedding Band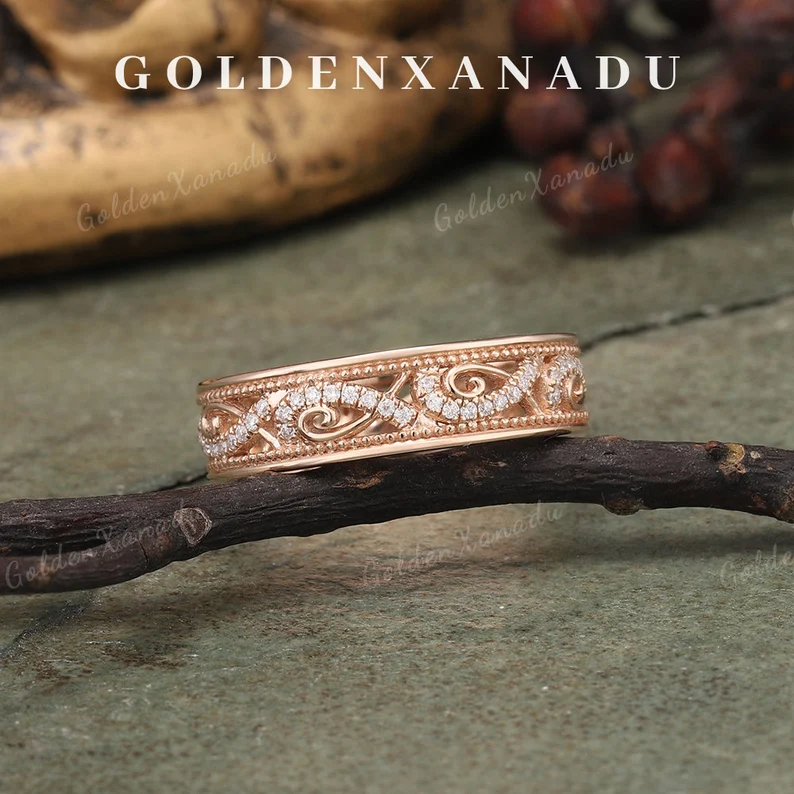 If you love anything to do with the sea, a nautical-themed ring can be an inspiring choice for a wedding band. This ring features a unique contrast between the rustic gold rope design and the elegant pavé diamonds. It's said that nautical motifs are often associated with the eternal bonds of marriage, making it a perfect way to capture the spirit of your adventures together. 
23. Black Gold Wedding Band 
Here's a bold wedding band with a bit of gothic flair minus the macabre vibe of the style. The contrast of white diamonds and black gold adds to the beauty of the design. The romantic symbolism of the infinity sign makes it ideal as a wedding ring. It's a perfect choice for brides who love something edgy yet elegant. 
24. Mokume Gane Wedding Ring 
An ancient Japanese metalworking technique, mokume gane utilizes precious metals in different colors, fusing them together to create stunning patterns and textures. It typically makes use of a combination of palladium, yellow gold and sterling silver. 
Depending on your taste, you may opt for a design that looks like a wood grain pattern, droplets, or even vortex and there are also rustic and organic styles to choose from. While its texture looks stunning on its own, some wedding bands are decorated with diamonds and precious gemstones as well.  
25. DNA-Style Wedding Ring 
Take the infinity symbol to the next level with this DNA-inspired band, reminding you of each other's uniqueness and individuality. Exotic and out-of-this-world, this wedding band is just perfect for couples who love science and want to celebrate life.
How to Choose a Unique Wedding Band
When it comes to finding a unique wedding ring, it's important to opt for something that's meaningful for you and resonates with your style.
Trends might inspire you to go outside of the box, but they shouldn't be the sole deciding factor for your wedding band – after all, it's a symbol of commitment, not a fashion statement.
Classic designs tend to stay in style forever. They're a safe choice if you want to wear a ring that you'll likely love forever. Having said that, you can always upgrade your wedding ring to a different style in the future, and go with something that you love now.
Another important factor to consider is the durability of your ring. Take a minute to think about your lifestyle. If you work with your hands a lot, choose a piece that's durable and features fewer stones since these may fall out over time.
Wrapping Up
As you can see from our extensive list, there are many design elements that can set your wedding band apart from traditional bands, from two-toned metals to unique diamond shapes and distinctive gemstones.  
There are also nature-inspired wedding bands, designs that are influenced by current trends and motifs that borrow styles of the past so you're sure to be spoilt for choice. However, take your time, think about how the ring would look on your finger.
Avoid buying something simply because it's trendy. Instead, go for a design that you love and feel that you could wear for several decades.