Rings have been a part of Western culture for millennia, representing different stages in a relationship. They're symbolic of commitment and promises and are often worn for life. Here's a look at different types of rings for different stages in a relationship.
Why Do We Wear Rings to Represent Stages in a Relationship?
Rings have been symbolic of love and commitment since Ancient Egypt when betrothed couples exchanged rings made of braided reeds.
They believed that circles symbolized eternity. The endless circle of a ring reflected their union and the open center represented their unexplored life together as a couple. The custom of wearing a wedding ring on the base of your left ring finger originated from the Romans who believed (incorrectly) that this finger was directly connected to the heart by a special vein, the vein of love or vena amoris.
These traditions were carried on throughout history in western culture and has now been adapted to include a few other rings that can symbolize significant milestones in a relationship. These can be categorized into four main types.
Ring #1 – Promise Rings
Promise rings are gifted or exchanged between partners when the relationship is serious, but not quite at the engagement stage. Usually, the couple will want to be married at some stage, but not at present for whatever reason. There are no traditional rules or customs practiced with promise rings. The timing of the exchange and the way it is done is really up to the couple. No drop down to one knee necessary.
The same goes for promise ring designs. Promise rings are typically far less extravagant than engagement rings in terms of budget and style. A promise ring can still be crafted with precious metal – it can even feature a diamond or two if there is budget to spare – but generally, a promise ring is a little simpler and more casual.
Promise rings are worn on the ring finger until it is moved to another when the proposal occurs, so wearing the ring isn't as forever as an engagement or wedding ring. If you or your partner love color, look for a ring that is peppered with multicolored gemstones! If you love wearing stacking rings, look for something simple that will complement the rings you wear daily.
Ring #2 – Engagement Rings
An engagement ring may well be the one ring to rule them all when it comes to commitment pieces. Unlike a promise ring, an engagement ring is steeped in tradition. Historically an engagement ring represented a formal agreement to a future marriage, which was significant in historical societies where a betrothal of a woman involved uniting properties and families.
These days, engagement rings have more of a romantic connotation attached to them. This ring is given when a couple is ready to marry and is an indication of commitment to love rather than financial gain! Today, engagement rings for men is starting to become a popular tradition.
Rings should always be suited to the couple – stylistically and budget-wise, but traditionally, an engagement ring is generally more of a show-stopping piece that announces to the world that you are ready to marry.
This means that the budget for engagement rings is usually a little higher to allow for rings to be adorned with precious stones such as diamonds.
The first ever diamond engagement ring was given by the Archduke of Austria in the 15th Century, but diamond rings shot in popularity in the 1940s after the diamond mining company DeBeers commissioned the advertising campaign that resulted in the famous slogan, "diamonds are forever". This campaign not only encouraged diamonds to be an essential part of engagement rings but also encouraged men to spend two months' salary on the engagement ring as a standard.
This is definitely not a rule that is set in stone. Any sentimental piece should first and foremost be suited to the couple and the wearer. Meaning is imbued with the ring through the intent and the thought given to the design. Most people opt for simple, timeless designs as engagement rings are meant to be worn for a lifetime and can even be passed on to future generations. This is why simple solitaire designs or classic halo rings are a popular choice.
Couples with more of an avant garde taste can look for cluster engagement rings or asymmetrical engagement rings that are more contemporary in style. It's also popular for heirloom rings to be used in proposals, particularly from the groom's side as this is symbolic of the families coming together. The wearer's style should also be considered. If you love pearls or sapphires, stay true to your style by choosing a ring with your stone of choice as the feature.
If you are planning a proposal or want to drop some hints, start your research with styles of rings available, then move onto learning about the 4Cs of diamonds – if diamonds are your thing. The 4Cs are clarity, color, carat, and cut.
Each of these affects the look of a diamond differently and the price, but ultimately, even the 4Cs should be secondary to sentimental and style factors. The most important thing to consider is what you and your partner want and what meaning the ring holds for you – not what the ring is made of or how much was spent.
Ring #3 – Wedding Rings
Wedding rings or wedding bands are the rings that couples exchange along with their vows at the wedding ceremony. They are generally less extravagant than an engagement ring as they are designed to be worn every day for the rest of the couple's lives!
This is why wedding ring designs are more practical – sometimes just a simple precious metal band without any diamonds or gemstones.
However, there are many types of wedding rings, with diamond bands like this being extremely popular.
More and more women are also choosing to wear their engagement ring every day and choose bridal sets that feature a wedding band and engagement ring that are designed to be worn together. When worn together, the bridal set appears to be one brilliant ring as each piece seamlessly fits into the other. Popular designs include pear shaped diamond engagement rings flawlessly fitted with a curved cluster wedding ring. Other popular styles include wearing an all-in-one ring or stackable wedding rings.
It's also fashionable for couples to match their wedding band styles. This is a beautiful sentimental and fashionable statement to make as a couple. Wedding rings represent commitment, love and faithfulness between two people and will forever be synonymous with the vows exchanged on the wedding day. Matching wedding rings are a beautiful way to tie this moment together and are available from simple matching metals, to matching diamond styles.
Ring #4 – Anniversary and Commemorative Rings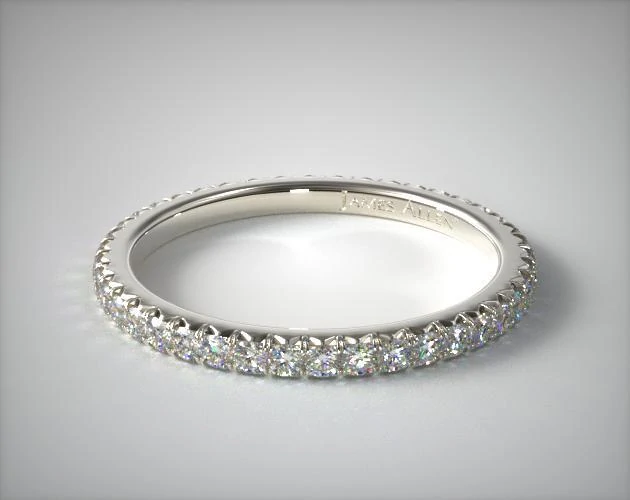 After a wedding, other popular occasions for exchanging rings include anniversary, the birth of children, vow renewal or any other significant milestone such as the purchase of a new home. For these, eternity rings remain one of the most popular style.
Stylistically, eternity rings resemble wedding rings in simplicity and restraint of design. However, like all other rings exchanged between couples, personal style and sentimental value trumps all!
If you have a bridal stack, you can add to it by choosing a ring made of the same metal or a design that compliments it. For example, if your bridal stack consists of a simple solitaire and a wedding band, you could consider choosing a matching diamond eternity band to encase your engagement ring.
Anniversary rings don't necessarily need to be worn every day so a larger cocktail ring reserved for special occasions can work. An on-trend ring can also be used to mark the moment in time that is also reflective of your style.
Wrapping Up
So, there you have it, the four main types of rings that mark the stages in your relationship. Of these, engagement and wedding rings are considered the most important. Having said that, you can make up your own traditions. Which stage are you at in your relationship and how would you like to show it off?