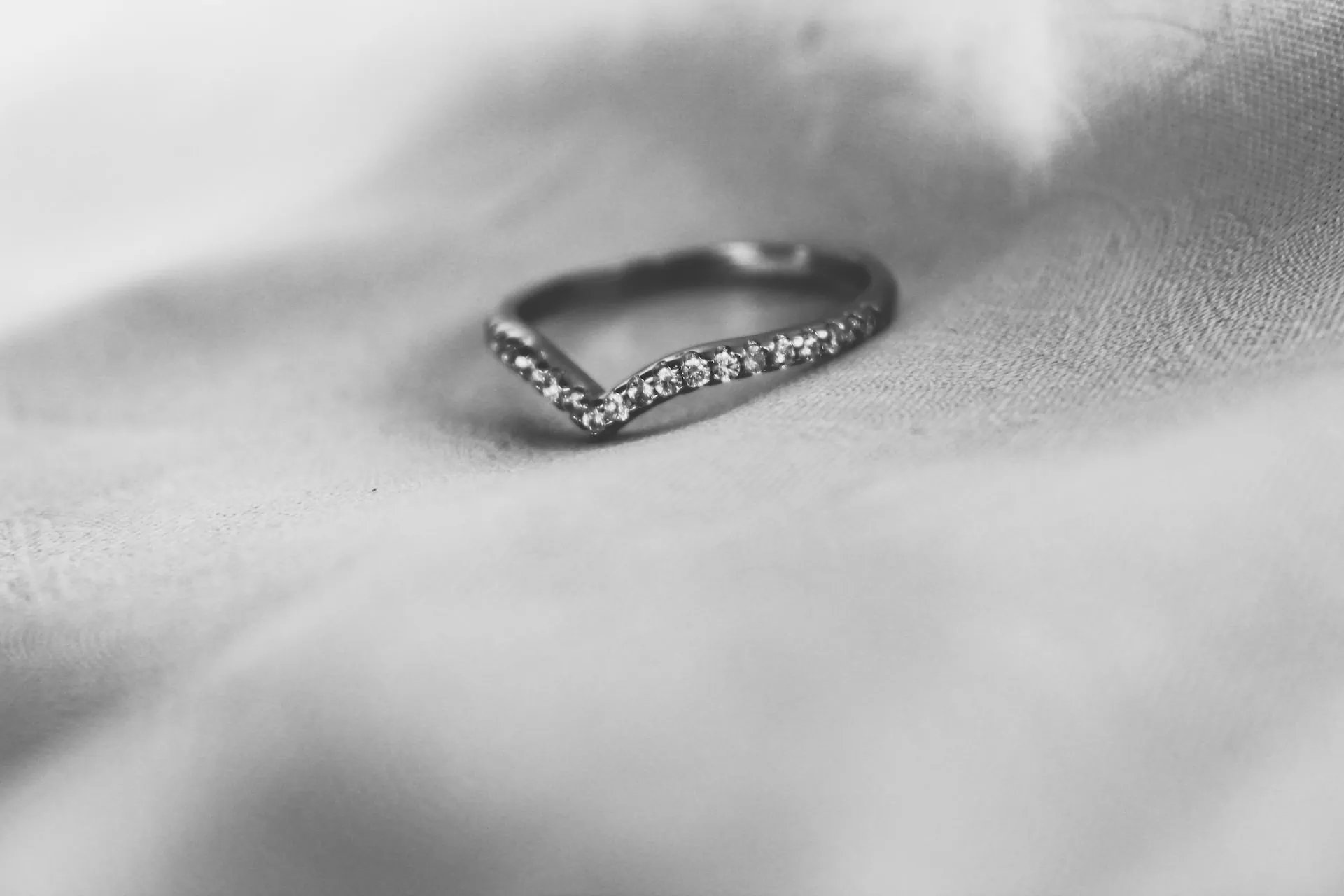 Your wedding anniversary is a significant occasion because it is a reminder of the wonderful memories with your spouse. It brings to mind all the years spent with your partner and the exciting years that still lie ahead.
Of course, each couple can celebrate the occasion in a way that best suits them. But let's admit it, your anniversary deserves to be commemorated because of its significance. Having something tangible to mark the occasion will make the memory more special and lasting, won't it? And what better way to do it than by getting yourself or your other half an anniversary band?
What Are Anniversary Bands
Anniversary bands are rings that are given at wedding anniversaries or during the renewal of your vows. However, while wedding rings usually have simple and classic styles, anniversary bands allow you more freedom in terms of creativity and self-expression.
These rings can be given at any anniversary year, but most couples choose to get or gift one during milestone years like the 1st, 5th, 10th, or 25th years. While it is also more commonly given to the wife as a gift from her husband, it is also perfectly acceptable for both spouses to wear the rings if that is what they prefer.
Ways To Wear Your Anniversary Band
Since you likely already have rings from your wedding day, this new ring may cause some confusion. But actually, you can wear them in any way you want. Here are some ideas to get you started:
1. Wear It on The Right Hand
Traditionally, wedding bands are placed on the ring finger of the left hand. If you are intending to continue with this tradition, you can simply place your new band on your other hand as a way to balance out your jewelry.
2. Wear It on Another Finger
Some people are not comfortable with wearing rings on both hands or are simply not used to having accessories on their right hand. If so, you may still opt to keep the new ring on your left hand but wear it on another finger this time.
3. Stack Them Up
Another option is to stack up your three rings on one finger. Going by symbolism, doing it this way marks each significant milestone in your relationship according to sequence, with the engagement ring being worn first, followed by the wedding ring, then the anniversary ring. Plus, it looks gorgeous when worn like this as well.
4. Let It Replace Your Other Rings
Lastly, it is perfectly fine if you simply want to put away your old bands and just wear your new anniversary ring. After all, this is an apt symbolism of a new phase that you are about to enter in your marriage as you celebrate another anniversary milestone.
How To Know Which Anniversary Band Is Right for You
It can be tricky to find the right anniversary band because there are no set standards for this, and it really depends on your preferences. Couples who prefer the more traditional route may go for classic and simple designs, while others can choose more modern ones as they experiment with the style and material of their rings.
Other factors that must be taken into consideration are your aesthetic tastes, lifestyle, and working budget. You also need to plan ahead and picture how you will wear the ring. If you intend to stack it over your other rings, then the thickness and the ring width must be adjusted accordingly. The design should also be carefully thought out making sure that it complements the look and feel of the other rings.
Conversely, if the ring will be placed on a separate finger or on the other hand, you have more leeway to play around with the design. Some elements that are unique to your relationship could be mixed in, such as the birthstones of you and your partner, or of your children.
Types And Styles of Anniversary Bands
You can choose from different styles, metals, and stones to design your own unique anniversary ring. Every material and style has its own symbolism, which means that you can decide what to use based on their meanings and what they stand for. Here are some popular ring designs that hold meaning as an anniversary ring.
1. Eternity Bands
An eternity band is a classic design that represents everlasting love. It features a metal band featuring diamonds or gemstones going all around the circumference. This design easily matches the settings of traditional wedding rings and can easily be stacked with your other rings.
If you don't like the idea of a full eternity or are looking for a more affordable alternative, consider a half-eternity band, which features stones on only half of the band.
2. Two Metals
A modern design that uses two types of metals such as white and yellow gold serves as a visual representation of your union, where two unique elements blend together well while still retaining their identity and individuality.
3. A Journey Ring
A journey ring symbolizes the journey that a couple takes once they're together. It's a visual representation of how this journey has advanced and grown from small to big things. These rings usually feature diamonds or gemstones set in a continuous line from small to large.
4. Claddagh Ring
For those with Celtic heritage, a Claddagh ring is a beautiful choice symbolizing the friendship, loyalty, and love between a couple. This ring design is ideal to wear on its own, and not stacked with other rings, as it's quite elaborate and can be a little chunky. What's more, wearing it on its own will highlight the details of the ring and bring its symbolism to the forefront.
5. Gimmel Rings
A gimmel ring (also called a fede ring) features several loops or links that can fit together to form a single ring or be taken apart to be worn as individual rings. It's basically like wearing 3 rings that form a beautiful design. These rings were popular during the Middle Ages and continue to hold significance to those that like a vintage style. It represents friendship and union.
The First 25 Years
If you still can't decide on a particular style, use your anniversary year as a reference. Here are the types of materials and stones that you can consider using based on your milestone years as a married couple:
Jewelry experts use gold for the first anniversary because it represents warm wishes for the couple in the upcoming years of their marriage. This is because gold stands for abundance, prosperity, passion, and courage.
Sapphire is ideal for the 5th year since it stands for loyalty and honesty, two of the most significant pillars for a long-lasting marriage.
Diamond suits the 10th anniversary because it represents the resilience of a marriage that has lasted for a decade.
The 15th year matches well with ruby to signify the lasting passion and love between spouses who have withstood the test of time.
The 20th anniversary is usually marked with an emerald, a rare gemstone that adequately symbolizes the special relationship of spouses who have spent two happy decades together.
The 25th year is considered the silver jubilee, which is best represented by a silver ring. While often underrated, this metal actually has deep symbolism because it represents the radiance and clarity that can be seen in more mature couples who have worked together to face the challenges in life.
The Next 25 Years
After the silver anniversary, the next milestone would be the 30th anniversary. For this occasion, pearls are recommended because they represent the purity and tenacity of two people who were able to stay true to their wedding vows for the span of a generation.
The stone that represents the 40th year is the same as the 15th year, which is ruby. This time, it stands for everlasting love that has survived many of life's trials.
Finally, the golden jubilee on the 50th year brings it full circle as it is represented by gold, the same one that marked the first year of your marriage.
Wrapping Up
Commemorating your wedding anniversary with a ring, be it the first or the fifty-first, is an excellent way to always remember the special occasion. There are many rings available for this purpose, from elaborate and meaningful designs like a journey, fede, and claddagh rings, to more subtle ones, like eternity and birthstone rings. The design you choose should be one that you love and that represents your journey to you.