As Jewelry Shopping Guide editors, we write about things that we love and we think you'll like too. We often have affiliate partnerships, and may generate some revenue from these links at no cost to you.
Rose gold is one of the more popular metals for engagement rings thanks to its soft and romantic look. Ironically, it's also harder than white and yellow gold because of the significant amount of copper in its alloy.
If having copper in your gold ring sounds like a negative, don't be alarmed – all gold used in jewelry is an alloy of gold with one or more other metal because pure gold is too soft to make for a durable ring.
So, you're partial to rose gold for your future engagement ring – what else do you need to know about rose gold engagement rings and how should choose one?
What diamond color grades work well with rose gold rings?
To figure out what diamond you need for a rose gold ring you'll first need to decide on how "rosy" the gold is going to be.
The pinkish or reddish color of rose gold depends on how much copper is in the alloy. 18k and 14k rose gold are the two popular rose gold alloys used in fine jewelry, with 18k gold being more expensive and softer than 14k rose gold.
Now, with that out of the way, what color grades should a rose gold ring's diamond be?
On one hand, rose gold doesn't really restrict your choice of diamonds by much – if you have the budget for a perfectly colorless diamond, that would make for a striking contrast between a cool toned diamond and a rose-toned metal.
However, the factor to consider is that unless you have a halo of white diamonds around the stone, you can expect the rose color of the metal to affect the diamond's color too, giving it a tinge of warmth. So, instead of shelling out cash for a completely colorless stone you can go for a diamond that's slightly lower on the diamond grading scale.
While this is best avoided with a white metal because you wouldn't want the diamond to have any color, with rose gold the slight color of an I, J or even K or L diamond can blend in with the soft pinkish reflections of the rose gold.
Notice the following rings which are all low on the color scale.
If you do decide to go really low on the diamond color grades, however, keep in mind that the color of diamonds in the K and L ranges or below can vary with yellow or brown being the most common colors.
Yellow color hues on slightly colored diamonds don't look good with rose metals and are better suited for yellow gold rings. Brown color hues are the ones that fit well with the rosy reflections of a diamond mounted on rose gold and that's an additional benefit for your budget as diamonds with brown color hues are less expensive than ones with yellow hues.
Do colored diamonds look good with a rose gold ring?
If you're thinking of ignoring the traditional colorless diamonds altogether and not bother with their slight color, you may want to consider diamonds or gemstones that are outright colored.
There are several types of colored diamonds on the market you can choose from – brown, yellow, green, black, salt and pepper, and red. Other gemstones like aquamarine, amethyst or citrine can also pair with rose gold, with each pairing making for a unique style.
What diamond shapes work well with rose gold rings?
There aren't really any restrictions when it comes to diamond shapes for rose gold rings and you can go for pretty much anything you want. As a rule of thumb, however, most people who opt for rose gold rings prefer more rounded diamond shapes such as round, oval, pear or heart cuts but comes down to a matter of preference.
The more square-shaped cuts such as princess, emerald, radiant, cushion and others can also look good on a rose gold ring but most people prefer to accent the romantic softness of the rose gold with a delicate diamond shape with curves.
Additionally, rose gold typically has a more classic and vintage feel to it and square-shaped diamond cuts are more often preferred for contemporary styled rings. However, again, this comes down to preference so there are no rules about this. Choose the diamond shape that works for you.
What settings look good with rose gold?
As with the diamond shapes, rose gold doesn't really restrict the settings you can use in a significant way and you can opt for whichever ring setting strikes your fancy.
Still, most people prefer more classical settings such as solitaire and bezel settings as these complement the vintage look of the rose gold. If you do want something more brilliant, a rich halo setting can also look very romantic on a rose gold ring, not to mention that it will shield a colorless diamond from reflecting rosy hues due to the diamonds around it.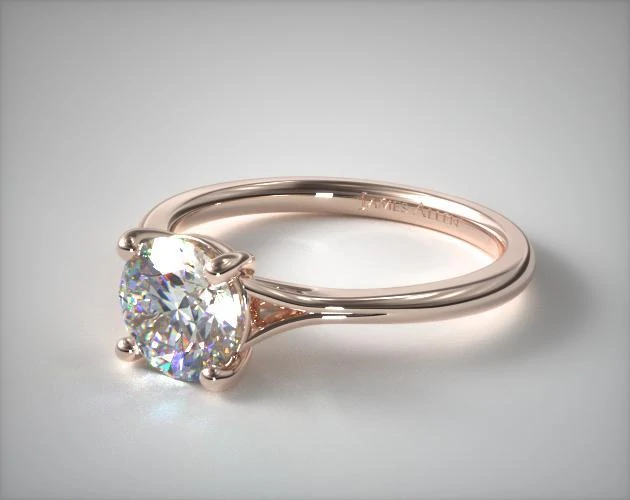 Settings such as pave, side stone, three stone, and channel are also perfectly viable for rose gold rings and beautifully blends the diamonds with the rose gold hue. However, some may argue that these settings tend to hide the beauty of the rose gold band. This comes down to a matter of opinion.
Should I get a rose gold engagement ring?
If you like how it looks, there are lots of advantages to rose gold:
Rose gold is more durable than other gold alloys, because of the copper content in it. This makes it more resistant to scratches and dents.
Rose gold has a unique look that's perfect for engagement rings, with a soft, delicate look that tends to suit all skin tones.
It's relatively easy to maintain as it doesn't have any special coating that require extra care, unlike white gold which requires periodic rhodium plating.
Pretty much the only thing you'll need to consider more carefully is whether your future bride-to-be will like this color – some people love it, others don't.
What kind of bride wears a rose gold engagement ring?
People who love wearing feminine, sweet, and soft colors usually love rose gold rings. Additionally, if your partner loves more vintage and classic jewelry, rose gold should also be a perfect fit. Rose gold is also great for people with more down-to-earth essence and softer skin colors as it looks very good on them.
Keep in mind that rose gold is not hypoallergenic, however, so if metal alloys with copper in them irritate your partner's skin, rose gold wouldn't be a good choice.
How popular are rose gold engagement rings?
While yellow and white gold, as well as other white metals, are the more popular choices for engagement rings, rose gold has become increasingly popular in recent years. It presents a unique option for people who want a more unique style, and it combines a vintage and classic aesthetic as well as a unique and trendy vibe.
More importantly, not only is rose gold popular today but you can be pretty sure that it will continue to be popular for decades to come because of its unique look and high overall quality. Rose gold engagement rings have lasted the test of time and it's safe to say, they'll continue being popular.
Ready to browse rose gold engagement rings? Click here to start your search.