As Jewelry Shopping Guide editors, we write about things that we love and we think you'll like too. We often have affiliate partnerships, and may generate some revenue from these links at no cost to you.
Eternity rings have become a jewelry staple, worn to commemorate special occasions and symbolic of everlasting love. Typically worn by women, but sometimes by men, eternity rings come in a range of designs, styles and prices.
If you're thinking of buying an eternity ring, we've got you covered. In this ultimate guide, we go over every aspect of an eternity band to help you make your purchase.
Let's take a look at everything you need to know before you buy your eternity ring.
What is an Eternity Band?
An eternity ring is a metal band with no beginning or end. It is called an 'eternity' ring because it is eternal. These rings are often used as wedding bands but also have other functions (discussed below).
Eternity rings are typically encircled with diamonds, but other gemstones can also be used. There are a variety of designs when it comes to eternity rings, whether highly embellished or very simple.
Difference Between Eternity Ring and Wedding Ring
The main difference between these two types of rings is that an eternity ring can be a type of wedding ring but not all wedding rings are eternity rings. As we'll discuss below, eternity rings also multiple functions and can be worn for a number of reasons.
History of Eternity Bands
The concept of giving a ring as a symbol of commitment to a loved one dates back to ancient Egyptian times, to about 6000 B.C. The Egyptians believed that the ring symbolized eternity with the space in the middle signifying a passage into the future. The rings exchanged at that time were made of metal and sometimes of reed however it wasn't until the 1960s that diamond eternity rings became a thing.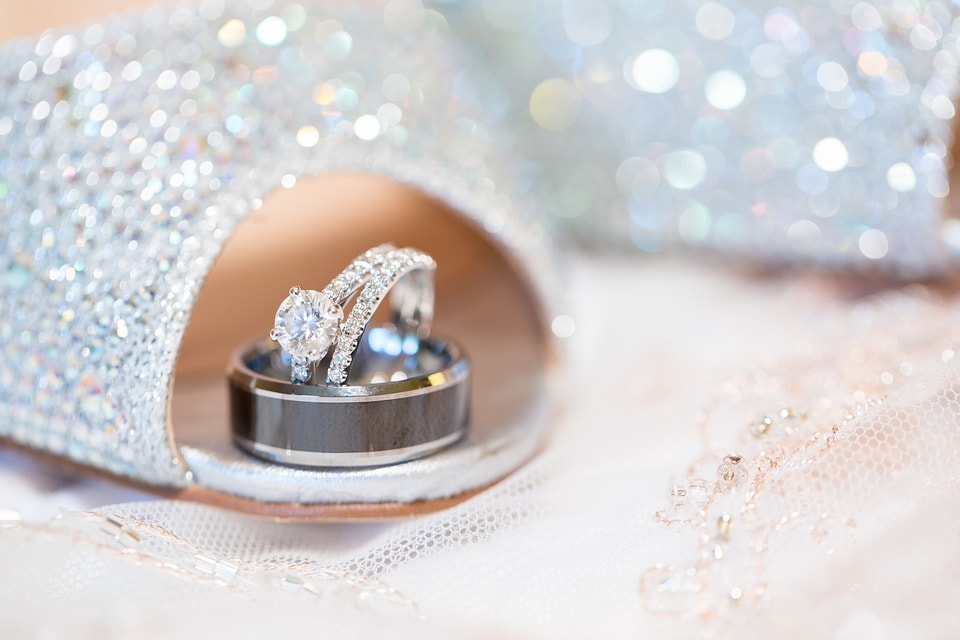 While most retailers will shy away from saying this, the diamond eternity ring is a creation of the famous de Beers diamond corporation. It was de Beers that brought about the diamond engagement ring revolution too, but that's the subject for another article.
In the case of eternity rings, the idea was to create a market for smaller diamonds aimed at married and older women. They ran an advertising slogan that stated, 'She married you for richer or poorer. Let her know how it's going'. Whatever your feelings about de Beers, you have to hand it to them. They knew how to pull of a killer marketing campaign!
The campaign was successful and diamond eternity rings have since become a jewelry staple.
Meaning of an Eternity Band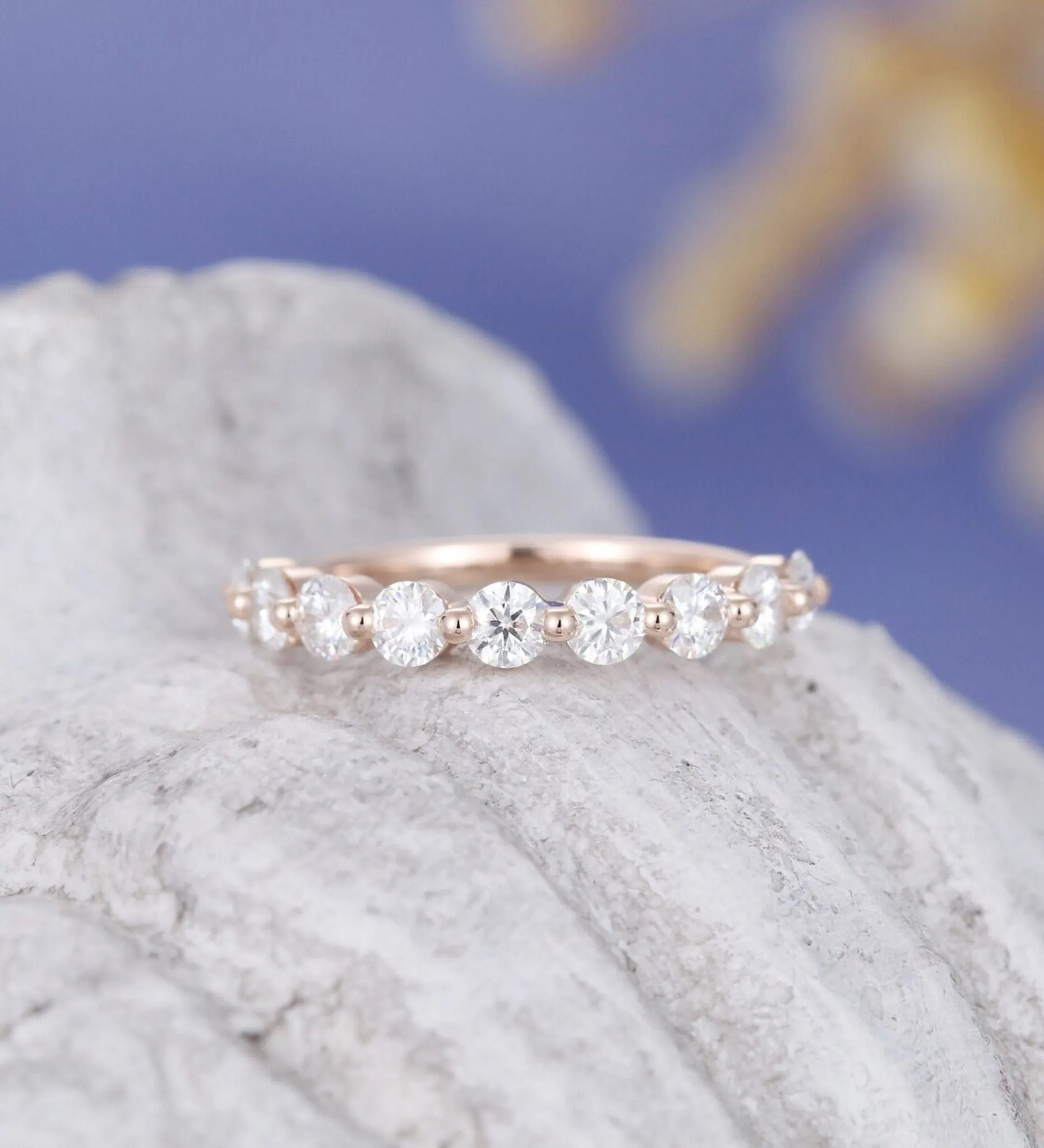 The eternity band is highly symbolic, and this is part of its endless appeal. The circle is a very common symbol and is universally acknowledged.
As I mentioned above, the circular shape of the ring symbolizes eternity, but it also represents equality, completion, perfection and everlasting love. Diamonds on their own symbolise love, fidelity, strength, purity, trust and truth.
When you put the symbolism of rings and of diamonds together, you're left with a piece of jewelry that is weighty with meaning and ideal as a gift between lovers or very close family and friends.
When to (Traditionally) Give an Eternity Band
While eternity rings were initially aimed at an older demographic, this is no longer the case. Since the 1960s, eternity rings have become a fashion go-to and a favorite among couples of all ages.
Eternity bands are commonly used as wedding rings and are given by the groom to the bride at the alter. They are also a popular wedding anniversary gift and can be given on any chosen wedding anniversary.
In this day and age of fashion freedom, there are no hard and fast rules to abide by. Some couples choose an eternity ring as their engagement ring. Others gift it as a promise ring, birthday gift, Valentine's Day gift, or a special gift for a new mom.
In short, if you're contemplating whether an eternity ring is right for the occasion you have in mind, it probably is.
How to Wear an Eternity Ring
For those who choose an eternity ring as a wedding ring, strictly speaking, it would make sense to wear the ring on their ring finger of the left hand. This is known as the wedding ring finger.
However, if your eternity ring is an anniversary gift, a new mom gift or worn to commemorate some other occasion, you can wear the ring on any finger you feel comfortable. Again, there are no rules about this so go with what feels right to you.
How to Assess the Quality of an Eternity Band
Like all diamond jewelry, eternity rings are a valuable purchase and need to be chosen wisely. First and foremost, it's important to purchase from a reputable retailer, like James Allen or Blue Nile, with a proven track record. This way, even if you aren't completely satisfied with your ring, you can always return it without any issue.
When determining the quality of the ring, you need to focus on the quality of the materials and craftsmanship. This includes the diamonds and the metal used.
As the diamonds used in eternity rings are very small, retailers don't provide certificates for them. This would simply be too costly to do. It's important to carefully examine the eternity ring and look for consistency in diamond color and clarity as well as craftsmanship prior to purchase.
In our article on melee diamonds, we've covered in detail how to assess the quality of these small stones. We encourage you to read that for comprehensive information.
Half Eternity vs. Full Eternity Rings
There are two main categories into which all eternity rings fall – the full eternity and the half eternity.
The full eternity refers to a ring where the stones encircles the entire circumference of the ring like this one. The half eternity only has stones encircling half the circumference like this design.
Full eternity rings can be more expensive than half eternity as they have more diamonds and require more work. They're also more difficult to resize.
Read our article comparing the pros and cons of half vs. full eternity bands here.
Types of Eternity Rings Settings
The next thing to consider is the type of eternity ring setting. There are four main types:
Prong Set Eternity Ring
Prong setting, also called claw setting, is the most common type of eternity ring setting. It features prongs that hold the diamonds securely in place. These prongs can be seen from the sides and the top view of the ring.
Channel Set Eternity Ring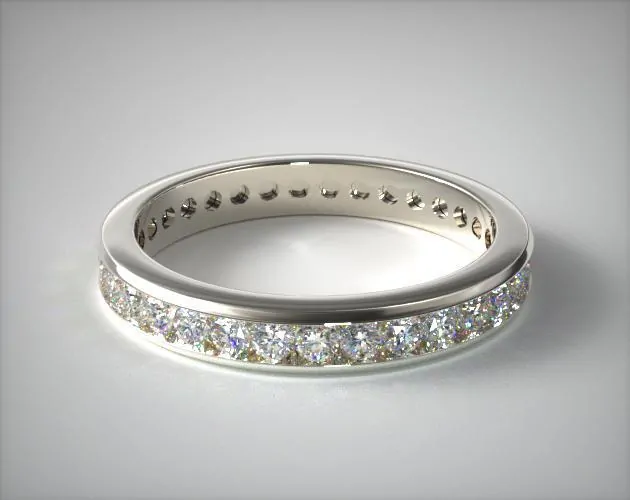 With this type of setting, the diamonds are set into a groove or channel in the metal. The diamonds often sit flush against the metal or just under and are placed side by side with no metal separating them. The benefit of the channel setting is that it can be safer than a prong setting and creates a smooth, continuous line of diamonds that go around the band.
Pave Eternity Ring Setting
Pave ring settings contain diamonds that are set close together on the metal like pavement stones, hence the word pave. When tiny diamond melees are used it's known as a micropave setting. Pave eternity ring settings are highly brilliant and have more sparkle because of the higher number of diamonds used.
Cut Down Eternity Ring Setting
With this type of setting, the diamonds are placed in a cut in the metal that holds the stones securely. There is no visible metal prongs or grooves to keep them in their place, allowing more exposure of the stone to light, thereby increasing the light performance of the diamonds.
Eternity Rings Designs
While we tend to think of diamonds when we think of eternity rings, there are many other ways to sport an eternity ring. Here are some:
Why stick with just diamonds when there's a world of gemstones out there? While diamonds are the hardest gemstones, they aren't necessarily the best. Rubies, sapphires and moissanites make for stunning and unique eternity rings. But if you want to get even more creative, we suggest looking towards semi-precious gemstones like turquoise, aquamarine, opal or amethyst.
Vintage Inspired Eternity Rings
All things vintage are very stylish at the moment, and there's no indication that this trend is going to end. A vintage eternity ring is a nod to the past and gives an elegant, sophisticated and classic look. There are many eras of the past to choose from, with each having its own distinct style. Some popular options are Art Deco, Art Nouveau, Victorian and Edwardian styles.
Curved Eternity Ring
A curved eternity ring isn't meant to be worn on its own. It's typically worn with another ring, like an engagement ring. The curve in the ring is so that it can accommodate the shape of the other ring. Curved eternity rings are comfortable and work well with other jewelry.
Best Metal for Eternity Rings
Most diamond eternity rings are set in either platinum or gold. This is because these metals are not only prestigious and precious, but are also durable, valuable and aesthetically pleasing. Setting diamonds in sterling silver or alternative metals like titanium, stainless steel or tungsten would devalue the diamonds themselves. After all, a diamond eternity ring is meant to be a prestigious piece of jewelry.
Here's a quick run-down on the top metal choices:
Platinum Eternity Rings
Platinum is a durable and rare metal and is a great choice if you plan to wear your ring on a daily basis. Platinum's high sheen and reflective nature accentuates the sparkle of the diamonds, giving you a highly brilliant ring. However, this is not to say that platinum is indestructible. It can get scratched and often develops a patina over time.
Gold Eternity Rings
Gold comes in two main purity levels (14k and 18k) and three main colors – white, yellow and rose. Yellow gold is the traditional color for gold and has a vintage, chic look. Yellow gold paired with diamonds is a beautiful look and will never go out of style.
Rose gold has a more feminine, soft appearance and while it looks vintage, it's also a modern look. This is because rose gold has only recently surged in popularity as a bridal ring metal.
And finally, white gold is similar to platinum but is less expensive. White gold gets its highly reflective exterior via rhodium plating which can wear off after a while and may require replating.
Eternity Ring Diamond Shapes
Needless to say, round diamonds are the most common type of stone chosen for eternity bands. But other shapes are sometimes chosen, making for unique and intriguing designs.
For example, a princess cut eternity band tessellates together, creating an endless road of smooth diamond, especially when in a channel setting.
Baguette cut diamonds are also a stunning choice for an eternity band, with the smooth, large step cuts exhibiting eye-catching light performance.
Some other beautiful diamond shapes for eternity rings are Asscher, radiant, emerald and cushion.
Inexpensive Diamond Eternity Ring Alternatives
Let's say you want the look but not the high price tag. There are less expensive options for diamond eternity rings. One of the best alternatives is to opt for a moissanite eternity ring.
Moissanite is a rare stone that has to be lab-created as natural supplies are extremely limited. These stones have a great back story and have most of the qualities that make diamonds desirable. Read more about moissanite here.
Another option is to choose a cubic zirconia eternity ring. CZ is inexpensive, durable and has a very similar look to diamonds. They make a great choice for a diamond simulant and it's almost impossible to tell them apart from diamonds.
Can Eternity Rings be Resized?
One of the main issues with full eternity bands is that they are very difficult, if not impossible, to resize. It comes down to the skill of the jeweler and whether they're willing to do the job in the first place, but most retailers will not take it on. Half eternity bands can be resized however.
James Allen, for example, will completely remake your full eternity ring using the same diamonds if the ring doesn't fit you as long as you send it back within the first 60 days. With a half eternity, they offer normal resizing services. This is why it's important to get your ring size correct when you order your eternity ring.
However, over time, finger sizes tend to change and can go up and down in size like if you get pregnant, so this may be an issue that you'll have to contend with at some stage.
How Much Should I Spend on an Eternity Ring?
Diamond eternity rings come in a variety of prices, largely influenced by the quality of materials used, the style craftsmanship and brand. Prices can range from about $900 to $35,000 or more.
The ring you pick depends on how important the occasion being celebrated is and how much you can afford to spend. Most people would budget around $1000 for a classic eternity band, but if you want your ring to be bigger and more eye-catching, you'll have to increase your budget.
Where to Buy Eternity Rings
If you're searching for your eternity ring online, there are quite a few great options to choose from. By taking your search online, you'll be able to access competitive prices and have a wide range of options to source from.
However, it is imperative to choose a trustworthy and reliable vendor, known for the quality of their products and services. We recommend the following retailers when it comes to shopping for diamond eternity rings online:
1- James Allen
James Allen has an impressive collection of high-quality eternity bands on offer. Their site allows you to view each ring carefully from all angles using their ground-breaking Diamond Display Technology. They also have Diamond Experts on hand to help you through the process.
2- Blue Nile
Blue Nile has a very impressive range of eternity bands, which include designer rings and gemstones, at competitive prices. They have some unique styles on offer so definitely check them out.
3- Brian Gavin
Brian Gavin's diamonds are famous for their cut quality and for their continuous innovation in perfecting their cut quality. Their range of eternity bands are stylish and expertly crafted.
For eternity rings containing gemstones and unique styles, we recommend Etsy and Amazon.
4- Etsy
Etsy is the place to go for unique, handmade and very cute eternity band designs and if this is what you're looking for, definitely start your search here. You can find multiple independent jewelry boutiques on Etsy, each with their own assortment of eternity rings. Each Etsy shop has its own polices so it might take some time to review all their details ahead of making a purchase, but that's usually time well-spent.
5- Amazon
As it is one of the biggest online retailers worldwide, it's not surprising that you can find all kinds of eternity rings on Amazon. Representatives from many different jewelry vendors offer their products on Amazon and you can use the site's extensive rating and review sections to gauge the quality of each product.