Solitaire settings are one of the most common options for engagement rings. But this setting applies not only to rings but to earrings, pendants, necklaces, and a whole host of other jewelry types. It's the most popular option for most diamond jewelry.
So, what exactly is a solitaire setting, and is it the right choice for you? Is this a specific type of gemstone setting, a whole category of designs, or something different? Let's explore this in more detail below.
What Is a Solitaire Setting?
The term "solitaire setting" can be a bit misleading as it's not really a specific type of jewelry setting like the halo setting or the prong setting. Instead, the term "solitaire" refers to a whole range of jewelry settings and designs that are all unified by one commonality – they all include a single (ergo – solitaire) gemstone that's at the center of the piece with no other gemstones (at least not major ones) near it to distract from its brilliance or to try and supplement it in any way.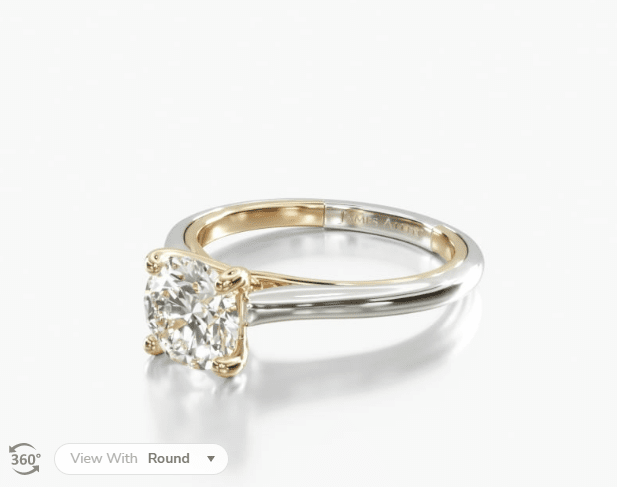 In fact, the famous prong setting is a type of solitaire setting – one of the most classic ones too – but there are quite a few others. We'll list the most common types of solitaire settings below but the key characteristic of all of them is that they all include a single high-quality diamond or another gemstone at the center of the piece, usually elevated above the piece's body with a stylish metal setting.
If there are to be other gemstones in a solitaire setting, they are usually used very minimally as either a pavé or maybe as melee diamonds sprinkled delicately over a part of the ring or the setting.
Aside from that, there really are no other restrictions as to what constitutes a solitaire setting – any type of precious gemstone can be used together with any metal, as long as there is only one centerpiece stone stealing the spotlight. This is in contrast with other popular settings and designs such as the side stone setting, like this one, or the halo setting, like this eye-catching ring.
Types of Solitaire Settings
Rings and jewelry pieces as a whole can be endlessly diverse so we can never list all possible solitaire setting designs as we'll always miss at least some niche and innovative designs. We will go over the several most common and famous examples of solitaire designs to give you an idea of how diverse this category of ring settings can be.
1. Prong Solitaire Setting
Probably the most popular type of solitaire setting is the prong setting. This setting itself has numerous sub-types such as four-prong, six-prong, eight-prong, Tiffany setting, and others.
The key for each of them is that the solitaire centerpiece stone is held by several claw-like metal prongs that elevated it above the rest of the ring.
There could be other added extras such as melee or pave diamonds on the side, but the center setting should just be that one big gemstone and the prongs that hold it.
2. Cathedral Solitaire Setting
The cathedral setting can be seen as a sub-type of the prong setting but it's generally different in its design. Instead of simple claw-like prongs, the cathedral setting utilizes arched prongs that not only elevate the stone above the ring but also resemble a cathedral-like structure.
3. Knife Edge Solitaire Setting
The knife edge setting can also be viewed as a kind of prong setting. In this case, however, there are two extra edges that elevate from the base of the jewelry piece and reach toward the center of the stone. This gives the design a "knife edge" look but also has the added benefit of providing more support and protection to the exposed centerpiece gemstone.
4. Split Shank Solitaire Setting
The split shank setting is notable in that the base of the ring band splits into two when it reaches the centerpiece stone and its setting. This helps the solitaire stone stand out and gives the ring a more unique look overall.
5. Bezel Solitaire Setting
Probably the other most common type of solitaire design together with the prong setting is the bezel setting. In this case, the centerpiece diamond isn't held by prongs of any kind but is instead nestled in a metal bed that encompasses it fully from below and around the sides.
The drawback here is that all that metal limits the light reflection and brilliance of the gemstone. The positive, however, is the extra protection added by this setting as it makes it much more difficult for an accidental knock or general wear and tears to damage the stone.
Pros and Cons of the Solitaire Setting
Solitaire rings and jewelry designs have been a mainstay in the jewelry world for centuries and likely will be for as long as the jewelry continues to be made. This doesn't mean that they only have positives to them. Every type of jewelry setting and design has its pros and cons which is why different settings are recommended for different situations, lifestyles, and personal preferences.
Let's take a look at the pros and cons of the solitaire ring setting.
Pros:
Solitaire settings have a timeless and classic look that fits with almost all jewelry types and styles, including most modern trends.
A solitaire setting accents the centerpiece stone as much as possible.
Solitaire settings are easy to maintain and clean because they aren't all that overcomplicated.
When talking about "solitaire settings" we're really talking about a broad range of setting types and styles, so you have countless options for customization.
Cons:
Solitaire settings don't just accent the center stone – they rely almost entirely on it. This means that you need to be prepared to spend a sizable part of your budget on a great stone if you want your solitaire ring or jewelry piece to look good.
While they are easy to clean and maintain, solitaire rings, in particular, are very susceptible to wear and tear, as well as to direct accidental damage. Cathedral solitaire settings are a prime example of that because of how elevated they are, with their high profile.
Even though a single high-value diamond for a solitaire ring can be pricey, other types of settings utilizing several smaller stones can be not only more affordable but might also offer extra spark and brilliance with the right design.
Wrapping Up – Should You Choose a Solitaire Setting?
The solitaire setting styles are recommended for virtually every type of jewelry and everyone who likes that look. The two main considerations to make are 1) whether you can afford a gemstone of a high enough quality for the solitaire to look good and 2) whether your lifestyle is safe enough for a solitaire ring to not get damaged accidentally or over time.
A good solution to the first issue – if you are on a tight budget – is to go for a lab-created diamond as they are always of great quality while costing several times less than an equivalent natural diamond. Another alternative is to pick a non-diamond gemstone as those are also usually more affordable while looking great and adding an extra unique look to the piece.
As for how to keep your solitaire ring from getting damaged – taking it off before doing any work with your hands is typically recommended. But if you do know that you have lots of manual labor in your day-to-day life, picking a solitaire ring may not be a great idea unless you're ready to be extra mindful of it. In that case, opt for rings that can be worn by busy hands.