Solitaire and halo engagement ring settings are two of the most popular ring settings. Both are stylish, classic options, but each has distinct pros and cons. To decide which of these settings is the better option for you, let's take a look at how they stack up against each other.
Should I Choose a Solitaire or a Halo Setting?
If you live a busy lifestyle, and use your hands a lot, a halo setting might be a better option as the halo acts as a buffer around the diamond, protecting it from blows and knocks. What's more, if you also want to maximize your budget, while having the best sparkle and size possible, then a halo is the right choice.
If, however, you're looking for a setting where your diamond takes center stage and sparkles without assistance, go for a solitaire ring setting. You can still add elements that enhance the beauty of the diamond, without taking away from its size and sparkle.
Ok, with that out of the way, let's break down the differences between these two below.
What's a Solitaire Ring Setting?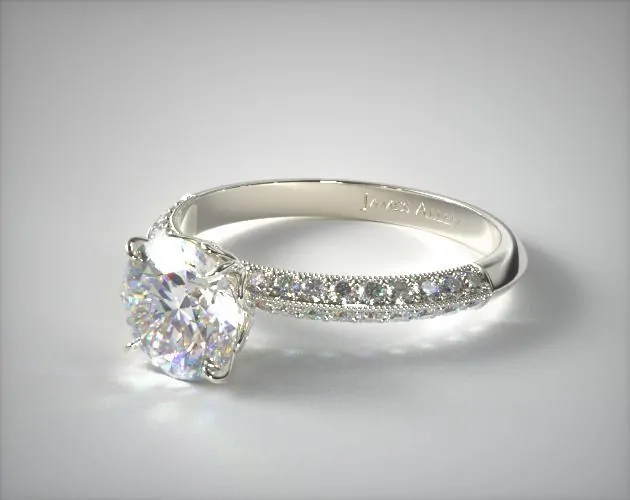 Solitaire rings are classic and timeless. They have been the most popular engagement ring style for decades. As the name suggests, a solitaire refers to a single (or solitary) diamond or other gemstone mounted onto the ring setting to take full focus.
The shape, size and type of stone can vary to suit your personal preferences and budget. Solitaire rings hold the gemstone in place with carefully placed prongs, often 4 to 6 prongs. This setting offers an excellent trade-off between security and beauty.
Pros of Solitaire Setting:
The solitaire ring setting highlights the center stone, making it the focus of the piece.
It's an elegant, understated style that never goes out of fashion.
It offers versatility when it comes to matching a wedding band with it.
It's easy to clean and maintain.
It has exceptional sparkle and highlights the clarity of the stone.
Cons of Solitaire Setting:
High-set solitaire rings can snag on everyday objects which can damage the ring.
The parts of the diamond's girdle are often exposed and can get damaged.
It can be more expensive, as a single large diamond costs more than several smaller ones.
Here's what some of our readers say about the solitaire setting.
Maria: The solitaire is classic and will never go out of style. The diamond is the star of the show with this setting and I feel it's the most elegant setting for rings.
Phoebe: I always knew I wanted a solitaire because I want the focus to be on the diamond. We got a 4 prong solitaire setting – really brings out the beauty of the stone!
What's the Halo Ring Setting?
The halo setting features a center diamond or gemstone surrounding by a circle of smaller stones, creating a halo around it. This makes the center stone look larger than it is and gives good value for money. Halo ring settings have been around since the Art Deco era of 1920s and have since been a prominent engagement ring style. In recent years, they've become exceedingly popular again.
The halo setting is a highly versatile style that gives designers a range of options to add to the final design. Some popular styles include double halo, gemstone halo with diamond center stone (or vice versa), and pave settings with halo.
Halo settings featuring a diamond halo and a diamond center stone set in white gold or platinum is the most popular design, as it makes the ring appear sparkling and the diamond large.
Pros of Halo Setting:
The halo setting allows you to choose a smaller and less expensive center diamond and supplement its size with a diamond halo.
The smaller ring of diamonds enhances the overall sparkle of the setting.
The halo acts as a buffer for the center stone, offering an additional layer of protection from exposure and impact.
It's a highly versatile setting with many ways to personalize it.
It works well with a range of diamond shapes, but also looks stunning with gemstones.
Cons of Halo Setting:
The smaller gemstones may get loose or dislodge with time and would need to be replaced if this happens. The best way to guard against this is to have the ring inspected by a jeweler periodically, like once a year.
Halo settings can be harder to clean, as there's more hidden areas for dirt to get lodged in.
Here's what real brides say about the halo setting.
Andrea: Some people think halos are a trend, but they've actually been around for ages. I think they're more interesting and add to the center stone's beauty.
Stephen: I bought a halo engagement ring for my future wife because I knew she wanted the diamond to look large and to make it sparklier. I didn't have the budget for a massive diamond – but the halo made it work!
Which to Choose
By now, it's clear that both solitaire and halo settings have pros and cons. So, which do you choose? For inspiration, check out the stunning ring designs below from some of the best online retailers.
1. Classic solitaire with embellished setting.
A classic solitaire ring is always in style, so why not opt for a minimalist design with a diamond studded setting? The diamond melees in the setting take this to the next level, accentuating the simplicity of the ring setting while highlighting the center stone.
2. Elaborate shanks with a princess diamond.
For a modern aesthetic, consider a princess cut diamond in a setting that highlights the center stone while adding sparkle to the design. Shanks embellished with diamonds add dimension to the design without distracting from the center stone.
3. Vintage elements.
Vintage elements, such as milgrain and filigree, bring out an old world charm for any engagement ring. This design features eight prongs that hold the diamond securely, with a band that stands out with its details.
4. Twisted shanks and diamonds.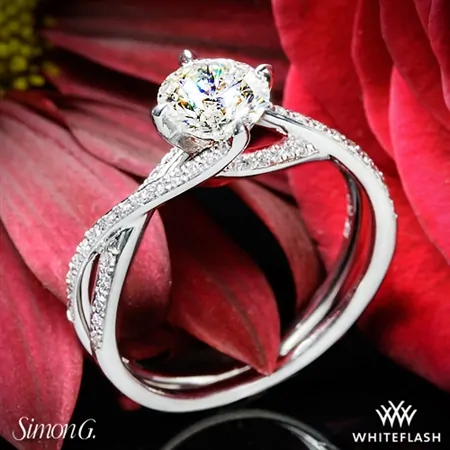 This stunning design features elegantly twisted shanks, studded with tiny diamonds for maximum sparkle, leading towards the center diamond. The overall look is dynamic, flowing, and stunning!
5. Gemstone halo and center diamond.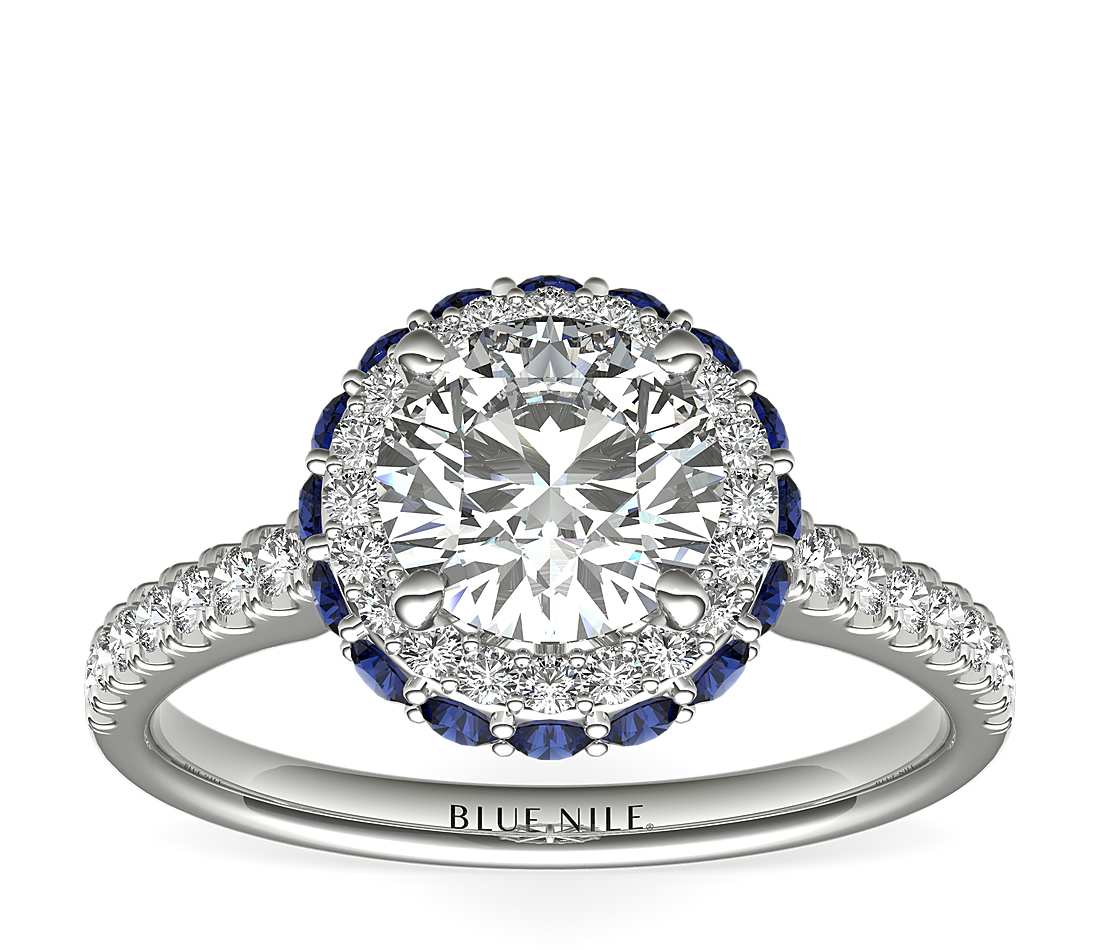 For a twist to the classic halo, consider a gemstone halo to add some color and border to your ring design. This particular design from Blue Nile features a double halo, maximizing the size of the center stone. The pave band adds to the sparkle of the design, with the sapphire halo neatly separating the center stone from the band.
6. Large halo and diamond studded band.
You could choose a smaller center diamond, then surround it with a halo of larger diamonds for a flower-like effect. Ultimate sparkle, fire, and diamond overload.
7. A unique floral halo.
Consider a unique halo, like this one by James Allen. The delicate swirl of pave lace work takes this setting to the next level, giving it a vintage feel. Perfect for a bride who likes floral motifs and romantic details.
8. A double halo setting.
Double halo settings have two main benefits. They add sparkle to the center stone and make the main diamond look bigger. Opt for a smaller center stone and maximize its size and sparkle with a carefully chosen double halo setting.
9. Triple row of diamonds for a thicker band.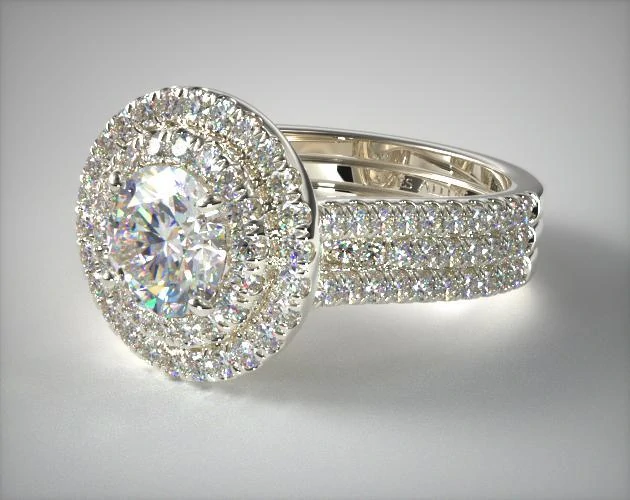 For those with thicker fingers or for anyone who likes a statement look, this ring gives you maximum oomph. Three rows of diamonds on the band and a double halo make the ring super brilliant.
Where to Buy Solitaire and Halo Set Rings?
It's important to choose the right retailer to get the best value for money. We recommend purchasing from the following highly reputable and trustworthy sellers:
We recommend the following retailers:
Why: Superior diamond imaging, competitive prices, high quality, wide range
An online giant in the diamond space, James Allen a stunning collection of high-quality round diamonds. The images and videos are unparalleled in quality and makes shopping online similar, if not better, to shopping in store. Their range of settings is second to none.
Why: Competitive prices, wide range, great quality
Known for dominating the online diamond industry since the late 1990s, Blue Nile offers one of the largest online diamond inventories. Search round diamonds here at competitive prices, solid after-sales policies, and good customer service.
Why: Superior cut quality, exclusive range, stunning designs
Whiteflash has earned an international reputation for the elite quality of their precision cut diamonds, and for their impeccable collection of designer engagement rings. Check their stunning range of diamond jewelry and loose diamonds.
Why: Impeccable quality, superior cut, small but exclusive inventory
Brian Gavin is a renowned expert in diamond cut – and it shows in their superior diamond quality. For the very best in diamonds, search their inventory of designer diamond jewelry and loose diamonds.
Why: Try before you buy, build your own ring, great quality
If you want to try out how a round diamond ring looks on your finger before you commit to buying one, check out With Clarity's Home Preview Service which is completely free. Find out more here.
Wrapping Up
Whether you choose a solitaire ring or a halo setting, you can't really go wrong, as both these styles are classics that have lasted the test of time. Each gives you multiple design options as well, making them perfect regardless of your taste and preferences.