As Jewelry Shopping Guide editors, we write about things that we love and we think you'll like too. We often have affiliate partnerships, and may generate some revenue from these links at no cost to you. 
Solitaire and halo engagement ring settings are two of the most popular ring settings. Both are stylish, classic options but have distinct pros and cons.
Here's how they stack up against each other.
What's a Solitaire Ring Setting?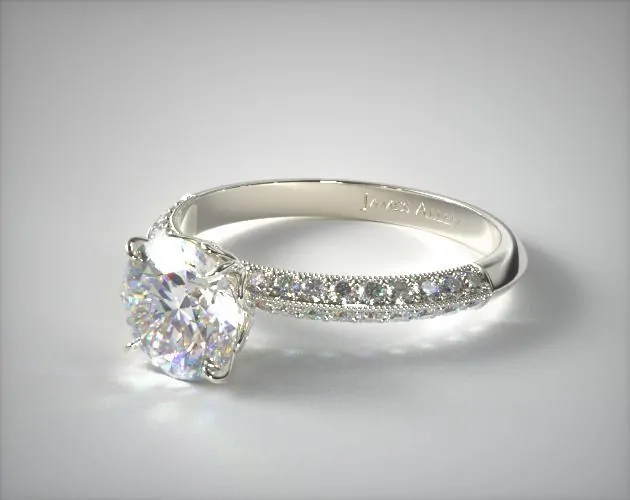 Quintessential solitaire ring design. See it here.
Solitaire rings are classic and timeless and have been the most popular engagement ring style for decades. A solitaire refers to a single diamond or other gemstone, mounted onto the ring setting to take full focus.
The shape, size and type of stone can vary to suit your personal preferences and budget. Solitaire rings hold the gemstone in place by careful placed prongs, often 4 to 6 prongs. This setting offers an excellent trade-off between security and beauty.
Pros of Solitaire Setting
The solitaire ring setting highlights the center stone, making it the focus of the piece.

It's an elegant, understated style that never goes out of fashion.

A solitaire engagement ring also offers a lot of versatility when it comes to matching a wedding band with it.

It's easy to clean and maintain.

It has exceptional sparkle and highlights the clarity of the stone.
Cons of Solitaire Setting
High-set solitaire rings can snag on everyday objects which can damage the ring.

The parts of the diamond's girdle are often exposed and can get damaged.

It can be more expensive as a single large diamond costs more than several smaller ones.
Maria: The solitaire is classic and will never go out of style. The diamond is the star of the show with this setting and I feel it's the most elegant setting for rings.
What's the Halo Ring Setting?
Halo engagement ring with center diamond. See it here.
The halo setting features a center diamond or gemstone surrounding by a circle of smaller stones, creating a halo around it. This makes the center stone look larger than it is and gives good value for money.
Halo ring settings have been around since the Art Deco era of 1920s and have since been a prominent engagement ring style. However, in recent years, they've become exceedingly popular again.
The halo setting is a highly versatile style that gives designers a range of options to choose from. Some popular styles include double halo, gemstone halo with diamond center stone (or vice versa) and pave settings with halo. Halo settings featuring diamond halo and a diamond center stone set in white gold or platinum is the most popular design as it makes the ring appear sparkling and the diamond large.
Pros of Halo Setting
The halo setting allows you to choose a smaller and less expensive center diamond and supplement its size with a diamond halo.

The smaller ring of diamonds enhances the overall sparkle of the setting.

The halo acts as a buffer for the center stone, offering an additional layer of protection from exposure and impact.

It's a highly versatile setting with many ways to personalize it.

It works well with a range of diamond shapes, but also looks stunning with gemstones.
Cons of Halo Setting
The smaller gemstones may get loose or dislodge with time and would need to be replaced if this happens. The best way to guard against this is to have the ring inspected by a jeweler at least once a year.

Halo settings can be harder to clean, as there's more hidden areas for dirt to get lodged in.
Andrea: Some people think halos are a trend, but they've actually been around for ages. I think they're more interesting and add to the center stone's beauty.
Where to Buy Solitaire and Halo Set Rings?
It's important to choose the right retailer to get the best value for money. We recommend purchasing from the following highly reputable and trustworthy sellers:
Blue Nile maintains one of the largest online diamond inventories and offer a wide collection of engagement ring settings. They focus on high-quality, competitive prices and excellent customer care.
James Allen offers the best in diamond imagery which allows you to examine your diamond and jewelry carefully before you buy. They're customer service, after-sales policies and competitive prices make them an excellent source to purchase your ring setting from.