Necklaces have been around from as early as 4200 BC. The different styles released over the years reflect the evolution of culture and civilization. What started as a simple string made from organic materials like bones, shells, teeth, or stones now includes many versions with intricate designs that use natural and synthetic materials like gemstones, gold, pearls, leather, beads, coral, silver, and others.   
Today, necklaces are available in different styles, designs, and lengths to suit different occasions. They are also relatively easy to mix and match with other attires or accessories, which means that you can fully maximize their wearability and would most likely be able to use them for a long time. A signature piece can also be used as an heirloom accessory for the next generation.
Popular Types of Necklaces
If you are looking for a necklace, there are many types and designs that you can choose from, and there is certainly one that will fit your personal style. Here is a list of the most popular necklace types for jewelry lovers like you:
1. Pendant Necklace
One of the most versatile types of jewelry is the pendant necklace because it is easy to pair off with different outfits, from formal to casual wear. The term pendant originates from the French word "pendre" which means "to hang", and this necklace is called such because it comes with a loose-hanging piece of jewelry that hangs on the chain.  
This type of necklace was originally used in ancient times as a talisman for healing or protection. As such, spiritual and religious symbols were often incorporated into the pendant, which could be made from leather, glass, metal, or gemstones. While some people still wear pendant necklaces for these reasons, some prefer them for their appeal and aesthetic value.
2. Charm Necklace
Like the pendant necklace, the charm necklace has a long history that can be traced back to the Neolithic period when bones, shells, stones, or wood would be strung together on leather. From the Bronze age to the Renaissance, it would be worn as an amulet or talisman to wish for protection or good fortune to the wearer.
Nowadays, people wear a charm necklace to stand out or make a statement. The charms could also be delicate or chunky pieces hanging around the chain, depending on your preference, and can be made from metal, gems, ceramic, glass, beads, or even your birthstone.
3. Locket Necklace
A locket necklace is a chain with a pendant that has a compartment inside. This small space can be used to store items that are valuable or memorable to the wearer, such as a photo or a hair strand of a loved one, which is why this necklace style became quite popular during the Victorian era.  
Usually made of silver or gold, a locket can be customized and shaped like a circle, oval, or heart. Most people would have their lockets engraved with their names or a short message to add to their sentimental value. They are suitable as a souvenir or heirloom pieces and are passed from one generation to the next.  
4. Choker
A choker is a short chain worn closely around the neck, best suited for U-type necklines or off-shoulder attires. This type of necklace was all the rage during the Victorian era and then again in the late 19th century up to the 1920s, but they can be traced back to ancient Egypt where they were used as adornment for Pharaohs.    
While vintage chokers were usually made of pearls, crystals, or glass beads, modern versions use a wider range of materials like velvet, leather, and beads or precious metals like gold or platinum. They can also be worn solo or layered over other chains for a more luxurious and stylish effect. 
5. Collar Necklace
This necklace is sometimes mistaken as a choker because of its appearance and because they do look alike. However, they differ in length as chokers are worn tightly around the neck while the collar necklace, as the name implies, hangs more loosely around the collarbone.
This style looks great on attires that are off-shoulder or have low necklines. For a more casual look, you may also pair it with a V-neck or turtleneck shirt.
6. Matinee Necklace
Usually made out of beads and stones, a matinee necklace is shorter than the opera type, measuring about 22 to 24 inches on average. Because of its length, which sits above or at the center of the chest, this necklace is ideal for layering with other necklaces, particularly the shorter types.
Matinee necklaces go well with formal wear, particularly those with plunging necklines, but they can also be worn for casual outings as long as they are paired with a nice top. They are also suitable for women who are heavier around the chest area.
7. Opera Necklace
Another style suited for those times when you want to make a statement is the opera necklace. Its long chain ranges from around 30 to 36 inches, usually reaching below the chest area or even up to the belly button when worn as a single string.
The opera necklace is versatile because it can also be worn looped around the neck like a choker or layered with other necklace styles if you want to present a contrast. This necklace style matches well with vintage fashion for cocktail or evening parties.
8. Lariat Necklace
Also known as the rope or the Y-necklace, lariat necklaces have no clasps and instead have ends that are looped, knotted, and crossed over. This creates a style that forms the shape of the letter Y, hence its name.
Lariat necklaces are typically very long. Some designs are longer than the opera necklace and sit around the belly button. However, the length can usually be modified according to your preference by simply adjusting the loops.
9. Bayadere Necklace
Also called the rope necklace, the bayadere style is made of strings or strands of beads that are twisted together. Sometimes, metal or fabric could also be used as strings, depending on the wearer's preference.
It is usually of medium length of about 36 inches and sits at the center or a little below the chest area. While it works well as a standalone chain, you could also add a locket or pendant in the center for an added effect. This design was popular in the 18th century and is suitable for boho-chic fashion.
10. Princess Necklace
A necklace fit for royalty, the princess necklace has a very stylish look and appeals, making it ideal for wearing in gala events like weddings. It is usually around 18 to 20 inches in length and features an elegant pendant that sits a little below the collarbone.
The princess necklace is often universally flattering, which makes it the necklace of choice for more formal wear. A typical princess necklace would be encrusted in stones with fancy shapes and sizes to add to its elegant look.
11. Chain Necklace
Sometimes, simple is the best, which is why the chain necklace is one of the most versatile types of necklaces. Because of its no-fuss look, this necklace can be easily paired with your daily wear, formal attire, or business look. It goes well with any neckline length as well.  
Often made out of durable metals like gold, silver, or stainless steel, this necklace type comes in many designs like belcher, snake, Figaro, curb, or Marino chains. The thickness also varies depending on your preferences, but while the thicker chains can be worn by themselves, the thinner ones are usually paired with pendants or are layered over other necklaces.  
12. Torsade Necklace
Derived from a French word that means "cable" or "twist", the torsade necklace is typically made out of beads, pearls, wire, or fabric that have been twisted together to form a single chain. Because of this design, the necklace is sometimes called the twisted necklace or twisters.
This necklace-type can be made in varying lengths depending on your preference. With its fun design, the torsade is perfect for casual outings like picnics or a walk through the park. Just match it up with a summer dress and a straw hat.
13. Riviere Necklace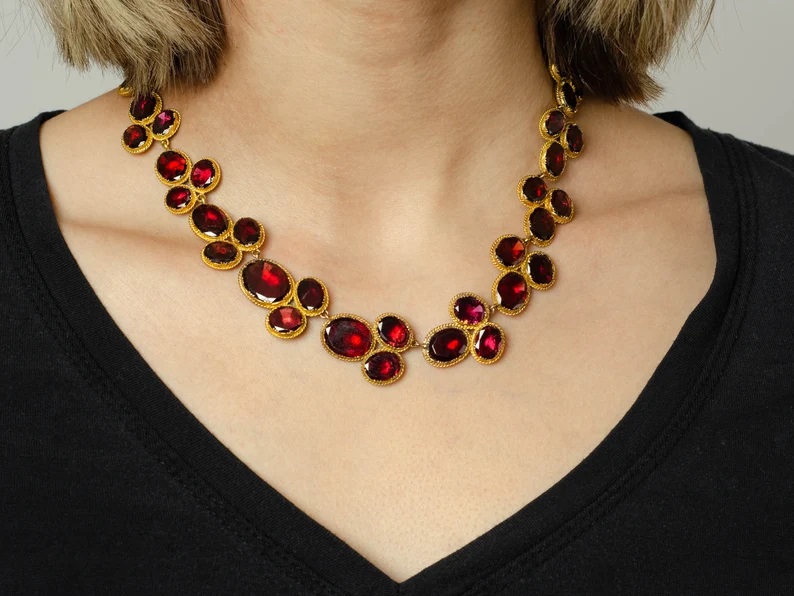 The Riviere necklace is a relatively short chain made of precious or semi-precious gemstones of varying sizes. It sits gracefully around the decolletage and does not have a central ornament like a pendant, which gives it a sleek and elegant overall look.
This style got its name from "river" in French because of the way it drapes or flows gracefully around the neck. It started to get popular during the Victorian era and remained in vogue until the mid-1900s.
14. Lavaliere Necklace
A key differentiation of the lavaliere necklace is its pendant. This is because it normally uses an oversized pendant, which contrasts with the dainty chain that carries it. Some styles use smaller pendants to surround the larger pendant at the center and create a more intricate design.
Named after Louise de La Vallière, a mistress of Louis XIV, who often wore them, this necklace-type rose to popularity during the Art Nouveau, Edwardian, and Art Deco jewelry eras. While it looks best with lower necklines, it also pairs well with other necklines and is suitable for light and feminine attires.  
15. Negligee Necklace
Like the lavaliere, the negligee rose to popularity during the Edwardian era and is sometimes referred to as another version of the former type. It is a chain necklace that features a pair of asymmetrical pendants or tassels of unequal lengths that are connected to a central pendant.
These pendants, which are often made from gemstones like rubies, sapphires, pearls, or diamonds, are connected to a thin bar that holds the necklace together. They are long, usually resting on top of or a little above the chest area, making them suitable for fancy clothes with off-shoulder or sweetheart necklines.  
16. Festoon Necklace
The festoon necklace has a more vintage stage and looks like a garland or wreath draped with chains, gemstones, and other embellishments. This style, which became trendy during the Art Nouveau and Victorian eras, initially rose to popularity because of Queen Alexandra of Denmark.
Because it is loaded with ornaments, the chain should ideally be short like a choker, while the rest of its parts would end up somewhere along the collarbone. This style needs excellent craftsmanship to pull off because of its intricate designs and layering, and it could be quite heavy when worn. Nevertheless, it looks gorgeous when paired with elegant attires like evening gowns or off-shoulder dresses.
17. Sautoir Necklace
A popular piece of jewelry during the Art Deco movement in the 20th century, the sautoir necklace is composed of a very long chain that can reach below the chest and almost up to the belly. Some designs may include a pendant, fringe, or tassel suspended from the bust area.
Pearls or twisted ropes are mostly used for this style, but diamonds and beads are also suitable. Because of its length, the sautoir necklace can be worn in different ways, such as a headpiece or layered bracelet.
18. String Necklace
Sometimes called the thread necklace, this type of design is characterized by colorful strings that are tied together in knots to form a chain. Lovers of handmade jewelry often go for this style, especially for a casual look because of its festive appeal.
The string necklace varies in length and can be as short or as long as you want it to be, but they typically range from 14 to 20 inches. It is also easy to customize as you can add ornaments to the strings, such as beads, pendants, or pieces of wood or metal.
19. Graduated Bead Necklace
As suggested by its name, the graduated bead necklace is a chain made of similar beads that change in size from small to large as they get closer to the center. Some designs use smaller beads called spacers in between the main beads.
Pearls are most commonly used for this necklace style, but coral, turquoise, and diamonds are sometimes mixed in as well. While the chain length varies, the overall effect is generally modest and subdued, making this necklace perfect for formal occasions like weddings or engagement parties.  
20. Bib Necklace
As the name implies, this necklace style drapes like a bib, with a narrower frame resting around the neck while a wider portion spreads below the collarbones. This tapering design is usually made with several rows of beads or gemstones but sometimes also uses other materials like silver, gold, crystals, or glass beads.
With its bold and intricate style, the bib necklace works best as a statement piece and when paired with formal wear. However, since the necklace's design is already quite elaborate, the clothes should have simple yet elegant lines so the wearer can avoid looking tacky or overdressed.
21. Plastron Necklace
Plastron necklaces are bulky and heavy, covering a wide area of the chest. They are usually solid, but some pieces have elaborate designs and can be made from materials like wood, silver, glass, or beads.
Like the bib necklace, the plastron style is also best suited to clothes with simple lines and designs. The necklace serves as the focal point of your attire and will provide the elegant and extravagant aura you are going for.
22. Torque Necklace
Medieval is probably the best word to describe the torque necklace because of its structure and the way it is worn. This necklace is made out of metal and designed either as a solid ring or multiple strands twisted together, with a front opening and without a clasp. 
The torque necklace is spherical and usually worn close to the skin, making it suitable for clothes with a plunging neckline or V-neck style. It is usually around 12 to 14 inches in length and is decorated with ornaments or carvings on the outer surface or at the ends of the bar.
23. Flapper Necklace
An iconic style from the 1920s, the flapper necklace is a very long necklace that is commonly made of strings of pearls and beads and tied in a knot. Traditionally, the necklace can run up to 60 or 80 inches in length, but some modern versions are relatively shorter.
24. Book Chain Necklace
The book chain necklace is characterized by folded metals that resemble a book and are linked together to form a chain, hence the name. Sometimes, lockets would be included in the design, especially if the wearer wants a more personalized style.
Rising to popularity during the Victorian era and lasting until the Edwardian period, the necklace is usually made of solid gold or sterling silver. The folded metals would also sometimes be decorated with engraved filigrees and scrollwork, which adds elegance and mystery to the whole piece.  
25. Fringed Necklace
Taking inspiration from the Egyptian broad collar from 1479–1425 B.C, the fringed necklace first became popular in the late 1900s as archeologists discovered these ancient civilizations. After going out of fashion for some time, it became trendy again in the 1950s and has since become a classic.
This necklace style is characterized by a series of fringes that are either graduated or of the same length, hence the name. It is usually made with gold, silver, and antiquated metals, with designs ranging from ethnic or gothic to glamorous.
26. Triple Multi-strand Necklace
As the name implies, this necklace is composed of three strands that are connected by a single enclosure. Usually measuring at choker or collar length, these strands can be made out of beads, crystals, or stone with different sizes and colors or of the same color but different shades.
With such a color combination, this type of necklace fits best with light-colored outfits. It is also suitable for casual activities like beach parties or a simple brunch meeting with friends.
27. Station Necklace
Balance is key when designing the station necklace because its main feature is having gemstones or ornaments that are evenly spaced out. A delicate chain is often used to present a contrast from the gemstones that are situated at different points of the necklace.
Because of its delicate design, it can get easily drowned out by your outfit or other accessories if not worn properly. It works well with high necklines and dark-colored tops and can also be layered with other delicate chains.
28. Paperclip Necklace
Simple yet elegant, the paperclip necklace has risen in popularity in recent years due to its minimalistic design. Evident from the name itself, this style features a chain made of long, elongated links that are connected like paper clips.
The links can be shaped as ovals, rectangles, or squares, and the chain itself can be dainty or chunky, depending on your preference. This type of necklace is perfect for casual fashion, like a shirt matched with a pair of jeans.
Wrapping Up
Necklace styles have come and gone out of trend since ancient times until now. From the plain chains and chokers to the more elaborate torsade or bib necklace, there's a style to match every occasion or outfit. You may also choose based on your personal style and preference. After all, your choice of jewelry is a reflection of your personality as well.