As Jewelry Shopping Guide editors, we write about things that we love and we think you'll like too. We often have affiliate partnerships, and may generate some revenue from these links at no cost to you.
The cathedral setting is one of the most popular settings for engagement rings. It's classy and sophisticated, putting your diamond or gemstone in the limelight.
Like the graceful buildings that they're named after, cathedral settings are stately and timeless, and have been a favorite for centuries. They're also durable and secure enough to hold a diamond safely.
However, cathedral settings aren't a setting type per se. They're simply a way in which the diamond is held up via graceful metal arches.
Let's see what this means exactly.
What Is A Cathedral Setting?
A cathedral setting is any ring setting that has the diamond held by arching prongs that go up to its girdle. It's called a cathedral setting because the prongs often resemble the graceful arches of the traditional European cathedrals. And that's about the gist of it.
Due to this broad description, lots of different setting types can be called cathedral settings.
It's a flexible design choice that allows the ring to be a combination of a cathedral and another setting type without a problem. A cathedral channel setting? That works beautifully.
What about a halo cathedral setting? Not a problem. You can also find bezel set cathedral settings. Any setting style that has the prongs of the ring reaching the diamond's edge, while holding it up, can be classified as a cathedral setting. This is because this variety of setting refers not to the setting itself but to how the setting is held up by the arch-like prongs.
Of course, this loose definition also brings a bit of confusion with it since there are other engagement ring setting types that also go up the diamond's height without doing it with cathedral-like prongs.
Engagement ring setting types such as the tension setting or the traditional bezel setting both hold the diamond in a sturdy grip that goes up to its girdle but they don't resemble a cathedral's arches. That's a distinction to remember when differentiating a cathedral setting from other similar setting types.
Virtually any engagement ring setting that is held up in the air by graceful arches can be called a cathedral setting. This can include setting types like solitaire, halo, bezel and channel.
How Does the Cathedral Setting Compare to Other Popular Engagement Ring Settings?
If we exclude all the middle-of-the-road setting types such as the bezel or tension settings, the easiest way to differentiate between engagement ring settings is to divide them to cathedral settings and non-cathedral settings.
Notice the image of the engagement ring below. Would you call it a cathedral setting? It looks like one, but it actually falls into the category of non-cathedral settings.
Non-cathedral settings are sometimes called resting on top setting or floating setting, but there is no unified way of calling them. Either way, the main difference between these settings and the cathedral setting is that they offer a clearer look at the side of the diamond and have less metalwork around it, which makes the stone stand out more from the rest of the ring.
It's a common misconception that the cathedral setting lifts the diamond higher than any other engagement ring setting because in reality a floating setting is usually just as high.
Whether you should choose a cathedral setting or a more open alternative is all up to your personal preferences.
Floating settings often seem more fragile (even though they aren't when crafted well) and they also offer a clearer look at the diamond which might not be great if there are an inclusion or two that you want the setting to hide. Either way, neither is strictly "better" or "worse" than the other.
6 Reasons To Buy A Cathedral Setting Engagement Ring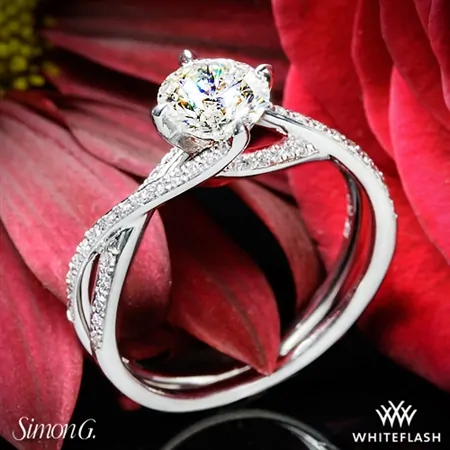 To summarize the main benefits of the cathedral ring setting, let's go over the basics:
It highlights the center diamond in an eye-catching manner.
It allows the metal of the ring to become an integral part of the overall design.
The cathedral ring setting gives the ring a stylish touch and character while still keeping it simple.
A nice cathedral ring setting design can make the diamond look bigger than it is.
A well-crafted cathedral setting can hide some of the imperfections and inclusions of a diamond. There are a lot of diamonds that are specifically cut with that in mind.
The cathedral ring setting is a virtually timeless design that's almost guaranteed to be fashionable for decades to come.
Reasons Not To Buy A Cathedral Setting Engagement Ring
While there are many benefits of the cathedral in terms of beauty and design, there are some practical concerns with this setting:
High-set cathedral setting rings that's held up high can easily snag on your clothes, furniture, and other materials. Although the prongs may provide sufficient protection for the stone, the increased exposure with this setting can result in the diamond being knocked and bumped. This can affect the integrity of the stone.
Engagement rings need to be cleaned periodically to maintain the luster and shine of the stone and metals. The cathedral setting can pose difficulties as there are numerous crevices in this setting which can complicate the cleaning process.
Cathedral settings tend to gather more dirt because of the crevices and hard to reach places that they have. This makes it necessary to clean them more frequently than a setting like bezel or flush.
If a cathedral setting isn't designed well it can be over-imposing and distract from the diamond itself. While it's a benefit of this setting that it can make the stone look bigger than it is, this can easily turn into a detriment if the setting is so large that the stone's small size becomes too noticeable. More streamlined alternatives like the bezel setting or the "floating" setting avoid that risk.
Where to Buy Cathedral Settings
When choosing a cathedral setting, it's important to purchase from a reputable and trustworthy retailer to ensure high-quality craftsmanship and materials. We recommend the following retailers who are known in the diamond industry for their excellent service and products:
James Allen
James Allen has a stunning range of cathedral ring settings allowing you to view each piece from all angles using their ground-breaking Diamond Display Technology. They also have Diamond Experts on hand to help you through the process.
Blue Nile
Blue Nile's collection of cathedral ring settings is affordable and extensive. They're known for their quality and great customer service.  In addition to 360 degree video, they also provide clear images of the setting from all angles.
Brian Gavin
Brian Gavin is famous for their cut quality and for their continuous innovation in perfecting their cut quality. Check out their range of diamond engagement rings and jewelry here.
Whiteflash
For diamonds with the most exceptional cut, choose Whiteflash. Their cathedral ring settings are impeccably crafted and they also feature a range of exclusive designer rings.
Wrapping up…
You can hardly go wrong with a cathedral setting for your engagement ring. Sure, if the ring designer has done a poor job then the whole thing can look and function poorly but that goes for any other engagement ring setting. And that's also why choosing your retailer carefully is essential for such a big purchase. If you want something classy, stylish, and eye-catching, the cathedral setting is almost always a great bet.