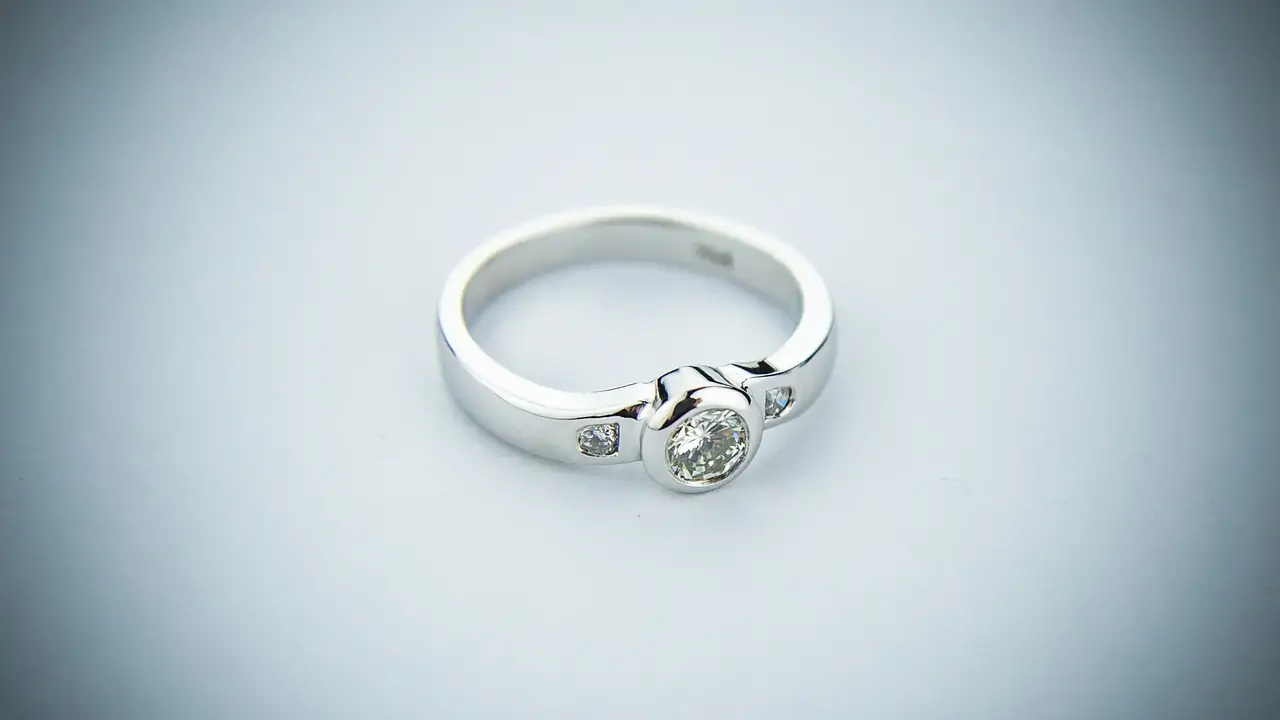 As Jewelry Shopping Guide editors, we write about things that we love and we think you'll like too. We often have affiliate partnerships, and may generate some revenue from these links at no cost to you.
Bezel settings are among the most popular choices for engagement rings. Unlike prong settings, which consist of a set of prongs holding onto the diamond, a bezel setting entails a strip of metal that fully or partially encircles the diamond, holding it securely in place.
There are pros and cons of the bezel setting and whether its right for you depends largely on your sense of style and lifestyle.
Types of Bezel Settings
Also known as a Collet set or a Rub Over set, bezel settings come in a couple of popular variations. While bezels are commonly used for round diamonds, they can be set with any diamond shape. A highly skilled jeweler can make you a bezel setting for any shaped gemstone, including baguettes, trilliant, hearts and other fancy shapes.
1. Full Bezel Setting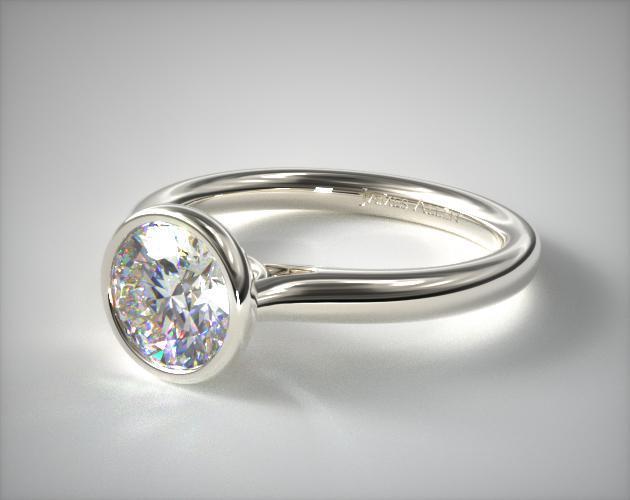 As the name implies, a full bezel is where the metal surrounds the entire circumference of the center stone, covering it from all angles. This setting provides the most amount of protection for the edges of the stone, making it less prone to breakage and chips.
However, full bezel settings hide more of the gemstone, which can make it appear smaller. You won't see its side view or have light reflection from the sides. As a result, the diamond only sparkles face upwards, reducing its brilliance and size.
2. Partial Bezel Setting
A partial bezel setting only encircles parts of the gemstone. The benefit of the partial bezel is that the stone is more visible and can appear larger. Because the sides are uncovered, light is able to reflect of these areas of the stone, resulting in more fire and brilliance as compared to full bezel settings.
However, with partial bezel settings, the stone is less protected and there is the possibility that the exposed sections can chip or break if struck.
Advantages of a Bezel Setting
Protection for Your Diamond
Bezel settings are among the most secure option for gemstone rings.
A bezel setting protects the center gemstone from impact and can keep its edges safe from chipping and breaking. This is especially important if you have a diamond shape with sharp edges which are more prone to chipping, such as the princess, marquise and pear cuts.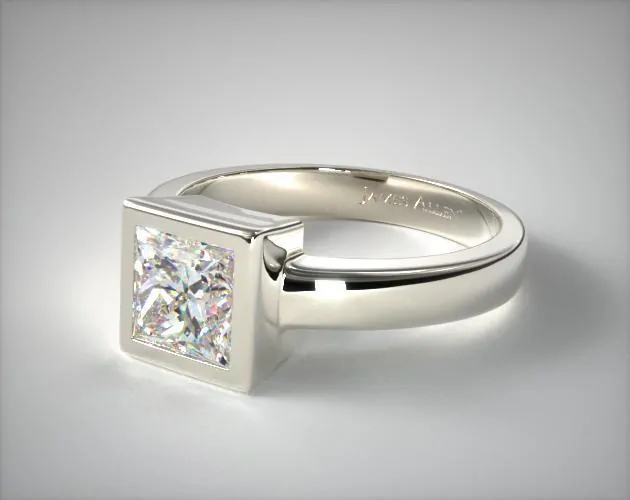 Bezel settings also offer great protection for softer gemstones with Mohs hardness ratings below 7, such as tanzanite, opals, pearls and quartz.
Because the stone is well protected, the bezel setting is ideal for people with an active lifestyle and can resist exposure to rough wear. Unlike prong settings, there is little likelihood for the stone to get loose and fall out of the setting.
Also bezel settings don't snag on everyday items, unlike prong settings. For example, if your line of work requires you to put on latex gloves (think doctors, scientists and nurses), a bezel is much more convenient as it won't snag on the latex. Prong settings tend to catch on clothes or hair and snag on everyday items, which can harm the gemstone.
Tends to Hide Flaws
Another benefit is in the bezel setting's ability to hide imperfections and inclusions that may be present in the sides of the diamond. For instance, if there's a noticeable chip on the edge of the diamond, the bezel will be able to perfectly hide it. Note however, that if these flaws are right in the middle of the diamond, then of course the bezel setting will emphasize it.
Disadvantages of a Bezel Setting
Minimizes Diamond Size and Sparkle
Unlike prong settings where a large amount of the diamond is visible, enhancing brilliance and size, bezel settings can cover a large amount of the gemstone's surface, reducing its sparkle and size. However, this also depends on the way the stone is set in the bezel, as well as the width of the band and the thickness of the metal surrounding the diamond.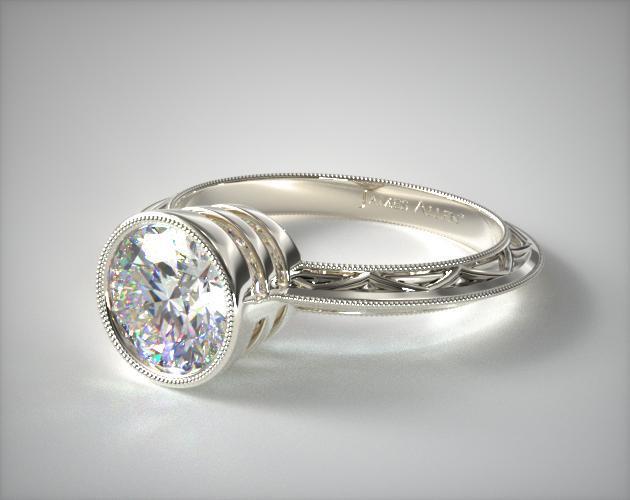 In a bezel setting, if the stone is set very low against the band, it can appear smaller. However, if set high against the band (like in the example above) the diamond can look large and prominent.
Bezel Settings are Expensive
Another main disadvantage of the bezel setting is its consistently higher price. The reason a bezel is often more expensive than a prong setting is due to the higher expertise and amount of metal needed to create it.
Some local jewelers may refuse to create a bezel setting for you, because it requires customization as the setting has to be created for the specific stone. Each bezel setting must be custom made to fit the gemstone. This extra work and skill adds to the cost of the setting making it considerably more expensive than prong settings.
On the James Allen website, a simple 18K white gold prong setting costs approximately $180, while the same band with a bezel setting costs $790. If keeping costs low is important to you, then a prong setting might be the better option.
Bezel Setting Styles
The bezel setting is not a design in itself. Rather, it is simply the way that the diamond is held in the design. As such, the bezel setting can be incorporated into almost any design.
Whether you pick a three stone ring, halo, pave, solitaire or vintage designs, the bezel setting can be utilized in these settings rather than prongs.
Of course, you can always check with your jeweler whether it is possible to customize a certain ring design in this way.
Cleaning and Caring for a Bezel Setting
Bezel settings can be difficult to clean, depending on the type of design. While simple bezels that are set flush into the metal are fairly easy to maintain, dirt can tend to get lodged in the area between the rim of the bezel and the gemstone. Dirt can also get lodged in the underside of the bezel which can be a very hard to reach area.
Clean your bezel setting in warm soapy water and use a soft brush to get at the dirt. Don't use sharp objects to pick at the dirt as this can cause scratches and seriously damage your ring.
You can also opt to use an ultrasonic jewelry cleaner but there is some risk with this as diamonds and gemstones can get damaged.
For best results, take your ring to a jeweler at least once a year. They will also be able to check whether the setting still fits firmly against the gemstone and make any adjustments and repairs as required.
Where to Shop for Bezel Settings?
Bezel settings require excellent craftsmanship and a high quality bezel ring looks simply stunning. Always buy from a reputable jeweler.
We recommend James Allen as they are the best in online shopping for engagement rings. They have a very good range of bezel settings.
For exquisite settings of exceptional quality, check Blue Nile. They also have a range of high-quality colored diamonds and gemstones.
You can also find stunning bezel engagement rings on Amazon, but you will need to spend some time going through their massive inventory to find the right ring for you. There's something for every budget. Don't forget to check Amazon's Handmade section for gorgeous artisan bezel set engagement rings.