Your wedding band finish is an important decision, as it impacts the entire look of the ring. Of the many types of finishes available to choose from, hammered rings are one of the most popular.
Known for their rustic look, hammered rings are stylish yet casual. If you're considering buying a hammered wedding ring, here are the pros and cons to consider.
What is a Hammered Ring?
A hammered, or 'planished' ring, is one where the smooth metal is hammered to create a rugged, pocketed, or unevenly gradated effect. It's an attractive and interesting look, with each ring appearing somewhat unique.
While the differences in the appearance of hammered rings are often slight, they can vary in size and depth depending on the tools used.
Hammered rings often have that lovely 'forged by hand' appearance, and whether it's been mass-produced or hand-crafted it has that artisan look. This is why it's one of the most popular ring finishes, especially for those who like a rustic style.
Hammered Rings and Width
Choosing the type and style of a hammered band is ultimately a matter of personal taste, although there are certain factors that will maximize the hammered effect or create slightly different finishes.
One factor to consider is that the width of your ring will affect the appearance of the indentations. Standard ring widths are between 4mm and 6mm. That's not a lot of space for a hammer to land, so the effect will be partial indentations if a real hammer is used, and with greater accuracy (although probably only a maximum of two indentations across the width) with a burr drill.
However, don't choose the width of the ring based solely on the space needed for hammering. Rather, pick a ring that's comfortable and stylish.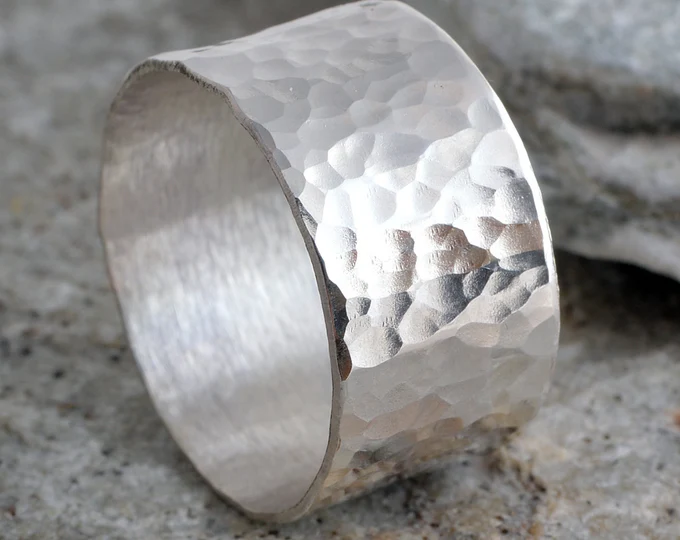 Wider rings may prove tempting if you want to maximize the appearance of hammering. While greater width does create more room for the hammer or burr drill to work, it's not recommended for daily wear in an engagement or wedding ring. For one thing, it may be more restrictive and won't be as comfortable as typical wedding band widths.
What Are the Best Metals for Hammered Rings?
The hammered effect can have a different aesthetic based on the metal of the ring. For example, gold has a relatively flat but warm shine once hammered, while silver is more penetrating and will provide a greater range of reflective colors. Platinum, on the other hand, creates a beautiful white reflection.
Titanium and tungsten offer less shiny hammered effects. They can be more bold in the way they draw attention to the metalwork and overall ring design. If you choose a black metal, hammering it can reflect various shades of grey (maybe not 50 though). Let's take a more detailed look at how hammering impacts different metals for rings.
1. Gold
A logical starting point and gold's relative malleability make it a great option for your hammered ring. Gold is highly reflective, which is one of the main reasons for its popularity. Its coloring means that it will absorb harsher light and the reflection that comes from the various hammered angles will be extremely warm and soft.
2. Silver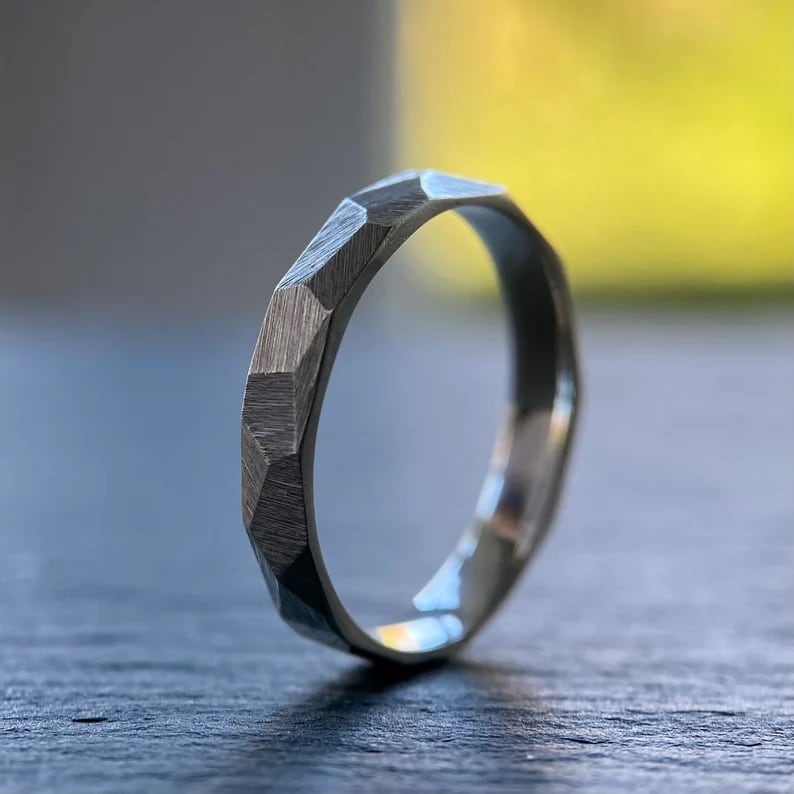 Another highly reflective metal. Silver has a colder and clearer reflective surface, so the reflected light will be sharper and more penetrating. However, note that silver tarnishes, so over time, your hammered ring will not be as shiny and reflective as it was at the start.
Luckily, cleaning silver is easily done. Simply use a silver polishing cloth, like this one, or silver polishing cream to get the job done.
3. Platinum
Platinum has a beautiful effect when hammered. Its natural patina that shows up over time adds to the beauty of the ring. Because these rings are made with high-quality craftsmanship, due to their value and cost, a hammered platinum ring is often very well done, like this 6mm men's wedding band by Blue Nile.
5. Titanium
One of the strongest and lightest metals, it makes a great alternative to more traditional gold and silver-colored options. Titanium draws the viewer's attention to the ring and its hammered pattern itself. The aesthetic appeal is more industrial and chiseled.
If well-crafted, a hammered titanium ring can be impossible to tell apart from platinum. Well, near-impossible.
5. Tungsten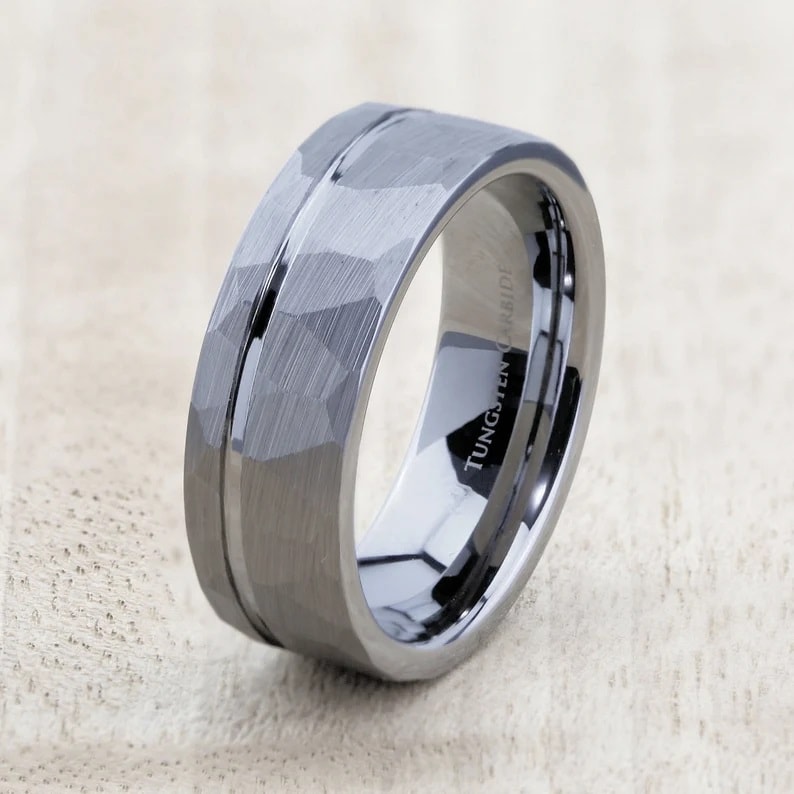 Tungsten is another serious metal with a hard composition, that's not as shiny as more traditional ring metals, but has a softer and more inviting finish than titanium when it is hammered.
Tungsten and titanium also come in black variants, and hammered variants produce varying shades of grey for a serious but stately look.
Can Hammered Rings Be Resized?
Hammered rings can be very difficult to resize, depending on the metal you've chosen. Most rings made with traditional metals, like gold, platinum, and silver, can be resized relatively easily. However, industrial metals like tungsten and titanium are extremely difficult to resize and most people don't bother. They just change the ring if need be. As always, sizing up is easier.
Are Hammered Wedding Rings More Durable?
This is a myth that some sites seem to be perpetuating online – but no, hammering a ring to create a patterned finish doesn't make the ring more durable. It's easy to see why people would think this. After all, hammering a piece of metal sounds like it would be strengthening the metal in question.
But in reality, what determines the durability of a wedding ring is the metal you choose, not the finish. The hammered pattern is purely aesthetic and makes the ring look strong and beautiful – but it doesn't make the ring strong per se.
Can A Hammered Effect Be Applied to An Existing Ring?
It may be that you and your partner want to use existing rings and add hammered effects. This can be done and is a relatively easy process. However, it depends on the hardness of the metal and whether the ring contains any jewels.
Bear in mind that, as easy as it may be to complete a hammered effect, it's not possible to reverse it, short of melting the ring down and starting again. Once hammered, the ring can't be un-hammered.
How are Hammered Rings Created?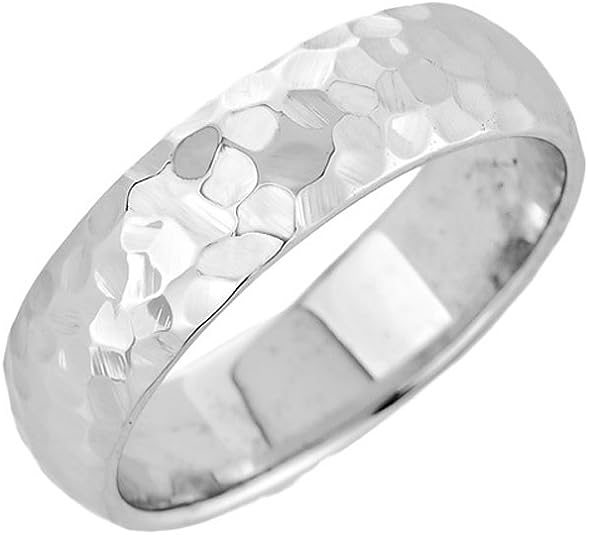 Ring designers typically use one of two methods to create a hammered ring.
The first process involves placing the ring on a mandrel [a ring sizer] and repeatedly hammering the ring with a hammer from different angles, drawing the ring down the mandrel as it expands and enlarged to create a lovely, uneven hammered finish. The look is imprecise, but this could be appealing if you want that more rugged and imperfect look.
Ring Burr Drill and Clamp
The second process involves placing the ring in a clamp and using a ring burr drill [an electronic device that looks like something a dentist uses] to buff a precise hammered effect, although of course a hammer is not actually used.
A ring burr drill removes metal from the ring to create small craters in the surface. The finished look can be more accurate than a hammer, as the tool is wielded with greater precision and can focus on specific parts of the ring.
Is a Hammered Wedding Ring the Right Choice?
Hammered rings are a great option for wedding rings, whether for men or women. There is no reason not to get one if that's the style you like. Choose a hammered ring if the following apply to you:
You like a rustic, hand-forged look for your ring.
You're not after a traditional high-polish style.
You want a ring that can hide flaws, like scratches and dents.
You're looking for a pattern that works with most ring widths.
You're after a finish that looks equally amazing on male and female rings.
You want to have a lot of ring designs to choose from.
Where Do I Buy Hammered Wedding Rings?
While you can find hammered wedding rings at any jewelry store, choosing a quality retailer is important as this will determine the quality of your finish. We recommend the following stores:
Why: Wide range of wedding ring designs, superior quality
An online giant in the diamond space, James Allen has a stunning collection of wedding rings. The images and videos are unparalleled in quality and make shopping online similar, if not better, to shopping in store.
Why: Competitive prices, wide range, great quality
Known for dominating the online diamond industry since the late 1990s, Blue Nile offers one of the largest online diamond inventories and jewelry settings. Search wedding bands here at competitive prices, solid after-sales policies, and good customer service.
Why: Superior quality, exclusive range, stunning designs
Whiteflash has earned an international reputation for the elite quality of their precision cut diamonds and for their impeccable collection of designer rings. Check out their stunning range of hammered wedding rings.
FAQs About Hammered Rings
1. Are hammered rings more durable?
The hammered finish has no impact on the durability of the ring. The overall effect is simply aesthetic.
2. Can a hammered ring hide scratches?
A hammered design can mask scratches and defects on the ring's surface. The angles created by the pattern hide flaws.
3. Are hammered rings comfortable?
Because this ring finish only impacts the outer circumference of the ring, it doesn't impact on how comfortable the ring feels.
4. Are hammered rings resizable?
Some hammered rings are not resizable, depending on the metals used in creating the ring.
5. Are hammered wedding rings in style?
The hammered finish is one of the most popular finishes and is common in rings with a rustic, hand-made look. While not as popular as high-polish rings, the hammered finish is still one of the most frequently sought-after ring designs. It tends to remain in style.
6. Are hammered wedding rings suitable for both men and women?
Yes, this ring finish is perfect for anyone. It has a strong, confident look, while at same time remaining chic and stylish.
Wrapping Up
Hammered wedding rings have several advantages that make them a great choice for anyone seeking a classic design that still stands out. If you're looking to consider other ring finishes, check out our detailed article that covers all the main ring finishes and their pros and cons.
Related Articles
25 Unique Wedding Bands for Her (And Why)
Wedding Band as an Engagement Ring – Why Do It?
Russian Wedding Rings – What You Need to Know
What is Tungsten Wedding Ring and Should I Buy It?
Should I Buy a Stainless Steel Wedding Ring? (Pros and Cons)
Should I Buy a Cobalt wedding Ring? – A Complete Guide
Pros and Cons of Palladium Rings
Finishing Details for Your Ring – Making Your Ring Stand Out