As Jewelry Shopping Guide editors, we write about things that we love and we think you'll like too. We often have affiliate partnerships, and may generate some revenue from these links at no cost to you.
Stainless steel is an affordable and versatile metal that has numerous uses. Of late, it's been increasing in popularity in the use of jewelry, especially for wedding bands.
While some people love the idea of an inexpensive, durable wedding band made of stainless steel, others find it a cheap alloy that doesn't have a place in the wedding world.
Let's take a look at the pros and cons of stainless-steel rings (and jewelry) and whether you should buy it.
Quick Look – What is Stainless Steel?
Used in everything from surgical instruments to pots and pans, stainless steel is one of the most used alloys. It's typically composed of iron and chromium with some amounts of other elements such as nickel, silicon, carbon and manganese.
As the name implies, stainless steel is 'stainless' and it doesn't rust, corrode or tarnish like iron does, making it highly durable. But that doesn't mean that it cannot discolor, it simply means that it stains-less than most other alloys. In addition, it's lustrous and looks like other more expensive white metals, such as white gold, silver or platinum.
This infographic shows how stainless steel is categorized in the list of wedding band metals.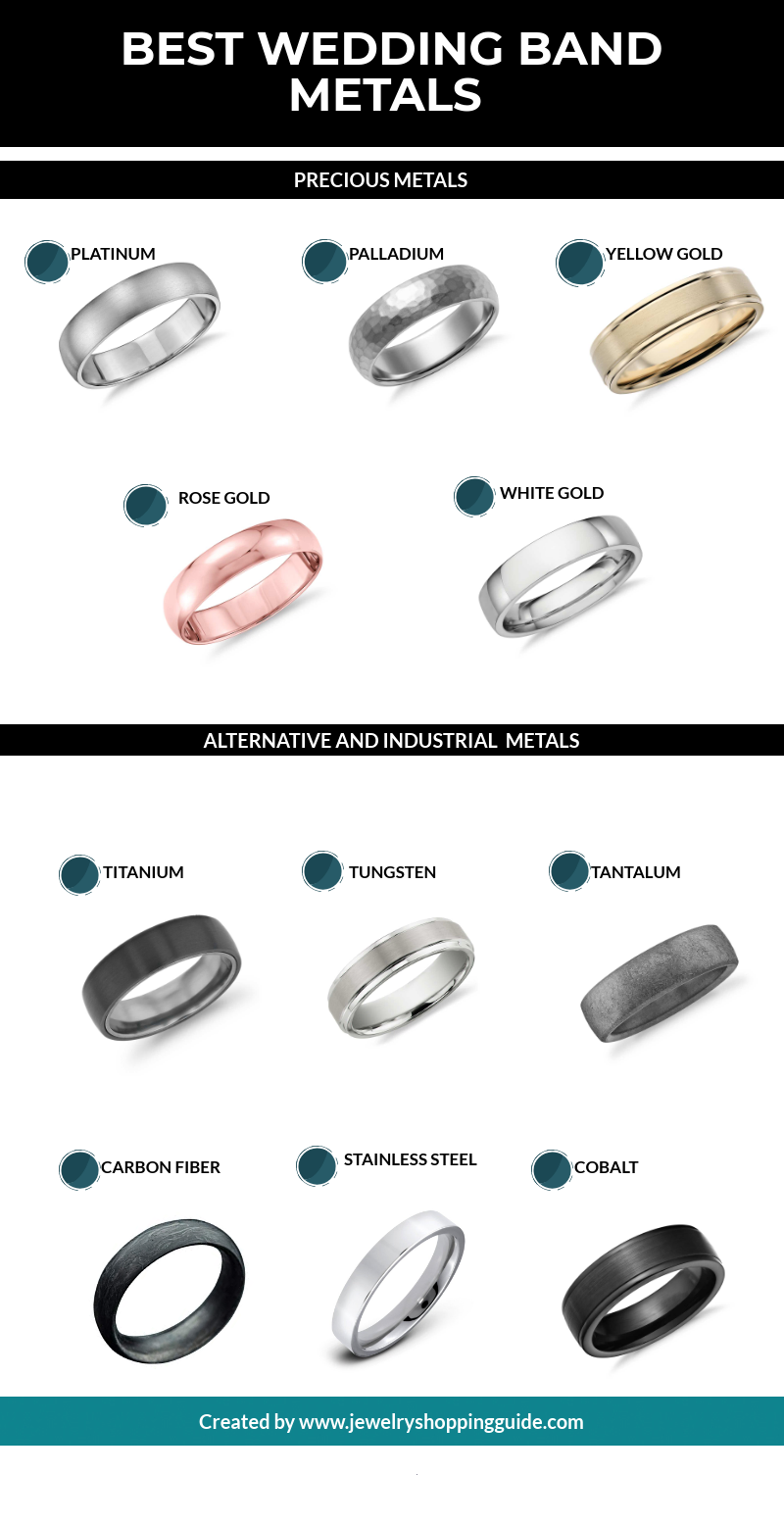 Now that we've got the basics down, let's take a look at the pros and cons of stainless steel wedding rings, starting with the cons.
Pros of Stainless Steel
Affordable
Stainless steel is affordable and is on par with tungsten and titanium in terms of price, appearance and durability. To illustrate this, compare the stainless steel and tungsten wedding bands below. They both fall in the same price range and make excellent alternatives to more expensive white metals.
Appearance Don't let the low cost of stainless steel fool you. This metal can hold its own against even platinum. It's lustrous and shiny, with a reflective surface and the average person couldn't tell it apart from more expensive white metals. Stainless steel rings can be finished in a number of ways, including brushed, satin, hammered and polished.
Durable
This is one of the main advantages of stainless steel rings, as it can be worn on a daily basis and will resist scratches and wear and tear well. This makes it perfect for those with active lifestyles, and unlike other metals, you don't have to take off stainless steel rings when engaging in activities like swimming, playing sports, cleaning or gardening.
Minimal Maintenance
Stainless steel jewelry is easy to maintain. Often, soap and water are sufficient to keep it lustrous and beautiful. Because the metal is resistant to tarnishing and scratching, it tends to maintain its shine.
Wedding Bands
It's an excellent alternative metal for men's and women's wedding bands due to all the aforementioned reasons.
Cons of Stainless Steel
Limited Styles Stainless steel is extremely hard and inflexible, which doesn't make it a very workable metal. As a result, designers may find it difficult to craft detailed or intricate wedding band designs with this metal. This limits design options and can make it difficult to find 'pretty' or 'dainty' stainless steel jewelry.
Difficult to Resize Stainless steel rings are difficult to resize, and this goes back to the fact that they're hard to work with. Because of this you either have to know your exact size when ordering or be prepared to change your ring to size up or down. Because of the low cost of stainless steel, it often isn't worth the trouble to resize rings made of this metal.
Not Always Hypoallergenic This depends on the alloys used in the metal, but some people who are sensitive to metal might find that stainless steel gives them reactions. This is because the alloy could contain nickel, a common allergen. Surgical grade stainless steel, which employs different alloys, is the safest to use.
Not Valuable or Prestigious
This is one factor that makes precious metals like gold, platinum and palladium so attractive to couples buying wedding rings. Stainless steel, on the other hand, falls into the category of industrial metals and lacks this value and prestige that comes with classic metals. However, whether this is an issue for you or not depends on your values and personal preferences.
If these all sound like excellent reasons to opt for a stainless steel wedding band (and they do), we recommend taking your search online to find a wider range of styles and options.
Etsy is an excellent platform to begin your search as they have an impressive collection of stainless steel wedding bands at a range of competitive prices.
Amazon also has an excellent stainless steel wedding band collection on offer with excellent reviews.
If you would like to learn more about taking care of stainless steel, check out our article on how to clean and care for stainless steel jewelry.