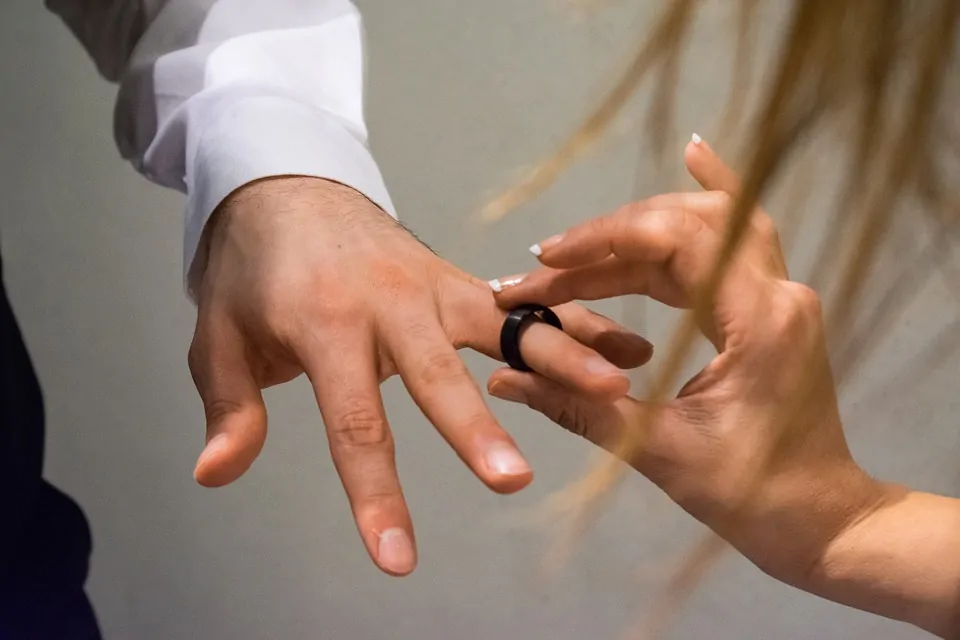 As Jewelry Shopping Guide editors, we write about things that we love and we think you'll like too. We often have affiliate partnerships, and may generate some revenue from these links at no cost to you.
When choosing your wedding band metal, you'll come across a bewildering variety of traditional and modern metals, each with a range of pros and cons. Deciding on which metal to purchase depends on a variety of factors, including budget, durability, value, and design.
Let's take a look at the pros and cons of the most popular metals for men's rings, and reveal which metal is best for men's wedding bands.
Factors Influencing Ring Metal Selection
In the past, gold and platinum were the main metal choices for rings. Today, there's a wide range of alternative metals also available. This graphic shows the most popular men's wedding ring metal options on the market.
Before you choose the right metal, you'll need to consider several factors which will help you choose your wedding band metal.
Durability: Most people wear a wedding band frequently, if not every day. If the metal isn't durable, you'll have to deal with scratches, chipping, and perhaps even breakage. When considering durability, focus on two factors – toughness and hardness. Toughness refers to the metal's resistance to chipping and cracking, while hardness refers to how well it resists scratches.
Appearance – The color and luster of the metal depending on your personal preference. In general, wedding band metals fall into 5 main color categories – yellow, white, rose, black, and grey.
Maintenance – Maintenance is tied in with durability. All metals need some extent of maintenance, especially cleaning, but some require periodic re-plating and polishing.
Cost – This factor will largely determine a person's wedding band metal choice. Many of the modern and alternative metals on the market are affordable while the traditional metals are often the most expensive.
Types of Wedding Ring Metals
Now that we've covered the basics, let's take a look at the top 12 men's wedding band metals out there.
Platinum
Platinum is the most valuable metal used in making wedding bands (although palladium has overtaken it in value a few times in recent years). It's always been associated with wealth, prestige and luxury.
Platinum is comfortable to wear, highly durable, and easy to work with. Over time, platinum bands develop a patina, but the luster can be restored with a professional polish. It symbolizes integrity, everlasting love and purity.
Recap:
Durable
Expensive
Prestigious and sophisticated
Workable
Many designs and options available
Needs polishing to maintain luster
hypoallergenic
Verdict:
An excellent choice if budget isn't a concern and you want a traditional, classy look.
White Gold
White gold came into being as an excellent alternative to platinum. It resembles platinum but it comes at a lower price point. White gold is made by alloying yellow gold with other whitish metals, such as palladium or silver, and then coating the end result with a plating of rhodium. This is what makes the metal lustrous and reflective. White gold is one of the most popular metals for men's wedding bands, but it requires periodic replating as the rhodium can flake off or wear away.
Recap:
Lustrous and reflective
Reasonably priced
workable
Many designs and options available
Needs periodic replating
Can be hypoallergenic depending on alloy/plating
Verdict:
Affordable alternative to platinum but valuable in its own right.
Yellow Gold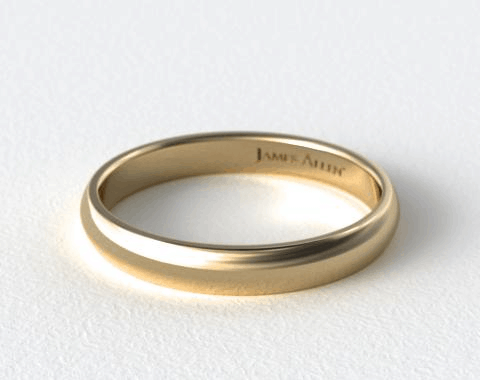 The natural color of gold, yellow gold is the traditional choice for wedding bands and dates back thousands of years. Yellow gold is classic and symbolic of wealth and prosperity. Yellow gold comes varying levels of purity, but 14K and 18K are most common in men's wedding bands, but anything over 18K can be too soft for daily wear. The metal is easy to work with and can easily be resized or engraved. Over time, scratches can dull the luster of the metal so a professional polish might be needed periodically.
Recap:
Valuable
Classic and traditional
Workable
Many designs and options available
Needs polishing to maintain luster
Verdict:
The most traditional choice and one with an ancient history.
Rose Gold
More delicate in appearance, rose gold is increasing in popularity in men's wedding bands due to its subtle yet solid hue. It's somewhat more durable than other gold alloys due to the metals used to create rose gold alloys. However, due to its copper content, it's not considered hypoallergenic. Design options may be limited as it's not as popular as white or yellow gold so you may need to look around to find your perfect wedding ring.
Recap:
Unique color
Durable
Reasonably priced
Workable
Not a lot of designs and options available
Needs polishing to maintain luster
Not hypoallergenic
Verdict:
A unique and trendy option for those who like something different
Palladium
Very similar in appearance to platinum, palladium has been an excellent alternative. However, of late, its prices have shot up and it's even overtaken platinum in value at times. Palladium is a precious metal, a status signified by its hallmarks made mandatory in 2010. Palladium is somewhat more durable and scratch resistant than platinum. One main benefit palladium has over white gold is it doesn't need rhodium plating as its luster and hue are natural and maintaining it is easier. However, palladium is extremely rare and men's palladium wedding band options are quite limited.
Recap:
A precious metal
Durable
Natural luster and color
No replating required
Valuable
Hypoallergenic
Rare therefore limited options available
Verdict:
Get the platinum look without the white gold maintenance
Tungsten
The hardest metal in use for wedding bands, tungsten ranks at a mind-boggling 9 on the Mohs scale (diamonds are just one band higher at 10). Tungsten comes in a variety of colors such as black, white and gray, and it can also be plated into unique colors like green or purple. Tungsten is very affordable, lustrous and durable, all qualities that are ideal for any wedding ring. It can be quite heavy however, so it's not the best choice if you want a lightweight ring. What's more, tungsten is very brittle which means that it's not very workable and engraving and resizing can be nearly impossible.
Recap:
Affordable
Highly durable and scratch resistant
Lustrous
No replating required
Not valuable
Hypoallergenic depending on alloy
Limited options due to difficulty in working with tungsten
Not resizable
Shatters, doesn't break
Verdict:
An affordable choice for active lifestyles and low maintenance
Titanium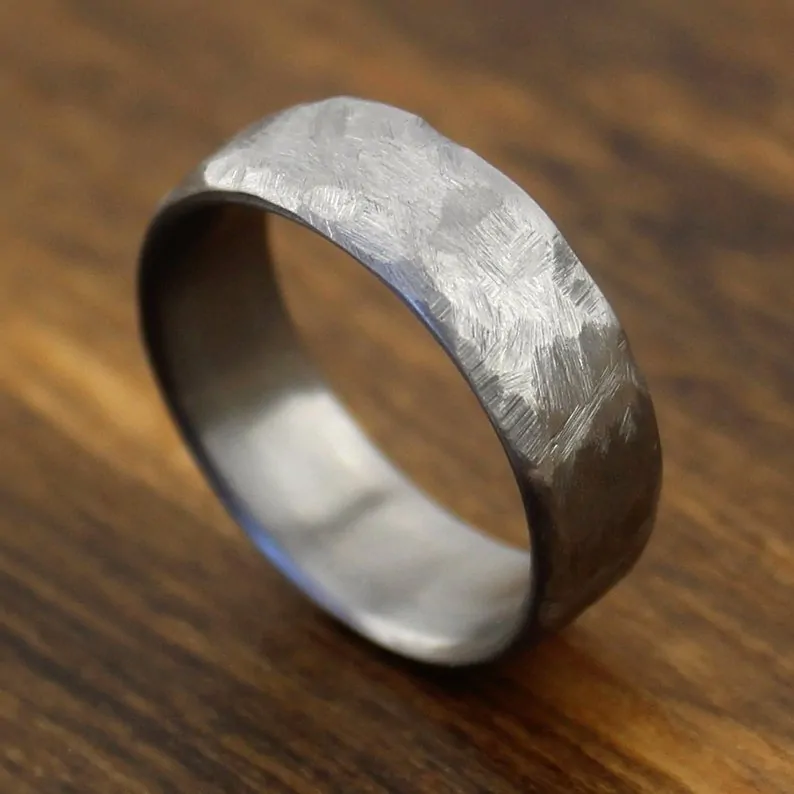 Titanium isn't as hard as tungsten, but it still ranks 6 (compare that to pure gold's 2.5) which is very strong for a wedding band metal. Titanium doesn't tarnish or acquire scratches easily, which makes it great for someone who leads an active lifestyle. In addition, it's extremely, even eerily, lightweight, making it perfect if you don't want to feel like you're wearing a ring all the time. Titanium is also very affordable but like tungsten, resizing a titanium ring can be difficult too.
Recap:
Highly durable
Beautiful luster and color
Resistant to scratches
Not valuable
Hypoallergenic
Difficult to resize
Lightweight
Verdict:
Perfect if you're looking for a lightweight yet strong
Cobalt
Cobalt is the closes in appearance to white gold and it comes at a much lower price point. Cobalt wedding bands are highly reflective and lustrous, perfect if you're going for the platinum look. Black cobalt rings are also very popular and in high demand. Cobalt is ideal for daily wear as it's highly resistant to scratching, tarnishing and doesn't require any special maintenance like replating to maintain its color. Cobalt is also safe to wear and is hypoallergenic, making it a great option for those with metal sensitivities. However, as with all hard metals, cobalt is difficult to resize and as a result, there are limited designs.
Recap:
Get the white gold look
Minimal maintenance
Highly durable
Resistant to scratches
Difficult to resize or engrave
Not valuable
Hypoallergenic and safe
Not very workable therefore limited options available
Verdict:
Get cobalt if you want white gold without the maintenance
Carbon Fiber
Technically not a metal, carbon fiber is made of tightly interwoven fibers that create a tough fabric akin to metal. However, when you wear a carbon fiber ring, you'll notice that it's a bit different to standard metals. Carbon fiber is among the strongest metals used in wedding rings and can withstand any pressure. It's also extremely light weight (3 times lighter than titanium), hypoallergenic and highly versatile in jewelry use. This means that unique designs can be crafted using carbon fiber. Carbon fiber is a space age material, ideal for a modern choice. However, most carbon fiber rings are black and color options are limited. In addition, it can be difficult to resize rings made of this material.
Recap:
Space age material
Highly durable
Mainly black in color
Affordable
Not valuable
Hypoallergenic
Difficult to resize
Super lightweight
Easy to maintain
Verdict:
Perfect if you want to get off the beaten path and into the space age
Meteorite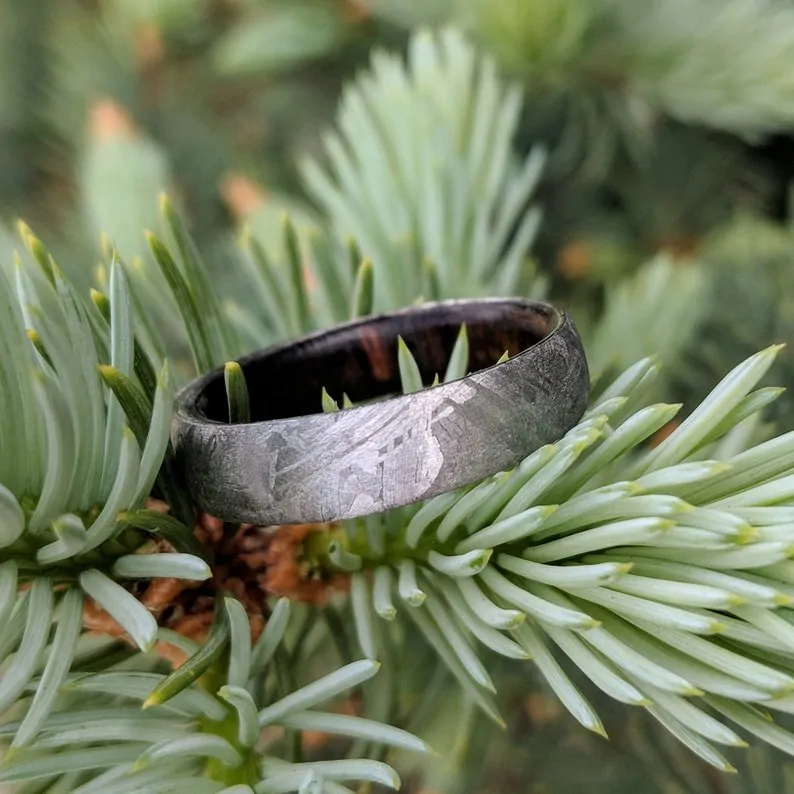 Yes, meteorite rings are a thing, made from the debris of space. If you thought carbon fiber was special, well meteorite rings are literally out of this world. Meteorite rings have natural etchings and patterns that can be very intriguing. However, due to the high iron content, these rings can rust over time and require specific care and a strict maintenance regime to keep them shining.
Recap:
Undeniably cool and a talking point
Unique
Difficult to maintain
Limited availability
Prone to rust
Modern and luxurious
Natural etchings
Verdict:
Perfect for an out-of-this-world wedding band
Tantalum
Tantalum is an industrial metal that's grayish and a little darker than platinum. However, it classifies as a white metal and has a very shiny and reflective luster. Tantalum is extremely durable, and resistant to scratches, meaning that maintenance is minimal. It also doesn't tarnish easily nor does it conduct heat. However, tantalum is very scarce and there's some controversy about how its mined in certain countries, making it a conflict resource. It's malleable and hypoallergenic, and while it's not the cheapest metal out there, it's reasonably priced.
Recap:
Highly durable
Highly tarnish and scratch resistant
Lustrous and reflective
Darker than platinum
Easy to maintain
A conflict resource
Limited options due to rarity
Hypoallergenic
Not valuable
Verdict:
Perfect if you want a scarce, special metal that's bound to run out in the not too distant future
Damascus Steel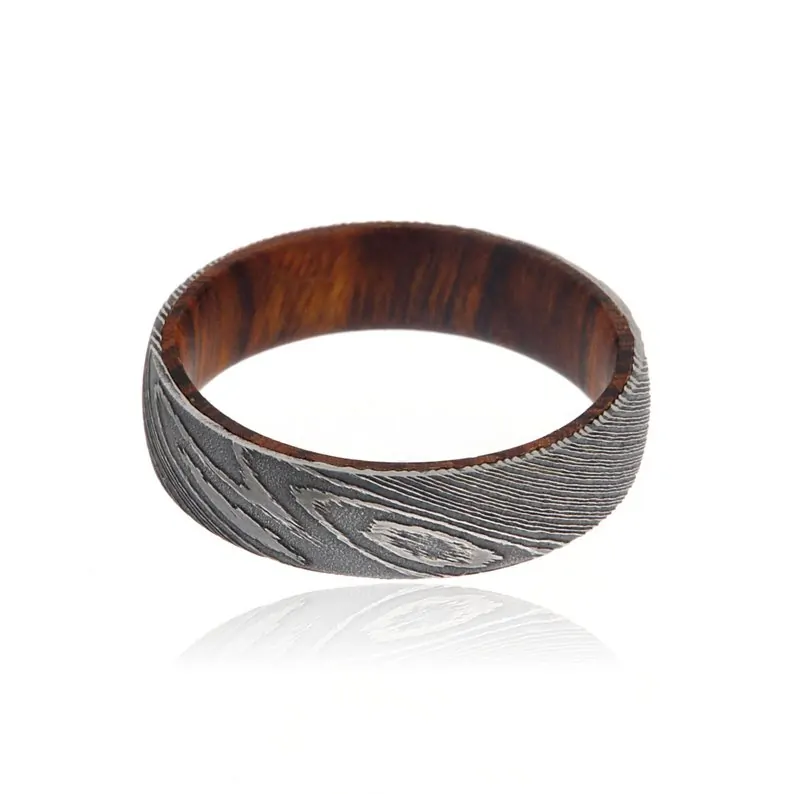 Damascus steel has been used in making weapons and rings since ancient times but is only an iron and stainless-steel alloy (not an element in itself). Because it's made of steel and iron, Damascus steel is relatively inexpensive. The metal is valued for its natural and intriguing patterns, which make each Damascus steel ring unique. It's highly durable and lustrous, requiring minimal maintenance and high-quality rings of this metal don't rust. Whether Damascus steel is hypoallergenic depends on the quality of the alloy.
Recap:
Unique patterns
Relatively affordable
Highly durable
Highly lustrous
Easy to maintain
Can be hypoallergenic
Stylish choice
Verdict:
If you want a stylish option where the metal grabs attention rather than the design
Which is the Best Metal for Men's Wedding Bands?
So, coming back to the question about the best metal for men's wedding bands, it should be clear by now that there isn't a single answer to this question. The word best is subjective and depends on what you view as best – is it affordability, prestige, durability or uniqueness? Or something else altogether?
Once you've zeroed in on what you mean by best, then you can pick out the ring that suits you.
Below we've outlined the best ring metal based on the category it's judged in:
Best in Prestige – Platinum
Best in Durability – Tungsten / Titanium
Best in Uniqueness – Meteorite
Best in Affordability – Tungsten
Where to Buy Men's Wedding Rings
James Allen – Known for their ground-breaking Diamond Display technology, high quality products and excellent customer service, check James Allen for the most popular wedding ring metals.
Blue Nile – The online diamond giant, Blue Nile has an impressive range of men's wedding bands with a choice of 9 main metal types.
Etsy – Perfect for artisan and hand-made jewelry, Etsy is the place to go if you're looking for more unique wedding band designs and styles.
FAQs About Men's Wedding Bands
This depends on factors such as style, durability, and budget. For the most classic and prestigious look, go for gold or platinum.
Tungsten is the toughest metal out there. It's one of the toughest metals period.
Both are scratch resistant, tough, affordable, and have a beautiful aesthetic. However, tungsten is much heavier than titanium.
Precious metals don't tarnish, except for silver which tends to get a patina. However, metals with copper in the alloy will tarnish over time.
Tungsten is the hardest metal and therefore the most scratch-resistant.
If wearing a metal ring is unsafe due to your work, opt for a silicone ring.
Wrapping Up
We're lucky that today we have so many options when it comes to fashion choices. We hope this guide makes it easier for you to go out and pick the wedding ring that suits you best.