Designed to last for a lifetime, wedding bands should also match your personality and fashion style. A wedding ring is a symbol of promise and marriage, and you have lots of choices to express your love and individuality.
Gone are the days when men's wedding rings meant a classic look of a plain silver or gold band. These days, there are endless choices to choose from.
We have rounded up the most unique men's wedding bands, from classic-with-a-twist to trendy designs.
1. Modern Romantic Style: Braided Wedding Ring
Go for white gold but incorporate a unique texture. Romantic and elegant, this wedding band features a braided design outlined with twisted ropes. Who says guys can't get a bit playful with their accessories?
2. Most Statement-Making: Modern Link Edge Wedding Ring
Blurring the line between industrial and fashionable, this wedding band merges traditional craftsmanship with state-of-the-art technology. The link edges give a unique, striking impression to the simple brushed band. Available also in yellow gold and rose gold, this ring can be a perfect accessory to any outfit.
3. Contemporary Meets Classic: Black Diamond Wedding Ring
A classic design will never go out of style, but the black diamonds on the wedding ring give an elegant, contemporary vibe. Crafted from 14k white gold, this band is perfect for a guy who craves subtle elegance.
4. Best of Both Worlds: Double Milgrain Wedding Ring
If you can't decide on the color of your band, opt for the two-tone combination of white gold and yellow gold! The double milgrain details also add elegance to the ring if you're up to a classic and stylish design.
5. Classic with a Twist: Black and Gold Wedding Ring
Black and gold will always be the most luxurious combination for a wedding band. The satin finish of black titanium gives a tough appearance, while the shine of gold adds a sophisticated flair to the ring. Also available in white gold, it is perfect for those who love to combine the traditional with a contemporary style.
6. For the Bohemian Gent: Two-Tone Paisley Wedding Ring
Simple and unique, this ring features a paisley pattern and twisted rope detailing, making the white and yellow gold combo more creative. It is also perfect for a guy who pays attention to little details.
7. Best Diamond Accents: Channel Set Diamond Wedding Ring
Perfect for a groom who wants a wedding band that pops, this ring features seven sparkly diamonds bordered by milgrain details. Platinum remains the top-of-the-line option for wedding jewelry, but it also comes in 14k white gold.
8. Less Is More: Single Diamond Matte Wedding Band
Modern and minimalist, the diamond at the center of the band gives a sophisticated look to the jewelry piece, while the matte finish of 14k yellow gold complements it. It is also a perfect wedding ring for a groom who wants to stray away from those traditionally rounded edges.
9. For the Minimalist Gentleman: Matte Diamond Profile Wedding Band
If you don't want to show off a lot of shiny diamonds, this matte-finished wedding ring is perfect for you. Despite having a plain appearance at first glance, the small diamonds at the edges make everything luxurious.
10. For the Non-Traditional Groom: Beveled Edge Wedding Band
Are you looking for something unique and unexpected? Think of contemporary metals like tantalum, which has richer color than titanium. The white gold and tantalum combination is both edgy and elegant for a wedding ring. The small details of milgrain inlay and beveled edges are also perfect for those who want an understated elegant look.
11. A Hint of Sparkle: Diamond Wedding Ring
When it comes to men's wedding rings, don't be afraid of a little bling! A mix of classic and modern designs, this wedding band features a sparkling diamond at the center. It also has polished, beveled edges with a brushed center for a modern look.
12. For a Modern Gothic Style: Deep Blue Sapphire Eternity Band
Blue sapphires are not traditional wedding day jewels, making them an unexpected choice for your wedding ring. They can also be a great alternative to black diamonds if you're a fan of a gothic style. The black tungsten band also completes the strikingly edgy vibe you're dreaming of.
13. Most Bold: Link Wedding Band
Add some rock and roll vibe to your style with this wedding band crafted from black tungsten carbide. Dark and moody, it has a rugged charm, perfect for a guy who loves an edgy aesthetic.
14. Most Fashion-Forward: Mokume Pattern Wedding Ring
Giving both the classic look of a simple ring and a trendy vibe, this wedding band is perfect for stylish gents. The organic swirl pattern makes it interesting, while the blue-grey tantalum metal gives off a unique, tough appearance.
15. An Heirloom-Worthy Ring: Modern Channel Diamond Band
Are you looking for an heirloom piece long after you say, "I do"? This platinum ring is simple and classic, but the vertical channel of 3 diamonds solidifies your love. It is also perfect if you're looking for a balance between understated and elevated.
16. Something Futuristic: Double Sandblast Inlay Wedding Band
Perfect for guys who love industrial and steampunk styles, the ring gives off a futuristic vibe with its parallel white sandblast inlays, which is also an eternal symbol of two lives moving in parallel.
17. A Pop of Blue: Turquoise Titanium Ring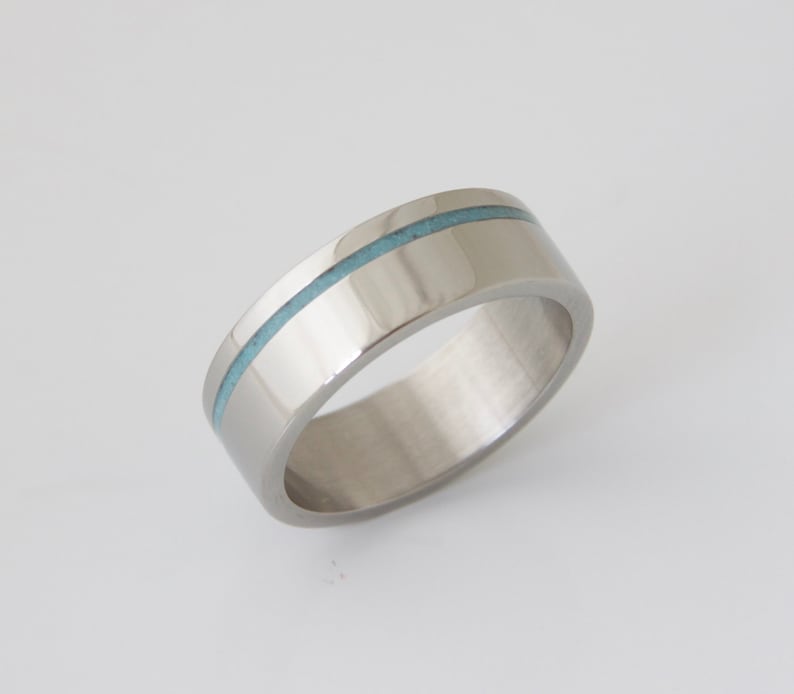 Who says sleek has to be boring? One of the rarest gems in men's wedding bands, the turquoise adds some personality and color to your style. It may seem trendy for a wedding ring, but it's perfect for a groom who loves an out-of-the-box approach.
18. For the Artsy Groom: Faceted Titanium Ring
Are you looking for a wedding band that looks stunning on its own? Simple with a sense of style, this titanium ring is a showstopper, thanks to its faceted and hammered finish. Apart from its truly unforgettable design, its fuss-free fit makes it easy and fun to wear.
19. For the Outdoorsy Groom: Mountain Range Ring
For an adventurous guy, the hand-carved mountain range design is perfect for a wedding band. Each ring is handcrafted, making it a unique work of art. It is also a stylish option if you want to break from the trend of shiny, polished metals.
20. For an On-the-Go Guy: Modern Titanium Ring
Perfect for a tough and modern look, this titanium ring is versatile enough to wear with a denim shirt or a suit. It boasts its weave design and beveled edges that are both unique and stylish.
21. For a Dazzling Look: Meteorite Opal Ring
Are you looking for a wedding band that will continue to dazzle through the ages? As glamorous as shining diamonds, this ring features meteorite dust and opal, making it truly exceptional and elegant to wear.
22. Something Extraordinary: Tungsten Carbide Ring with Meteorite Inlay
What makes meteorite wedding bands so special are their organic patterns and distinct crystalline structure. This handcrafted tungsten carbide ring is filled with specks of meteorite and inlay of white brass, giving you a unique, stunning look.
23. For the Tough Guy: Wheel-Inspired Wedding Band
Who says you can't be a bit eccentric and flamboyant with your wedding ring? Uniquely designed, this wedding band has exquisite details inspired by a truck tire. It is a perfect choice for a guy who makes and breaks the rules.
24. For a Rustic Style: Wood and Tungsten Wedding Band
Who says you can't opt for a wood material for rings? Whether you love exploring nature or building things, this wedding band brings you back to your roots. With the inner wood combined with black tungsten, this ring uniquely shines.
25. For the Astrophile: Wedding Ring with Opal Stones
Perfect for star lovers, this wedding band reminds us of the spiral galaxies in the universe, thanks to the shards of opal stones. It is a visual reminder of the vastness of your affection for your better half. It is also a creative choice for those who want to add a pop of color to their wedding ring.
26. Best Two-Tone: Tungsten Carbide Wedding Ring
Mixing metals is a creative way to incorporate a unique look into a traditional wedding ring style. Tungsten carbide is significantly less expensive than gold, but it's a durable metal that will remain polished forever. What makes it more romantic is the 'I Love You' carved in the inner part of the ring.
27. A Unique Statement: Knurled Titanium Wedding Ring
Going for a one-of-a-kind wedding ring doesn't have to be over-the-top. The diamond patterns on the exterior of the band give a unique texture without complicated details. It is also perfect for a guy who is not a fan of classic, polished accessories.
28. Most Symbolic: Celtic Wedding Ring
Are you looking for a meaningful ring to remind you of your bond for a lifetime? The Celtic-inspired interwoven design symbolizes the bond of marriage and gives an elegant look to the jewelry piece. To celebrate your love, it comes in all colors, from yellow to white and rose gold.
29. Something Unforgettable: Whiskey Barrel-Inspired Ring
If shiny, polished metals aren't your thing, this whiskey barrel-inspired ring is perfect for you. Exuding an industrial and masculine look, this wedding band is crafted from Damascus steel, while the polished wood on the inside adds depth and dimension to the jewelry piece.
30. An Intergalactic Style: Meteorite Wedding Band
As grand as the universe, this wedding ring gives you a bold, striking look. It features meteorite inlay and a glossy smooth finish, which looks elegant when worn. It is also a symbolic choice for a groom since finding the perfect life partner is a pretty astronomical feat!
Wrapping Up   
From classic to modern looks, there are hundreds of options for unique wedding bands for men. As time goes by, the fashion industry has been jumping on trends, so you won't need to limit your style to just plain wedding rings anymore. Just choose the best ring that will suit you best.
Related Articles:
12 Metals for Men's Wedding Bands – Which Is the Best?
Men's Wedding Band Thickness – What You Need to Know