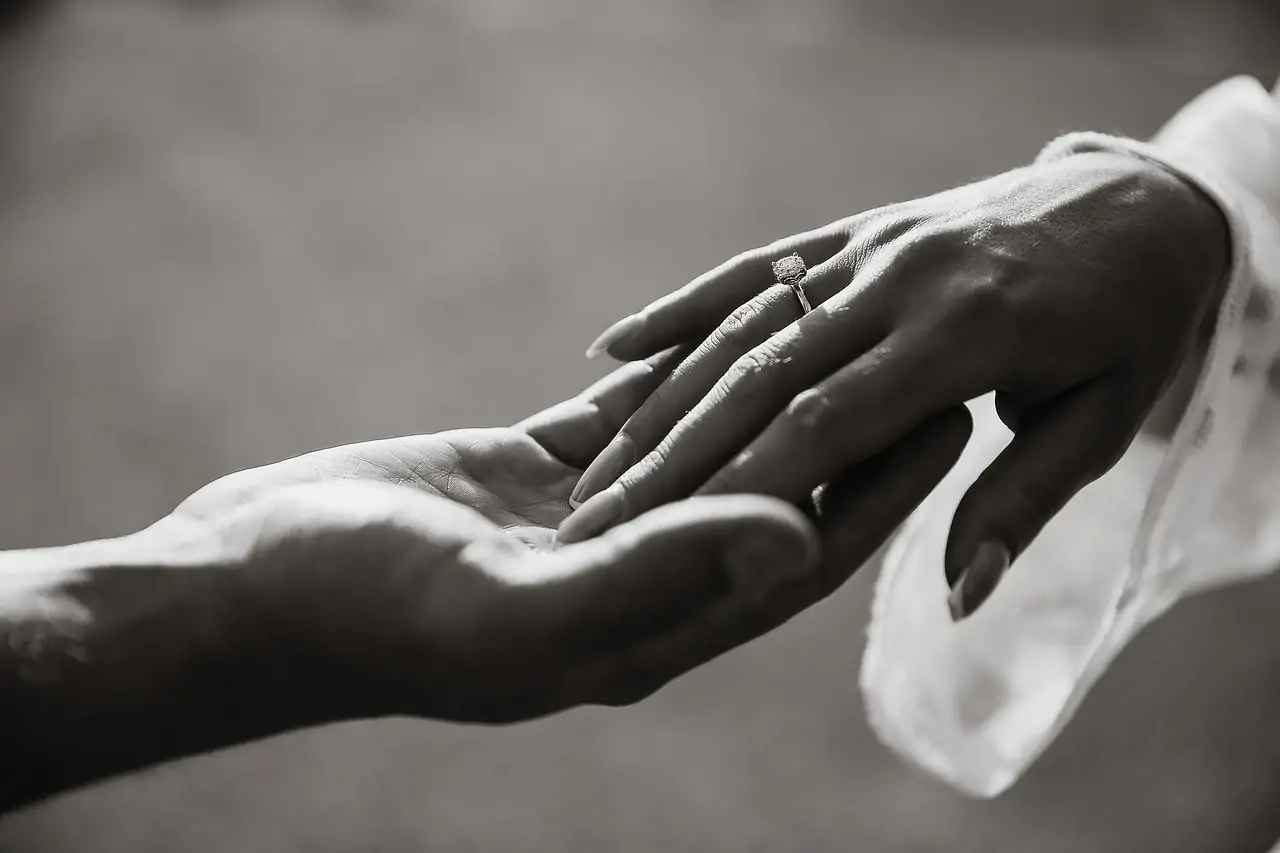 When you're choosing an engagement or wedding ring, it's all the little details that make it truly yours. Choosing the setting and gemstone are two big decisions to make, but don't forget all the little finishing touches that can really elevate a ring.
Finishing touches display your style and distinguish your ring, adding that extra something to your ring setting. In this article, we outline the main types of finishing touches that you can add to your ring to make it stand out.
1. Milgrain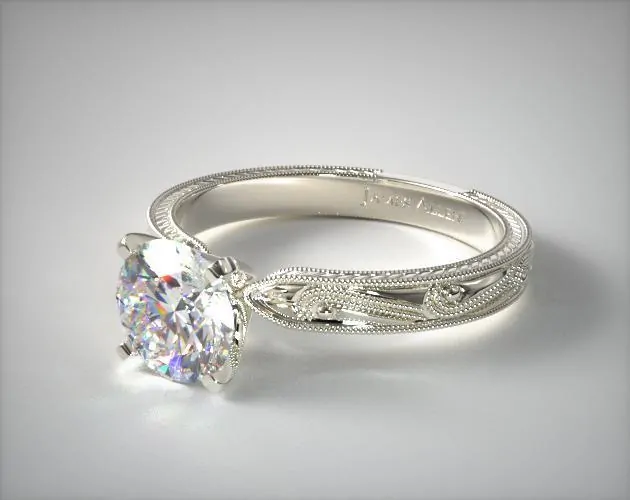 Milgrain (a.k.a. millegrain) literally means a thousand grains in French, referring to the hundreds of tiny metal beads that make up this embellishment.
Notice the rows of little beads set along the edges in the design of the ring featured above. The milgrain creates border, clearly highlighting the design and adding a textured vintage touch to the ring.
While milgrain can come in a range of sizes, from miniscule to somewhat large, small sizes are preferred as they highlight the ring's setting without taking over the limelight.
Jewelers create very beautiful ring designs where milgrain completely takes over the setting of the ring while still focusing on the center gemstone. This engagement ring is a perfect example of a ring setting that is covered in numerous milgrain rows that complement the center stone.
Milgrain is especially popular for those who love sophisticated vintage designs, and creates a beautiful connection between the past and the present. As with all things, there are a couple of drawbacks to milgrain.
Over time, milgrain work can tend to wear off and lose its definition. However, a professional should be able to restore this without too much issue.
Another problem is that milgrain can be difficult to clean as dirt can get lodged between the beads. This, however, is an issue that you'll find with any fancy embellishment on a ring and not just with milgrain. Soap, water and a brush is usually sufficient to remove grime and dirt build-up on your ring.
2. Filgree
Filigree adds elegance and class to a ring by working the metal into intricate, graceful designs. Like milgrain, filigree is ideal if you love vintage designs, as it has that old-world charm that never seems to go out of style.
To create filigree designs, jewelers use threads of precious metal which are then twisted and formed into elaborate, lacy designs. Another variety of filigree is known as openwork filigree, where the metal is manipulated into designs that have empty spaces, as in this ring.
Like milgrain, filigree is difficult to clean and dirt can get lodged within the spaces of the design. A professional clean from your retailer once or twice a year will keep it looking beautiful.
3. Brushed (a.k.a. Matte) Finish
Ring settings are commonly highly polished and are very shiny. But if you want something unique and contemporary, then the brushed or matte finish might be just what you're after. Brushed finish is a modern alternative to the traditional high polish of ring settings.
Compare the two rings below: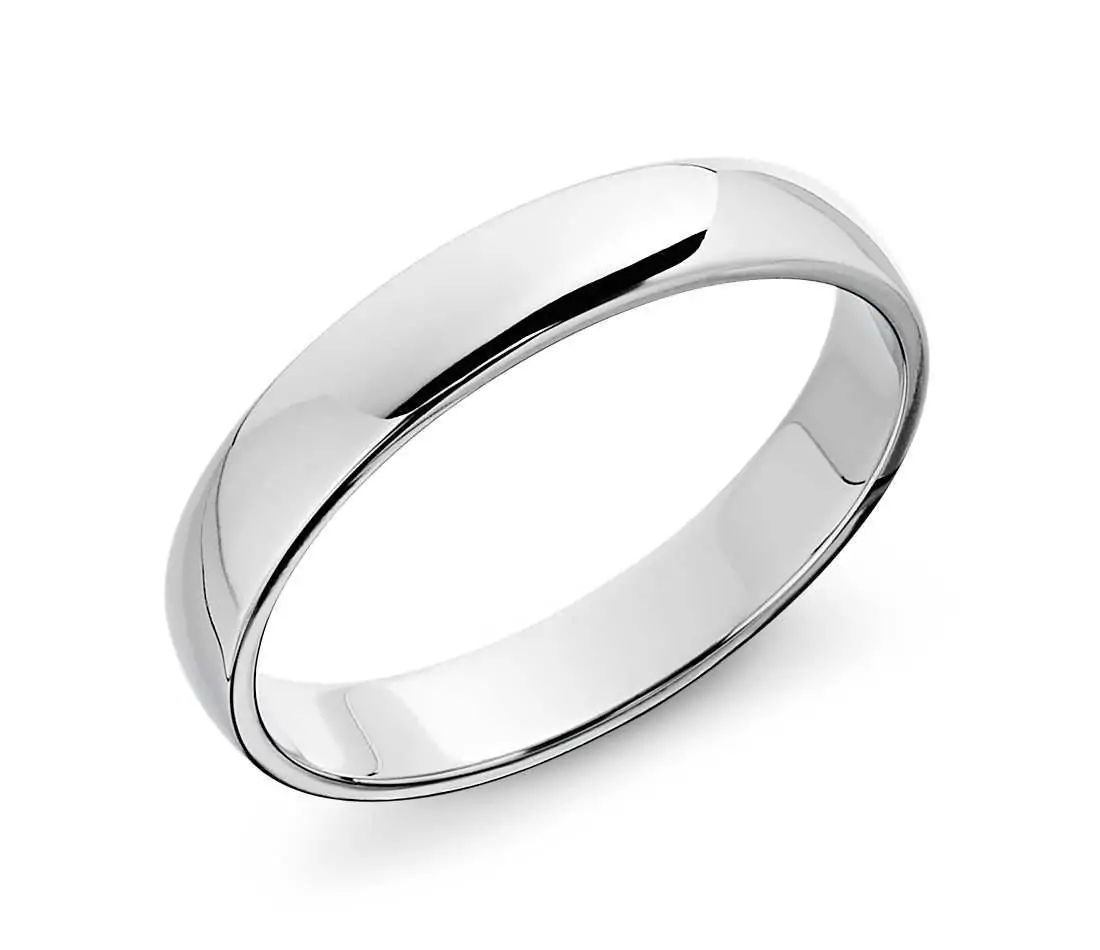 The brushed ring has a smooth, textured look that is understated but attractive. The high polish ring is traditional and classic.
Matte finished settings are popular for male wedding bands, but if you want a female engagement or wedding band to have this stylish touch, you can ask for it to be added to your ring.
A main benefit of the brushed/matte look is that it's not easy to see scratches on the ring. What would stick out clearly on a high polish ring is likely to blend in with the texture of a brushed surface.
You will also come across satin finishes. This is similar to brushed/matte but is slightly softer and smoother in appearance.
4. Hammered Finish
A ring with a hammered surface is very attractive for both men and women and provides a highly textural, visually appealing look. Hammered finishes are done by, you guessed it, hammering the metal surface many times with little hammers until a desirable design is achieved with little indentations.
Hammered finish is unique and quite contemporary. Like brushed finishes, this too is commonly chosen for men's wedding bands. But it makes a great design for women's rings too.
Hammered finishes are ideal for people who use their hands a lot for work or are active in general. This is because it easily hides scratches, scuffs and dents that you may acquire over time.
You can always add diamonds to the hammered band if you want extra sparkle for the ring. The hammered finish complements diamonds beautifully and is a very versatile touch.
5. Hand Engraving Finish
If you want a one-off unique ring, then a ring that incorporates hand engraving might be just the thing for you. This is because no two hand engraving rings are exactly the same.
Hand engraving is a time-consuming, laborious process where a jeweler works on the ring setting by hand, etching the design into the setting. The result is a unique ring that can be easily customized to add personal touches.
The most common designs are nature-inspired, floral motifs, depicting leaves, vines, flowers and tendrils. Intricate and elaborate motifs are often the subject of hand engraved rings. But there is no limit with hand engraved designs, as you can choose what you wish the ring to hold. This is the perfect choice if you want your original ideas to come to life.
Many couples like to come up with their own design to be engraved onto the ring's surface. This can reflect your cultures or be symbolic of a special place, for example.
You can also add special quotes, symbols or other representations of significance to both of you which will make the ring extra special.
Possibly the main downside of hand engraving rings is that they can tend to be somewhat more expensive than other types of settings. This is not always the case, though, so check with your retailer regarding what options they have for having your ring hand engraved.
Before You Buy
There are many excellent places to purchase a round diamond online, be it a loose diamond or a pre-set engagement ring. Whichever retailer you decide to go with, always make sure that they are reputable, are specialized in what they do and will provide you with certification. We prefer GIA-certified diamonds, as the lab is known for its stringent quality parameters when assessing diamonds. We recommend the following retailers:
Why: Superior diamond imaging, competitive prices, high quality, wide range
An online giant in the diamond space, James Allen a stunning collection of high-quality diamonds and settings. The images and videos are unparalleled in quality and makes shopping online similar, if not better, to shopping in store.
Why: Competitive prices, wide range, great quality
Known for dominating the online diamond industry since the late 1990s, Blue Nile offers one of the largest online diamond inventories. Search diamonds and settings here at competitive prices, solid after-sales policies, and good customer service.
Why: Superior cut quality, exclusive range, stunning designs
Whiteflash has earned an international reputation for the elite quality of their precision cut diamonds, and for their impeccable collection of designer engagement rings. Check their stunning range of diamond jewelry and loose diamonds.
Why: Impeccable quality, superior cut, small but exclusive inventory
Brian Gavin is a renowned expert in diamond cut – and it shows in their superior diamond quality. For the very best in diamonds, search their inventory of designer diamond jewelry and loose diamonds.
Why: Try before you buy, build your own ring, great quality
If you want to try out how a round diamond ring looks on your finger before you commit to buying one, check out With Clarity's Home Preview Service which is completely free. Find out more here.
Check out our quick comparison of the top online engagement ring retailers for more information.
Wrapping Up
By adding the right finishing touches, you can make your ring stand out and truly showcase your style and personality. There are many ways to create a stylish finish. Hopefully the above list gives you some inspiration to make your ring special.