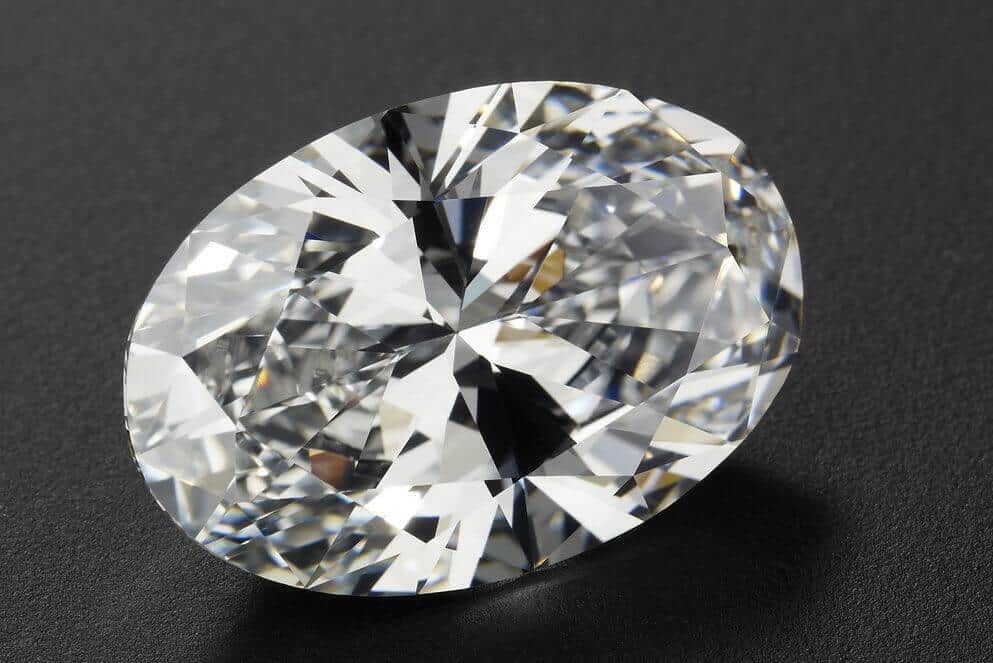 As Jewelry Shopping Guide editors, we write about things that we love and we think you'll like too. We often have affiliate partnerships, and may generate some revenue from these links at no cost to you.
There's been a lot of buzz around the oval cut lately and it's fast becoming one of the popular diamond shapes for engagement rings. Oval diamonds look very sophisticated and classy, not just in engagement rings, but also for drop earrings and pendants. It's one of the most brilliant of all the fancy diamond cuts and whether used as accent stones or chosen as a center stone, the oval cut is a great choice.
The oval diamond cut has been around for quite some time, but the cut that we know today was created in the 1960s. It's a cross between the round brilliant and the pear shaped diamond except that it has no pointed corners. Known as a modified round brilliant, the oval cut contains the same number of facets as a round cut (58 facets). This gives it excellent sparkle and fire.
Visually, it tends to elongate fingers, making them appear slender and long. They look stunning on any hand and go well with a range of styles and settings.
There's a lot of advantages that come with choosing the oval cut but finding a high-quality stone can prove difficult. The right oval cut looks stunning, but a badly cut stone (and there are so many out there!) can be a disaster.
Here are our top tips 8 on how to buy an oval diamond.
Choose the Length To Width Ratio
There's no standard oval shape as this largely depends on the length to width ratio. The length to width ratio will affect the overall shape of the diamond, making it appear either narrow or wide. The shape you choose depends on your personal preferences as well as on the setting that the oval diamond will be placed in.
The classic length to width ratio of the oval cut is 1.40 to 1.50. Between 1.40 to about 1.30 gives you a wider diamond and as you drop below 1.30 your diamond can start looking squat, neither round nor oval.  A length to width ratio over 1.50 appears narrow and long.
Here is a random oval diamond selected from Blue Nile. It's listed as having a L-W ratio of 1.45. The diagram shows you how that sits in relation to the common L-W ratio range of oval cut diamonds. These kinds of diagrams are very helpful when shopping for a fancy shape like oval cuts because these cuts aren't given a cut grade by the GIA.
Narrow cuts suit drop earrings and pendants beautifully whereas a traditional oval cut would look ideal as a center stone for an engagement ring. If you plan on using side stones for your engagement ring, then a wider oval cut would suit best. Compare oval length to width ratios and see what looks best for you.
Beware the Bow-tie
This is possibly the biggest disadvantage of the oval cut (or any elongated diamond cut). A bow-tie refers to the darkened area, in the shape of a bow-tie, that appears across the center of the diamond, when viewed from certain angles. Bow-ties occur due to poor cutting and misaligned facets, which interferes with the light performance of the diamond.
Example of severe bow-tie in oval cut diamond.
Almost all oval cuts have some degree of bow-tie, ranging from severe to nearly unperceivable. The best way to know is to look at the diamond closely. If the bow-tie is what catches your eye immediately, then choose another stone.
The main issue is that grading reports don't provide any information whether a bow-tie is visible on the diamond. This is why it is critical to purchase from a vendor that provides you images and videos of the actual diamond and not just sample stock images.
This screenshot of a selection of similar oval cut diamonds show varying degrees of bow-tie, with the third being the most severe. On a grading report, all these diamonds would be nearly identical, making it impossible for you to pick out the diamond that looks the best.
This is why we can't stress enough how important it is to view high quality images of the actual diamond before you purchase. Look for a vendor like James Allen who provide HD videos and images of the diamond you're interested in.
Symmetry is Critical
Symmetry in an oval cut is critical. The diamond should have identical sides and neatly rounded edges that slope gracefully towards the ends. If there's even a slight amount of disproportion in the oval cut, it will be easily noticeable.
This is where cut expertise comes in, as the oval requires high amount of skill to craft the perfect shape. Finding a beautifully cut oval diamond can be difficult but when you do, it is a beautiful sight to behold!
Grading the Cut Quality
Unfortunately, the GIA (Gemological Institute of America) does not grade the cut quality of most fancy cut diamonds. This means that you are basically on your own when evaluating the quality of your oval diamond's cut.
The general cut parameters for ideal oval cut diamonds are as follows:
Table: 53% to 63%
Depth: 57% to 62%
Girdle: Very thin to slightly thick
Culet: None
While the technical aspects of a diamond's cut can get complicated, what matters is how the diamond appears when you view it. An oval diamond should be brilliant, well-proportioned and beautiful in appearance.
Pick Your Color Grade
Oval cut diamonds are good at hiding color, due to their brilliant faceting pattern, meaning that you can drop down on the color scale and still have an excellent looking diamond. If money is not an object, then the D-G colorless grades are most people's first choice, as the less color in the diamond, the better. These grades will often give you more sparkle and fire as well. However, if you like warm tints in your diamond, drop down the scale as far as you wish to go. Most retailers only stock up to M colored diamonds, which are pretty tinted.  
If your diamond is going to be set in silver-hued metals such as platinum or white gold, it's best to go with a H color or better. However, if you have chosen yellow or rose gold, you can drop the color grade down to a K or an I for the best value.
However, bearing in mind that the price between two grades can be very different although the appearance might be the same, it makes financial sense to choose a diamond with a lower color grade where possible.
The Best Clarity Grading For the Oval Cut
The oval cut is ideal at hiding flaws and blemishes in the diamond, especially around the edges. 
What does this mean for you as the buyer?
This means that for a beautiful looking oval cut diamond, you won't have to opt for a high clarity diamond. Diamonds with a high clarity grading are more expensive than those lower on the scale. You will be able to save money by going down lower on the clarity grade without compromising on the beauty of the stone.
You can opt for a clarity grade of Slightly Included 1 or Slightly Included 2 for the best value while still receiving a great diamond.
When it comes to clarity, what's important is that the stone is eye-clean with no visible imperfections.
Picking the Right Setting and Style
Because the oval shape does not have any pointed edges, it is not as vulnerable as cuts that have pointed edges, like marquise or pear cuts. The classic setting for any diamond is the solitaire setting.  For the best look, choose a prong setting as this allows for the maximum amount of light reflection and visibility of the diamond.
Depending on the size of the stone, you can choose a 4 prong, 6 prong or 8 prong. Of course, the higher the number of prongs, the greater the security and the more accentuated the shape, but the lower the visibility of the diamond.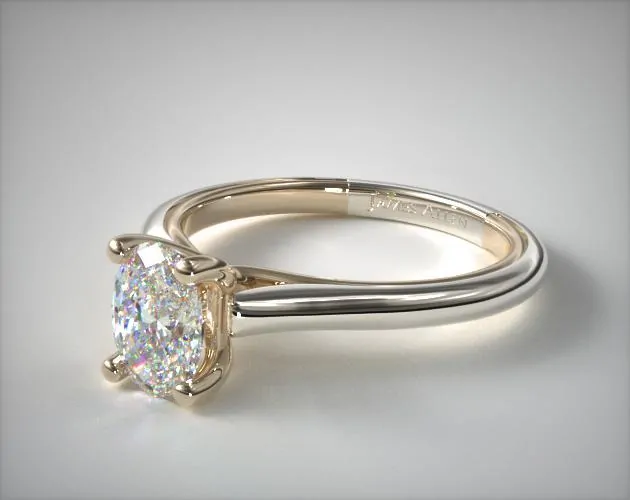 4-prong oval ring. See it here.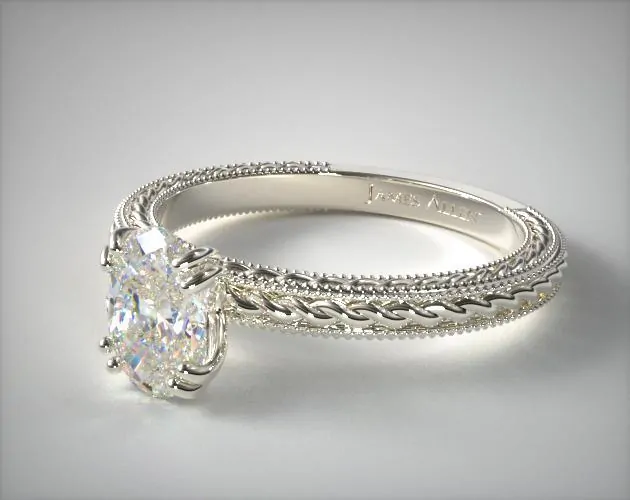 This is an 8-prong ring setting but the prongs are cleverly positioned to look like a 4-prong ring setting. see it here.
Another excellent setting for oval diamonds is the halo setting. This adds extra sparkle and maximizes the diamond's look. A halo setting also tends to accentuate the elongated shape of the diamond and sets it apart from other diamond cuts.
For a heightened sparkle, choose a halo setting. Find this ring here
The oval cut pairs well with vintage design, as it has a vintage charm about it. It's excellent when set in vintage styles, be it Victorian or Art Deco.
Stunning oval engagement ring in an elaborate vintage setting. See it here.
Some other great choices are three stone setting, side stone and pave. If you want a modern, intriguing looking oval engagement ring, consider a tension setting. There really is no other setting quite like it and it's bound to be an attention-getting ring setting choice.
Because of the oval cut's brilliance, whether you choose a simple or elaborate setting, the diamond will lend itself beautifully to the overall look of the piece.
For more amazing oval engagement ring settings, check here.
Where to Shop Online
Whichever retailer you decide to go with, always make sure that they are licensed, reputable and have great reviews. They should be specialized in what they do and should also provide you with certification for the diamond. Check that the certifying laboratory is reputable, such as GIA, AGS and EGL.
Most importantly, ensure that the images, video and other data provided are accurate and of the actual diamond (not a stock photo). View the stone carefully prior to purchasing and check with the sales team if you have any questions.
We recommend James Allen for colorless diamonds. They have high quality photos and special Diamond Display Technology, that will allow you to inspect your diamond closely (and if worse comes to worst, you can still return the diamond after your purchase for a full refund if you aren't satisfied with it). 
Blue Nile is another giant in the online diamond retail industry and have the largest online diamond inventory. They have streamlined the buying process of a diamond, providing HD videos, images and diagrams. While their search feature isn't as user-friendly as James Allen, you'll have more options and you're bound to find excellent oval cut diamonds here at competitive prices.
For a comparison of the top online diamond and engagement ring retailers, read our review here, pitting them against each other and checking out the pros and cons in black and white.