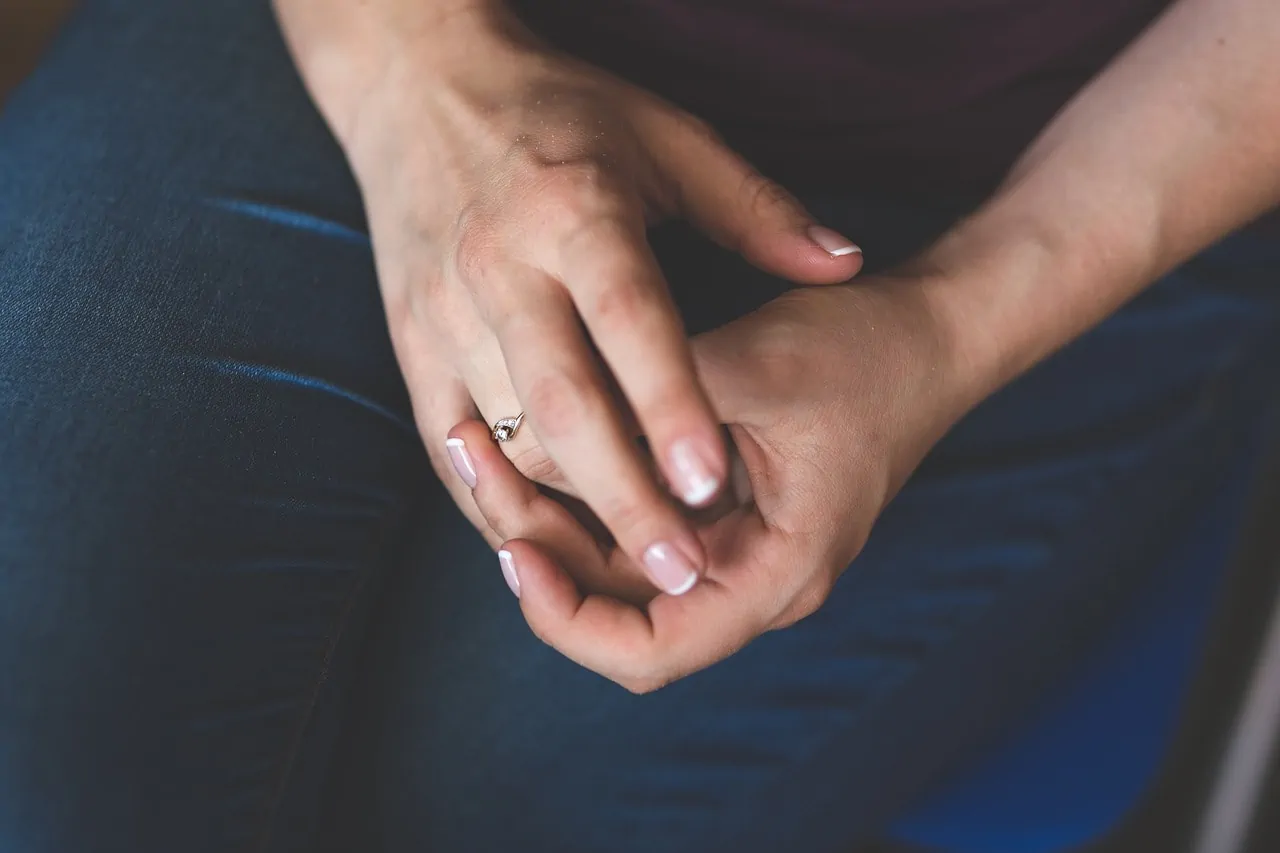 If you're looking for an engagement ring that's truly unique and bound to be a talking point, look no further than the tension setting. The tension setting is very intriguing, and makes you wonder:
What on earth is holding that diamond in place? Why doesn't it slip out from between the metal bands?
It's this reaction that makes the tension setting so unique and a popular choice for those looking for an engagement ring like no other.
However, most people worry that the tension setting isn't a safe choice for a diamond. In this article, we'll show you why that's not true.
What is the Tension Setting?
In most ring designs, the center gemstone is securely held in place via prongs that clasp onto the stone on all sides. Another popular way to set the center stone is via a bezel setting, which is a metal lip that surrounds the stone completely. Still others choose to embed the diamond into the metal, until it sits flush against the metal.
However, the tension setting is the only ring style that uses tensile forces to hold the gemstone in its position. The idea for tension set rings is fairly new, with the first tension ring being created only about 50 years ago. Since then, developments in technology has allowed the tension setting to go from being chunky and unattractive to the sleek and modern styles we see today.
With tension settings, the diamond or gemstone is placed in an opening in the metal shank, into invisible grooves cut into the metal. The stone is then held there using pressure, exerted on the stone from both ends of the setting.
This results in a diamond that literally looks like it's suspended in air, with nothing to hold it in place. Tension engagement rings often have slight variations in how they hold the diamond. For example, this marquise cut tension ring uses two large openings in the top and bottom shanks of the ring to create a safe hold for the diamond, while this classic design uses suspension to keep the diamond in place.
Tension settings are a unisex design, ideal for anyone. They're often chosen for men's engagement rings.
Tension Setting Pros and Cons
Tension settings are beautiful and intriguing to look at, but they also look as they don't provide the center diamond with enough protection. This has led to many misconceptions about this setting. Let's take a look at the pros and cons to see how it stacks up against other ring settings. We'll then go deeper into each concern below.
Pros:
Modern and Intriguing Design: The tension setting has a futuristic look, standing out from all the other types of settings. It's probably the most eye-catching and a great talking point.
Enhanced Diamond Brilliance and Sparkle: Because there's no metal obstructing the diamond, the light performance of tension set diamonds is breath taking. Light hits the stone from all sides and allows it to sparkle with maximum brilliance.
Durable and Secure Setting: While this might not be apparent, tension settings are durable, securely holding the diamond in place with grooves and notches.
Easy to Clean and Maintain: There are fewer nooks and crannies, making it a breeze to clean a tension set diamond ring.
A Unique Talking Point: There's no other diamond ring setting quite like this. Tension settings need to be explained and viewed closer up. They're the perfect talking point.
Cons:
Difficult to Resize: It's very hard, if not impossible, to resize a tension setting as this will impact the tensile force of the setting.
Can Be More Expensive: It's difficult to create tension settings well, demanding expert craftsmanship and high-quality materials. These factors make tension settings quite expensive.
Need a High Quality Diamond: Because the entire focus is on the diamond, with no metal or accent stones to distract from it, you'll need to ensure that the center stone is of high quality, with no inclusions and tints. This can be expensive.
Extreme Force Could Dislodge the Diamond: While this is very rare, if the center stone is struck with extreme force, the diamond could become dislodged and fall out. However, this could happen to any diamond in any setting.
Why Buy a Tension Setting?
A tension engagement ring is modern, sleek and unique. It's bound to be a talking point and attention-grabber. These settings have a polished, modernistic look that is clean and cool and are ideal if you're after a contemporary ring design.
Tension settings also offer endless options, utilizing diamond shapes and metal colors to create unique and intriguing designs. The important thing is to choose a highly skilled jeweler known for crafting such exacting settings (more on this at the end of the article).
Tension Setting Durability and Safety
The tension setting may look fragile but in reality, it's highly secure and durable. The center stone is held safely and there is a low likelihood of the stone falling out. While not always immediately apparent, the sides of the diamond that come into contact with the metal in a tension setting is often placed in metal grooves or held with tiny prongs, providing an extra layer of safety.
However, if a tension engagement ring is struck with force, there is a possibility that the diamond could get dislodged. This is unlikely but not impossible. Another point to note is that the center stone on tension rings can be removed using ordinary household tools. This would require deliberation and extreme pressure, but it can be done, which is why it's best not to leave tension set rings lying about where someone could get a hold of it.
They're also very easy to clean and maintain, as they don't have any prongs or embellished metal work that contains lots of little cavities and grooves where dirt can accumulate.
Tension Setting and Light Performance
Needless to say, this is one of the best settings to view the diamond in all its glory unimpeded. Because there is minimal metal interfering with the light performance of the stone, the tension setting allows light to interact with the diamond from all angles, resulting in a stone that exhibits excellent fire, brilliance and scintillation.
Take a look at this spiral tension set engagement ring and view the ring from all angles as it spins around. You can clearly see how the light plays with the stone from all sides, resulting in a beautifully sparkling diamond. You can also see the shape of the stone and the excellence of its cut from all angles, including the underside, which in traditional settings get hidden once mounted.
Tension Settings and Diamond Shapes
The round brilliant and princess cuts are the two most popular shapes for engagement rings, and they work well with the tension setting due to their symmetry and even proportion.
However, most diamond shapes can be used in tension settings, including asymmetrical cuts like the pear or heart shapes.
Here's a tension set example for a rectangular shaped gemstone while here you can see a princess cut tension setting ring design. Each diamond shape brings its unique beauty to the overall ring design, so choose one that suits your preferences.
Can You Resize a Tension Setting?
The biggest issue with tension engagement rings is that they cannot be resized. Because of how the rings are made, it's impossible to resize them without damaging the setting. As a result, these rings need to be completely remade if you have to resize them.
As a result, some online vendors provide a free re-making service. For example, James Allen offers one free remake for the tension setting within the first 30 days of purchase. However, after the first time, there are fees involved if you need the ring to be resized again.
This is a major drawback of tension settings because finger sizes tend to change over time and most people require a ring resizing for their engagement and wedding rings. So definitely keep this in mind before you buy a tension setting.
Another thing to bear in mind is that because tension settings are often custom made, they can be more costly. If you add the remaking fee that you may need to encounter down the track, you may find that tension settings can be more expensive than others.
Where to Buy Tension Engagement Rings
The tension setting is not readily available, compared to most other ring styles, and options can be limited. Not every retailer offers tension engagement rings, as this is a style that requires skill and expertise to craft.
It's important to purchase your tension ring from a skilled retailer that stands by their products. Well-designed and crafted tension rings look sleek and stylish but if poorly crafted, the ring can appear bulky and the diamond can look small hemmed in by large metal shanks.
We recommend browsing through the tension engagement ring collections of the following retailers, as they have a proven track record and are known for the quality of their products and impeccable customer services they offer.
James Allen has an impressive collection of high-quality tension engagement rings on offer. Their site allows you to view each ring carefully from all angles using their ground-breaking Diamond Display Technology. They also have Diamond Experts on hand to help you through the process.
Brian Gavin's diamonds are famous for their cut quality and for their continuous innovation in perfecting their cut quality. Their range of designer tension engagement rings are stylish and expertly crafted. However, there are few options available.
Blue Nile has the largest online inventory of diamonds and diamond ring settings. They offer you unmatchable options and are sought after for their high-quality products and competitive prices. They offer a few tension ring setting styles.
Wrapping Up
The tension ring setting is perfect for a bride who wants something modern and different. While it's not for everybody, it's a truly statement-making style, so for those who want to stand out, this can be the way to go.