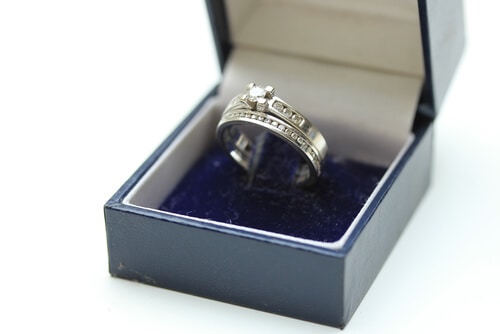 As Jewelry Shopping Guide editors, we write about things that we love and we think you'll like too. We often have affiliate partnerships, and may generate some revenue from these links at no cost to you.
Art Deco jewelry is stylish, striking, and still relevant almost 100 years on since it first emerged. This style of jewelry is easy to identify and stands out from the crowd, with its geometrical designs and colorful gemstones.
While there are many types of antique jewelry styles that have come back into vogue, Art Deco jewelry remains one of the most popular and sought-after today. The designs are beautiful and relevant even today and are sure to last the test of time.
Let's take a look at Art Deco jewelry style and how you can wear it today.
What is Art Deco?
Art Deco originated as a style in 1925, with distinguishing elements that set it apart from other jewelry styles.
Most people think that the Art Deco movement only lasted for a decade; from 1920 to 1930. It is true that the styles and trends of the Art Deco movement were in full swing in the 1920s, especially in the mid-1920s, thanks to the "Exposition des Arts Decoratifs et Industriels Modernes" (International Exposition of Modern Industrial and Decorative Arts) which was held in Paris in the year 1925.
However, Art Deco jewelry continued to be popular through the 1930s and then came back into full swing after the war. Even today, it remains one of the most popular vintage jewelry styles.
What Influenced Art Deco Jewelry Designs?
Early Art Deco ring designs were influenced by the Edwardian era and included colorful, contrasting gemstones, floral motifs, and dramatic designs.
As the style progressed, the rings incorporated more white metals, such as platinum, as well as diamond melees for a glittering, streamlined look. Geometric designs and bold, confident patterns became popular.
If one looks closely at the designs, one can see that Art Nouveau, from the early 1900s, also greatly influenced many Art Deco styles. The geometric designs combined with ribbons, flower shapes, and swirls are all examples of the Art Nouveau influences found in the Art Deco engagement rings.
Post-World War I Art Deco Jewelry Designs
The post-war era designs were very daring and heavily eclectic. It was a time of great social and economic change. Since the era was all about economic booms, travel, exploration, and expanding, therefore, Art Deco engagement ring designs started including lots of motifs too in their designs.
To give Art Deco engagement rings a bold and bright look, eye-catching metalwork was used, like platinum or white gold, combined with large colorful gemstones and diamonds. They were crafted in exotic shapes and patterns and in intriguing geometric lines and designs.
These design elements can easily be used to identify antique Art Deco engagement rings or to recreate rings inspired by the Art Deco movement.
Popular Elements in Art Deco Jewelry
1. Geometric Design
One of the quintessential elements of the Art Deco movement, geometric shapes can be found in almost all Art Deco jewelry. The designs are symmetrical, in perfect proportion with geometric elements. This feature is what distinguishes Art Deco jewelry from previous eras.
Circles, squares, hexagons, triangles, and diamonds were very popular and were often used together to create intricate and elaborate designs. Straight lines marked by filigree, milgrain, or diamond melees were commonly used.
2. Filigree
Filigree refers to the delicate, metal working that you find on many vintage designs. While filigree work has always been popular, Art Deco took it to a new level with its precision, complexity, and quality. The advance in technology made this possible, especially die-cast machines.
Replicating some of the delicate filigree jewelry designs of the early 20th century can prove difficult even today, and it needs to be appreciated as works of art.
Together with filigree, you'll find that milgrain was another popular embellishment for the jewelry of this era. Milgrain refers to the tiny metal beads used to act as a border for jewelry designs. Milgrain pairs well with filigree and the two are frequently seen together on Art Deco jewelry pieces.
3. Baguette Cut Gemstones
Most Art Deco jewelry featured baguette-cut gemstones, which refer to stones that were cut to suit a specific jewelry design. These stones would be placed close together to create the overall design and allowed the designer to experiment with color and designs in a unique way.
Common gemstones chosen for such designs were sapphire, ruby, and diamonds. However, semi-precious gemstones were also used.
4. White Metals
While yellow gold had held the spotlight for centuries as the metal of choice, the Art Deco movement saw a shift towards silver-hued metals, such as platinum and white gold.
Both these metals can be consistently seen in antique Art Deco pieces and in modern reproductions. Using white metals gave a modern, sleek look to the overall design and contrasted beautifully with the gemstones used.
While platinum is the metal of choice, white gold became an affordable alternative. Yellow gold was sidelined in the designs of this period.
5. Antique Cut Diamonds
Most art deco jewelry feature antique cut diamonds, such as the Old European Cut or the Old Mine Cut. Modern brilliant cuts weren't typically used at this time.
While these cuts don't have the light performance and brilliance of modern cut diamonds, they held a vintage charm and were cut to sparkle under candlelight. The emphasis was on the beauty of the stone itself and not so much on how it reflected light.
Wearing Art Deco Jewelry Today
If you're going to wear Art Deco jewelry today, think about how jewelry was worn in the 1920s. This was the era of 'ropes and ropes of pearls, colorful gemstones, and feathers.
It might seem a little excessive for everyday wear today, so it's important to tone it back a little and suit the style to your general jewelry style unless you're going for an authentic 1920s Art Deco style.
It's best to pick a piece and make that the focal point of your jewelry. For example, a stunning Art Deco cocktail ring or a standout pendant can act as the main feature of your look with other pieces to complement it.
If you're into minimalist jewelry, there are gorgeous minimalist designs that incorporate Art Deco elements.
Art Deco Engagement Rings
Art Deco engagement rings have been highly popular, giving rise to beautiful 21st-century takes on this timeless jewelry style. This renewed interest in Art Deco engagement rings coincides with the surge in popularity of colored gemstones as the two work beautifully together.
If you're into large, dramatic designs, you'll have endless options to choose from, from antique to modern reproductions. These engagement rings predominantly feature sapphire, ruby, emerald, and diamonds and are often in geometric and floral designs.
If you're looking for something understated but still eye-catching and beautiful, consider modern Art Deco-inspired rings that incorporate the stylistic elements of the era while adding a modern twist to the overall design.
Art Deco engagement rings are truly unique and timeless. They'll always be in style, a nod to an exciting bygone era. They tend to stand out, compared to traditional diamond rings, and the possibilities are endless in terms of gemstone and metal combinations.
Where to Buy Art Deco Jewelry
Whether you are trying to find original Art Deco engagement rings or planning on designing your engagement ring in Art Deco style, you have all the basic pointers here that can help you get your perfect ring.
Taking your search online will give you heaps of options and competitive prices. You'll also be able to choose from antique or modern replicas.
We recommend starting your search on Etsy as there is an impressive array of Art Deco jewelry on offer, ranging in price to suit every shopper.
You can also search on estate jewelry shops as they're bound to have genuine Art Deco jewelry. These might be more expensive but the jewelry can be unique and one-of-a-kind.
Always ask about the origin of the gemstones and metals, ask for authenticity if applicable, and check the seller's after-sales policies and customer reviews.