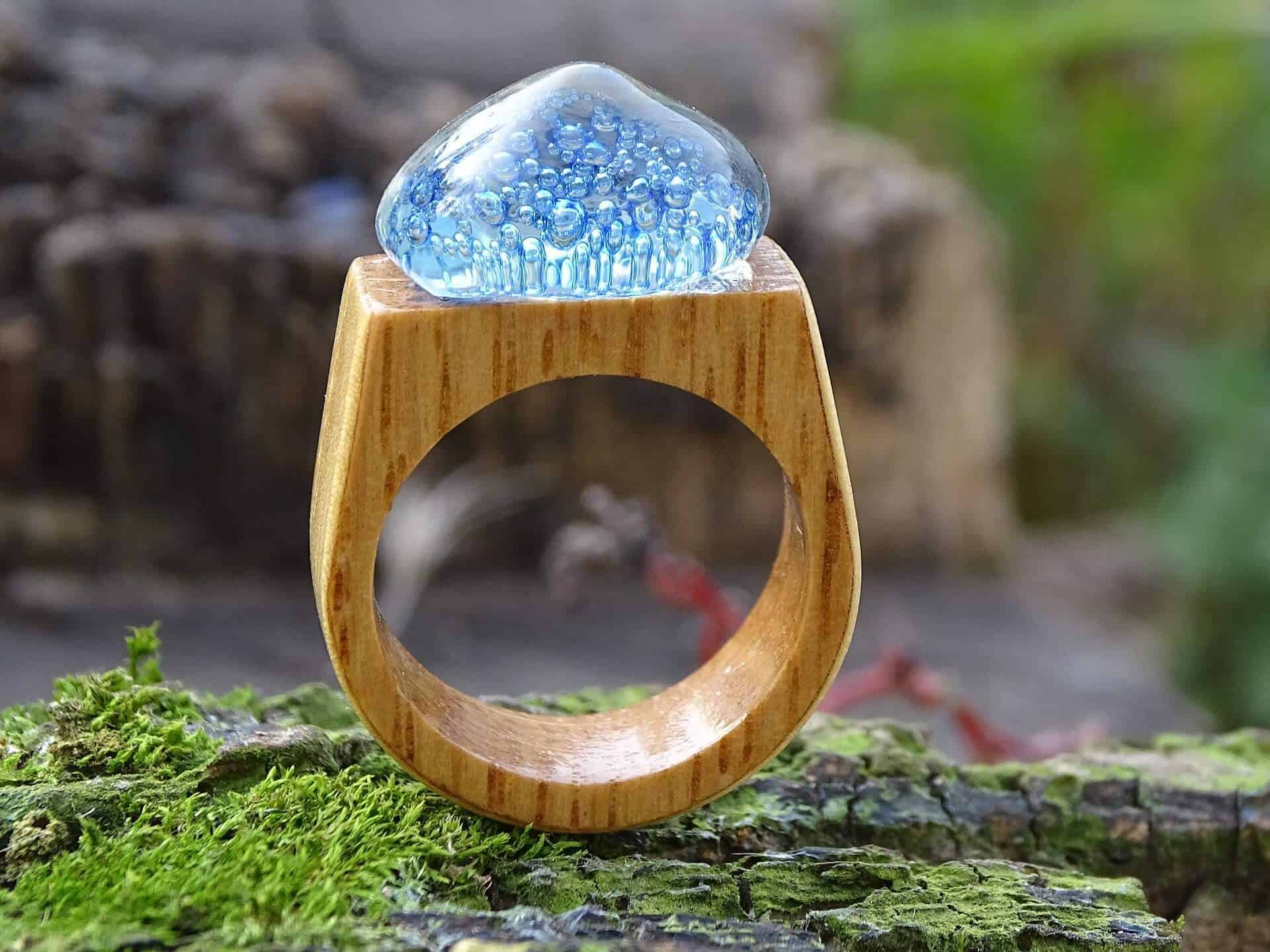 Wooden rings are a unique alternative to traditional metal rings. They are the perfect marriage between natural and man-made, delicate and hard, sleek and earthy. They come in a range of styles and designs, perfect for wedding and engagement rings for both men and women.
Whether you choose a solid wooden ring or choose to have the best of both worlds by combining metal with a wood inlay (or vice-versa), there's something for everyone.
If you're thinking of buying a wooden wedding or engagement ring, you probably have some questions running through your head. Here we answer the top 10 frequently asked questions about wooden engagement and wedding rings.
Types of Wooden Rings
The main types of wooden rings are solid bentwood, carved, overlay and inlay rings. While there are other designs, these are the popular types that you'll come across.
1. Bentwood Rings
Bentwood rings are commonly made by wrapping strips of wood into a tight cylinder and 'bending' them into a ring using special adhesives. This creates a strong ring that when sanded and polished, looks simply stunning.
2. Carved Wooden Ring
Another popular type of wooden ring is the carved ring. This is made by carving the ring out of a solid block of wood. These can be quite minimalist in appearance or embellished for a more sparkly look.
3. Wooden Overlay Rings
Wooden overlay rings often contain a metal cylinder around which the wood is wrapped. This gives the ring strength and holds its shape. The wood is then inlaid with a metal strip running around the middle of the ring's circumference. This adds beauty, contrast and additional durability to the ring.
4. Wood Inlay Rings
Wood inlay rings are among the most popular types of wooden rings for men and women. This consists of a metal ring that has wood inlaid in the metal, providing a beautiful contrast between the different materials used. This metal, which is often tungsten or titanium, provides strength and durability.
Best Wood Types for Rings
The best types of wood for wooden rings are hardwood. Not only are these durable but they also have gorgeous colors and natural grain patterns that are beautiful in the overall look of the ring. Some popular types include birch, elm, cherry, hackberry, applewood, willow, cedar, walnut, poplar, maple, oak, ash, pine and hickory. You can also opt for lesser-known wood varieties such as padauk, cocobolo, bocote and olive wood.
Different woods have different symbolic meaning. For example, maple wood is seen as the 'traveler's wood' and is symbolic of offering, generosity and promise, while oak symbolizes strength and courage. There is also the concept of birthwood, where a specific wood is assigned to a certain month (same as birthstones). You can choose what holds more meaning to you or simply go with what you feel looks the best.
Are There Wooden Engagement Rings?
Although it is not a common choice, wooden engagement rings are stunning and very unique. Many often sport a diamond or gemstone and can be worn alongside a wooden wedding ring. A wooden engagement ring is a non-conventional choice and makes a great alternative to the traditional diamond ring.
Are Wooden Rings Durable?
A wooden ring is not indestructible, but neither is it as fragile as some people tend to think. Any ring, whether made of wood or metal, has potential to break or bend.
The style of the wooden ring design as well as the chosen wood affects the overall durability of the ring, but in general, wooden wedding and engagement rings are hard and strong enough to wear daily as long as they are given reasonable care.
Most wood overlay and inlay rings are a hundred percent waterproof due to the resin that is used to seal the wood, while bentwood rings are highly water resistant but not quite waterproof. The polish and resin used on the woods increases their resistance to scratches and bumps.
How to Take Care of a Wooden Ring
Depending on the type of ring and wood used, there may be special requirements for maintenance. For example, inlay wood rings generally just require a good clean with a polishing cloth to keep the shine and luster of the ring, whereas bentwood rings may require coating more frequently. However, there are some general tips to follow for all types of wooden rings.
Most wooden rings are not waterproof and may get water damage if submerged for long periods of time in water. It is recommended to take off your wooden ring when doing the washing up, swimming, showering and engaging in any water-related activities. However, some people never take their wooden rings off in these situations and have had no damage happen to their rings.
Keep the rings safe from hard knocks, bumps and impact of any sort. This can chip the wood or cause unsightly dents and scratches.
Don't expose your wooden rings to harsh chemicals such as bleach, chlorine or household detergents. This applies also to cosmetics and hairsprays. This is a precaution recommended for all jewelry types.
Have your ring checked at least once a year for defects and make sure that the ring receives a new coating of finish as required. This will ensure that the wood is protected and any nicks or scuffs polished away.
Are Wooden Rings Eco-Friendly?
This depends on the sourcing of the wood and whether or not other materials have been utilized in the creation of the design.
If the wood was sourced from endangered trees that were cut for this purpose, then the ring is not eco-friendly. Also, if it contains diamonds, gemstones, and metals that were not sourced ethically, then clearly the ring isn't sustainable.
There are sustainable ways in which wood can be obtained, such as from fallen branches or dead trees. Check with your vendor whether this is the case and ensure that the ring has been created using sustainable resources. Most vendors should disclose this information to you and be transparent about their sourcing.
How Much Do Wood Rings Cost?
Wooden rings come in a range of prices to suit any budget. Most high-quality wooden rings are inexpensive and yet offer stunning workmanship and design.
Generally, the price of the ring will be affected by style of the ring and the materials used. However, compared to a traditional diamond ring, a wooden ring (even with diamonds) will not cost as much.
Can Wooden Bands Be Resized?
Like tungsten rings, wooden rings cannot be resized as they are not malleable. Choose your ring size carefully prior to purchase. The best time of the day to measure your finger is at the end of the day when your fingers tend to expand.
In the case that the ring does not fit, your best option is to replace the ring. Finger sizes change over time, meaning that your ring may not fit as the years pass.
While replacing the ring is not expensive, there is the emotional tug knowing that you won't be wearing the exact same ring from your proposal or wedding day.
Personalizing Your Wooden Ring
There are several ways that you can enhance the meaningfulness of your wooden engagement or wedding ring.
One way is to add an engraving that holds meaning to you, such as a special date (eg: when you first met, kissed, proposed), special word (eg: always, love, forever, together) or a quote or phrase (eg: forever and for always, to infinity and beyond, us and God). Most wooden rings are engravable, so this should not be an issue.
Another great way to add meaning to your ring is to check with your jeweler if it's possible to incorporate certain materials into the design.
For example, if you have access to a piece of hardwood from a special place (eg: where you first met, your first holiday together) or a gemstone, rock, shell, or coral from some meaningful point in your life. These are some options but there are many other ways to get creative and add meaning to your wooden ring!
Where to Buy Wooden Rings
Shopping for a wooden ring online may be your best option, as finding a brick and mortar store that deals with wooden rings can prove difficult. We recommend searching online for the best options.
Etsy and Amazon are two excellent platforms where you can find a range of beautiful wood rings.
Always check the after sales policies and ensure that the retailer is trustworthy with a proven track record and excellent customer reviews and services.
Wrapping Up
For an eco-friendly, nature-inspired alternative to traditional metal rings, wood rings are an excellent choice. Contrary to what most people believe, they're durable and can be personalized in a number of ways.