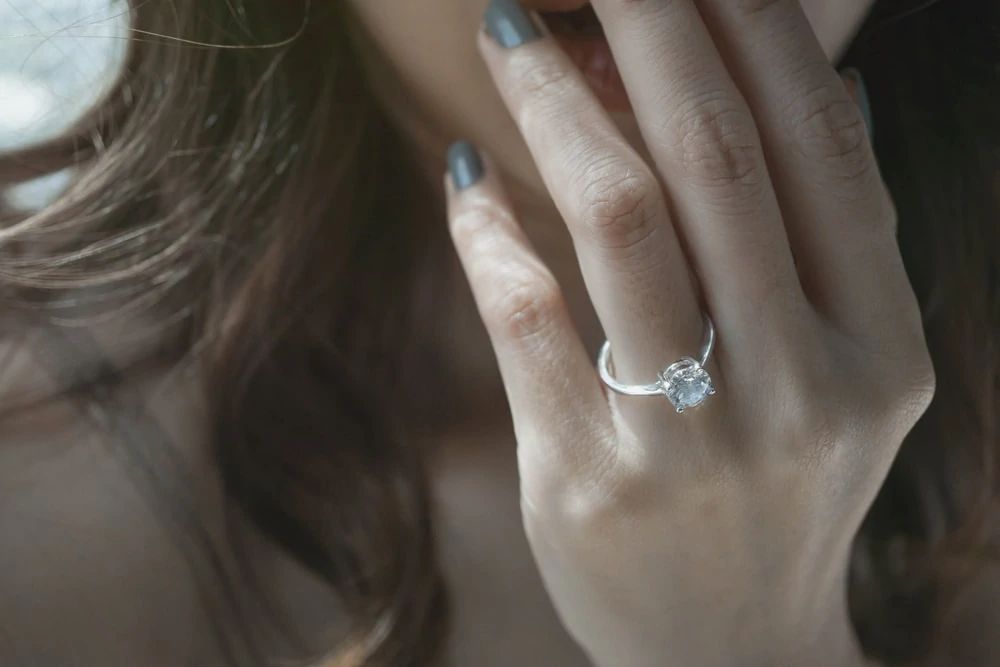 How important is the height of your ring setting? Does it have any distinct pros and cons? While this isn't something we might think about when buying our engagement rings, it is, in fact, an important consideration.
Low profile engagement rings are stylish and functional and give the wearer a different experience to high profile rings. They're perfect for the modern woman who lives an active lifestyle. Here's why.
What is a Low Profile Engagement Ring?
Although high profile engagement rings tend to be very popular, thanks largely to the classic prong setting by Tiffany & Co., low settings have always been a popular design choice with many antique rings featuring low profile designs.
Low profile (or low set) engagement rings feature a setting that sits low on the ring's band. The head of the ring, which holds the diamond or gemstone up, sits close to your finger instead of being held up into the air. Popular low set ring designs include bezel, prong, and halo settings, with a variety of stones, cuts and shapes.
Not every stone is meant to sit in a low setting, as the depth of the stone impacts the height of the setting. If the stone has a long girdle, the setting will need to be higher to suit the stone.
Because low profile engagement rings sit low on the band, designs like cathedral settings which have arches that hold the center stone up high, aren't suitable for them.
Pros and Cons of a Low Profile Ring
As with any ring setting, low profile rings have both pros and cons. Let's go over them briefly (some of these will be elaborated on a bit more below):
Pros:
Durable: Low set rings offer more protection for the center stone, minimizing snagging, cracking, and chipping.
Easy to Clean: Because of how they're created, these settings are easier to clean and maintain.
Availability: The low setting suits many ring styles and these are easily available.
Comfortable: Because these rings don't snag or poke into the sides of your fingers if they spin, they're more comfortable to wear.
Cons:
Less Sparkle: Low profile rings tend to have less light performance as light doesn't hit the stone from all angles as much as a high set ring.
Less Versatile: Larger stones may not fit a low profile ring. These settings may also not be suitable for stacking with wedding and anniversary bands as they are wider at the upper shank. You would need to choose a curved wedding band to accommodate this.
Types of Low Profile Engagement Ring Designs
There are many ring designs that come with a low profile, including popular options like a halo, three stone, bezel and prong. Here are some of our favorite low profile ring settings: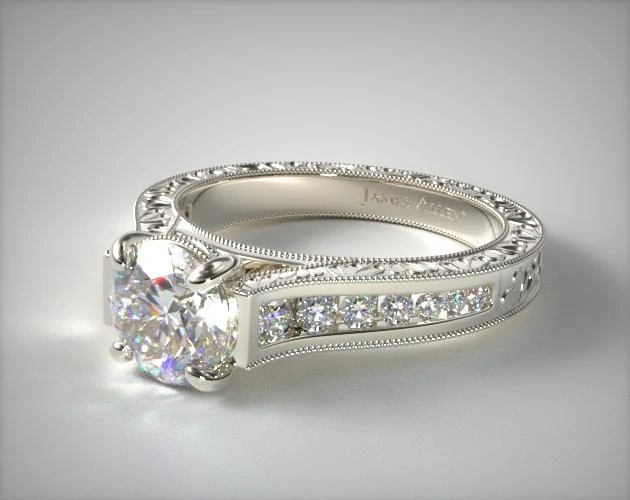 Featuring a channel setting, the band of this ring is beautifully embellished, with milgrain detail and floral motifs. In this setting, the low set diamond blends in seamlessly with the setting, with the band appearing to merge into the diamond. It's clear that the diamond isn't the sole focus in this ring design, as the setting is just as eye-catching.
This beautiful design features an intricate setting that holds the diamond securely. The half-eternity band leads up to the center diamond, accentuating its beauty without overtaking it. This is perfect for a bride who wants a clean and classic style.
This bezel low set ring offers maximum durability for your stone. You know the diamond won't get chipped, damaged, or dislodged in any way. The minimalist style has a modern edge and is perfect for someone with a busy lifestyle who uses their hands a lot. On the downside, the diamond is minimized, both in sparkle and in apparent size.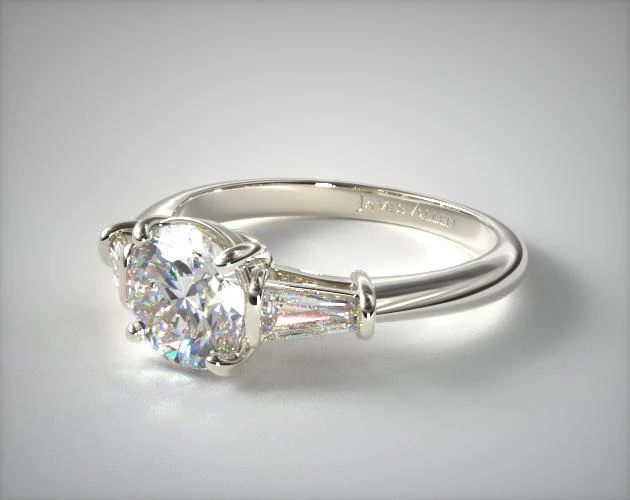 This three stone ring setting features beautiful baguette accent stones that blend into the band and emphasize the center stone's sparkle. This type of setting is ideal if you're worried about a low setting minimizing the center stone's light performance.
Why Choose a Low Profile Engagement Ring?
There are many reasons that make a low set engagement ring very desirable. Here are the main reasons:
They don't snag.
They're practical and functional.
Center stone is more secure.
They're easy to maintain.
For one thing, low profile ring settings are highly convenient to wear as they don't snag on everyday objects. Because the center stone sits flush against your skin, there's less likelihood of the stone catching on fabric, hair or other items. This makes it a functional option, especially if you use your hands a lot.
High profile rings can pose a hazard to people who work in certain fields, like nurses and doctors who wear gloves for work and physically handle other people, or those who work with various tools. A protruding ring could catch on skin and tools, causing harm and damage. If you lead an active lifestyle, a low profile ring is the better option for you.
Another benefit is that low profile rings provide more security for your center stone as the stone is less likely to hit against hard surfaces. This provides an added layer of security for an expensive diamond or gemstone.
Kayla: High settings never suited my lifestyle because I wear my rings all the time. I'm not one of those persons who remember to take off their ring when going to the gym or washing the dishes. This is why I've always worn low set engagement rings.
Jenny: My high set ring makes it so hard for me to put on latex gloves at work! It wasn't something I ever thought about when buying my ring. I just wear it for special occasions for now but we're planning to buy a low-set bezel ring down the track.
On the flip side, a low set ring may not have the same elegance and sophistication of a high setting. It also doesn't highlight the diamond or gemstone as much as a high setting would, and some users find that the brilliance of the diamond is slightly reduced, as the diamond is set next to the band which can reduce light performance.
Should I Choose a Low Profile Ring?
There is no right or wrong answer to this question, as it comes down to personal preferences. When making your decision, consider your lifestyle and what matters most to you for the ring. Is it sparkle? Durability? Comfort?
Considering these questions can help you zero in on the type of setting that would suit your lifestyle best. At the end of the day, an engagement ring is something you'll likely wear for the rest of your life, so it should reflect your aesthetic preferences as well as be comfortable and durable.
Wrapping Up
A low profile engagement ring offers many benefits to the wearer. While there's no difference in price or the amount of options you'll have when choosing a low profile ring setting, the main difference is in the functionality of the ring.
At the end of the day, it comes down to personal preference and what you're hoping to get out of your ring. For some, nothing will replace the elegance of a high profile ring, but for others, the practicality and style of a low setting makes it worth it.
Related Articles
The Anatomy of a Ring – What You Need to Know
10 Top Types of Ring Shanks for Your Engagement Ring
Wedding Ring Thickness vs. Width: Why It Matters
17 Engagement Ring Settings Explained: An Expert Guide
What's a Hidden Halo Engagement Ring?
The Invisible Setting – A Unique Choice for Your Engagement Ring