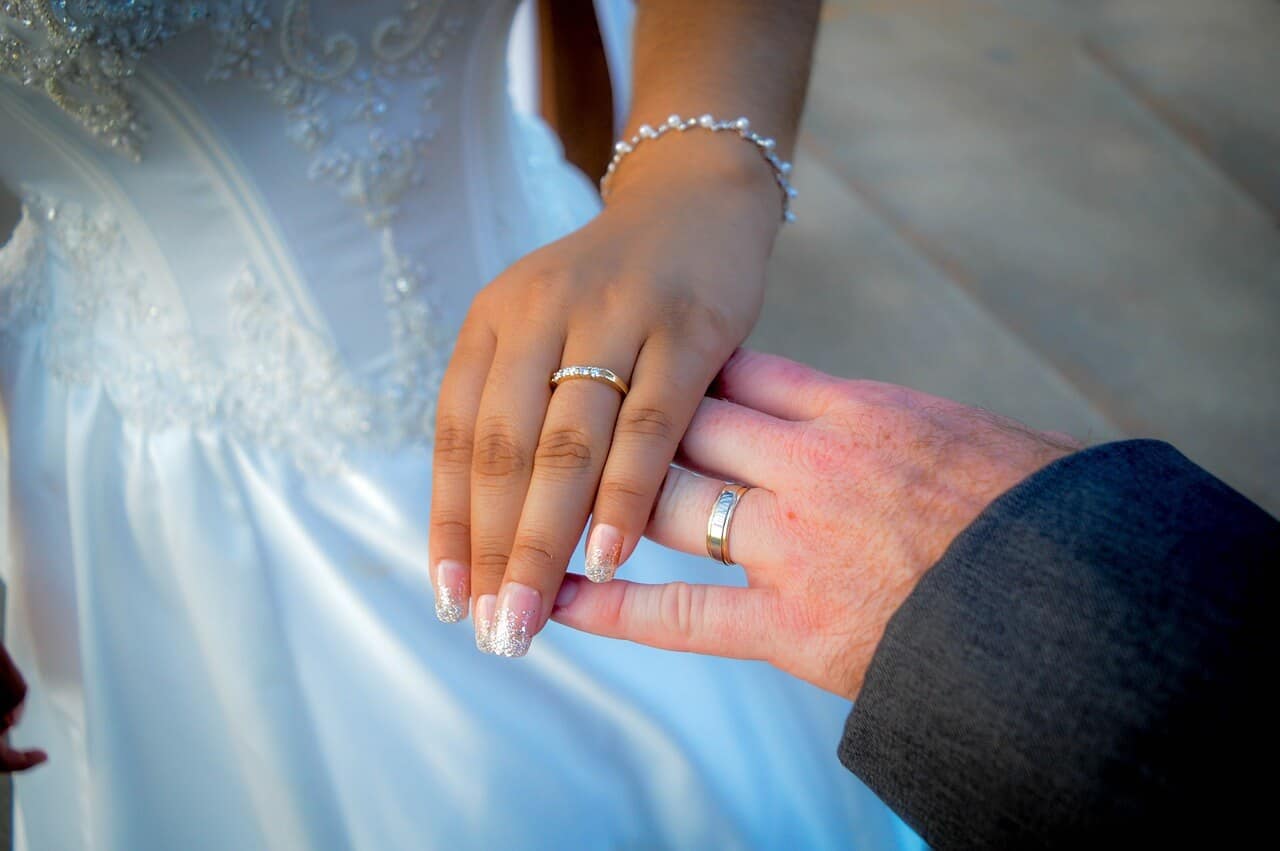 There's so much talk about engagement rings that sometimes, wedding rings don't seem to get the attention that they deserve. After all, a wedding ring will be worn every single day for the rest of your life! It signifies the greatest commitment that you have made and is a enduring visible symbol of your marriage.
Throughout history, wedding rings have symbolised love, loyalty and faithfulness. This tradition springs from ancient times and is widely found in almost every culture. Wedding rings are often considered a sacred piece of jewelry that is highly valued.
When buying a wedding ring, the approach is quite different to an engagement ring. Most couples buy their wedding ring together and there is no element of surprise attached to this. It is a sensible, practical decision that is made by both parties. What's more, often it is the most important piece of jewelry that you both will buy together and is an exhibition of your love, style, personality and values.
If you aren't sure about the difference between wedding rings, engagement rings and wedding bands, read our article Engagement Rings vs Wedding Rings vs Wedding Bands which clears up the confusion.
In this article, we focus on how to choose your wedding ring.
1. Start Early
Many couples make the mistake of waiting too late to purchase their wedding rings. They overlook production times and don't give themselves enough time to have their ring completed.
Generally, allow about a 3-4 weeks to have your rings sized and ready.
If you are having your wedding rings custom made, allow even more time. Certain styles can take longer, and retailers may require about 3-6 weeks to custom make your wedding bands.
The recommended time to begin the search is about 6 months before the wedding to ensure that you aren't under pressure or rushed. If you leave it till the last minute, you might not have time to get that perfect ring and will have to make do with second best.
2. Choose Your Budget
Choosing your budget at the start can help you decide on your rings and not get side-tracked when shopping. It is generally recommended to set aside about 3% to 5% of your total wedding budget for your wedding rings.
To make your budget stretch, you can play around with the ring metal and styles. For example, choose a half eternity rather than a full eternity band as it will cost less yet won't make a big difference to the appearance of your ring. Another example would be to choose white gold over platinum, as they both look very similar but white gold is more affordable.
For example, let's compare these following two rings. This is a half eternity prong set wedding band, while this is a full eternity band. Both are made of 14k white gold. The half eternity holds the equivalent of .30 carats of diamonds while the full eternity has diamonds equivalent to .75 carats. There are other small differences in terms of clarity and color, but the two bands look very similar in terms of quality and beauty. The difference in price? Almost a thousand dollars!
Big brand names and designer rings can also add a considerable mark-up to the overall price of the ring. Remember that a wedding ring is a classic piece of jewelry and whether you purchase it at a big brand store or at the local jeweler's, there won't be a huge difference in the look but there definitely will be a difference in the price!
3. Consider Your Lifestyle
While this may seem like an obvious point, many people forget to remember that the wedding ring they choose should suit their lifestyle. Considering that this is a piece of jewelry that you will wear every day for a lifetime, it is very important that it fits your lifestyle to ensure that it lasts a lifetime.
The ring you buy should be stylish but also practical. For example, if you have a very active, outdoorsy lifestyle or are exposed to lots of chemicals, your ring should be tough enough to withstand that sort of exposure. Take this into consideration when deciding on your metal and style and make sure you check this with your jeweler before you buy.
4. Choose Your Metal
The typical metal for wedding rings has been gold, although today you can purchase your ring in a variety of different metals. For a matched look, it is a good idea for the bride and groom to choose the same metal. While the styles can be different, having the same metal gives the two rings a subtle yet beautiful connection.
Having said that, some brides and grooms prefer different metals to suit their tastes. For example, rose gold is a feminine soft color and is perfect for a bride, whereas the groom might wish for something sturdier and more masculine. This is totally fine as well.
Most brides prefer to choose a metal to match their engagement ring. This ensures that the two rings always work together and not against each other.
Here are the most popular metals for wedding rings:
1. Yellow Gold
This is the traditional classic choice for a wedding ring. When choosing yellow gold, it is best to go with 14 karat or 18 karat gold. These have the best look and durability.
Yellow gold with over 75% purity is going to be too soft for daily wear and will easily scratch and loose shape.
Lower than 14 karat will make for a more durable alloy but will not have the look you expect from gold.
2. Silver
Silver is a very soft metal and easily shows scratches over time. It is not practical for daily wear. Sterling silver, which is an alloy, is often used in wedding bands. However, because silver oxidises with time, it requires polishing to maintain its shine and color. A benefit of silver is that it is a lot less expensive than most other metals.
3. Platinum
Platinum is more expensive than gold because it is harder to craft and is extremely durable. Because it is naturally white, platinum will not fade or tarnish. It is also very resistant to scratches.
One thing to note is that platinum tends to wear out other metals if in contact as it is a very hard metal. It would need to match your engagement ring.
4. White gold
If platinum is beyond your budget, white gold makes for a great alternative. It is a highly popular modern metal variety and a great option for wedding rings. However, over time the rhodium plating on the white gold will wear off, requiring you to have the ring re-polished.
5. Rose gold
This was a very popular metal during Victorian times and has recently risen in popularity again. The pinkish hue gives a feminine and romantic touch to the ring, like this one. It is a very durable metal due to the copper that is used in making it. It does not tarnish and maintains its color.
5. Alternative Metals
The above are classic metals that will last a lifetime. They have stood the test of time and have been used in wedding rings since for centuries. However, these days industrial metals are also gaining popularity for wedding rings.
Titanium and tungsten are two very similar metals and are easily confused. However, titanium is a lightweight metal, is lighter in color and although durable it can easily scratch. Tungsten, on the other hand, is heavier, darker and is extremely resistant to abrasion.
Another popular metal is cobalt, which has a high natural shine and does not discolour or fade with time. It is one of the most durable metals, as it is seven times harder than silver and four times harder than platinum. It also does not scratch or scuff easily.
Stainless steel is also increasingly used in wedding rings. It is similar in appearance to silver but does not tarnish. It is more durable than silver.
6. Choose Your Style
There are so many wedding ring styles available on the market that choosing one can be overwhelming! However, most wedding rings fall into two categories: Traditional or modern.
Channel Set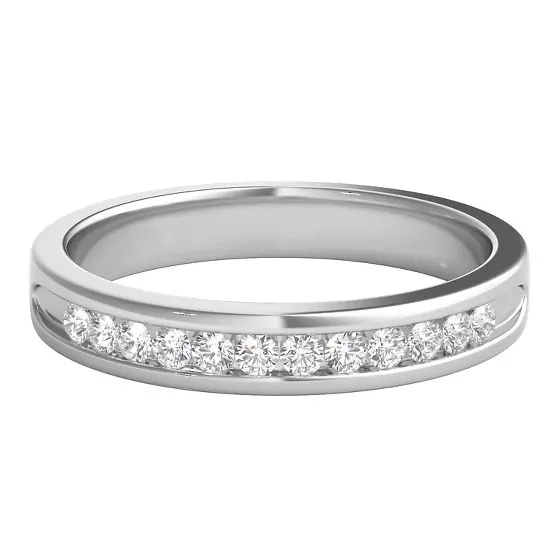 This is a very popular style for wedding rings. It consists of a single row of tiny diamonds, set into a groove in the metal. Channel set, also called eternity bands, can have a full ring of diamonds or half.
Comfort Fit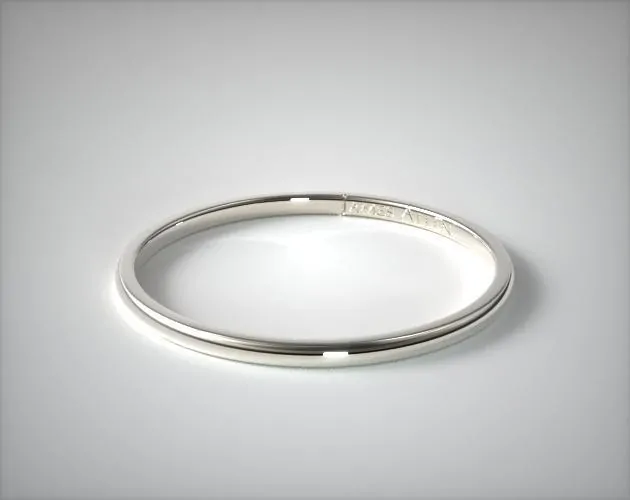 These are bands that are rounded on the inside and create a tighter but comfortable fit on your finger. Comfort fit bands are usually easier take off and put on. When wearing the ring you cannot feel the entire width of the band against your finger.
You have to ensure that you get the correct size in order for this style to work and the ring should not move around much when worn.
Half-Round
These are more traditional and are typically very simple in design. When wearing a half-round wedding bad, you can feel the entire width of the band around your finger.
Pipe Wedding Band
This shape is what you get if you cut a piece out of a pipe. Pipe bands have straight edges and a straight, flat top. This is especially popular in men's wedding rings. It is sometimes called flat cut wedding ring.
Pave Wedding Band
This is one of the most popular wedding band styles. This style is ideal if you want something a little different to the traditional channel setting.
Pave bands are highly brilliant. In addition, they look expensive and classy, but in fact are relatively affordable. This is because while the style consists of a high number of diamonds, these diamonds are very tiny and therefore not costly.
Prong Set Bands
This style has thin metal prongs that hold a series of diamonds in place. With this setting, the emphasis is on the stones and not so much on the metal. There are usually several stones in place.
Wide Wedding Bands
These are modern and trendy and very different from the traditional styles. To be considered a wide ring, the width must be at least 7 mm. If going for this style, ensure that it matches your engagement ring, as wide wedding rings can look weird with certain engagement ring styles.
Also, it is recommended to choose a ring that is 1 half size larger than your ordinary size, to ensure that it will fit your finger. A wide wedding ring may feel a little bit tighter because all the metal touches the skin. It may also not slide easily over your knuckles. So finding the correct fit is crucial with this style.
Use a ring sizer to make sure you choose the correct size. Also, check your retailer's resizing policy.
6. To Match or Not to Match?
When it comes to matching, there are two aspects to consider:
Firstly, do you want your wedding ring to match your partner's? Although traditionally matching or complementary wedding bands were worn by the bride and groom, there is no hard and fast rule regarding this. A connection between the two rings is always a nice touch, and this can be achieved in other ways. For example, a heart-felt engraving could be a personal touch between the two of you even though the outward appearance of the rings doesn't match.
The other aspect is whether you wish to match the wedding ring with the engagement ring. Again, there is no rule for this. However, the two rings should look good together and complement each other. Experts say that having the same metal is a crucial way of achieving this unified look, but it depends on whether this look is what you are after.
Most jewelry retailers offer bridal sets, where matching wedding and engagement rings are sold together. You may also be interested in a trio set, where the groom's ring is also included. This is a coordinated and well-matched set if you are after a perfectly matching look.
7. Where to Shop for Wedding Rings
Shopping for wedding rings can take time, because there are two people involved. The best way to go about this is to first be familiar with the various styles, metals and designs available to you on the market.
Grab a cup of hot chocolate, cozy up and together browse through the endless online wedding ring options! Narrow down your choices as you discuss what you like and don't like. You can then decide whether to purchase from a brick-and-mortar store or buy online.
Buying online is easier and more affordable, as you can instantly compare the merits and prices of hundreds of rings from the comfort of your own home without any pushy sales tactics.
But you won't have the advantage of actually trying on the ring to see how you feel about it. One way to get around this is to check at a physical store, decide on your preferences and ring size and then take that search online.
However, a main advantage of buying at physical stores is that you tend to build a relationship with the jeweler and they often offer free lifetime maintenance of your rings. You can take the ring back to them if you have any issues and they will assist you as it is in their best interest to do so. However, these days online jewelry retailers offer very competitive after-sales policies which are just as good as those of physical stores.
So as you can see, both online and physical stores have their pros and cons.
And finally, the main thing to remember is that your wedding ring should last a lifetime. While trends come and go, choose a ring that you will love decades down the line!
For diamond engagement and wedding rings, we recommend James Allen. If you are looking for a gemstone ring, check out Leibish.com. Amazon has a wide range of beautiful wedding and engagement rings but vet the retailer and check the after-sales policies before you buy.