As Jewelry Shopping Guide editors, we write about things that we love and we think you'll like too. We often have affiliate partnerships, and may generate some revenue from these links at no cost to you.
Channel set diamond bands are one of the most popular options for bridal rings, instantly elevating any engagement or wedding ring to a new level of sophistication. They add that extra sparkle and stand out on any finger. Channel settings are also a classic option and unlikely to ever go out of style, making it a great long-term choice.
Here's what you have to know before you buy a channel set diamond band.
What is a Channel Set Engagement Ring?
The channel setting consists of a series of identical diamonds (or other gemstone) set all around the circle of the ring within a grooved channel carved into the band. The gemstones are often identical and are set flush against the metal, so that the surfaces of the metal and diamonds are level.
Because of how the diamond sits within the groove, the channel setting provides a lot of security for the diamonds. The likelihood of diamonds getting damaged or falling out are lower.
Channel settings have been a very popular choice for a long time because of how they make any ring look effortlessly chic. They tend to suit any style and can be tweaked around to provide unique designs.
Varying the Channel Setting Design
The channel setting is very versatile and there are many ways that it can be used in a ring setting. The most popular style is the series of round brilliant diamonds set into the band in a row, but by changing the shape of the diamonds, the width of the band or type of gemstones, for example, jeweler's can create unique and interesting designs.
Here are some ways to make your channel setting engagement or wedding ring stand out.
Although the round brilliant is the go to diamond shape for channel settings for most people, it's a good idea to take some time and explore and the different options available to you.
A channel setting with baguette diamonds. See it here. 
For example, take a look at the ring above. By using baguette shaped diamonds in the channel setting, the ring takes on a classic, sophisticated and highly unique appearance that makes it stand out. What's more, it complements the center diamond beautifully and really brings out the brilliance of the stone.
If you don't like the idea of there being spaces between the diamonds, choose a gemstone shape that tessellates, or fits together. Choose square, rectangular or triangular shapes as these fit perfectly like a puzzle.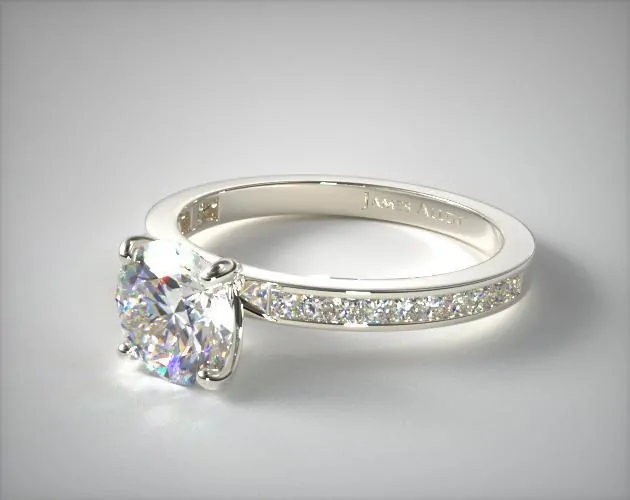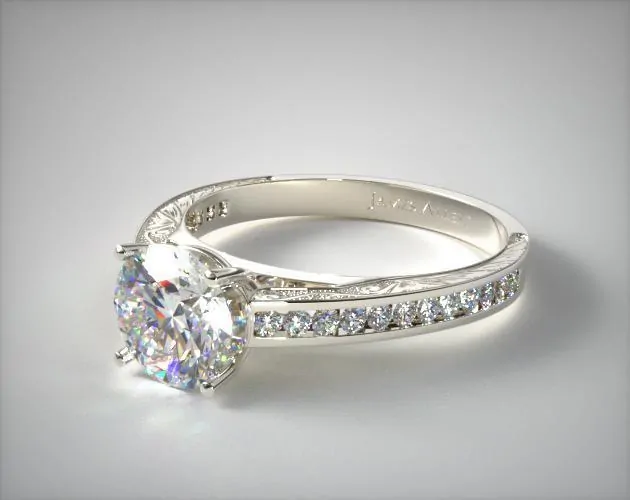 Princess cut diamonds fit together perfectly while round brilliants have triangular gaps on the sides. 
Round or oval shapes will always have that bit of extra space around them, which add an extra feature to the ring and tends to highlight the channel more.
There's no superior shape here, as it all comes down to your personal style.
Choose a Different Gemstone
While most people think only diamonds, channel settings allow you to get creative by mixing and matching different gemstones. Consider including sapphires, rubies or emeralds as accent stones to add color to the ring and to personalize it.
Because diamonds go well with all other gemstones, alternating diamonds and other precious stones is a great way to balance color and brilliance.
Pick a Matching Band Width
Channel setting rings can be thick or thin depending on the style. If you like a chunkier, more substantial look, choose a thicker ring like this one or this engagement ring which is chunky but dainty at the same time. Wider bands are great for longer fingers and bigger hands.
However, if your hands are more petite, you might want to consider a thinner band like this ring which suit smaller hands.
The channel length can change the appearance of the ring. You can choose to have little diamonds go all around the band or stop halfway.
Channel settings that go around the entire circumference of the band and have no center gemstone are called eternity bands and are popular as wedding rings.
It can be very difficult, if not impossible, to resize a ring that has diamonds set all around the band. Most channel set engagement rings on the market tend to stop halfway around the band. This is a practical choice as it allows for resizing of the ring if necessary. It can also be more economical to opt for smaller lengths.
Channel width correlates to diamond melee sizes. The thicker the channel width, the larger the diamonds have to be as they need to fit snugly within the channel.
Compare these two rings. As you can see, the ring on the left has a wider channel and therefore requires larger diamonds. The ring with the thinner width has smaller diamonds. This contributes to the overall aesthetic of the ring and which you choose depends on which you find more beautiful.
Channel Setting Pros
There are many reasons that make the channel setting one of the best-loved ring settings.
Good Durability
One of the benefits of the channel setting as compared to a similar settings such as pave is that the channel setting offers very good protection for the little diamonds. Because the stones are set flush against the metal and have a metal lip on either side of the groove to keep the diamonds in place, the stones are not highly exposed. They don't catch on objects or clothes and aren't exposed to knocks and bumps. As a result, they will suffer less damage than other settings where the stones are more vulnerably placed.
Brilliant Band
When diamonds are set around the band, this adds extra sparkle and brilliance to the overall look of the ring. This elevates a plain band and makes it look very chic and valuable.
Highlights Center Stone
Channel settings tend to highlight the center gemstone. See this ring here. 
The channel setting tends to draw your eye towards the center stone, placing it in focus. Even though the center gemstone shares the limelight with the band in a channel setting, it still emerges as the star.
Channel Setting Cons
While the channel setting has a lot that makes it very desirable, there are a couple of disadvantages that come with it.
Harder to Resize
Channel settings are often more difficult to resize, especially if it has diamonds going all around the band. As finger sizes change over time, this is an important factor and one that you should check with your retailer prior to purchase. If in doubt, ask whether the ring is resizable.
Harder to Clean
A channel setting is harder to clean than some other settings due to the spaces and the grooves of the channel. This is especially true of channel settings with round brilliants set into the groove.
Cleaning your channel setting will require a little more effort and attention to detail, but it can be done at home with soap, water and a soft toothbrush. Avoid placing diamond engagement rings with small accent stones into ultrasonic cleaners as the intense vibrations can compromise the integrity of the stones.
Always remove any valuable ring when engaging in vigorous activity like gardening or playing sports to keep the ring safe. Also, avoid contact with harsh chemicals as these can damage your ring.
Lower Visibility of Stones
True, the channel setting adds a touch of sparkle to your ring but it is not as brilliant as some other settings such as pave or micro pave settings. Because these settings have more exposed accent diamonds, the sparkle is much higher as there is minimal metal to interfere with light performance.
The channel setting, on the other hand, does not allow maximum light performance due to the diamonds being partially concealed by the metal walls. Because diamonds need light to show off their brilliance, channel settings can subdue them somewhat. If you want a highly brilliant ring, then opt for pave settings instead.
Channel Setting vs. Pave Setting
While these two settings may initially look similar, they are actually very different. here are the difference between Channel and Pave diamond settings:
A pave engagement ring. Notice the difference with a channel setting? 
Pave settings have the diamonds held in place via small metal prongs on the metal band, whereas the channel setting has the diamonds placed within the groove. As a result, pave set diamonds are more exposed to knocks and bumps and more likely to fall out than channel set stones.
Pave set rings are more brilliant than channel settings because of the way light is allowed to interact with the melee diamonds. Pave settings can make the center stone look larger and all the added brilliance makes for a dazzling ring.
Round brilliant diamonds or gemstones are more commonly used for pave settings while channel settings are popularly set with round, square or rectangular designs.
Pave settings are not ideal for those with busy lifestyles and active hands. Channel settings offer more security.
Before You Buy
Because sizing is very important with channel settings, ensure that you find the correct size before you buy.
Check that the diamonds or gemstones used for the channel are uniform in size and color. if a diamond has yellow tints while all the rest are colorless, it will stick out like a sore thumb, ruining the beauty of the ring.
Ensure that you purchase from a trustworthy retailer known for their high quality and good after sales policies.
Where to Buy
Whether you purchase in store or online, check carefully for any inconsistencies in the quality of craftsmanship. Always ask about the after sales policies in case of any issues.
If purchasing online, we recommend starting your search at one of the following stores:
With stunning 360 degree video of impeccable quality, viewing rings and diamonds on James Allen is the next best thing to seeing it in person. James Allen has an impressive range of channel setting engagement and wedding rings to suit all styles. Browse their range here.
Blue Nile has a wide range of channel setting rings on their site at competitive prices. They also have exclusive designs by highly respected designers such as Zac Posen and Monique Lhuhillier. See their range here.