Apart from the technical aspects of buying the ring, such as the 4Cs of the diamond, the metal, setting and the budget, you will also need to consider the aesthetics of the overall design and whether it will match wearer's personality, style and … hand.
While the ring might look great in the display box, it might not shine as much (figuratively speaking) when placed on the wearer's finger. Certain ring styles bring out the beauty in a person's hand while others can emphasize the negatives.
Here's a quick guide on how to select the perfect ring for any finger. But remember, in the words of Captain Barbosa, these are more what we'd call 'guidelines' than actual rules.
Different Types of Fingers
Let's begin by breaking down the different types of fingers that people tend to have.
1. Long Fingers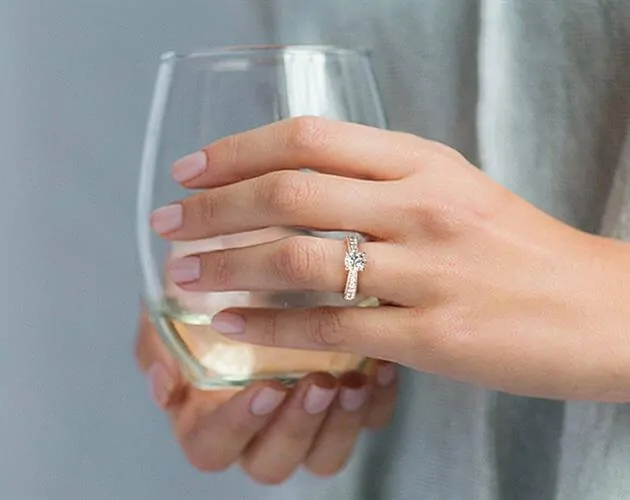 Most ring designs and diamond cuts look great on long fingers. Whether you want to keep it simple with a solitaire ring or go big with an elaborate large design, chances are your hand will be able to carry it off well.
Square and round diamond cuts look especially good on long fingers as these don't emphasize length. Consider cuts such as princess, square Asscher, cushion and round brilliant. However, thin, elongated diamond cuts such as pear, marquise and oval can make the finger look even longer.
Wider bands work better with long fingers to give a balanced look and to complement the length of your finger. Avoid very thin metal bands unless you are deliberately going for a minimalist style. Unique designs such as the east-west setting will look great on your fingers.
2. Short Fingers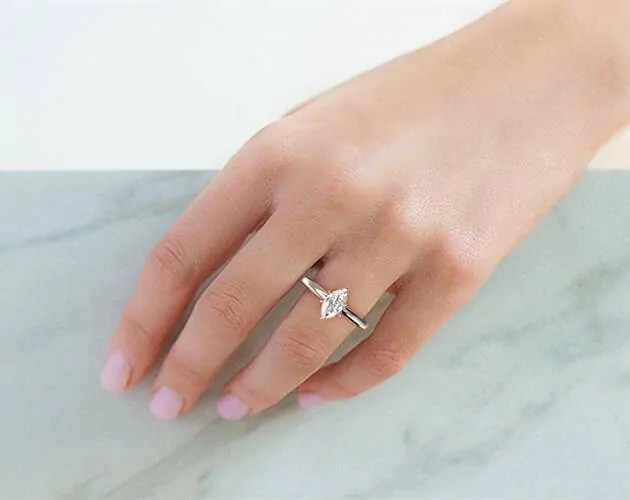 Short fingers refer to fingers that are roughly shorter than the palm of the hand. In this case, what you want from the ring is to add the illusion of length to the finger.
Choose diamond cuts such as marquise, pear and oval. If you would prefer a square cut, consider a long Asscher or emerald cut. These cuts tend to add length to short fingers.
Also choose thinner, tapering bands for your setting. Avoid large and elaborate ring designs as these can overwhelm your finger and look imbalanced. Also, avoid designs such as the east-west setting which can make your fingers look squat.
3. Slender Fingers
For very slender fingers, the trick is to make the finger appear wider. Large gemstones and wide designs can overpower the finger so avoid these.
For the best look, choose smaller gemstones that don't cover the entire width of the finger. This way, you get so save money on the carat weight of your diamond too!
Also, you can choose to go with a wider band to give your finger more width as very thin bands can emphasize the thinness of your fingers.
4. Wide Fingers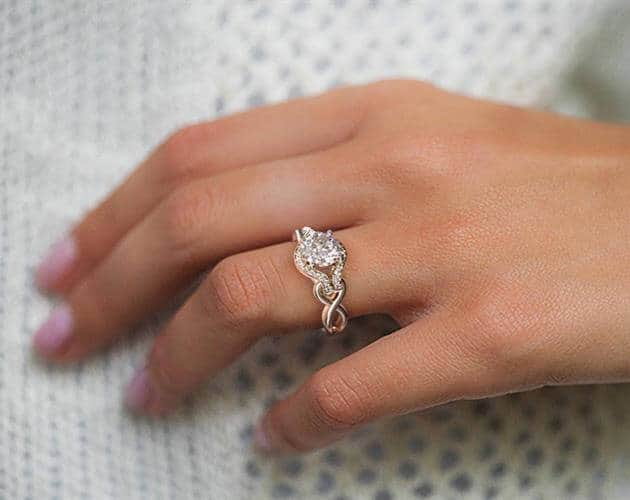 To minimize the appearance of width in your fingers, the best option is to choose a ring style that doesn't show too much skin on the sides. This will make the width of the ring prominent rather than the finger.
This means that gemstones which are thin or narrow or smaller in size should be avoided.
Instead, choose gemstones which are wider, such as a wide emerald, Asscher, oval or heart cut. Larger halo designs and cluster settings also greatly complement wide fingers.
While thin bands can look small on your finger, choosing a wider and larger setting will add balance to the overall look.
You will be able to perfectly carry off designs that contain angles (think geometric settings) and asymmetrical styles (as pictured below).
Down Playing Certain Features
When it comes to fashion, there's always a way around little features that you may not love about your hands.
1. Large Knuckles
If you have large and defined knuckles, and you don't want them in the spotlight, draw attention to the ring rather than your fingers. How do you do this? Choose a heavier or wider band and a more eye-catching design. A minimalist design will keep your fingers in focus and emphasize the knuckles.
2. Tiny Hands
What about really petite hands? Remember that it all boils down to proportion and how the hand and ring work together. Avoid large and heavy settings, or designs that have lots of embellishment. This will overpower the hand and make the ring appear too large. Instead, opt for more delicate designs. A simple solitaire ring or a petite halo would complement a small hand beautifully.
3. Large Hands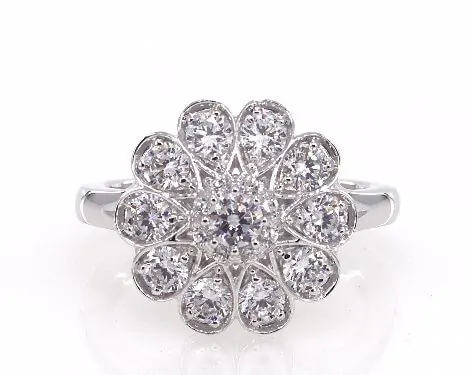 And if you have large hands? Then the opposite approach is required. A delicate, minimalist design, with thin bands and small rocks, may appear lost on your finger. Pick a larger design that works in proportion to your hand. There are lots of options available to you, including large, elaborate designs, vintage styles, wide bands and big rocks.
Here's a pro tip. If you don't have the money for a large rock, choose a halo design which makes even a small stone appear larger, or a cluster setting which consists of a number of small diamonds set together rather than one massive (and exponentially expensive!) rock.
Wrapping Up
Ultimately, what will influence your decision is how you feel about the appearance of the ring on your finger. If there's a particular style or design that you really wish to have, go for it but note that you can always make changes to it to suit your finger.
And if you are buying the engagement ring without his or her hand in tow, these guidelines will help you to get a general idea of styles and designs that complement different hands. But don't forget to consider their preferences as well as their lifestyle when selecting the engagement ring, because that will dictate how they will feel about the ring.
Ready to browse ring settings and designs? Check out James Allen, the best in the business when it comes to gorgeous engagement rings at a reasonable price.