We as a species have always been intrigued by a good puzzle, be it a Rubik's cube that takes hours to complete or a Sherlock Holmes story that we just can't put down. This fascination extends to the jewelry world too.
Puzzle rings are beautiful, meaningful bands with a rich history. They've been around since the 1500s and continue to be an attractive option for engagement or wedding bands, promise rings, or stacking rings.
Let's take a look at what they are and if you should wear puzzle rings.
What is a Puzzle Ring?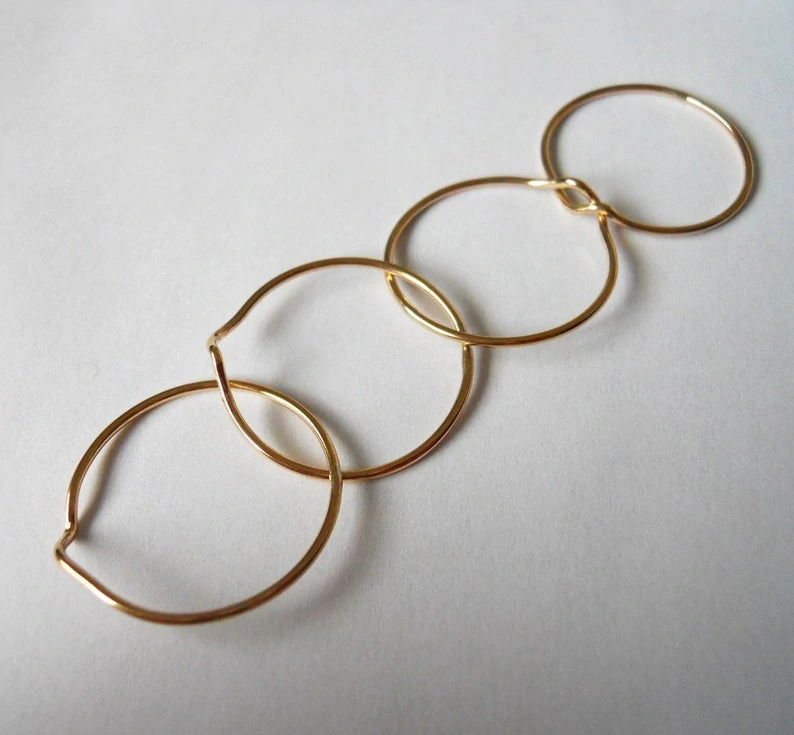 Puzzle rings (also called harem rings and Turkish puzzle rings) are made up of several interconnected bands designed to fit together to appear like a single ring. At first glance, the ring looks like a detailed, textured design but if you take the ring off and fiddle with it, it comes apart. The concept of puzzle rings is very similar to that of gimmel rings, which were used as engagement and wedding bands in Medieval Europe.
These rings are typically made of precious metals like gold or silver and can range from 2 up to 12 interconnected bands. Naturally, the more bands, the more complicated the puzzle becomes.
Puzzle rings are typically chosen as wedding rings, and when used for this purpose, 6-band rings tend to be the most popular, like this handmade sterling silver 6-band puzzle ring. 
History and Myths of Puzzle Rings
Although these rings are also called Turkish puzzle rings, there's no indication that they originated in Turkey. Instead, they seem to be a relative of the gimmel ring which was popular during the 1500s in Europe.
There's a myth that these rings were created to ensure loyalty in marriage. As legend has it, the idea was that if you took the ring off to commit adultery, you wouldn't be able to put it back together easily without knowing the solution.
You would be caught without your ring and *gasp* your infidelity would be plain for all to see. While this sounds very interesting, puzzle rings aren't all that difficult to put back together so it's unlikely that this was the real reason for these rings.
While we don't know when or how puzzle rings were invented, what we do know is that these rings continue to be highly appealing to people who want something very unique to wear
What Do Puzzle Rings Mean?
Puzzle rings can hold many meanings and are highly symbolic. This is one of the reasons that this ring style continues to be attractive. Here are some of the meanings of puzzle rings:
1. Interconnectedness
The puzzle ring is an excellent symbol of interconnectedness and how everything and everyone fits together. For a couple, it represents coming together to create a new whole.
2. Stages in Life
Depending on the number of bands, puzzle rings can represent stages in a person's life. Two-band puzzle rings represent a couple coming together. Three-band puzzle rings, like three stone rings, can symbolize the Past, Present, and Future, Mind, Body, and Spirit or Husband, Wife, and Children.
3. Overcoming Challenges
Puzzle rings also symbolize overcoming challenges in life. It's a metaphor for the concept of turning difficult or disparate parts in your life into something new and better by overcoming them.
Puzzle Ring Designs (and Variations)
Puzzle rings are versatile and come in a variety of styles and colors. Some sport gemstones while others feature unique metal textures. The common thread is that they come apart and fit back together. Here are some of our favorite puzzle band designs:
1. The Twisted Rope
This 4-band puzzle ring plays around with textures which elevates this sterling silver band and makes it appear more complicated than it is.
2. The Mindblower
If you like a good challenge, this 12-band puzzle ring will push you to your limits. Luckily it comes with instructions.
3. The Minimalist Style
On the other end of the spectrum is this meaningful two-band puzzle ring which gives you a little challenge and a lot of beauty.
4. The Pretend Puzzler
This ring looks like a complex puzzle ring but it's actually not. The bands are soldered together to create a steady and solid single band, with a marquise cut CZ in the center. Perfect for an engagement ring that's not quite as complicated as it likes to appear.
5. The Heart Variation
This 3-band puzzle ring is the perfect romantic engagement ring option. Featuring a heart puzzle ring adorned with clear cubic zirconia, this is perfect for a non-traditional bride.
6. The Three-Toned Combo
This puzzle ring keeps the contrast between the bands clearly visible by crafting them in three separate metal colors. This adds to the beauty of the ring, giving it a modern and stylish look.
7. The Vintage Beauty
Puzzle rings have been around for a long time so you'll often come across beautifully crafted vintage pieces like this 4-band gold puzzle ring.
Puzzle Ring Solution
Puzzle rings can be notoriously difficult to put together, especially if they have many bands. This video shows the solution for a 4-band puzzle ring.
Depending on the number of bands, the solution to the ring will vary. Most retailers provide the solution to the band when you purchase from them.
As one bride put it:
Puzzle rings are a great idea and a source of frustration but also challenging enjoyment. When you put it together, there's a feeling of achievement… which is funny considering it came from your ring!
Should I Buy a Puzzle Ring?
A puzzle ring is perfect for someone who likes to be challenged and wants something a little out of the ordinary.
Of course, just because you like a puzzle doesn't mean you'll like wearing a puzzle ring. They can get worn especially if they come apart and you have to put them back together in a hurry. But they are beautiful and ideal for vintage lovers.
If you're looking for an engagement ring for your partner and you know they love puzzles, riddles, and intrigues, then this might be a fun choice for them.
If you're planning on surprising your partner with a puzzle ring engagement or wedding band, why not consider giving it in an elegant twist-open ring box as the perfect place to store it?
And finally, if you're looking to buy a puzzle ring, you won't find them in traditional retail stores.
It's best to take your search to Etsy or Amazon which have a good range of diverse puzzle ring styles.
For genuine antiques, search on a reputable antique dealer's site. Always ensure that they have a solid track record, excellent customer reviews, and good after-sales policies.