As Jewelry Shopping Guide editors, we write about things that we love and we think you'll like too. We often have affiliate partnerships, and may generate some revenue from these links at no cost to you.
Micro pave settings for engagement rings have grown in popularity and are one of the most sought after setting styles for engagement and wedding rings today. Consisting of dozens of tiny diamonds set around the band of the ring, micro pave rings are highly brilliant and eye-catching, with a certain aesthetic that make them stand out.
However, as with all things, there are pros and cons to micro pave settings. Let's take a look at what these are and whether this setting is right for you.
Characteristics of a Micro Pave Setting
There are many varieties of pave settings and micro pave is one of them. The word pave (pronounced par-vay) is French for pave. If you think about it, a pave setting is where the metal is paved with diamonds.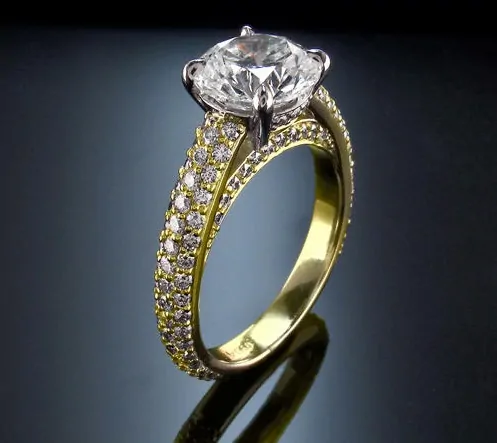 The setting of this micro pave ring is encrusted with tiny diamond melees. See it here. 
A pave setting is called a micro pave setting when the diamonds used are ultra-small, typically with diamonds that are smaller in size than .01 carat. The tiny diamonds, also known as diamond melees, used in micro pave settings are commonly round, as this is easier for jewelers to work with and tend to fit into the setting with ease.
You might be wondering:
How are the little diamonds held in a micro pave setting? What jewelers do is to drill tiny holes into the metal band into which the diamond is set. The diamond is then held there by putting in metal prongs or round metal beads. If expertly done, the metal will be minimal and the diamonds will have a paved, smooth appearance.
Micropave settings are commonly created by hand due to how delicate and exacting the work is. Jewelers have to use a microscope to magnify the setting and the diamonds in order to do the work precisely.
Before you buy, ensure that there is:
Color Consistency: It is important that the diamonds are all similar in color and that there is consistency. If some diamonds are more yellow tinted than others, they will stick out like a sore thumb and mar the look of the ring.
Evenness: Ensure that the diamonds are all even and at the same level, with no single diamond sticking out from the rest. Pick a trustworthy vendor known for quality to avoid issues with craftsmanship.
Pros of Micro Pave Settings
Micro Pave Rings are Beautiful
There's no denying the beauty of a well-crafted micro pave engagement ring. The tiny little diamonds set into the metal create a delicate, petite and sparkling appearance that catches the eye and stands out.
A diamond crusted micro pave engagement ring. See it here. 
Unlike any other engagement ring setting, micro pave gives the illusion of the entire ring being made of diamond. The finish is smooth and polished.
Minimal Metal
The focus in a micro pave ring is on the diamonds. When you look at a well-crafted micro pave ring setting, it appears as though it is floating and there doesn't seem to be anything holding it together. The metal is often unnoticeable or minimal. This is part of what makes the micro pave setting so elegant and a stunning choice for a bridal ring.
A beautiful blend of metal and micro pave. See this ring here. 
Some jewelry designers expertly combine the diamonds and the metal to highlight both aspects in the ring, as in the design above.  The contrasting textures and appearance of the smooth shiny metal and the sparkly, brilliant diamonds create an intriguing design.
A Brilliant Choice
Micro pave engagement rings tend to appear flashier and are more brilliant. This is due to the sparkle of all the little diamonds working at the same time.
Micro pave settings are very brilliant and sparkly. See this gorgeous wedding ring here. 
Even the metal beads, set among the diamonds, reflect the sparkle of the stones and blend in, creating a stunning, seamless stretch of sparkle.
Micro Pave is Versatile
The beauty of micro pave is that it can be used on the metal of any ring style. You can choose different settings, such as three stone, halo, split shank and so on with micro pave detailing. It tends to complement any type of setting.
A halo micro pave setting. See it here. 
Beautiful three-stone micro pave engagement ring. See it here. 
Micro pave ring settings also tend to highlight the center gemstone, bringing it out to full prominence.
Cons of Micro Pave Settings
Lower Durability
With micro pave settings, there's no denying that over time, some of the diamonds get dislodged. Many micro pave settings have a large number of melees, in some cases well over 200 stones. The higher the number of stones, the higher the risk of diamonds falling out.  As a result, micro pave settings are not as durable as some other ring settings out there. If the ring suffers a direct blow, the delicate metal prongs can lose shape allowing the diamond to fall out.
This is an industry-wide issue and can happen regardless of where you purchase the ring from. However, if the quality of the retailer is low, the chances of the diamonds falling are higher.
Having said that, diamond melees don't fall out that easily and even if they do, having them replaced is not very difficult to do.
If you're something with a very active lifestyle, and you use your hands a lot, this might not be the best option for you.
Higher Cost
The cost of a micro pave ring depends on a number of factors, including the number of diamonds used for the setting as well as how complicated and elaborate the design is.
For example, some settings feature diamonds thickly encrusted all around the band in several rows while others merely feature micro pave in a small section of the ring, perhaps as accents. Naturally, the first example would be a lot more expensive than the second.
Micro pave ring setting prices range from about $1000 to well over $6000. If you are on a budget, then a micro pave ring setting may not be the right choice for you.
Difficult to Clean
This one is a no brainer. Think about it. When dirt gets lodged within those tiny grooves and in between the metal prongs, getting rid of it requires extra effort.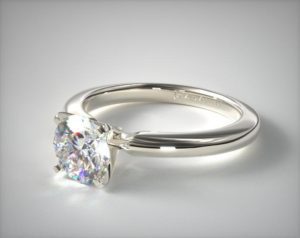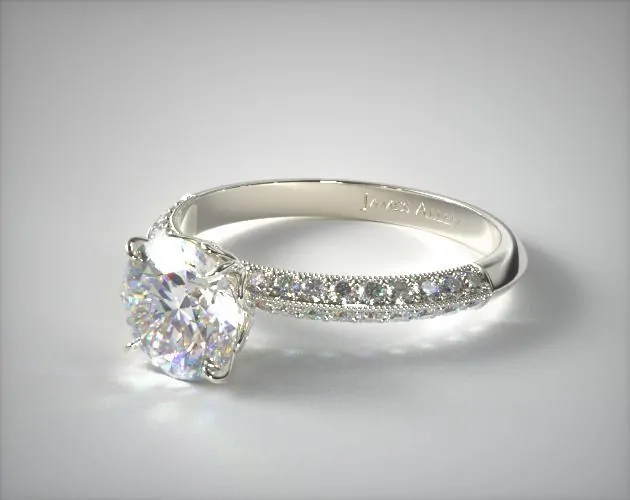 Which of the above diamond rings do you think takes longer to clean? See this ring here.
However, you can clean your ring at home using soap and water and a soft toothbrush. Soak the ring in a soapy solution and carefully prise out any dirt using the brush. Using ultrasonic cleaners on a micro pave setting is not recommended as the intense vibrations of the water can cause the diamonds to dislodge.
Difficult to Resize
The other thing about micro pave settings is that they are very difficult to resize. In some cases, some settings may not be resizable at all meaning that you will be stuck with a ring that simply does not fit.
Over time, finger sizes tend to change, and rings may become too tight or loose. In these cases, normally you would take the ring to a jeweler and have it resized to fit. However, the tiny diamonds around the setting can affect how this is done.
Many micro pave bands are not embellished all around. See this ring here.
Before you purchase, check with your retailer whether the ring can be resized down the line. Many designers often leave a part of the ring setting unembellished (see the ring above) to ensure that the ring can be resized. Also choose your ring size with care. Use a ring sizing tool if you aren't sure what your finger size is.
How to Take Care of Micro Pave Settings
All engagement rings require maintenance from time to time to ensure that they last as long as they should. Here's how to take care of a micro pave ring:
Professional Maintenance
Once or twice a year, it is important to take your micro pave ring to a professional to have it examined and maintained. A professional jeweler will be able to check the integrity of the setting and fix any loose stones. They will also be able to replace any dislodged stones.
Protect from Impact
If you're engaging in vigorous physical activities like gardening or playing sports, take off your micro pave ring to avoid unnecessary impact and exposure. Knocking the ring against hard objects is a sure-fire way of damaging the setting. Always wear a micro pave ring sensibly and be mindful of it.
This goes for just about any ring setting and is not restricted only to micro pave settings.
Check for Warranty
Prior to purchase, check what warranty or maintenance policies the retailer offers. This is important in case you need diamonds replaced or for general maintenance of the setting. Most retailers offer reasonable warranties which can sometimes come with a small fee.
Pave vs. Micro Pave Setting – What's the Difference?
Micro pave is a type of pave setting. The main difference is that it consists of smaller diamonds than a pave setting. For a pave setting, the diamond melees are typically .01 to .02 carat sizes while micro pave diamonds are smaller than these.
A pave engagement ring with larger diamond melees than micro pave. See it here.
Micro pave settings are more delicate than pave settings. They are also more labor-intensive and can cost more.
Where to Buy Micro Pave Bridal Rings
As mentioned above, you can't cut corners with the quality of micro pave rings. Whether you purchase in store or online, check carefully for any inconsistencies in the quality of craftsmanship. Always ask about the after sales policies in case of any issues.
If purchasing online, we recommend starting your search at one of the following three stores:
James Allen
With stunning 360 degree video of impeccable quality, viewing rings and diamonds on James Allen is the next best thing to seeing it in person. James Allen has an impressive range of micro pave and pave engagement and wedding rings to suit all styles. Browse their range here.
Blue Nile
Blue Nile has a wide range of pave / micro pave rings on their site at competitive prices. They also have exclusive designs by highly respected designers such as Zac Posen and Monique Lhuhillier. See their range here.
Brian Gavin
Brian Gavin's engagement rings are well-known for their top quality and expert craftsmanship. Their diamonds are among the very best in terms of cut quality. Check out their Signature and designer bridal ring collections here.