As Jewelry Shopping Guide editors, we write about things that we love and we think you'll like too. We often have affiliate partnerships, and may generate some revenue from these links at no cost to you.
A cross between the marquise and the popular round brilliant, the pear cut features elements of both these cuts with smooth curves and a single sharp point. It can be worn facing up or down and is sometimes even set sideways.
However, while choosing the engagement ring can be hard enough, finding a wedding band to match the engagement ring is equally difficult. It can get tricky to find a wedding band to complement a non-traditional engagement ring and this can be the case for engagement rings with a pear shape.
If you're looking for a wedding band to match your pear engagement ring, you've come to the right place. We outline how to choose a matching wedding band for your pear-shaped ring with examples and images.
Type of setting
The first thing to consider is the type of setting of your engagement ring. Pear-shaped rings can come in various settings, including solitaire, three-stone, halo, pave, side shank, and so on. Identifying the type of setting your ring has is important as it'll help you in picking out a matching wedding band.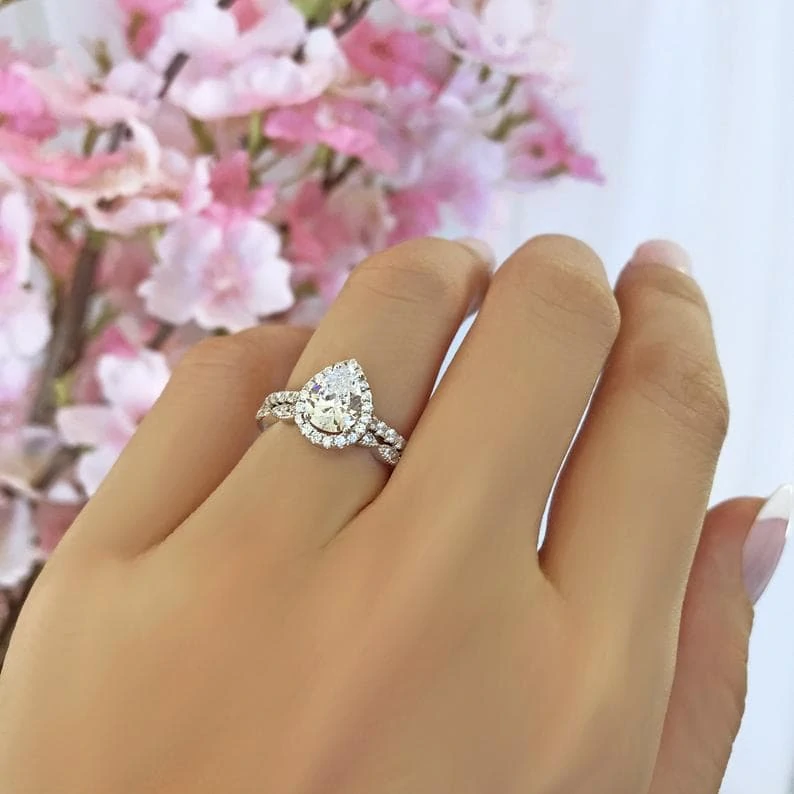 If your setting is a simple solitaire with a pave or plain metal band, finding a wedding ring that matches the band would do the trick. Some retail sites will even list a matching wedding band to help you with your search. For example, scroll to the end of the page for this pear-shaped pave engagement ring and you'll see a suggestion for a wedding ring that perfectly complements the ring.
If the ring setting is more elaborate, like a vintage design or a three-stone ring, you might want to consider a simpler wedding band that won't try to outshine your engagement ring. That way, the focus remains on the engagement ring with the wedding band playing a supporting role.
Gap or no gap?
Next, think about whether you want there to be a gap or no gap between your pear-shaped engagement ring and your wedding band.
Most pear-shaped engagement rings feature a high setting, with space beneath the gemstone for a wedding band to sit flush. This allows you to wear a wedding band either below or above the ring. If you're following the stacked wedding band trend, the oval engagement ring is perfect to pair with two or more wedding bands as it results in a very symmetrical look. This white sapphire bridal wedding ring set is a perfect example of this.
To go with a simpler engagement ring, you could also consider creative wedding rings like the cluster band featured above. This particular style accentuates the curve of the pear shape and adds an extra dimension to the ring. It perfectly complements the engagement ring and appears like half of the whole design.
If the setting of the engagement ring features a large basket or a low profile, the wedding ring may not be able to sit flush against it, resulting in a gap. In this case, a curved wedding band like this pave eternity band will provide the right amount of space to accommodate the pear shape.
Pick similar faceting patterns
If you're thinking of a wedding band with stones, try to match the faceting patterns of the stones in both the engagement and the wedding rings to create a cohesive look. A pear diamond is a highly brilliant shape with an intense faceting pattern so it's best to choose a similar style of cut for the stones on your wedding ring.
For example, pairing an eternity band featuring emerald cut diamonds with a pear-shaped engagement ring could result in a mismatched and out-of-whack look. Instead, opt for round brilliants or princess cut stones for a harmonious style.
Let one ring outshine the other
When we choose our bridal rings, we want them both to be special. Although most of the attention is devoted to the engagement ring, most brides want a wedding ring that'll stand out and get attention too.
But this often doesn't work well, as both rings could end up looking mismatched next to each other and result in a confused look. Instead, let one take centerstage or let both work equally together.
For example, if your engagement ring is extravagant or has a lot of detail, choose a simpler wedding band. If you've got a large eternity wedding band with prominent diamonds set around it, pick a simpler engagement ring. Or pick two rings that match each other and work like two parts of a single design.
Wrapping Up
Finding a wedding band for a pear-shaped engagement ring depends largely on matching the bands and designs to create a cohesive and complementary look. Whether you want your rings to be matchy or not, the important factor is that the rings work together and not against each other. For this, the tips provided above should help you find the right wedding band.