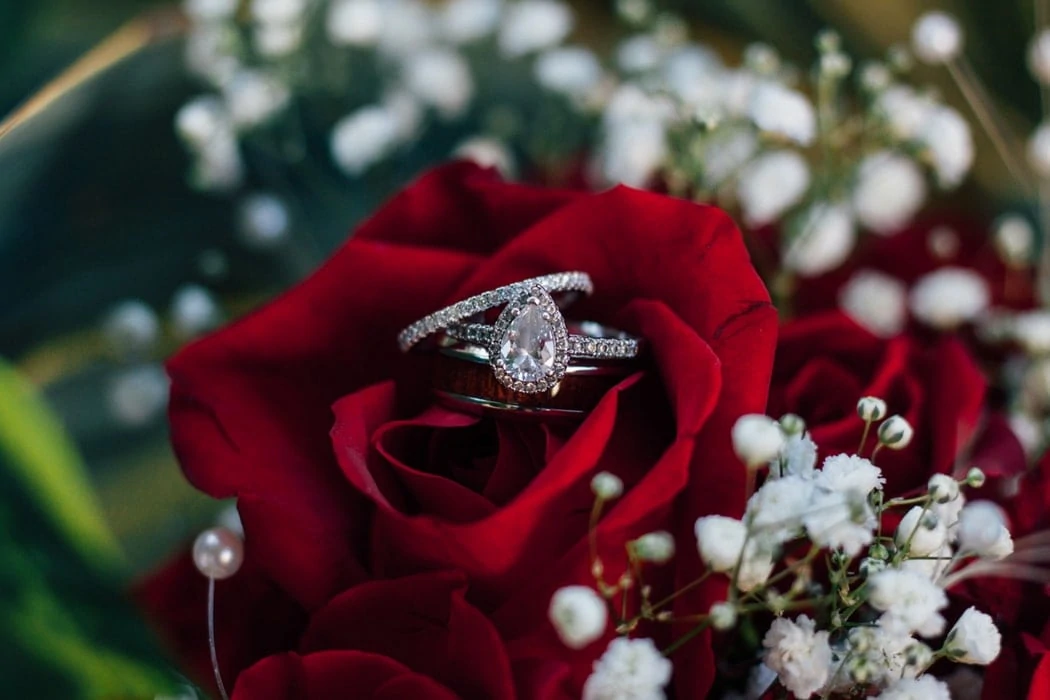 As Jewelry Shopping Guide editors, we write about things that we love and we think you'll like too. We often have affiliate partnerships, and may generate some revenue from these links at no cost to you. 
Pave (pronounced pah-vey) is French for pavement, and when used to describe jewelry, indicates that tiny diamonds or gemstones have been used to 'pave' the metal.
The beauty of pave lies in its ability to hide the metal with sparkling, bright gemstones that give the overall design brilliance and detail. These characteristics have made pave settings one of the most popular for engagement and wedding rings.
However, there are several types of pave to choose from and knowing what these are can remove any confusion and help you to choose the right style for you.
Let's take a look at the different types of pave settings.
Micro Pave
Micro pave eternity ring setting. See it here.
Micro pave settings are made using extremely small diamonds, with each stone typically smaller than .01 of a carat. These diamonds are so incredibly small, that when set into the band, it looks as though the entire band is made of diamonds. Settings made of micro pave would normally feature several rows of diamonds, to cover the entire band.
A standard micro pave ring setting can hold upwards of 50 diamonds. The ring featured above contains 73 diamonds and has a total carat weight (TCW) of .37, meaning that the average weight of each stone is a mere .005 carats.
Micro pave is one of the most delicate and beautiful of the pave varieties, with stunning sparkle and detail. However, on the flip side, these settings can be rather costly because of all the work required to create them. Also, the durability is lower and they can also be difficult to resize as well as clean.
U-Cut Pave
U-cut half eternity pave ring. See it here.
The U-cut pave is one of the most popular types of modern pave settings. The name of this style comes from the shape of the grooves into which the diamonds are set. From the side view, these grooves look like the letter U, which gives it a unique and wavy appearance.
The benefit of the U-cut is that it reduces the amount of metal, increasing the diamond to metal ratio. It also clears the sides of the diamond, allowing light to reflect off the sides and the diamond to sparkle from all angles.
French Pave
French pave eternity band. See it here.
French pave (also known as fishtail pave) is a unique style of pave in that it creates an interesting textured appearance with the metal. With French pave, the diamonds are set into little V-shaped groove cut into the band of the ring. Like the U-cut, it enhances the diamond's sparkle and makes it visible from the sides.
The French pave setting creates the illusion of an endless line of diamonds with little metal interference. The diamonds appear to be set next to each other, with little to no metal holding them in place.
This style is unique in that it combines elements of engraving work and diamond setting, creating a ring setting with interesting texture.
Petite Pave
Petite pave engagement ring. See it here.
Petite pave settings are rather like traditional pave settings, except that they use much smaller prongs to hold the diamond melees. The idea is that the smaller the prongs, the more visible and prominent the little diamonds. With petite pave settings, the diamonds are easier to see and their sparkle is accentuated.
Petite pave is different to micro pave, although they're often confused. The main difference is that while micro pave focuses on tiny diamonds, petite pave focuses on tiny prongs.
Bright Cut Pave
Bright cut pave ring. See it here.
Bright cut pave is one of the oldest and the most traditional types of pave. It's sometimes called 'channel set pave, because it holds the diamond melees between two metal walls with tiny prongs to keep them in position.
One main benefit of the bright cut pave setting is that it provides additional durability to the diamonds, protecting them from unnecessary impact and keeping them safely ensconced within the metal walls. However, compared to other pave styles, this type has reduced sparkle and a higher metal to diamond ratio.
Bright cut pave settings are very versatile and lend themselves to many design options. One benefit is that it provides the space for details like filigree or milgrain to be added, making it ideal for vintage designs.
While single row bright cut pave is the most common, you could have multiple parallel rows on a ring to create even more detail and style.
Scalloped Pave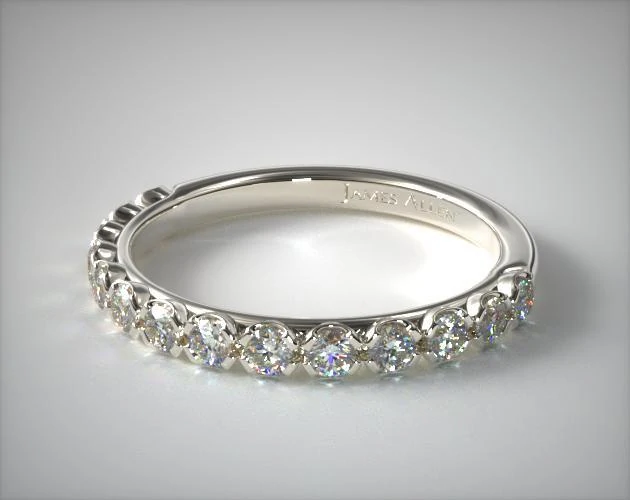 Scalloped pave eternity band. See it here.
Scalloped pave is one of the most beautiful styles that immediately catches the attention with its unique detailing. Here, the metal beads with U-shaped cut outs create a scalloped look. This is a stylish, sophisticated yet delicate look for pave engagement and wedding rings.
Within the scalloped pave category, you will come across variations, as each designer can have their own take on the style. Even so, the general concept is the same.