Cushion halo rings are a versatile design element that adds to the overall aesthetic of an engagement ring. This type of halo pairs well with round and square diamond cuts, adding angles and curves to balance out the look of the ring, resulting in a style that's neither quite square nor quite round. Read on to learn more about cushion halos.
Types of Halo Settings
The halo setting is highly versatile and comes in a variety of designs. It can be customized in a number of ways:
Halo Stone Type – While the halo in an engagement ring is typically made of small diamond melees, any stone can be used to surround the center gemstone. Colored gemstones add color and texture to the ring designs, while diamonds add sparkle. This blue sapphire halo with center diamond is a perfect example of how different colors and textures work together in a halo setting.
Number of Halos – While single halo engagement rings are the most well-known, double and even triple halos make a ring setting look extravagant and glamorous.
Halo Shape – Halos are typically round, but can also come in other shapes like cushion, oval or square. For example, this ring features a round diamond with a cushion halo which gives the setting a unique look.
Combining and playing around with these different elements creates a different look for halo rings. Cushion cut halos are one such element in the types of halo settings.
Cushion Halo vs. Cushion Cut
A cushion halo simply refers to a halo that's shaped like a cushion cut. It can be used with a variety of different center stone shapes. A cushion cut simply refers to a cushion cut diamond – with the specific faceting structure and style of this type of cut.
This split shank ring features a round brilliant diamond, but the halo is cushion shaped. The shapes work together because the cushion halo is wider at the edges to accommodate the curves of the round shape while still remaining true to its squarish shape.
Cushion Halo vs. Round Halo
The beauty of a cushion halo with a round diamond center stone lies in how the two differing shapes work together.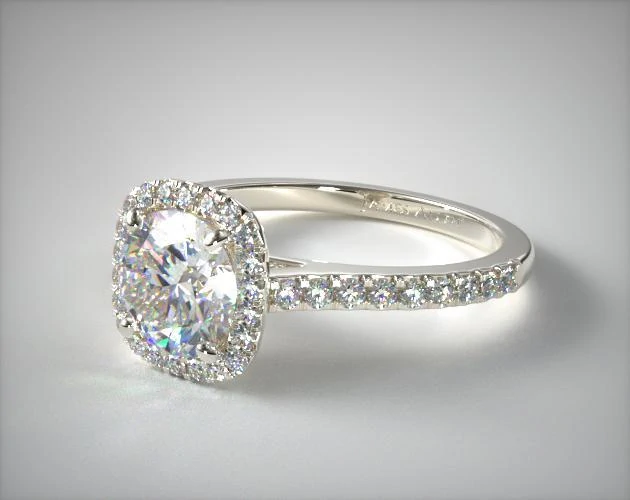 Compare the two diamond rings above. The cushion halo easily looks bigger, more brilliant and more interesting. Rather than have a round diamond with a round halo which doesn't offer a lot of unique detailing, pairing an angular shape like the cushion with a round center stone creates an interesting and attention-getting look.
Depending on the type of center stone it's paired with, the cushion halo can either soften or harden the look of the ring setting. When paired with a round cut, the angles of the cushion halo provide balance to the soft curves of the round cut. When paired with a princess cut, like this ring here, the cushion halo provides contrast by softening the angles of the princess cut and giving it a curvier feel.
Ready to browse cushion halo rings? Click here to explore a variety of halo settings.