Just when the novelty of your engagement ring starts to wear off, you get to go shopping for another ring! While this should ideally be a fun and exciting process, for some, choosing a wedding ring can be a stressful and overwhelming process.
There are many factors to consider when buying the ideal wedding ring, and one of the most important is how the wedding ring looks next to the engagement ring. Not every bride will wear both rings together, and not every bride will wear her engagement ring every day. But for those times that you do, it is important that the two rings complement each other.
Let's take a look at some frequently asked questions about buying complementary rings, as well as how you can style different rings so they look amazing together.
Should the Wedding and Engagement Rings Match?
Whether you choose to match your rings or opt for two contrasting designs, is up to you – there's no right or wrong way to do this.
If matching your two rings is very important to you, then your best option is to choose a bridal set. A bridal set consists of matching engagement and wedding rings. You may also be interested in a trio set, which includes the groom's ring as well.
Bridal sets create a coordinated look and is ideal if you are after a perfectly matching look. On the flip side, they can tend to look traditional and conservative.
An increasing number of brides are moving away from the tradition of matching rings and experimenting with sizes, colors, and styles to create fantastic ring combinations.
My wedding band is mismatched with my engagement ring. I didn't think I would even like the wedding ring, because it's wavy and not geometric like my engagement ring, but it turns out I love them!
Engagement and wedding rings are there to signify two separate, important events in your life. They have different emotions and associations linked with them, so wearing different styles can symbolize this fact.
While the rings don't have to match, both the wedding and engagement rings should complement each other. Here's what one reader says:
My rings are extremely mismatched. My engagement ring is a single 1-carat diamond and my wedding band is thin with several small emeralds. I love them each on their own, but they don't look good together. I can't wear my engagement ring to work, so I've just been wearing my band.
The following factors are what you need to consider when looking for a wedding ring that complements your engagement ring.
1. Considering Width
The general rule of thumb is that both the wedding ring and the engagement ring should have the same width. This creates a balanced and equal look between the two rings.
Some engagement rings taper, with the width of the metal band getting thinner as it comes towards the gemstone. In this case, choose a wedding ring that has the same width as the sides of the engagement ring. This creates a sense of balance and beauty between the two rings.
2. Choosing the Metal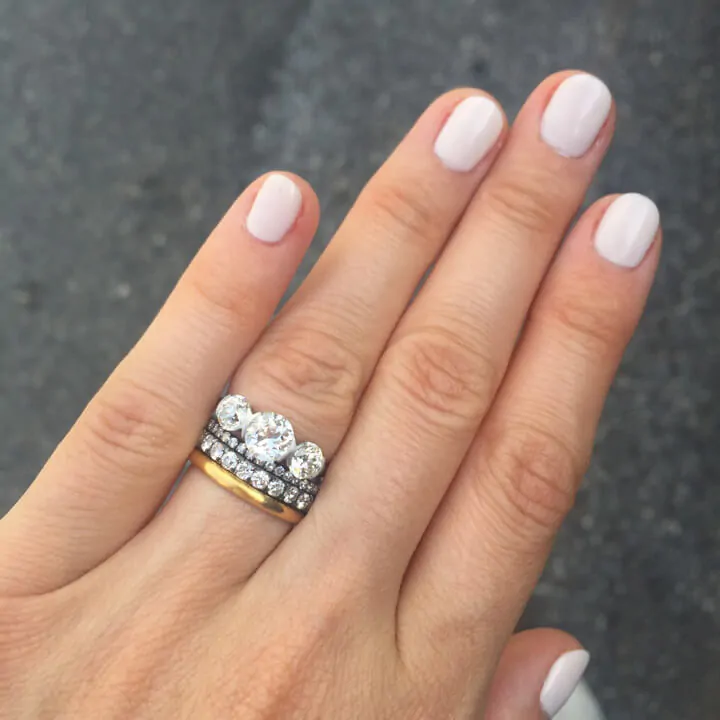 Most often, brides choose the same metal for both rings as this creates a pleasing aesthetic and looks well-coordinated. Both rings will also have the same wearability and will complement each other.
However, for an interesting contrast, mixing and matching metals can be a good idea. This gives a modern and trendy look, and makes each ring stand out. As the years go by, you can add anniversary rings as well.
While choosing the metals depends on your preferences, they should be durable. Also ensure that both rings are made of metals that have the same hardness. This will mean that the harder ring does not scratch and wear out the softer ring, as can happen when the two rings sit flush against each other.
3. Considering Fit
Whether you want your wedding ring to sit flush against your engagement ring is a matter of choice. Many women don't like the idea of a gap between the two rings and feel that this destroys the look of the two rings working as one piece.
There is no rule that states that the two rings should be of the same shape and fit against each other. You can get as creative as you wish, regardless of the gap between the two rings, choosing bands with different shapes and styles.
However, if you have an engagement ring with a very large gemstone, especially with a shape such as pear or marquise, it may be a good idea to get a contoured wedding ring. This will ensure that your wedding ring is visible while lessening the gap between the two rings.
How to Wear Both Rings Together
Traditionally, the wedding ring is on the third finger of your left hand with the engagement ring above it. Although this is the most common way to wear your two rings, there are other ways to show these off!
One creative way is to wear two thin wedding rings on either side of the engagement ring. This enhances the brilliance of your engagement ring, keeps the gemstone in focus and gives your ring a dynamic, stacked appearance.
Another way to wear your rings is to transfer the engagement ring to the right hand, while keeping the wedding ring on the left. This adds sparkle to both your hands, and is also excellent if your rings have two wildly different styles.
Here are some general rules to help you choose a wedding ring that is compatible with your engagement ring. These are just guidelines however, so feel free to get creative.
1. Solitaire Engagement Rings
The solitaire is sparkly and bright, but it can easily be overshadowed if set next to a large ring. If you have a solitaire engagement ring with side stones, choose a wedding band that has a similar width.
Pave and channel settings are perfect, as they add to the the brilliance and beauty of the stone, without taking away the attention from the center stone. You could also choose a plain pipe-cut or comfort fit wedding band, which will emphasize the diamond.
Take care when choosing pave bands. Tiny diamonds can tend to fall out, so ensure that the ring you buy is of high quality. If you are considering a micro-pave, be aware that the risk of the diamonds falling out is much higher.
2. Large Center Stones
Curved wedding bands, as we've already mentioned, are perfect for large center stones. Many modern designs incorporate the curve of the band into the overall design, creating a cohesive look between the engagement and wedding rings.
3. 3-Stone Rings
Three-stone rings are best paired with simple wedding bands to keep the focus on the stones. Small pave bands or thin channel sets are ideal. For a flashier touch, why not choose a wedding band made up of same-shaped diamonds as the three stone ring? You can also choose to have the accent stones made up of a different gemstone, such as sapphire or ruby, like this ring.
4. Vintage Bridal Rings
If your engagement ring sports a vintage style, don't create too much of a visual clash by pairing it with a modern wedding band. These styles generally don't work well together. Rather, stick with the same stylistic look and opt for a vintage wedding band. Conversely, if you buy a modern, trendy engagement ring, pair with a modern wedding ring. Here is an example of a vintage engagement ring paired with a beautiful vintage inspired wedding band.
5. Gemstone Engagement Rings
Matching a colored gemstone to a wedding band is quite easy. You can choose the classic diamond pave and channel set bands which will go with literally any gemstone ring. Why not add the same gemstones to the band to create a unified and classy look?
To help you match your wedding ring to your engagement ring, Blue Nile has an amazing tool that shows you what styles tend to go together. It lets you play around with myriads of options, and is pretty fun!
Where to Buy Engagement and Wedding Rings
When looking for engagement and wedding rings, it's important to purchase from reputable retailers who stand by their products, and offer excellent customer service, as well as reasonable pricing.
We recommend the following retailers:
Why: Superior diamond imaging, competitive prices, high quality, wide range
An online giant in the diamond space, James Allen a stunning collection of high-quality diamonds and rings. The images and videos are unparalleled in quality and is the same as viewing the diamond through a jeweler's loupe.
Why: Competitive prices, wide range, great quality
One of the most well-known online diamond retailers, Blue Nile offers a massive exclusive online diamond inventory. Search diamonds and jewelry here at competitive prices, solid after-sales policies, and good customer service.
Why: Superior cut quality, exclusive range, stunning designs
Whiteflash has earned an international reputation for the elite quality of their precision cut diamonds, and for their impeccable collection of designer engagement rings. Check their stunning range of diamond jewelry and loose diamonds.
Why: Impeccable quality, superior cut, small but exclusive inventory
Brian Gavin is a renowned expert in diamond cut – and it shows in their superior diamond quality. For the very best in diamonds, search their inventory of designer diamond jewelry and loose diamonds.
Why: Lab created and mined yellow diamonds and sapphires
If you want to try out how a round diamond ring looks on your finger before you commit to buying one, check out With Clarity's Home Preview Service which is completely free. Find out more here.
FAQs About Engagement and Wedding Rings
1. Does my engagement and wedding rings have to match?
In the past, it was common to always find matching rings, but today more couples are choosing unique ways to express their sense of style and to symbolize their relationship. So, no – it's not necessary to match your rings if you don't want to.
2. Should the bride's rings match the grooms?
While having similar elements can create a cohesive look between your partner and your rings, again it's not mandatory. In some cases, one of the couple may not be able to wear rings, because of the nature of their work or other reasons.
3. Do the engagement and wedding ring metals always have to be the same?
Choosing the same metals is typically the way to go. However, for a unique contrast, opt for different metal tones. It's best to keep some other elements of the rings similar so they still look good together.
4. How do I know if my rings look good together?
You can purchase a matching bridal set. Alternatively, pick the elements, widths, and colors in such a way as to make them work as a pair.
Wrapping Up
At the end of the day, shopping for your wedding ring should be an enjoyable experience. After all, for many people, it only happens once in your lifetime! So get creative, have fun and make sure both rings bring out the best in the other while maintaining their individual unique looks.