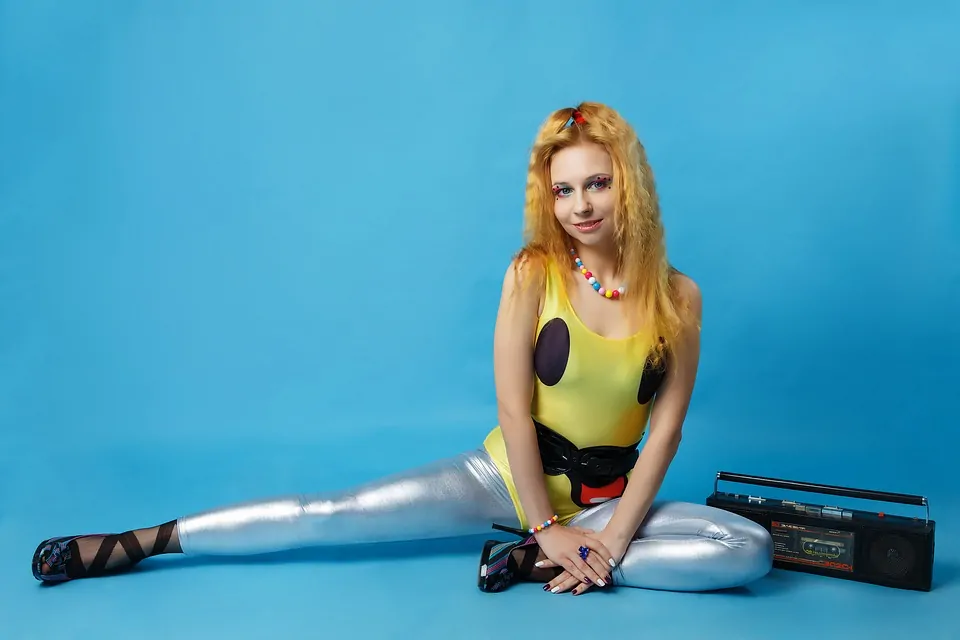 As Jewelry Shopping Guide editors, we write about things that we love and we think you'll like too. We often have affiliate partnerships, and may generate some revenue from these links at no cost to you.
If there's one thing you need to know about the 80s, it's that everything was big and bold. This extended to everything – clothes, sunglasses, hair and jewelry. It was the era of Jane Fonda's leg warmers and Whitney Houston wanting to dance with somebody.
80s jewelry was large and very eye-catching. This was the era of costume jewelry and statement pieces, as avant-garde jewelry designers turned to new materials, colors and styles to create accessories that matched the zeitgeist.
Like with all things fashion, 80s jewelry is coming back into vogue with a modern touch. Let's take a look at how you too can rock the 80s style and still look relevant.
What Was 80s Jewelry All About?
In the 80s, jewelry was more than just a fashion accessory – it was a way to express your individuality, a concept that was becoming increasingly popular at the time.
Maximalist jewelry trends became popular, with large statement jewelry like necklaces, hoop earrings, cocktail rings and trendy bracelets becoming increasingly sought after. Designers began thinking outside of the box, to create pieces that had never been created before.
Partly because it cost too much to create these pieces using traditional jewelry and partly because designers wanted to push the boundaries of jewelry making, materials such as precious metals and gemstones, alternative materials began to be used. These included beads, glass, rubber, plastic and other unique jewelry materials.
People wanted to break out of traditional molds and to stand out with their distinctive style. With bright colors, confident style and permed hair, 80s fashion was all about making a statement and expressing your personality.
Who Were the Icons of 80s Fashion?
While there are so many fashion icons of the era, including male celebrities such as David Bowie, Prince and Boy George, here are some of the most notable 80s icons who influenced jewelry trends:
1- Princess Diana
Princess Diana, frequently cited as being the most photographed and hounded woman of the 80s and 90s, was a frequent face in the tabloids and a fashion icon of the time. She frequently wore pearls and gemstones, chokers and large earrings. Here style was classic and somewhat understated for the time.
2- Cindy Lauper
With her flyaway ginger hair and punk style, Cindy Lauper was known for her bold splashes of makeup, colorful statement jewelry and 'I don't care what you think of me' attitude.
3- Brooke Shields
With her large, natural eyebrows for which she was well-known, Brooke Shields' jewelry style consisted of chic statement earrings, button pearl earrings and choker necklaces.
4- Madonna
The material girl with attitude was a style icon for the younger demographic, and would frequently layer beaded necklaces, which almost always included pearls, large dangling earrings, metal cuffs and all kinds of layered bracelets, including jelly bracelets.
80s Jewelry Types and Trends
Let's take a look at the distinctive 80s jewelry trends.
1- 80s Earrings
Perhaps the most noticeable of the 80s jewelry trends, 80s earrings were often huge and very over-the-top. Everyone seemed to be sporting oversized earrings, from dramatic hoops to large clip-ons.
Not all earrings were colorful and funky. You could also find sophisticated and elegant pieces, with neutral color tones. It all depended on your style and why you were wearing the piece.
Fake pearls and gemstones were popular, especially set in stud button earrings, with clip on backs. Tassel earrings, chandeliers and mismatched earrings were some styles that were also trendy back then.
2- 80s Necklace Styles
80s necklaces saw a lot of beads, faux pearls and huge pendants. Pearls especially were in style, with women sporting 'ropes and ropes' of faux pearls of all colors. These were commonly worn in multiple strands that hung at varying lengths around the neck.
3- 80s Rings
Cocktail rings were in vogue, and came in a range of styles, colors and sizes. Again, these were noticeable statement pieces that complemented the rest of the jewelry and the outfit.
4- 80s Bracelets
Stacking bracelets was all the rage, with multiple thin bangles or bracelets worn at the same time. However, if this wasn't to your liking, you could opt for a single statement bracelet, like a cuff or a thick bangle.
For teenagers, plastic neon colored jelly bracelets were in the in-thing, worn in multiple stacks. They were fun, colorful and full of life.
Charm bracelets and friendship bracelets are two other highly popular trends that made it out of the 80s and into the 21st century.
5- 80s Brooches
Brooches may be out of date right now, but they weren't then. Brooches were worn pinned to the fronts of clothes and were large and dramatic as all other 80s jewelry trends.
Many designs were inspired by nature featuring insects and floral motifs like leaves, vines and flowers. Others contained large faux pearls or gemstones, set in gold-plated metals.
How to Rock 80s Jewelry Today
Unfortunately, it's not the 80s anymore but we can still rock the 80s look! If you're looking for ways to incorporate the 80s theme into your regular jewelry style, here are some ways to go about it.
If we haven't said it once, we've said it a 100 times. If you want to look 80s, think large and bold. Pick out large costume pieces like statement necklaces, cocktail rings, cuffs and stacked bracelets.
Choose bold color. If you look back at pictures from the 80s, you'll notice that neon and primary colors were everywhere, from clothes to makeup to jewelry. Pick jewelry pieces like this pair of bright yellow wooden earrings that are so very 80s!
Go for dramatic earrings. Experts say that oversized hoops and large statement earrings are hitting the runways right now making them a hot item at the moment. So, combine your love for 80s fashion with what's trending right now and pick out some oversized hoops like these ones.
One thing to note is that during the 80s, less wasn't considered more. Nowadays, we tend to tone down jewelry, picking one or two pieces to be the focal point of our look. In the 80s, every piece was the focal point and large pieces of jewelry were commonly worn together.
Where to Buy 80s Jewelry
While not specifically labelled 80s jewelry, you'll find 80s styles in many costume jewelry stores today. Pieces like plastic cuffs, colorful neon and glass bangles, charm bracelets, statement earrings and so on are often easy to find at your local fashion store.
But if you want to have more choice and to browse through endless collections while in your pyjamas, eating ice-cream and watching TV, then we recommend searching for your 80s jewelry online.
There are specialist shops that sell 80s jewelry but we recommend starting your search on Amazon and Etsy because these sites bring together countless talented designers and jewelry makers, making your job of comparing, contrasting and searching a lot easier.
For 80s jewelry, we found Etsy to have one up over Amazon, as Etsy features more choice and styles and is also easier to navigate through. Having said that, you'll also find a lot of beautiful 80s jewelry on Amazon, all you need is a little bit of time to sift through the boundless products on the platform.
Should I Wear 80s Jewelry?
Today, 80s jewelry is considered dated and old-fashioned, but that doesn't mean that you shouldn't wear 80s inspired jewelry anymore. Like all things jewelry, components of 80s jewelry frequently cycles in and out of fashion.
Maybe the big hair and colorful make up isn't for you, but you can definitely pick out some 80s jewelry pieces to help you set a trend and to stand out in today's crowd.