As Jewelry Shopping Guide editors, we write about things that we love and we think you'll like too. We often have affiliate partnerships, and may generate some revenue from these links at no cost to you.
From costume jewelry to classic pearls, the 1950s returned to a trend-focused fashion dictated by runway influences of Parisian couture. Let's take a look back at some of the most memorable jewelry trends of the 50s, along with stylish ways to rock the style today.
What was 50s Jewelry All About?
The years following World War II were a welcome return to luxury, which was reflected in jewelry styles of the time.
The defining element of 1950s jewelry design came from the New Look—a fashion style known for its feminine, curvaceous silhouette—introduced by Christian Dior in 1947. Jewelry designers began creating luxurious jewelry to match the feminine fashion.
In the first few years of the 50s, jewelry designs were understated since the world was still recovering from the aftermath of war. As the decade went on, jewelry styles evolved due to changing social, political and fashion trends.
The influences of Parisian couture, Hollywood films, and fashion icons made women looked for variety in their jewelry.
Characteristics of 50s Jewelry Trends
Here are some of the defining characteristics of the 1950s jewelry trends:
Finest materials such as platinum, gold, and pearls defined mid-century jewelry. The pearl jewelry trend was influenced by Audrey Hepburn as she embodied timeless, classic elegance in her films.
Jewelry sets known as "parure" became highly popular as women wore matching earrings, necklaces, brooches, bracelets, and rings.
Gold jewelry retained its popularity but motifs such as bows, ribbons, tassels, animals, flowers, and leaves were added into the designs.
Floral motifs were inspired by Victorian era, and some of the favored flowers were roses, tulips, poppies, and sunflowers.
The Rise of Costume Jewelry
Before the 1950s, the defining style was fine jewelry, made of expensive metals and precious gemstones that held value. However, after the war, this view changed.
During the 1950s, the latest trends became more accessible than ever with costume jewelry that were big, colorful, and playful made of inexpensive materials.
Costume jewelry was originally designed for the movie industry, but the rules of etiquette dictated that no style was complete without ornaments, so it became essential in women's wardrobe. Some of these pieces were indistinguishable from fine jewelry, and some were obviously faux.
Sets of jewelry made from faux pearls, glass, enamels, and plastics like Lucite and Bakelite became popular too.
Color was one of the most significant elements in 50s jewelry, and faux gemstones from sapphires to rubies and emeralds were incorporated into evening looks.
Some jewelry designs embraced the characteristics of the Atomic Age—fanciful representations of explosions, stars, swirls, cluster motifs, geometric forms, atoms and electrons, along with sunbursts and starbursts.
All this was possible because of the use of inexpensive costume jewelry materials.
Types of 50s Jewelry
With jewelry playing such a big role in the 1950s look for women, here are some of the most popular types of jewelry of the times.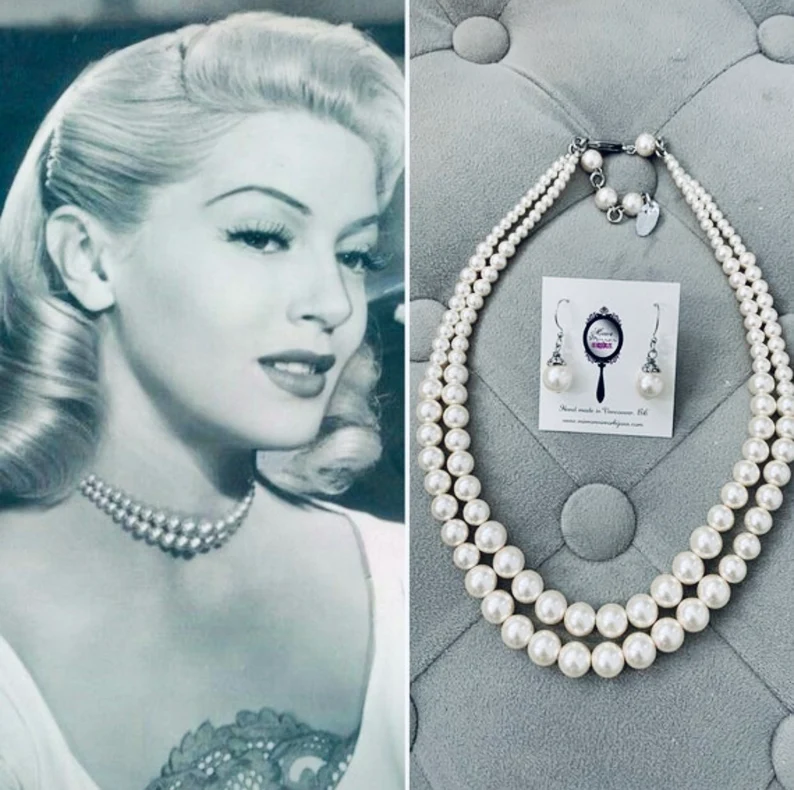 Pearls were the perfect accessory for the little black dress and tailored suits. From drop earrings to double strand necklaces and bracelets, pearls reached iconic status, especially with fashion icons like Grace Kelly and Audrey Hepburn frequently pictured wearing the jewelry style.
Pearls were also spotted in various colors like cream, champagne, coffee, and gray which suited stylish outfits of the time.
From mesh bracelets to button earrings and floral brooches, textured gold tone jewelry became popular in the 50s.
Gold chain bracelets and necklaces were fashionable enough to be worn on their own, while gold brooches with naturalistic motifs completed evening attire.
Costume jewelry explored all forms of flora and fauna, and some were covered with colorful gemstones and enamels.
Instead of diamonds, rhinestones became fashionable after WWII since it gave off a sophisticated, elegant appearance, complementing evening gowns and cocktail dresses.
From single strand necklaces to big earrings and cuff bracelets, rhinestones reflected the glamour of the era. Also, the Aurora Borealis stone—a glass iridescent gem developed by Swarovski—became popular in jewelry designs.
Jewelry was meant to pop and be noticed, so bolder colors began to grow in popularity in the 50s.
Open necklines called for colorful bib necklaces and bold earrings. There were also cocktail rings: ballerina rings featuring all over sparkling gemstones, and bypass rings with oversized gems.
Also, the lasting legacy of turquoise and coral emerged at this time.
1950s Lucite and Plastic Jewelry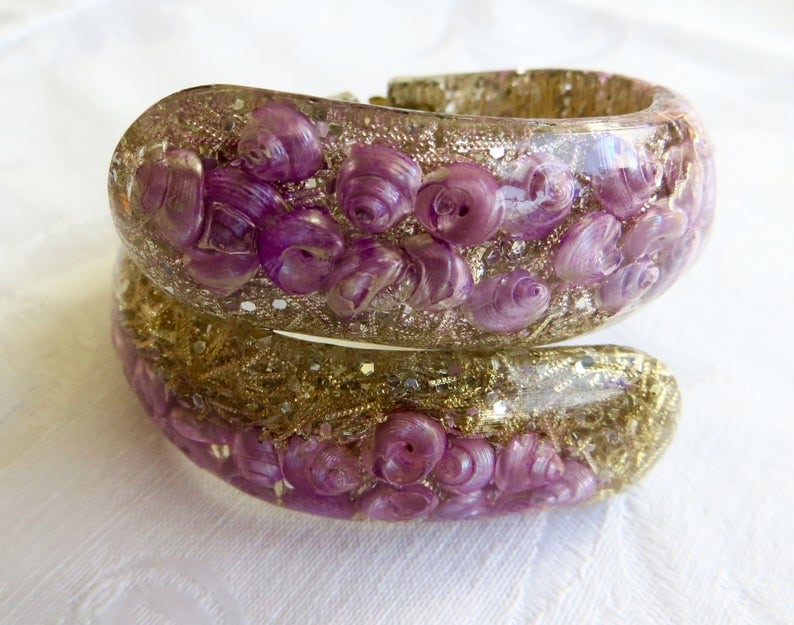 Lucite is a type of plastic made from acrylic resin that was used in costume jewelry. Confetti Lucite jewelry featured earrings, necklaces, bangles, and rings with embedded glitters, tiny flowers, and rhinestones.
Some jewelry designers crafted the material into cabochon stones, which were used in "Jelly Belly" brooches featuring animal shapes—roosters, frogs, ducks, poodles, and seals.
How to Rock the 50s Look Today
If all this has got you excited about wearing 50s jewelry today, here's how to do it and look stylish.
Opt for vintage jewelry that will give you a one-of-a-kind look.
A 1950s jewelry will allow you to cultivate a unique personal style. The key is to find pieces rich in fashion history, and stylish enough to wear in our modern times. A few vintage pieces will instantly change your overall look.
Pick jewelry to suit your style.
Jewelry from the 50s can suit a range of styles, whether it's classic, dramatic or goofy. Add pieces to your ensemble that complement your personal style while still showcasing the glamor of the 50s.
Choose one focal piece.
You might be inspired to throw on a whole set of 50s jewelry but note that sometimes less is more. Let the vintage piece be the focal point of your look, without overwhelming your look. For example, if you're going with a pair of 50s earrings, skip the necklace and instead pair with a smaller bracelet. Incorporating a few carefully chosen pieces into your everyday wardrobe allows you to revive the style without looking dated.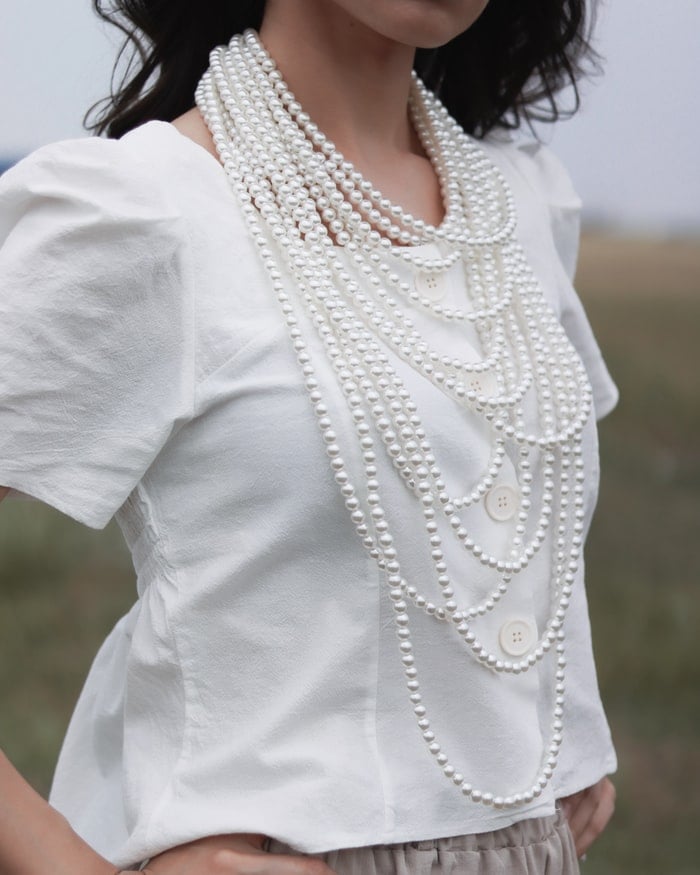 Channel a vintage glam with gold jewelry.
A pair of gold button earrings, floral brooch, or mesh bracelet will add the right amount of drama to your outfit. In the fifties, jewelry etiquette involved never mixing gold with silver, but breaking that old rule will give you a fresh, updated look. You can layer your vintage necklaces in different textures, shapes, and lengths to update your accessory game. Nowadays, the more varied your jewelry is the more striking your style will look.
Make a bold statement with colorful jewelry.
Costume jewelry will allow you to immerse yourself in the spirit of the 50s, while making your style a bit unexpected. The best way to make your vintage jewels pop is to wear them with neutrals and other solid colors.
Get a casual-chic look.
One of the stylish ways to make 1950s jewelry look modern is to mix them with casual pieces whether it's a denim or military jacket. You can easily dress up your favorite jackets with brooches or don a pair of colorful earrings to spice up your casual attire.
Where to Shop 50s Jewelry
1950s costume jewelry holds novelty and sentimental value. Antique shops and local jewelry stores are great places to start, but Etsy and Amazon also offer stunning pieces of vintage earrings, necklaces, brooches, bracelets, and cocktail rings.
Vintage jewelry pieces reflect a unique period of time, giving a hint of history and sentimentality into your style. With 1950s jewelry, you'll be able to bring back parts of decade to your wardrobe while looking chic and fashion-forward.