Created to sparkle under candlelight, the cushion cut was highly popular until the early 20th century and was the closest thing to a round cut that was possible with the technology available at the time. However, with the invention of the round brilliant cut, the cushion cut fell out of popularity.
Lately, the cushion cut is back in the limelight. It has risen to become among the most popular engagement ring cuts and is increasingly sought after, especially by couples interested in vintage inspired designs.
This timeless cut has been modified to suit modern day requirements and comes in a few versions. It is a sophisticated and elegant shape that suits any finger and its popularity is set to remain. Let's look at what you need to know about the cushion cut diamond to help you choose if this is the right cut for you.
Pros and Cons of a Cushion Cut Diamond
Cushion cut diamonds have several pros and cons. Here's what to consider to see if it's the right diamond cut for you.
Positive
Excellent brilliance and fire
It's a forgiving shape – it hides imperfections well due to high brilliance  
Relatively affordable compared to round diamonds
High durability due to beveled edges
Combines the classic appeal of the round diamond with the modern style of the princess cut
Negatives
Limited availability due to lower demand compared to round diamonds
Color retention
What is a Cushion Cut Diamond?
The cushion cut gets its name because it looks like a cushion or pillow (it's also known as the pillow cut), featuring beveled edges and a square shape. It's been around for about 200 years and is among the oldest diamond cuts. At the time of its invention, the cushion cut was known as the old mine cut, and was the most popular diamond cut of its time, like the round diamond is today.
The cushion cut is known by many names – cushion brilliant, antique cushion cut, chunky cushion, crushed ice cushion. In terms of price, the cushion cut is more affordable than round or princess cut diamonds.
Compare the following diamonds with similar specifications. The cushion cut is significantly less expensive than the round and the princess cut stones.
In addition to this, the cushion cut comes in two main cut categories:
The differences between these two are minimal and will not make a huge difference on the appearance of your stone.
Best Settings for Cushion Cut Diamond Rings
The cushion cut pairs beautifully with a range of settings and styles as it is a versatile cut. While it does have an old-world charm about it and looks stunning in vintage designs, it looks amazing set in modern designs as well.
As the cushion cut does not have any vulnerable points, it does not require a protective setting, unlike the princess cut.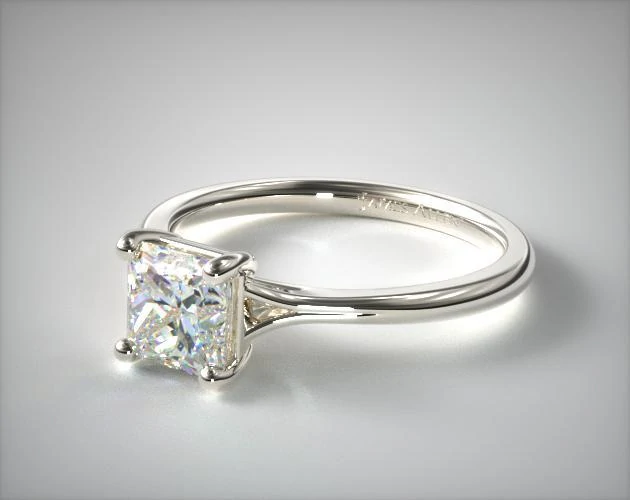 For the greatest visibility and light performance, choose a solitaire setting. Most solitaire settings for cushion cuts come with 4 prongs to hold the diamond at each corner securely while still allowing light to interact with the diamond. For larger or rectangular shaped cushions, 6 prongs may provide more security.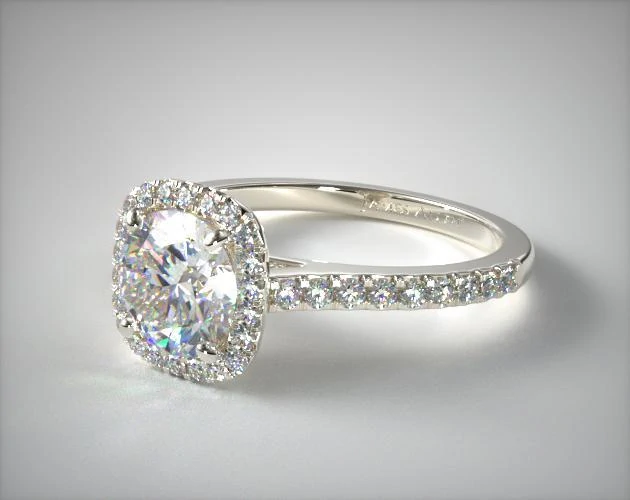 For a brilliant and flashy look, the halo setting is ideal as the sparkle of the center diamond is accentuated by the tiny surrounding diamonds. Halo settings also provide an extra level of security, as the halo acts as a buffer against impact for the diamond's edges.
If you're looking for vintage and antique designs, the cushion cut is ideal. Whether you choose an actual antique or simply a vintage-inspired design, the cushion cut will give you many options.
The cushion cut is sometimes set in bezel settings, but these can make the diamond appear smaller while also minimizing its sparkle. However, if you're interested in minimalist designs which offer maximum protection, bezel settings are a good option.
How to Choose a Cushion Cut Diamond – The 4Cs
When choosing a quality cushion cut diamond, consider the 4Cs, which evaluate the cut, color, clarity, and carat size of the diamond.
1. Cut Quality
As the GIA does not grade the cut of fancy cut diamonds (which includes cushion cuts), you will have to evaluate the stone on your own. Here are the best cut parameters for cushion diamonds:
| | |
| --- | --- |
| Table | 70% and under |
| Depth | 70% and under |
| Girdle Thickness | Thin – Slightly Thick |
| Polish/Symmetry | Good – Excellent |
| Culet | None |
| Length to Width Ratio | Personal preference |
Cushion cut parameters are not rigid, and largely depends on the buyer's preference.
While cushion cuts are traditionally square, they can also be rectangular based on the length-to-width ratio of the stone. For a perfect square cut, choose a length-to-width ratio of 1 to 1.05. A length-to-width ratio of about 1.20 to 1.30 will give you a rectangular cut, similar to the emerald shape. This depends on personal preference, and there's no right or wrong here.
As there are many variations to the cushion cut, it's best to inspect the diamond carefully from various angles. Consider how it interacts with light, and how its symmetry and shape appear.
For the best cut quality, consider cushion diamonds from the following collections:
Chunky Cut vs. Crushed Ice Cushions
These terms refer to the two main faceting patterns of the cushion cut, which give the diamond a different look.
Chunky cuts are sometimes known as cushion brilliant or antique cushion cut – even though it's a modern cut. These have large, clearly defined facets when viewed face up and are similar in their faceting arrangement to round brilliant diamonds. They are more popular and highly desirable.
Crushed ice cushion diamonds have no specific faceting pattern and are similar to radiant cut diamonds. When you look at them, you will see several sparkling facets seemingly haphazardly organized, somewhat like 'crushed ice' or broken glass.
These are also known as cushion modified brilliant diamonds. The crushed ice cushion is sometimes less expensive than the chunky cushion as it is not as popular and it yields more diamond from the rough.
Avoid Poor Cushion Cuts
Many cushion cut diamonds on the market today are cut from lower quality diamond rough, resulting in poorly cut stones.
These can be ill-proportioned, lack sparkle, and may be shallowly cut in order to save on the rough diamond. Lab reports don't provide any information about the specifics of the cut, including whether it is a chunky or a crushed ice cushion. Again, always inspect the diamond carefully and don't simply go off a sample photo.
2. Choosing the Right Color Grade
One significant characteristic of the cushion cut is its ability to retain color. This is why the cushion cut is so popular for colored diamonds and gemstones, as it can maximize the beauty stone's color. For colorless diamonds, color retention is an issue as ideally the diamond would show no yellow tints at all.
For perfect whiteness and luster, choose a diamond from the D – F range. However, there can be a significant difference in price between these three grades. Compare the two diamonds below, which have similar specifications except color.
The D color diamond is a few hundred dollars more expensive than the F color diamond, but there's hardly a difference in appearance. Because the difference between these three grades is so slight, paying a premium for a D grade diamond is hard to justify.
The metal you choose for your diamond's setting will also impact the color of the diamond. If you choose yellow or rose gold, you can drop down the color grade of your cushion cut diamond to I or J and still have a fabulous looking piece of jewelry.
The contrast with the metal reduces the appearance of the tints in the stone. For white metal settings, such as white gold and platinum, it is best to choose H grade or better.
3. Choosing Your Clarity Grading
When choosing the clarity grade of your cushion cut diamond, consider whether it is a crushed ice cushion or chunky cushion. Crushed ice cushions tend to hide flaws and impurities in the diamond, as the faceting pattern makes it difficult to see these flaws.
Chunky cushions, however, tend to show more inclusions due to their distinct faceting pattern. Regardless, the most important factor is to see whether the diamond is eye-clean or not, rather than focusing only on the clarity grade.
Take a look at these three similar diamonds. They are all SI1 diamonds, but each has varying levels of inclusions and different values. Being able to see the diamonds clearly allows you to choose the one that has the highest clarity.
Where to Buy Cushion Cut Diamonds Online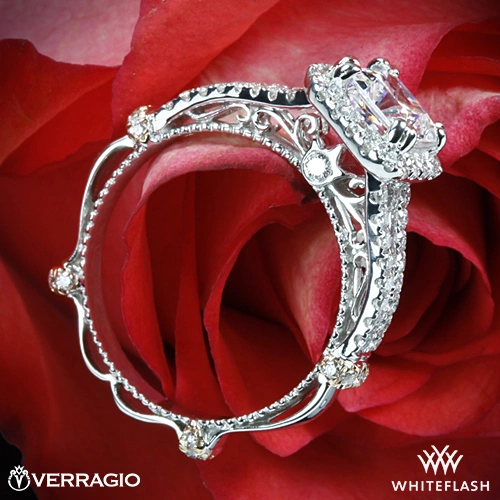 There are several online vendors that offer high quality cushion diamonds. Ensure that the retailer you choose is reputable and are specialized in what they do. Ask for certification and make sure that the certifying lab is recognized – such as GIA, AGS and EGL. We recommend the following stores for their excellent customer service, high-quality products, commitment to facilitating the online shopping process and solid after sales policies.
Why: Superior diamond imaging, competitive prices, high quality, wide range
An online giant in the diamond space, James Allen a stunning collection of high-quality cushion cut diamonds. The images and videos are unparalleled in quality and makes shopping online similar, if not better, to shopping in store.
Why: Competitive prices, wide range, great quality
Known for dominating the online diamond industry since the late 1990s, Blue Nile offers one of the largest online diamond inventories. Search cushion cut diamonds here at competitive prices, solid after-sales policies, and great customer service.
Why: Superior cut quality, exclusive range, stunning designs
Whiteflash has earned an international reputation for the elite quality of their precision cut diamonds, and for their impeccable collection of designer engagement rings. Check their stunning range of diamond jewelry and loose diamonds.
Why: Impeccable quality, superior cut, small but exclusive inventory
Brian Gavin is a renowned expert in diamond cut – and it shows in their superior diamond quality. For the very best in diamonds, search their inventory of designer diamond jewelry and loose diamonds.
Why: Try before you buy, build your own ring, great quality
If you want to try out how a cushion cut diamond ring looks on your finger before you commit to buying one, check out With Clarity's Home Preview Service which is completely free. Find out more here.
Check out our quick comparison of the top online engagement ring retailers for more information.
Wrapping Up
Cushion cut diamonds have been among the most popular diamond cuts for years now. It's easy to see why – these stones offer a lot in terms of affordability, sparkle, beauty, availability, and design options. They're the perfect choice for someone wanting a mix of old world charm and modern brilliance.
If you're interested in other popular diamond cuts, check out our articles here: