The terms antique and vintage might refer to old fashioned, but this is the new vogue. Engagement rings from the past are seeing a huge increase in popularity, and many young people are choosing to sport designs of yesteryear.
Let's take a look at how engagement ring designs have evolved over the years, the defining characteristics of each era, and how to choose the right one for you.
What's the Difference Between Vintage and Antique?
While most people think that antique and vintage are the same thing, there is a difference in these two terms.
Antique jewelry refers to pieces that are usually over a 100 years old. In general, the older the piece, the more valuable it becomes. Antique pieces have been owned previously and come with history.
To be considered vintage, a piece of jewelry must be at least between 20 to a 100 years. You can also have a modern manufactured piece, imitating a vintage design, which is called vintage-inspired. Most engagement rings on retail sites with 'vintage' collections are actually vintage-inspired.
When thinking of an antique or vintage ring, it's important to have an idea what you are after, as these are very broad categories. Different eras have distinctive features, so knowing what you are interested in will make it a lot easier for you to find what you're looking for. Here are some of the most popular historical eras that are currently in vogue for antique and vintage rings.
1. Georgian Jewelry (1714 to 1830)
Choose This If: You love classical looking, elaborate and somewhat heavy designs.
Jewelry from this period is quite rare and finding a genuine Georgian antique ring can be very difficult. However, it is quite common to find vintage inspired designs from the Georgian period.
Georgian jewelry is known for its intricate metal and filigree work as well as the beautiful nature inspired designs. Different motifs like flowers, birds, crescent moon, leaf, vines, as well as unique patterns and colorful gems were very popular during this period. Gold work, glass stones, crystals, topaz, emeralds and rhinestones were main elements of Georgian jewelry.
One distinct feature of Georgian jewelry is the shape and sizes of gemstones used. Because the jewelry was made to suit the gemstone and not the other way round, a single piece of jewelry could have various types and sizes of gemstones, giving the piece a distinct look. Some common cuts at the time were the rose, old mine and table cuts which did not have the brilliance of gemstones that we have come to expect today.
Gold was very expensive at the time so you'll find that most genuine Georgian pieces were made with silver with a gold backing to give it the illusion of being made of solid gold. You can find Georgian inspired rings for your engagement rings on many retail stores.
2. Victorian Jewelry (1835 to 1900)
Choose This If: You love nature inspired designs, with a touch of symbolism and ornate metal work.
Victorian engagement rings reflect the times and styles of the Victorian era which lasted from around 1835 to 1900. Sentimental concepts and feelings were beautifully and covertly represented in the designs of this era. Brooches, lockets, elaborate necklaces, rings, pendants and stickpins were very popular and were intricately designed.
From simple elegant designs to very beautifully intricate ones, these rings speak volume of the rich and exceptional taste of Queen Victoria whose love for jewelry and fashion was known far and wide. Romantic, bold and inspired by nature; these rings usually have colored gemstones like black onyx, opal, sapphire, ruby, emerald, garnet, and amethyst.
However, since the gold supply increased in this era, majority of the rings are set in yellow or rose gold. A popular motif was the crescent moon, which represented spirituality.
Another famous concept was the star and starburst jewelry, which represented spirituality and guidance. Other popular symbols were flowers, snakes, birds and even gemstone words. The late Victorian era shifted its focus from gold and other gemstones to diamonds. Rings from this era usually feature rows of diamonds and were finished with ornate filigree and gold engravings.
Another type of jewelry that became very famous was mourning jewelry, as Queen Victoria mourned the death of her Albert, her husband whom she loved dearly. For this, the stone jet was often used. Hairwork was also very popular, where the strands of the departed were saved and used in beautiful designs for jewelry. These of course aren't what you'd be looking for when it comes to your engagement ring.
3. Art Nouveau Jewelry (1895 to1915)
Choose This If: You love sophisticated, elegant designs with meaningful symbols.
The short Art Nouveau era is famous for its gentle, rounded curves and lines, also inspired by nature. Flowers, animals, birds, and the female body were common symbols used on jewelry of that period. This period overlaps the Georgian and Edwardian eras and have influences from both.
Gemstones such as agate, amethyst, peridot, opal and garnet were popularly used and techniques such as enameling and creating intricate cameos were on the rise. It was common at the time to wear long pearl necklaces as well as sterling silver chains. The pendants of this era are very famous for being intricately designed, with graceful patterns.
4. Edwardian Jewelry (1900 to 1915)
Choose This If: You love feminine designs with fine metal work, the Edwardian era is perfect for you.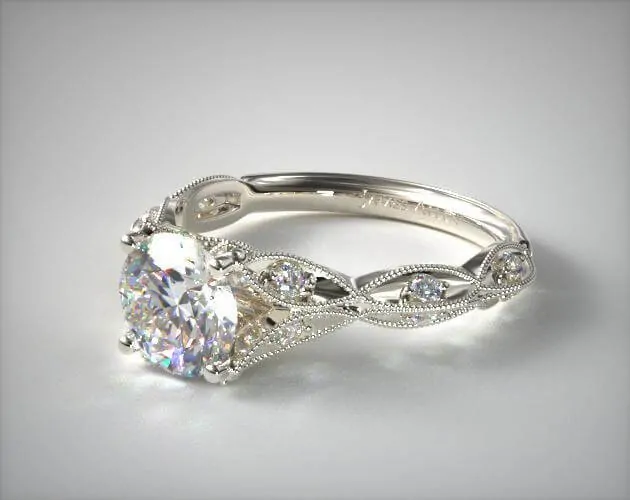 Some of the early age Edwardian rings are very similar to the rings crafted in the late Victorian era. However, the style and design of the Edwardian rings took a very elegant and beautiful shift with the discovery of the oxyacetylene torch which finally allowed for the use of platinum in the jewelry.
Rings from this period have designs that are much more intricate and detailed than the previous eras. In this era, a new type of decorative enhancement known as "milgraining" was used which involved making small borders of platinum beads set around the edges of vintage engagement rings. These borders added a soft, elegant look to those rings.
In addition to milgraining, jewelers started crafting filigree details on the mounting and rings started coming out in lacy designs. You can identify engagement rings from Edwardian era as airy and light and using as many diamonds as possible in a single design.
Unfortunately, the Edwardian era came to an abrupt end when the World War I started in 1914. Due to its excessive demand in the war, platinum became scarce and temporarily unavailable and thus causing the jewelry production to come to halt. Nonetheless, despite being a small era, the Edwardian era still managed to produce highly unique and feminine rings.
5. Art Deco Jewelry (1915 to 1950)
Choose This If: You love strong, angular, geometric designs, symbolic of independence and freedom.
Gone were the old, antique designs and people entered the post war era with freedom and sassiness. Jazz, flappers, gangsters took over and people became bold and socially and politically aware of their surroundings. Today, Art Deco engagement rings are among the most popular vintage ring variety.
Art deco engagement ring designs are exactly what the post war era was all about; new and modern. Jewelers started using modern machinery and jewelry designs became much more unique and different than the last two eras. Less expensive white gold replaced some of the platinum in the engagement rings and rings started coming in geometric shapes and straight lines. Plenty of small, colored accent stones were used to enhance this era's bold, linear designs.
Art deco engagement rings are currently the most favorite antique engagement rings of the newly wed couples. The era and its jewelry speaks about independence and feminism and celebrations of life. Due to the war, women started taking up men's roles and thus, the damsels in distress became the most powerful force of the country and this is exactly what the designs reflect! The lacy scrolls and flowers were replaced by playful and fun designs that were both; sweet yet striking, subtle yet more pronounced.
6. Retro Jewelry (1935 to 1950)
Choose This If: You love bold and glamorous designs, with large, colorful gemstones.
The retro period refers to the years of modernism from 1935 to 1950, during which jewelry designs were influenced by the huge changes happening in the world. The designs had a futuristic air to them and were quite eclectic in that they ranged in styles and drew inspiration from the past and present.
Retro engagement rings can be found in dramatic, bold designs as well as more romantic and sentimental. Most rings of this time centered around a large gemstone that was colorful and loud. Amethysts, rubies, citrine were popular in ring designs, often enhanced by diamonds.
While most designs were feminine, patriotic designs were also popular, indicative of the world events of the time.
7. Modern Jewelry (1950s to present)
Choose This If: You love multiculturalism and modern designs
Modern jewelry began in the mid-20th century and shows greater influence from cultures around the world. The great Italian designers brought in their touch of gold and gemstone designs. Designs from countries such as India and Turkey were adapted and borrowed to create exotic looking pieces.
Engagement rings today come in a variety of designs, from big and bold to minimalist and understated. In the modern era, pretty much anything goes. Whether you choose to sport a vintage ring or a futuristic piece, there are no rules anymore. What matters is what works for you.
Wrapping Up
There are several key eras that defined the evolution of jewelry designs. Each of these eras are distinct in what they offer and have defining characteristics. The right design for you depends on your preferences, including factors such as budget, availability of designs, symbolism, and what stands out to you.
If you're looking to buy your engagement ring online, check out James Allen's vintage engagement ring collection for more inspiration. For more information, check out our article on the best retailers online – note that each of these retailers will have a vintage inspired ring design section.