We tend not to pay too much attention to the height of an engagement ring's setting, but this is an important consideration as it can have a direct impact on comfort. High setting engagement ring are classy and sophisticated, allowing you to show off your center stone to maximum effect. But what are the downsides of this type of setting and does it suit the modern working woman? Let's find out.
What's a High Setting for Engagement Rings?
The height of a setting is best seen from the side view of the ring design, known as the profile. Hold up your ring and observe how the center stone is held. Does it protrude into the air? If it's at a much higher level than the band, it's a high setting.
High setting (also called high profile) engagement rings are extremely popular, with the classic prong setting by Tiffany & Co. being the most popular ring style in general.
High settings feature a ring head that holds the diamond or other gemstone up high in the air, elevated above the finger. They can accommodate a longer girdle on the center stone and holds the up the stone for maximum visual effect. These settings tend to have longer prongs that gracefully extend upwards, clasping the center stone elegantly.
For larger diamonds which have more depth, a high setting can be an excellent option. It allows the stone to fit comfortably into the setting.
Reasons to Choose a High Setting Ring
There are many reasons that make an engagement ring with a high setting an excellent option, as opposed to one with a low profile.
Pros of a High Set Engagement Ring
Highlights Center Stone: For one thing, a high setting shows off the center stone, making it appear larger and more prominent. It's ideal for large stones which deserve maximum visibility.
Max Light Performance: Another benefit is that because of how the stone is held up high with more room for interaction with light, this results in a diamond that appears to have better sparkle. The prongs are typically thinner and often space apart, with ample room for light to touch the stone.
Pairs with Other Rings: High setting engagement rings are also easier to pair with wedding bands, especially if you want the two bands to sit flush against each other. As the center stone is held up, there is sufficient space beneath the setting for the wedding band to move up next to the engagement ring band.
Elegant: There's no denying the elegance and stylish look of a high setting engagement ring. As the high setting is quite versatile, it can be modified to accommodate a range of ring designs, like this tulip inspired yellow gold solitaire setting.
Cons of a High Set Engagement Ring
Snags on Objects: Unfortunately, one major con of high settings is that they tend to catch on everyday objects like hair and clothes. If you like putting your hands in your pocket or wearing sweaters, a high setting can become annoying.
Impractical: For people in certain professions, like nurses or doctors who frequently wear latex gloves or work with other people, and for those working with tools, children or around the house, high setting rings can be impractical, catching on things and causing harm and damage.
Center Stone Can Be Damaged: This not only impacts your lifestyle, but it also impacts on the integrity of the ring. The center stone could get knocked or loosened and prong tips could eventually misshapen or damage.
High Setting Ring Designs
The high setting is very versatile and can pair with most popular ring designs. Here are some of our favorites:
1. Solitaire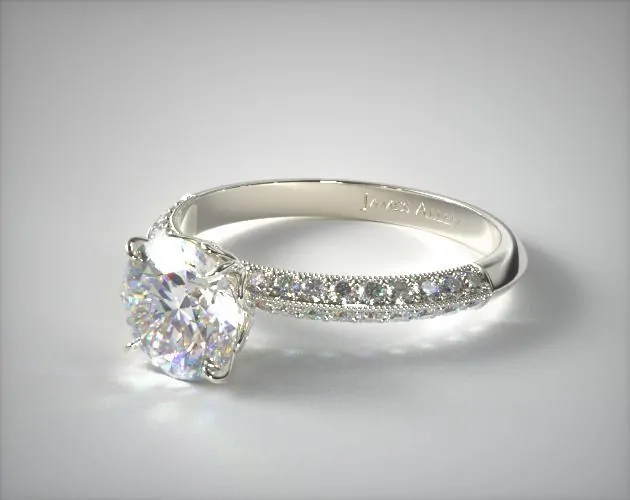 Classic solitaire ring setting with twisted rope design. This setting features four prongs and elegant yet minimalistic prongs.
2. Three Stone Ring
Three stone ring setting with sapphire accent stones. If you're after a meaningful engagement ring, then a three stone ring is ideal. This particular ring design features two sapphires and a diamond held up high in a complex aesthetic setting.
3. Halo Setting
Halo set ring with pave double shank. The diamond melees studding the halo and shank adds brilliance to the ring, while the double shank creates detail and complexity.
Should I Choose a High Setting?
While high settings can be impractical for some, the downsides can't compare to the benefits and beauty of this profile. Here's what some brides say about high set engagement rings:
Kayla: High settings never suited my lifestyle because I wear my rings all the time. I'm not one of those persons who remember to take off their ring when going to the gym or washing the dishes.
Meleana: I've always loved how a high setting engagement ring looks. I think it's really classy and elegant, so it was a no brainer for me when choosing my engagement ring. I only wear my ring for special occasions or if I feel like it, so it's never been a problem.
Brianna: I work a desk job so my high setting doesn't impact me at all. I get to admire the entire diamond all the time!
When deciding whether or not to go for the high setting, consider your lifestyle and the amount of care you're willing to give to your ring.
Wrapping Up
Ultimately, whether a high setting engagement ring is "good" depends on your preferences, style, lifestyle, and budget. If you or your partner find high settings attractive and comfortable, and you are aware of the potential considerations regarding wear and tear, then a high setting engagement ring could be a great choice. However, it's essential to choose a reputable jeweler and ensure the ring is well-crafted to maintain its durability and beauty for years to come.
Related Articles
17 Engagement Ring Settings Explained: An Expert Guide
High Setting vs Low Setting Engagement Rings – Which is Better?
What to Know About the Channel Setting – Pros, Cons, & Guide
Pros and Cons of the Tension Setting – A Complete Guide
Prong Setting – What Is It and Is It Right for You?
What Is a Solitaire Setting and Is It the Right Choice for You?
Micro Pave Ring Settings – Everything You Need to Know
What is the Bar Setting Ring? – A Complete Guide
Illusion Ring Setting – Everything You Need to Know
The Invisible Setting – A Unique Choice for Your Engagement Ring