As Jewelry Shopping Guide editors, we write about things that we love and we think you'll like too. We often have affiliate partnerships, and may generate some revenue from these links at no cost to you. 
The halo engagement ring setting has become one of the most popular styles, loved for its sparkle and detail. Its popularity has inspired variations of the design – with the double halo being one of the most popular variations.
A double halo engagement ring setting is exactly what it sounds like – two halos on your ring setting instead of one. These settings are highly versatile, have several benefits and offer a lot of choice in terms of design.
Here's what you need to know about double halo engagement rings.
What is a Double Halo Engagement Ring?
Single halo engagement ring setting. See it here.
Single halo rings feature a center stone surrounded by diamonds or gemstones, which add to its sparkle while providing a buffer of protection.

A double halo ring comes in a variety of styles, with the main concept being that there are two halos surrounding the center stone. This is perfect for more sparkle and even more protection for the center stone.

Triple halo settings are rarer and very elaborate, as they feature three halos encircling the center stone. This type of setting focuses as much on the setting as it does on the center diamond and is very extravagant and glitzy.
Of these three options, double halo settings provide an excellent balance between glamor and simplicity.
Types of Double Halo Rings
The main concept of double halo settings is just that – two halos on the ring. However, there are many variations to this, with some featuring the double halo on the top of the ring, while others have a single halo on the top and a hidden halo to the side or beneath the center stone.
Here are some of the most common types of double halo rings.
Top double halo ring
Classic double halo ring. See it here.
This is the standard style and the one we think about when we say double halo setting. Here two halos, with no spacing between them, encircle the center diamond, making it appear larger than it is and more sparkly. This type of double halo ring is perfect for a showier style, as both halos can be clearly seen. Also, because the halos have no gaps between them, it creates the illusion of a single large stone.
Floating Double Halo
Floating halo ring. See it here.
With the floating double halo ring design, the halos typically appear to be floating in air with no connection to the shank of the ring or to the diamond. The halos are supported by metal work from underneath, which can't be seen from above. The floating double halo plays with space, creating a pattern out of the gaps. It also makes the ring look more fragile yet elaborate.
Double Halo with Pave Ring Setting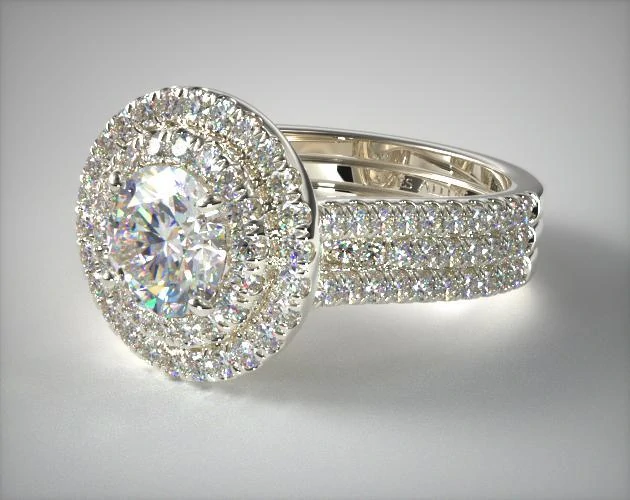 Double halo with triple pave. See this ring setting here.
Pairing a halo setting with pave makes for a highly brilliant ring style and is ideal if you're looking for glamor and glitz. This is diamond sparkle overload and while it does enhance the overall brilliance of the ring, it also tends to distract from the center stone. For a less extravagant look, choose a single pave band.
Hidden Side Halo Ring
Hidden sapphire halo ring. See it here.
If two equal sized halos on the top of the ring are too much, you could opt for a partly hidden halo, like the one featured above. Here, the gemstones are placed to the side of the ring's head, creating beautiful detail from the side while adding a hint of color to the top. Whether this is done with diamonds or gemstones, the effect remains the same – minimalistic yet surprisingly detailed.
Vintage Double Halo Ring
Antique double halo cushion ring by Estate Diamond Jewelry. See it here.
If you're drawn to the beauty of vintage designs, a double halo Art Deco ring might just be up your alley. Perfectly blending elegance and class, vintage double halo rings are ideal for a statement engagement ring. Often, these ring designs feature metal edges that hold the diamond melees in place, which adds a border to the stones.
Gemstone Double Halo Ring
Blue sapphire with double diamond halo ring. See it here.
Why not swap the sparkle of diamonds for the color of a gemstone like sapphire, morganite, ruby or aquamarine? The sparkle of the double diamond halo balances beautifully with the rich hue of the gemstone, creating a stunning contrast.
Unique Shapes for Double Halo Ring
Geometric double halo ring. See it here.
For a unique statement look, consider choosing a double halo ring with different diamond shapes or a different halo shape altogether. This will immediately elevate the style of your ring and give it an Art Deco appearance.
Double Halo vs. Hidden Halo Rings
We already know what a double halo ring is, but what's a hidden halo setting? This type of setting features a single halo under the center stone, often hidden when viewed from above. The hidden halo setting is more about the profile of the ring, adding sparkle and detail to the ring when viewed at an angle. This style is brilliant and clever, spicing up an often-ignored part of the ring.
Pros and Cons of the Double Halo Setting
There are many advantages and some disadvantages to consider when choosing the double halo ring design. Here are some:
Pros
Highly brilliant design that enhances the center stone sparkle

Can make the center stone look larger and more prominent

You can choose a smaller center diamond and still have an impressive, elaborate looking ring

Perfect for wide fingers as the width of the ring's head is extended by the halos
Cons
Can be more expensive than some other settings due to the amount of extra diamonds and effort required to create the ring

Might not be ideal if you have really thin or small fingers

Can be more bothersome to clean due to all the little grooves and hidden nooks and crannies where dirt can accumulate